Summary
Precision oncology has largely been driven by genomic profiling, but success so far has been limited. By combining genomic and proteomic analyses of tumours, proteogenomics holds promise in providing deeper mechanistic insights and generating therapeutic hypotheses to better match patients to targeted treatments than analysing each 'ome in isolation.
Relevant articles
Open Access articles citing this article.
Melinda A. Pruis

,

Floris H. Groenendijk

…

Martijn P. Lolkema

British Journal of Cancer Open Access 23 May 2022
Access options
Subscribe to Journal
Get full journal access for 1 year
$119.00
only $4.96 per issue
All prices are NET prices.
VAT will be added later in the checkout.
Tax calculation will be finalised during checkout.
Buy article
Get time limited or full article access on ReadCube.
$32.00
All prices are NET prices.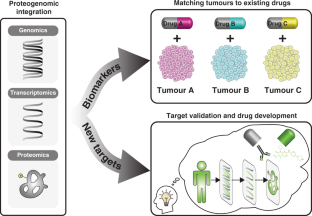 References
Blum, A., Wang, P. & Zenklusen, J. C. SnapShot: TCGA-analyzed tumors. Cell 173, 530 (2018).

Flaherty, K. T., Gray, R. J., Chen, A. P., Li, S., McShane, L. M., Patton, D. et al. Molecular landscape and actionable alterations in a genomically guided cancer clinical trial: National Cancer Institute Molecular Analysis for Therapy Choice (NCI-MATCH). J. Clin. Oncol. 38, 3883–3894 (2020).

Zehir, A., Benayed, R., Shah, R. H., Syed, A., Middha, S., Kim, H. R. et al. Mutational landscape of metastatic cancer revealed from prospective clinical sequencing of 10,000 patients. Nat. Med. 23, 703–713 (2017).

Mertins, P., Tang, L. C., Krug, K., Clark, D. J., Gritsenko, M. A., Chen, L. et al. Reproducible workflow for multiplexed deep-scale proteome and phosphoproteome analysis of tumor tissues by liquid chromatography-mass spectrometry. Nat. Protoc. 13, 1632–1661 (2018).

Zhang, B., Wang, J., Wang, X., Zhu, J., Liu, Q., Shi, Z. et al. Proteogenomic characterization of human colon and rectal cancer. Nature 513, 382–387 (2014).

Wang, J., Mouradov, D., Wang, X., Jorissen, R. N., Chambers, M. C., Zimmerman, L. J. et al. Colorectal cancer cell line proteomes are representative of primary tumors and predict drug sensitivity. Gastroenterology 153, 1082–1095 (2017).

Huang, C., Chen, L., Savage, S. R., Eguez, R. V., Dou, Y., Li, Y. et al. Proteogenomic insights into the biology and treatment of HPV-negative head and neck squamous cell carcinoma. Cancer Cell https://doi.org/10.1016/j.ccell.2020.12.007 (2021).

Seiwert, T. Y., Burtness, B., Mehra, R., Weiss, J., Berger, R., Eder, J. P. et al. Safety and clinical activity of pembrolizumab for treatment of recurrent or metastatic squamous cell carcinoma of the head and neck (KEYNOTE-012): an open-label, multicentre, phase 1b trial. Lancet Oncol. 17, 956–965 (2016).

Wen, B., Li, K., Zhang, Y. & Zhang, B. Cancer neoantigen prioritization through sensitive and reliable proteogenomics analysis. Nat. Commun. 11, 1759 (2020).

Satpathy, S., Jaehnig, E. J., Krug, K., Kim, B. J., Saltzman, A. B., Chan, D. W. et al. Microscaled proteogenomic methods for precision oncology. Nat. Commun. 11, 532 (2020).
Ethics declarations
Ethics approval and consent to participate
Not applicable.
Consent to publish
Not applicable.
Data availability
Not applicable.
Completing interests
The authors declare no competing interests.
Funding information
This work was supported by grants U24 CA210954 from the National Cancer Institute (NCI) Clinical Proteomic Tumor Analysis Consortium (CPTAC), by a Cancer Prevention Institute of Texas (CPRIT) award RR160027, and by funding from the McNair Foundation. J.T.L is supported by grant T32 CA203690 from the Translational Breast Cancer Research Training Program. B.Z. is a CPRIT Scholar in Cancer Research and McNair Medical Institute Scholar.
Additional information
Publisher's note Springer Nature remains neutral with regard to jurisdictional claims in published maps and institutional affiliations.
About this article
Cite this article
Lei, J.T., Zhang, B. Proteogenomics drives therapeutic hypothesis generation for precision oncology. Br J Cancer 125, 1–3 (2021). https://doi.org/10.1038/s41416-021-01346-5
Received:

Revised:

Accepted:

Published:

Issue Date:

DOI: https://doi.org/10.1038/s41416-021-01346-5
This article is cited by
Melinda A. Pruis
Floris H. Groenendijk
Martijn P. Lolkema

British Journal of Cancer (2022)