The University of Bristol's new, purpose-designed Dental School was officially opened on Friday 8 September.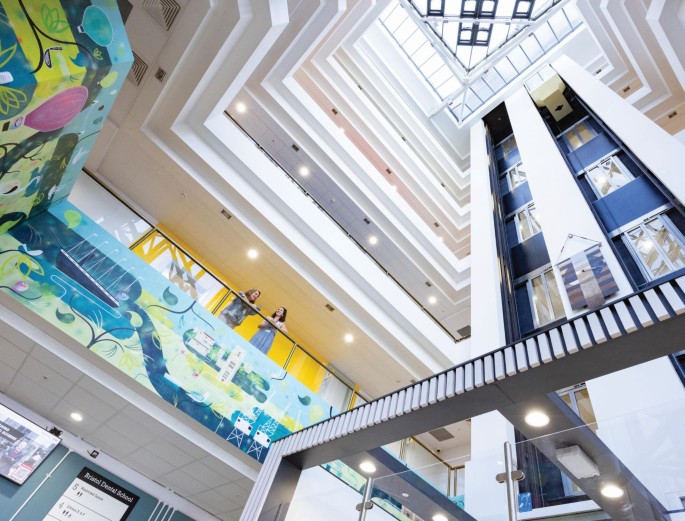 The £36 million facilities are located at the University's new Temple Quarter Enterprise Campus and will provide the very latest clinical training for the education of dentists, dental hygienists and therapists, dental nurses, and wider dental team.
Spanning 7,300 square metres at 1 Trinity Quay, Avon Street, the Dental School will enable the University to increase the number of available student places by around 25%, with Bristol dental students contributing even more significantly to the local and national dental workforce.
There are 119 dental chairs over six clinical areas where students will be supported by a team of dental nurses, dental technicians, sterilisation staff, and patient administration teams. The increased space will also allow the University to respond to the NHS Long Term Plan which sets out a growth in dental and hygiene/therapy training.
Free dental treatment for the local community by undergraduate students under the supervision of qualified clinical dentists will continue to be available at the new site. This is one of the first models for delivery of this training in the UK where a Higher Education Institute has direct responsibility for running CQC-registered clinical facilities in which dental professionals train and has been designed in consultation with local NHS commissioners and Healthwatch Bristol, North Somerset and South Gloucestershire.
Bristol dental students deliver up to 60,000 episodes of patient care to adults and children across the city and surrounding areas each year. If the school is recruiting volunteers, and patients meet the acceptance criteria, they will be provided with a single course of treatment. Once that treatment is complete, patients will be discharged but can re-present for assessment in the future. The school will run a daily [during university term time] emergency dental clinic with patients being booked exclusively via 111. This service will double the daily availability of emergency dental appointments in the local area. All appointments will be pre-booked.
Dr Barry Main, Head of the Dental School and Consultant Senior Lecturer in Oral and Maxillofacial Surgery, said: 'The majority of teaching in our new primary-care facility will enable students to work as part of multi-professional teams. Being alongside trainees in dental hygiene, therapy, and nursing mirrors the environment of real-world practice. While we will retain our links with local NHS partners to deliver training in specialist clinics and in postgraduate education, our new primary-care focussed model will allow a tailor-made approach that ensures each student leaves us ready for day one of foundation training.'
About this article
Cite this article
Bristol's new Dental School officially opens. Br Dent J 235, 375 (2023). https://doi.org/10.1038/s41415-023-6363-y
Published:

Issue Date:

DOI: https://doi.org/10.1038/s41415-023-6363-y