Abstract
Introduction There is a dearth of psychological interventions for patients with cleft lip and/or palate (CL/P).
Objective To evaluate the influence of music lessons on the socio-emotional wellbeing of children with CL/P.
Setting This study was conducted at Asociación San Lucas (Moyobamba, Peru), which has a multidisciplinary programme for children with CL/P. Recorder lessons are offered to all patients aged 6-8 years. From age eight, the children can switch to flute, clarinet, violin, viola or cello.
Materials and methods The Glasgow Benefit Inventory (GBI), a post-intervention questionnaire, was administered to all 26 children participating in the music programme.
Results Mean GBI scores per question ranged from 59.62 (SD: 31.68) to 92.31 (SD: 23.21), showing an overall positive effect of the music lessons on the patients' socio-emotional wellbeing. Playing a musical instrument gave the children satisfaction and self-confidence. The children lost much of their shame, became less shy, and participated more in social activities. In a non-significant numerical trend, boys, flute/clarinet players and orchestra players had higher mean GBI scores than, respectively, girls, string players and children who did not play in the orchestra.
Conclusions Quantitative and qualitative analysis indicated a positive influence of music lessons on the patients' socio-emotional wellbeing.
Key points
There is a dearth of psychological interventions for patients with cleft lip and/or palate.

Music lessons can enhance the self-confidence and social skills of children with cleft lip and/or palate.

Participation in an orchestra may have an extra beneficial effect.

Learning to play a wind instrument might have a larger effect than a string instrument.
Access options
Subscribe to this journal
Receive 24 print issues and online access
$259.00 per year
only $10.79 per issue
Rent or buy this article
Get just this article for as long as you need it
$39.95
Prices may be subject to local taxes which are calculated during checkout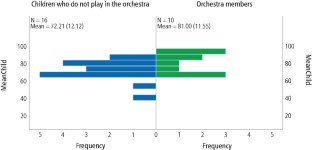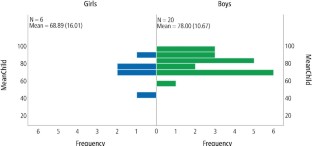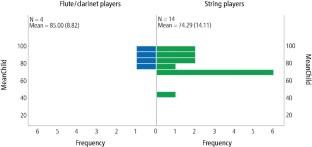 References
Mossey P A, Little J, Munger R G, Dixon M J, Shaw W C. Cleft lip and palate. Lancet 2009; 374: 1773-1785.

Mitchell J C, Wood R J. Management of cleft lip and/or palate in primary care. J Paediatr Health Care 2000; 14: 13-19.

Zeraatkar M, Ajami S, Nadjmi N, Faghihi S A, Golkari A. A qualitative study of children's quality of life in the context of living with cleft lip and/or palate. Paediatric Health Med Ther 2019; 10: 13-20.

Norman A, Persson M, Stock N et al. The Effectiveness of Psychosocial Intervention for Individuals With Cleft Lip and/or Palate. Cleft Palate Craniofac J 2015; 52: 301-310.

Croom A M. Music practice and participation for psychological wellbeing: A review of how music influences positive emotion, engagement, relationships, meaning, and accomplishment. Musicae Scientiae 2015; 19: 44-64.

Robinson K, Gatehouse S, Browning G G. Measuring patient benefit from otorhinolaryngological surgery and therapy. Ann Otol Rhinol Laryngol 1996; 105: 415-422.

Sanchez-Cuadrado I, Lassaletta L, Perez-Mora R, Muñoz E, Gavilan J. Reliability and validity of the Spanish Glasgow Benefit Inventory after cochlear implant surgery in adults. Eur Arch Otorhinolaryngol 2015; 272: 333-336.

Benish-Weisman M, Daniel E, Schiefer D, Möllering A, Knafo-Noam A. Multiple social identifications and adolescents' self-esteem. J Adolesc 2015; 44: 21-31.

Sinko K, Jagsch R, Prechtl V, Watzinger F, Hollmann K, Baumann A. Evaluation of esthetic, functional, and quality-of-life outcome in adult cleft lip and palate patients. Cleft Palate Craniofac J 2005; 42: 355-361.

Niemelä B J, Skoog V, Henriksson T-G, Wahlsten V S. A Clinical Report: Mental health, Self-esteem and Social Interaction in Adolescents with CL/P in the Context of Re-constructive Surgery. J Depress Anxiety 2011; 1: 1000102.

Hendry J, Chin A, Swan I R C, Akeroyd M A, Browning G G. The Glasgow Benefit Inventory: a systematic review of the use and value of an otorhinolaryngological generic patient-recorded outcome measure. Clin Otolaryngol 2016; 41: 259-275.

Kubba H, Swan I R C, Gatehouse S. The Glasgow Children's Benefit Inventory: a new instrument for assessing health-related benefit after an intervention. Ann Otol Rhinol Laryngol 2004; 113: 980-986.

Devine M A, Dawson S. The Effect of Residential Camp Experience on Self Esteem and Social Acceptance of Youth with Craniofacial Differences. Therapeut Recreat J 2010; 44: 105-120.

Sistema Global. El Sistema in Venezuela. 2021. Available at https://sistemaglobal.org/about/el-sistema-venezuela/ (accessed October 2022).

Creech A, González-Moreno P, Lorenzino L et al. El Sistema and Sistema-Inspired Programmes: A literature review of research, evaluation, and critical debates. 2016. Available at https://sistemaglobal.org/literature-review/ (accessed October 2022).

Bowden L, Long T, Henry H. Evaluation of a Choir as a Non-Medical Intervention for Children with Asthma: BreathStars. Compr Child Adolesc Nurs 2020; 43: 128-141.

Andrew W. Bronchial Boogie. J R Soc Promot Health 2008; 128: 287-288.

Manchester Evening News. Twins' asthma is blown away. 2013. Available at https://www.manchestereveningnews.co.uk/news/greater-manchester-news/twins-asthma-is-blown-away-1111238 (accessed: October 2022).

Eley R, Gorman D, Gately J. Didgeridoos, songs and boomerangs for asthma management. Health Promot J Austr 2010; 21: 39-44.

Blome C, Augustin M. Measuring change in quality of life: bias in prospective and retrospective evaluation. Value Health 2015; 18: 110-115.

Hackshaw A. Small studies: Strengths and limitations. Eur Respir J 2008; 32: 1141-1143.
Acknowledgements
The authors are grateful to David Alexander for his support while preparing the manuscript and editing the English language usage.
Funding
This research received no specific grant from any funding agency in the public, commercial, or non-profit sectors. For this study, no funding was accepted.
Ethics declarations
The authors declare that they have no conflicts of interest, besides being a member of Asociación San Lucas Peru (LHE) and San Lucas Foundation the Netherlands (LHE, FNW).
The questionnaire as presented in this paper was part of a regular internal evaluation (by Asociación San Lucas) of the music programme. Informed consent was provided by all children, parents or caretakers who were approached to complete the questionnaire. The parents were asked for their permission to use the answers for quality and research purposes. The questionnaire was analysed by the first author using a fully anonymised dataset. As the data were retrospectively procured, ethical approval was not applicable.
About this article
Cite this article
van der Weijden, F., Hernández, E., Rossell Perry, P. et al. The influence of music lessons on the socio-emotional wellbeing of children with cleft lip and/or palate. Br Dent J (2023). https://doi.org/10.1038/s41415-023-5570-x
Received:

Accepted:

Published:

DOI: https://doi.org/10.1038/s41415-023-5570-x