Abstract
Introduction Nursing home residents with cognitive and physical disabilities often depend on assistance from caregivers to perform personal hygiene tasks including toothbrushing. Only a minority receives the care needed and toothbrushing compliance levels are not registered.
Aims To describe toothbrushing compliance levels in a nursing home setting and investigate the relevance and practicality of using telemonitoring-enabled powered toothbrushes for automated compliance tracking. Furthermore, to investigate changes in plaque and bleeding scores.
Materials and methods Nursing home residents were provided with powered toothbrushes and telemonitoring gateways. Toothbrushing frequency and duration were automatically recorded by the telemonitoring gateways, and an email report was sent once a week to the nursing home manager. Plaque index and bleeding index were assessed by dentists at baseline, at the end of the intervention and at three months post-intervention.
Results Data from 20 participants for 100 days (3,920 measurements) were collected and used to evaluate toothbrushing compliance. A minority of toothbrushings (5%) were in compliance with the two-minute toothbrushing duration recommendation, while around 30% achieved the one-minute toothbrushing minimum duration recommendation. Around 25% of participants would get only one toothbrushing per day, while 40% would get none. Both plaque and bleeding scores improved significantly during the project, but all progress was lost three months after the project's end.
Conclusions It is relevant and practical to monitor toothbrushing compliance in the nursing home setting using telemonitoring-enabled powered toothbrushes. Despite finding limited compliance levels, a significant improvement in the plaque and bleeding index was found after the intervention, which was lost again three months after the telemonitoring gateways had been removed.
Key points
In a typical Danish public nursing home setting, toothbrushing levels were generally found to be suboptimal for the majority of the residents.

After introducing telemonitoring-enabled powered toothbrushes, plaque and bleeding scores improved significantly, but improvements were lost three months after the study.

It is relevant and practical to automatically measure the compliance level of daily toothbrushing activities in the nursing home setting using telemonitoring-enabled powered toothbrushes.
This is a preview of subscription content
Access options
Subscribe to Journal
Get full journal access for 1 year
$119.00
only $4.96 per issue
All prices are NET prices.
VAT will be added later in the checkout.
Tax calculation will be finalised during checkout.
Rent or Buy article
Get time limited or full article access on ReadCube.
from$8.99
All prices are NET prices.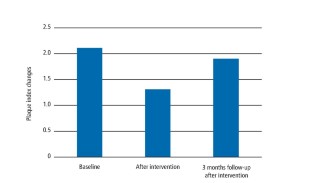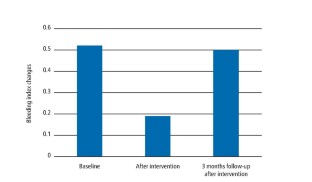 References
1.

Forsell M, Sjögren P, Johansson O. Need of assistance with daily oral hygiene measures among nursing home resident elderly versus the actual assistance received from the staff. Open Dent J 2009; 3: 241-244.

2.

Hoben M, Clarke A, Huynh K T et al. Barriers and facilitators in providing oral care to nursing home residents, from the perspective of care aides: A systematic review and meta-analysis. Int J Nurs Stud 2017; 73: 34-51.

3.

Visschere L D. The development and application of an oral health care model institutionalized older people. Ghent: Universiteit Gent, 2010. Thesis.

4.

Andersson P, Renvert S, Sjogren P, Zimmerman M. Dental status in nursing home residents with domiciliary dental care in Sweden. Community Dent Health 2017; 34: 203-207.

5.

Christensen L B, Hede B, Nielsen E. A cross-sectional study of oral health and oral health-related quality of life among frail elderly persons on admission to a special oral health care programme in Copenhagen City, Denmark.Gerodontology 2012; 29: 392-400.

6.

Aldossri M, Farmer J, Saarela O, Rosella L, Quiñonez C. Oral Health and Cardiovascular Disease: Mapping Clinical Heterogeneity and Methodological Gaps. JDR Clin Trans Res 2020; DOI: 10.1177/2380084420953121.

7.

Wu C-Z, Yuan Y-H, Liu H-H et al. Epidemiologic relationship between periodontitis and type 2 diabetes mellitus. BMC Oral Health 2020; 20: 204.

8.

Mylotte J M. Will Maintenance of Oral Hygiene in Nursing Home Residents Prevent Pneumonia? J Am Geriatr Soc 2018; 66: 590-594.

9.

Yaacob M, Worthington H W, Deacon S A et al. Powered versus manual toothbrushing for oral health. Cochrane Database Syst Rev 2014; DOI: 10.1002/14651858.CD002281.pub3.

10.

Fjeld K G, Mowe M, Eide H, Willumsen T. Effect of electric toothbrush on residents' oral hygiene: a randomized clinical trial in nursing homes. Eur J Oral Sci 2014; 122: 142-148.

11.

Lavigne S E, Doupe M B, Iacopino A M, Mahmud S, Elliott L. The effects of power toothbrushing on periodontal inflammation in a Canadian nursing home population: A randomized controlled trial.Int J Dent Hyg 2017; 15: 328-334.

12.

Wolden H, Strand G V, Gjellestad A. Caregivers' perceptions of electric versus manual toothbrushes for the institutionalised elderly.Gerodontology 2006; 23: 106-110.

13.

McCracken G, Janssen J, Heasman Let al. Assessing adherence with toothbrushing instructions using a data logger toothbrush. Br Dent J 2005; 198: 29-32.

14.

Loe H. The Gingival Index, the Plaque Index and the Retention Index Systems.J Periodontol 1967; 38:(6)Suppl: 610-616.

15.

Ainamo A, Bay I. Problems and proposals for recording gingivitis and plaque.Int Dent J 1975; 25: 229-235.

16.

Albrecht M, Kupfer R, Reissmann D R, Mühlhauser I, Köpke S. Oral health educational interventions for nursing home staff and residents. Cochrane Database Syst Rev 2016; DOI: 10.1002/14651858.CD010535.pub2.

17.

de Lugt-Lusti K H M E, Vanobbergen J N O, van der Putten G-J, De Visschere L M J, Schols J M G A, de Baat C. Effect of oral healthcare education on knowledge, attitude and skills of care home nurses: a systematic literature review. Community Dent Oral Epidemiol 2014; 42: 88-96.

18.

Aagaard K, Meléndez-Torres G J, Overgaard C. Improving oral health in nursing home residents: A process evaluation of a Shared Oral Care intervention. J Clin Nurs 2020; 29(17-18): 3392-3402.

19.

Samson H, Iversen M M, Strand G V. Oral care training in the basic education of care professionals.Gerodontology 2010; 27: 121-128.

20.

Sharif M, Newton T, Cunningham S. A systematic review to assess interventions delivered by mobile phones in improving adherence to oral hygiene advice for children and adolescents.Br Dent J 2019; 227: 375-382.
Acknowledgements
We would like to thank the participating nursing home residents and the caregiving and management staff. Also, we would like to acknowledge Aliviate Development, Denmark for lending us 20 CARIOT telehealth gateways including a LoraWAN gateway for the project, free of charge.
Ethics declarations
The authors declare that there are no conflicts of interest.
About this article
Cite this article
Wagner, S., Eriksen, C., Hede, B. et al. Toothbrushing compliance tracking in a nursing home setting using telemonitoring-enabled powered toothbrushes. Br Dent J (2021). https://doi.org/10.1038/s41415-021-3169-7
Received:

Accepted:

Published: