Abstract
While the conventional fabrication of removal partial dentures through the lost-wax technique is a time-tested technique, it is recognised as a 'complicated, error-prone, time-consuming and expensive process'. This has financial implications and can lead to increased chair time for the patient and dentist, resulting from low precision and ill-fitting frameworks. The use of computer-aided design and computer-aided manufacture brings removable prosthodontics into the digital era and opens up a host of benefits to the practitioner and laboratory technician. This paper introduces the benefits and downsides to adopting a digital workflow, and looks at the various alternative manufacturing techniques, which allow the clinician and technician to streamline their processes and make use of novel denture materials.
Key points
CAD-CAM systems are increasingly being adopted in the design and fabrication of removable prostheses.

The digital workflow is more time-efficient, can eliminate technique sensitivity and allows for easier collaborative discussions between patient, clinician and technician.

Computer-aided manufacture allows for the introduction of newer materials with advantageous properties when compared to traditional materials.
Access options
Subscribe to this journal
Receive 24 print issues and online access
$259.00 per year
only $10.79 per issue
Rent or buy this article
Get just this article for as long as you need it
$39.95
Prices may be subject to local taxes which are calculated during checkout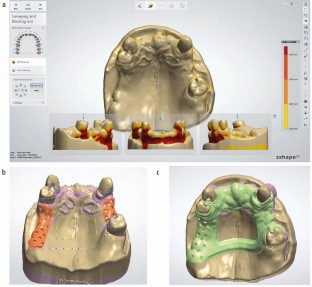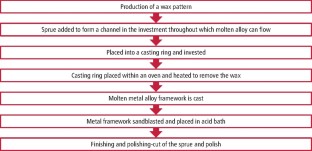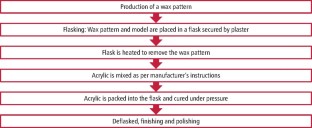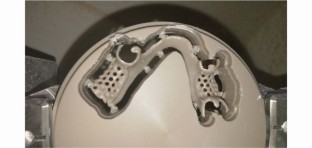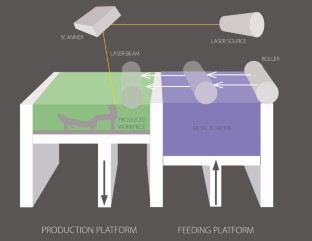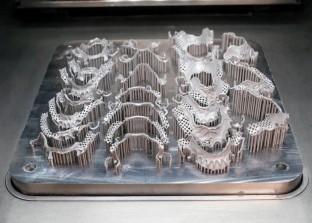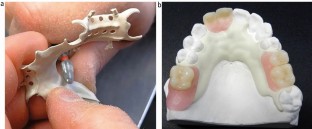 References
Bilgin M, Baytaroglu E, Erdem A, Dilber E. A review of computer-aided design/computer-aided manufacture techniques for removable denture fabrication. Eur J Dent 2016; 10: 286-291.

Wu J, Wang X, Zhao X, C Z, Gao B. A study on the fabrication method of removable partial denture framework by computer-aided design and rapid prototyping. Rapid Prototyp J 2012; 18: 318-323.

Campbell S, Cooper L, Craddock H et al. Removable partial dentures: The clinical need for innovation. J Prosthet Dent 2017; 118: 273-280.

Arnold C, Hey J, Schweyen R, Setz J. Accuracy of CAD-CAM-fabricated removable partial dentures. J Prosthet Dent 2018; 119: 586-592.

Diwan R, Talic Y, Omar N, Sadig W. Pattern waxes and inaccuracies in fixed and removable partial denture castings. J Prosthet Dent 1997; 77: 553-555.

Rudd R, Rudd K. A review of 243 errors possible during the fabrication of a removable partial denture: part I. J Prosthet Dent 2001; 86: 262-276.

Rudd R, Rudd K. A review of 243 errors possible during the fabrication of a removable partial denture: Part II. J Prosthet Dent 2001; 86: 262-276.

Rudd R, Rudd K. A review of 243 errors possible during the fabrication of a removable partial denture: part III. J Prosthet Dent 2001; 86: 277-288.

Ghani F, Moosa R. Effect of Curing Methods and Temperature on Porosity in Acrylic Resin Denture Bases. J Pak Dent Assoc 2012; 21: 127-135.

Abduo J, Lyons K, Bennamoun M. Trends in computer-aided manufacturing in prosthodontics: a review of the available streams. Int J Dent 2014; 2014: 783948.

Koutsoukis T, Zinelis S, Eliades G, Al-Wazzan K, Rifaiy M, Al Jabbari Y. Selective Laser Melting Technique of Co-Cr Dental Alloys: a review of structure and properties and comparative analysis with other available techniques. J Prosthodont 2015; 24: 303-312.

Han H, Yang H, Lim H, Park Y. Marginal accuracy and internal fit of machine-milled and cast titanium crowns. J Prosthet Dent 2011; 106: 191-197.

Abduo J, Lyons K, Swain M. Fit of zirconia fixed partial denture: a systematic review. J Oral Rehabil 2010; 73: 866-876.

Lima J M, Anami L C, Araujo R M, Pavanelli C A. Removable Partial Dentures: Use of Rapid Prototyping. J Prosthodont 2014; 23: 588-591.

Ye H, Ning J, Li M et al. Preliminary Clinical Application of Removable Partial Denture Frameworks Fabricated Using Computer-Aided Design and Rapid Prototyping Techniques. Int J Prosthodont 2017; 30: 348-353.

Anonymous. The Glossary of Prosthodontic Terms: Ninth Edition. J Prosthet Dent 2017; DOI: 10.1016/j.prosdent.2016.12.001.

Quadri S, Kapoor B, Singh G, Tewari R. Rapid prototyping: An innovative technique in dentistry. J Oral Res Rev 2017; 9: 96-102.

Almufleh B, Tamimi F, Caron E, Alageel O. 3D-Printed Removable Partial Dentures. In Digital Restorative Dentistry. pp 95-114. Switzerland: Springer, 2019.

Alifui-Segbaya F, Williams R, George R. Additive Manufacturing: A Novel Method for Fabricating Cobalt-Chromium Removable Partial Denture Frameworks. Eur J Prosthodont Restor Dent 2017; 25: 73-78.

Alageel O, Abdallah M, Alsheghri A, Song J, Caron E, Tamimi F. Removable partial denture alloys processed by laser-sintering technique. J Biomed Mater Res B Appl Biomater 2018; 106: 1174-1185.

Torabi K, Farjood E, Hamedani S. Rapid Prototyping Technologies and their Applications in Prosthodontics, a review of literature. J Dent (Shiraz) 2015; 16: 1-9.

Liu Q, Leu M C, Schmitt S M. Rapid prototyping in dentistry: technology and application. Int J Adv Manuf Technol 2005; 29: 317-335.

Benakatti V, Sajjanar A, Acharya A. Polyetheretherketone (PEEK) in Dentistry. J Clin Diag Res 2019; 13: 10-12.

Harb I, Abdel-Khalek E, Hegazy S. CAD/CAM Constructed Poly(etheretherketone) (PEEK) Framework of Kennedy Class I Removable Partial Denture: A Clinical Report. J Prosthodont 2019; DOI: 10.1111/jopr.12968.

Gray D, Barraclough O, Ali Z, Nattress B. Modern partial dentures - part 2: a review of novel metal-free materials and innovations in polymers. Br Dent J 2021; in press.

Pereira A L C, de Medeiros A K B, de Sousa Santos K, de Almeida É O, Barbosa G A S, da Fonte Porto Carreiro A. Accuracy of CAD-CAM systems for removable partial denture framework fabrication: A systematic review. J Prosthet Dent 2021; 125: 241-248.

Tregerman I, Renne W, Kelly A, Wilson D. Evaluation of Removable Partial Denture Frameworks Fabricated Using 3 Different Techniques. J Prosthet Dent 2019; 122: 390-395.

Kattadiyil M, Mursic Z, AlRumaih H, Goodacre C. Intraoral scanning of hard and soft tissues for partial removable dental prosthesis fabrication. J Prosthet Dent 2014; 112: 444-448.
Ethics declarations
The authors declare no conflicts of interest.
About this article
Cite this article
Barraclough, O., Gray, D., Ali, Z. et al. Modern partial dentures - part 1: novel manufacturing techniques. Br Dent J 230, 651–657 (2021). https://doi.org/10.1038/s41415-021-3070-4
Received:

Accepted:

Published:

Issue Date:

DOI: https://doi.org/10.1038/s41415-021-3070-4