Abstract
Introduction Specialist consultant services in the UK NHS provide a decision-making support service to other health professionals. There is a drive to deliver this service in a more patient-centred, cost-effective and efficient manner. Remote clinical consultations (RCC), using secure, live, super-fast internet connectivity and high-resolution, multi-channel audio-visual streaming, has the potential for the delivery of this service.
Aim To conduct a clinical service evaluation to assess the viability and efficiency of conducting a RCC for the management of primary care referrals in restorative dentistry, compared to an in-person consultation.
Design A RCC was conducted for every participating patient and immediately followed with a 'verification' in-person consultation.
Materials and method Twenty-three patients of even gender distribution participated in this study across the three specialisms of restorative dentistry. A thematic questionnaire was completed by each member of the study intervention team and the patient after each consultation.
Results In all the cases, the consultant was able to conduct an effective and safe clinical consultation, not inferior to an in-person process, regardless of gender and age. The GDP, the nurse and the patient were able to participate effectively in the process and with each other.
Conclusion This proof-of-concept study suggests that the RCC concept is a feasible way of delivering specialist consultations in restorative dentistry with high levels of patient acceptability and that it can be delivered in a practical and simple manner.
Access options
Subscribe to Journal
Get full journal access for 1 year
$119.00
only $4.96 per issue
All prices are NET prices.
VAT will be added later in the checkout.
Tax calculation will be finalised during checkout.
Rent or Buy article
Get time limited or full article access on ReadCube.
from$8.99
All prices are NET prices.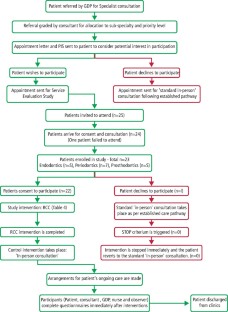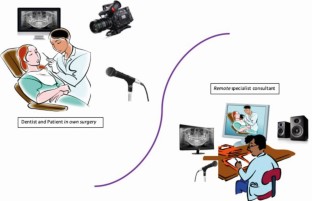 References
1.

NHS Future Forum. Patient Involvement and Public Accountability. A report from the NHS Future Forum. 2011. Available at https://assets.publishing.service.gov.uk/government/uploads/system/uploads/attachment_data/file/213752/dh_127544.pdf (accessed August 2019).

2.

Department of Health. Liberating the NHS: No decision about me, without me (Government response). 2012. Available at https://assets.publishing.service.gov.uk/government/uploads/system/uploads/ attachment_data/file/216980/LiberatingtheNHS NodecisionaboutmewithoutmeGovernmentresponse.pdf (accessed August 2019).

3.

Romano D, Longson T, Martin N. Minimal Data Set for Remote Clinical Consultations in Restorative Dentistry - An exploratory case study. Eur J Restor Dent Prosthodont 2019; in press.

4.

NHS Future Forum. Greater voice for patients - The Health and Social Care Bill. 2011. Available at http: //media.dh.gov.uk/network/18/files/2011/10/B3Greatervoiceforpatients.pdf (accessed February 2020).

5.

UK Government. Delivering better integrated care. 2014. Available at https: //www.gov.uk/guidance/enablingintegratedcareinthe-nhs (accessed February 2020).

6.

Monitor. Integrated care licence condition: guidance for providers of NHS-funded services. 2015. Available at https://assets.publishing.service.gov.uk/government/uploads/system/uploads/attachment_data/file/418493/IC_licence_condition_mar15.pdf (accessed February 2020).

7.

Frinton J, Chen H. Using teledentistry to improve access to dental care for the underserved. Dent Clin 2009; 53: 537-548.

8.

Reddy K. Using teledentistry for providing the specialist access to rural Indians. Indian J Dent Res 2011; 22: 189.

9.

Khemka S, Baliga S, Thosar N. Approaches to improve access to dental care services. Int Dent Med J Advan Res 2015; 1: 1-4.

10.

Mills I, Frost J, Cooper C, Moles D R, Kay E. Patient-centred care in general dental practice-a systematic review of the literature. BMC Oral Health 2014; 14: 64.

11.

Loh A, Simon D, Kriston L, Harter M. Shared Decision Making in Medicine. Dtsch Arztebl 2007; 104: 1483-1488.

12.

Strasser G, Stewart D D, Wittenbaum G M. Expert roles and information exchange during discussion - the importance of knowing who knows what. J Experiment Social Psychol. 1995; 31: 244-265.

13.

Dougall A, Fiske J. Access to special care dentistry, part 2. Communication. Br Dent J 2008; 205: 11.

14.

Martin N, Martinez Lazalde O, Stokes C W, Romano D. An evaluation of remote communication versus facetoface in clinical dental education. Br Dent J 2012; 212: 277-282.

15.

Amável R, Cruz-Correia R, Frias-Bulhosa J. Remote diagnosis of children dental problems based on non-invasive photographs - a valid proceeding? In (Adlassnig K-P, Blobel B, Mantas J, Masic I eds) Medical Informatics in a United and Healthy Europe: Proceedings of MIE 2009. pp 458-462. Amsterdam: IOS Press, 2009.

16.

Lu X L. CSCW Based Dental Clinic Image & Video Signal Processing. Appl Mechan Mat 2012; 148-149: 1534-1537.

17.

Irving M, Stewart R, Spallek H, Blinkhorn A. Using teledentistry in clinical practice, an enabler to improve access to oral health care: a qualitative systemic review. J Telemed Telecare 2018; 24: 129-146.

18.

Braun V, Clarke V. Using Thematic Analysis in Psychology. Qual Res Psychol 2006; 3: 77-101.

19.

NHS England and NHS Improvement. Commissioning Standard for Restorative Dentistry. 2019. Available at https://www.england.nhs.uk/wp-content/uploads/2019/07/commissioning-standard-for-restorative-dentistry-v1.pdf (accessed February 2020).

20.

NHS. NHS Long Term Plan. v1.2 January 2019. Available online at https://www.longtermplan.nhs.uk/ (accessed August 2019).

21.

Mercer S W, Fitzpatrick B, Guthrie B et al. The CARE Plus studya whole-system intervention to improve quality of life of primary care patients with multimorbidity in areas of high socioeconomic deprivation: exploratory cluster randomised controlled trial and cost-utility analysis. BMC Med 2016; 14: 88-94.

22.

Estai M, Kanagasingam Y, Tennant M, Bunt S. A systematic review of the research evidence for the benefits of teledentistry. J Telemed Telecare 2018; 24: 147-156.
About this article
Cite this article
Martin, N., Shahrbaf, S., Towers, A. et al. Remote clinical consultations in restorative dentistry: a clinical service evaluation study. Br Dent J 228, 441–447 (2020). https://doi.org/10.1038/s41415-020-1328-x
Further reading
Chang Liu

,

Shuang Zhang

,

Chenzheng Zhang

,

Baojun Tai

,

Han Jiang

&

Minquan Du

BMC Oral Health (2021)

Kate Parker

&

Matthew Chia

British Dental Journal (2021)

Kate Parker

&

Matthew Chia

British Dental Journal (2021)