Abstract
The publication of the Five Year Forward View promoted a drive within the NHS to improve access to care for all patients, across all specialties. This article describes what would be expected of a general dental practitioner (GDP) when treating patients with a cleft lip and/or palate in primary care and when it would be appropriate to refer and work alongside specialist services at the hospital. The inspiration for this article began after an audit investigating the complexity level of treatment need of patients with a cleft lip and/or palate referred into the Adult Restorative Clinic at Guy's Hospital. The results of the audit suggested that access to GDPs for this cohort of patients may be difficult and there may be a lack of confidence amongst GDPs with regards to what treatment they can or should provide. The article also discusses the potential of dentists with enhanced skills (DES) bridging the gap between primary and secondary care. The aim of the article is to increase the knowledge and understanding of GDPs with regards to treating patients with a cleft lip and/or palate and ultimately to improve the level of care these patients receive.
Access options
Subscribe to Journal
Get full journal access for 1 year
$499.00
only $20.79 per issue
All prices are NET prices.
VAT will be added later in the checkout.
Rent or Buy article
Get time limited or full article access on ReadCube.
from$8.99
All prices are NET prices.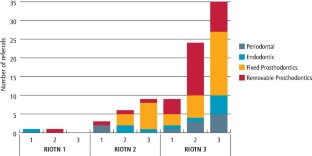 References
1.

NHS England, Public Health England, Health Education England, Monitor, Care Quality Commission, NHS Trust Development Authority. Five Year Forward View. 2014. Available online at http://www.england.nhs.uk/wp-content/uploads/2014/10/5yfv-web.pdf (accessed 1 October 2019).

2.

Bhatia S K, Collard M M. Access to primary dental care for cleft lip and palate patients in South Wales. Br Dent J 2012; 212: E10.

3.

Sandy J, Williams A, Mildinhall S et al. The Clinical Standards Advisory Group (CSAG) cleft lip and palate study. Br J Orthod 1998; 25: 21-30.

4.

Al-Dajani M. Comparison of dental caries prevalence in patients with cleft lip and/or palate and their sibling controls. Cleft Palate Craniofac J 2009; 46: 529-531.

5.

Britton, K F, Welbury, R R, Dental caries prevalence in children with cleft lip/palate aged between 6 months and 6 years in the West of Scotland. Eur Arch Paediatr Dent 2010; 11: 236-241.

6.

Royal College of Surgeons. Restorative Dentistry Index of Treatment Need. Complexity Assessment. London: RCS Eng, 2001.
About this article
Cite this article
Gallagher, N. A general dental practitioner's role in treating patients with a cleft lip and/or palate. Br Dent J 228, 19–21 (2020). https://doi.org/10.1038/s41415-019-1116-7