Abstract
Periodontitis and gingivitis remain two of the most common diseases that affect the oral cavity. As they are caused by plaque, effective oral hygiene, elimination of plaque-retentive factors and successful periodontal treatment will result in resolution of gingival and periodontal inflammation. Certain systemic diseases can have a clinical appearance similar to periodontal diseases or exacerbate existing periodontitis/gingivitis and vice versa. This paper aims to provide the dental practitioner with an understanding of the manifestations of systemic diseases to the periodontium and highlights elements in the clinical assessment, which will aid in establishing a correct diagnosis. Additional anamnestic and clinical clues are important for distinguishing between plaque-induced and non-plaque-induced lesions. The first part of this compendium covers immune-mediated and hereditary conditions as causes of gingival lesions, which can resemble those caused by dental plaque. The different conditions are presented concisely and exemplified by clinical photographs. Dental practitioners should be aware of the various manifestations of systemic diseases to the periodontium in order to offer appropriate diagnosis and treatment, which can reduce both patient morbidity and mortality.
Access options
Subscribe to Journal
Get full journal access for 1 year
$499.00
only $20.79 per issue
All prices are NET prices.
VAT will be added later in the checkout.
Rent or Buy article
Get time limited or full article access on ReadCube.
from$8.99
All prices are NET prices.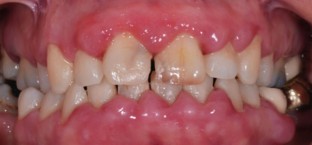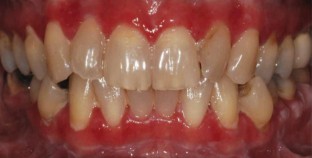 References
1.

Hajishengallis G. Periodontitis: from microbial immune subversion to systemic inflammation. Nat Rev Immunol 2015; 15: 30-44.

2.

Chi A C, Neville B W, Krayer J W, Gonsalves W C. Oral manifestations of systemic disease. Am Fam Physician 2010; 82: 1381-1388.

3.

Chapple I L C, Mealey B L, Van Dyke T E et al. Periodontal health and gingival diseases and conditions on an intact and a reduced periodontium: Consensus report of workgroup 1 of the 2017 World Workshop on the Classification of Periodontal and Peri-Implant Diseases and Conditions. J Periodontol 2018; 89(Suppl 1): S74S84.

4.

Al-Abeedi F, Aldahish Y, Almotawa Z, Kujan O. The differential diagnosis of desquamative gingivitis: Review of the literature and clinical guide for dental undergraduates. J Int Oral Health 2015; 7(Suppl 1): 88-92.

5.

Black M, Mignogna M D, Scully C. Number II. Pemphigus vulgaris. Oral Dis 2005; 11: 119-130.

6.

Huang YH, Kuo CF, Chen YH, Yang YW. Incidence, mortality, and causes of death of patients with pemphigus in Taiwan: a nationwide population-based study. J Invest Dermatol 2012; 132: 92-97.

7.

McMillan R, Taylor J, Shephard M et al. World Workshop on Oral Medicine VI: a systematic review of the treatment of mucocutaneous pemphigus vulgaris. Oral Surg Oral Med Oral Pathol Oral Radiol 2015; 120: 132-142.e61.

8.

Di Zenzo G, Carrozzo M, Chan L S. Urban legend series: mucous membrane pemphigoid. Oral Dis 2014; 20: 35-54.

9.

Chan L S, Ahmed A R, Anhalt G J et al. The first international consensus on mucous membrane pemphigoid: definition, diagnostic criteria, pathogenic factors, medical treatment, and prognostic indicators. Arch Dermatol 2002; 138: 370-379.

10.

Scully C. PL6 Sub-epithelial vesiculobullous disorders: treatment now and on the horizon. Oral Dis 2006; 12(s1): 2.

11.

Neff A G, Turner M, Mutasim D F. Treatment strategies in mucous membrane pemphigoid. Ther Clin Risk Manag 2008; 4: 617-626.

12.

Chan L S. Ocular and oral mucous membrane pemphigoid (cicatricial pemphigoid). Clin Dermatol 2012; 30: 34-37.

13.

Hasan S. Desquamative gingivitis - A clinical sign in mucous membrane pemphigoid: Report of a case and review of literature. J Pharm Bioallied Sci 2014; 6: 122-126.

14.

Tilakaratne W M, Freysdottir J, Fortune F. Orofacial granulomatosis: review on aetiology and pathogenesis. J Oral Pathol Med 2008; 37: 191-195.

15.

Alawi F. An Update on granulomatous diseases of the oral tissues. Dent Clin North Am 2013; 57: 657-671.

16.

Critchlow W A, Chang D. Cheilitis granulomatosa: A review. Head Neck Pathol 2014; 8: 209-213.

17.

Orphanet Report Series (Rare Disease Collection). 2018. Online information available at http://www.orpha.net/orphacom/cahiers/docs/GB/Prevalence_of_rare_diseases_by_decreasing_prevalence_or_cases.pdf (accessed May 2019).

18.

Lankarani K B, Sivandzadeh G R, Hassanpour S. Oral manifestation in inflammatory bowel disease: A review. World J Gastroenterol 2013; 19: 8571-8579.

19.

Mortada I, Leone A, Gerges Geagea A et al. Oral manifestations of inflammatory bowel disease. J Biol Regul Homeost Agents 2017; 31: 817-821.

20.

Gupta S, Tripathi A K, Kumar V, Saimbi C S. Sarcoidosis: Oral and extra-oral manifestation. J Indian Soc Periodontol 2015; 19: 582-585.

21.

Poate T W, Sharma R, Moutasim K A, Escudier M P, Warnakulasuriya S. Orofacial presentations of sarcoidosis - a case series and review of the literature. Br Dent J 2008; 205: 437-442.

22.

Hanisch M, Fröhlich L F, Kleinheinz J. Gingival hyperplasia as first sign of recurrence of granulomatosis with polyangiitis (Wegener's granulomatosis): case report and review of the literature. BMC Oral Health 2017; 17: 33.

23.

Alrashdan M S, Cirillo N, McCullough M. Oral lichen planus: a literature review and update. Arch Dermatol Res 2016; 308: 539-551.

24.

McCartan B E, Healy C M. The reported prevalence of oral lichen planus: a review and critique. J Oral Pathol Med 2008; 37: 447-453.

25.

Gupta S, Jawanda M K. Oral lichen planus: an update on etiology, pathogenesis, clinical presentation, diagnosis and management. Indian J Dermatol 2015; 60: 222-229.

26.

Nathan C. Neutrophils and immunity: challenges and opportunities. Nat Rev Immunol 2006; 6: 173-182.

27.

Schwartzberg L S. Neutropenia: Etiology and Pathogenesis. Clin Cornerstone 2006; 8: S5-S11.

28.

Capsoni F, Sarzi-Puttini P, Zanella A. Primary and secondary autoimmune neutropenia. Arthritis Res Ther 2005; 7: 208-214.

29.

Tirali R E, Yalcinkaya Erdemci Z, Cehreli S B. Oral findings and clinical implications of patients with congenital neutropenia: a literature review. Turk J Pediatr 2013; 55: 241-245.

30.

Park M S, Tenenbaum H C, Dror Y, Gloguaer M. Oral health comparison between children with neutropenia and healthy controls. Special Care Dent 2014; 34: 12-18.

31.

Galvin S, Bowe C, O'Regan E M, Conlon N, Flint S R, Healy C M. Circumorificial plasmacytosis/plasma cell orificial mucositis: a case series and a review of the literature. Oral Surg Oral Med Oral Pathol Oral Radiol 2016; 122: e77-81.

32.

Janam P, Nayar B R, Mohan R, Suchitra A. Plasma cell gingivitis associated with cheilitis: A diagnostic dilemma! J Indian Soc Periodontol 2012; 16: 115-119.

33.

Dhadse P V, Yeltiwar R K, Pandilwar P K, Gosavi S R. Hereditary gingival fibromatosis. J Indian Soc Periodontol 2012; 16: 606-609.

34.

Cekmez F, Pirgon O, Tanju I A. Idiopathic gingival hyperplasia. Int J Biomed Sci 2009; 5: 198-200.

35.

Wright H J, Chapple I L, Matthews J B. TGF-beta isoforms and TGF-beta receptors in drug-induced and hereditary gingival overgrowth. J Oral Pathol Med 2001; 30: 281-289.

36.

Wright H J, Chapple I L, Cooper P, Matthews J B. Platelet-derived growth factor (PDGF) isoform and PDGF receptor expression in drug-induced gingival overgrowth and hereditary gingival fibrosis. Oral Dis 2006; 12: 315-323.

37.

Hirschfeld J, Higham J, Blair F, Richards A, Chapple I. Systemic disease or periodontal disease? Distinguishing causes of gingival inflammation: a guide for dental practicioners. Part 2: cancer related, infective, and other causes of gingivial pathology. Br Dent J 2019; In press.
Acknowledgements
The authors would like to thank Mr Mutahir Rahman at the Department of Periodontology of the Birmingham Dental School and Hospital for his permission to use clinical photographs. We further thank our patients for their consent to utilise their clinical photographs for this publication.
About this article
Cite this article
Hirschfeld, J., Higham, J., Chatzistavrianou, D. et al. Systemic disease or periodontal disease? Distinguishing causes of gingival inflammation: a guide for dental practitioners. Part 1: immune-mediated, autoinflammatory, and hereditary lesions. Br Dent J 227, 961–966 (2019). https://doi.org/10.1038/s41415-019-1050-8
Further reading
Samapika Routray

&

Priyadarshini Mishra

Oral Oncology (2020)

Josefine Hirschfeld

,

Jon Higham

,

Fiona Blair

,

Andrea Richards

&

Iain L. C. Chapple

British Dental Journal (2019)