Abstract
Modern endodontic microsurgery has a high reported success rate of up to 93.5%, making it a viable treatment option in the management of periapical disease when orthograde root treatment is not possible or inappropriate. This high success rate is intimately related to advanced techniques that have allowed practitioners to overcome historical barriers to the success seen in traditional surgical endodontics. When comparing traditional root-end surgery and endodontic microsurgery there are key differences when considering the flap design, access armamentarium, size of osteotomy, instruments used and root-end material. This paper highlights such key differences and advises practitioners on the techniques and instruments used to achieve high success rates, firmly establishing non-surgical endodontic treatment as an important treatment option in well-selected cases.
Access options
Subscribe to Journal
Get full journal access for 1 year
$499.00
only $20.79 per issue
All prices are NET prices.
VAT will be added later in the checkout.
Rent or Buy article
Get time limited or full article access on ReadCube.
from$8.99
All prices are NET prices.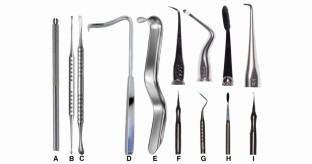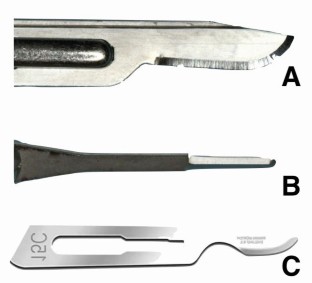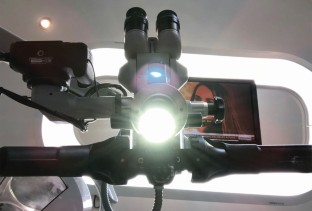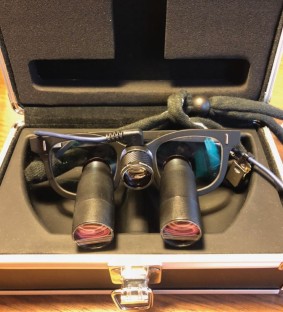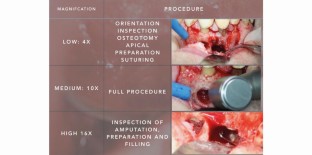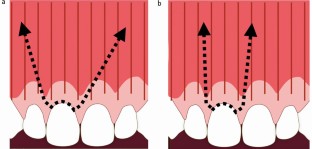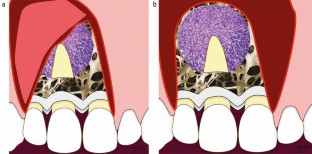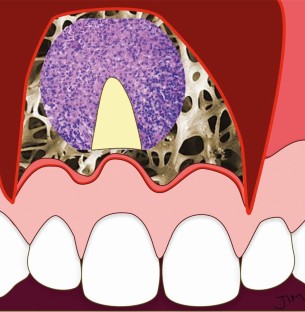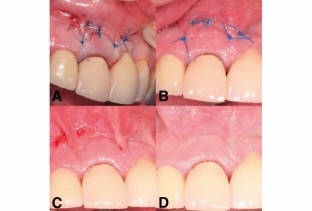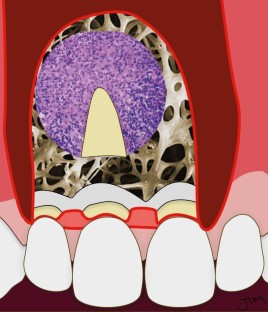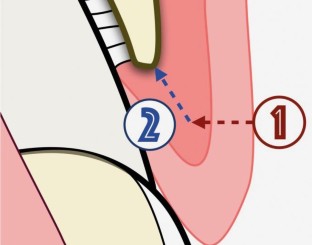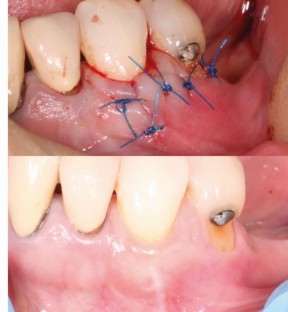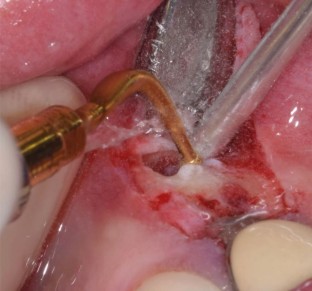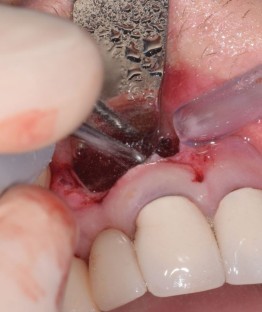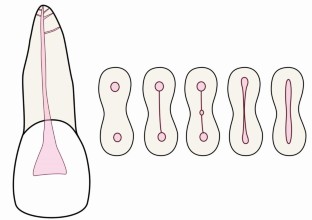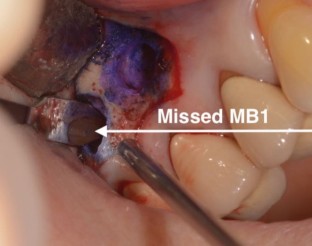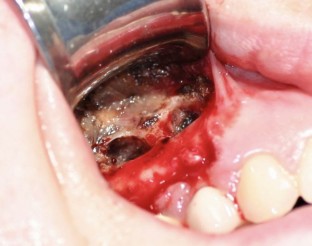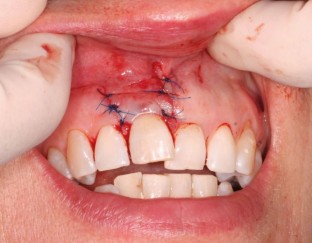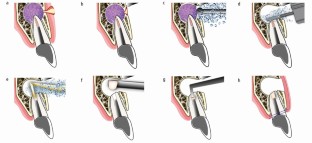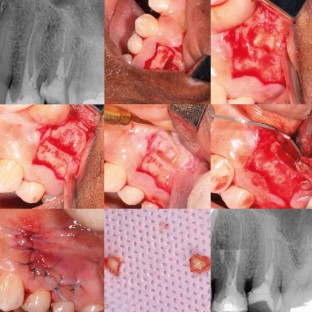 References
1.

Setzer F C, Kohli M R, Shah S B, Karabucak B, Kim S. Outcome of endodontic surgery: a meta-analysis of the literature Part 2: comparison of endodontic microsurgical techniques with and without the use of higher magnification. J Endod 2012; 38: 1-10.

2.

Setzer F C, Shah S B, Kohli M R, Karabucak B, Kim S. Outcome of endodontic surgery: a meta-analysis of the literature-part 1: Comparison of traditional root-end surgery and endodontic microsurgery. J Endod 2010; 36: 1757-1765.

3.

Kim S, Pecora G, Rubinstein R A. Color atlas of microsurgery in endodontics. Philadelphia: Saunders, 2001.

4.

Firestone A R, Scheurer P A, Bürgin W B. Patients' anticipation of pain and pain-related side effects, and their perception of pain as a result of orthodontic treatment with fixed appliances. Eur J Orthod 1999; 21: 387-396.

5.

Khan A A, Owatz C B, Schindler W G, Schwartz S A, Keiser K, Hargreaves K M. Measurement of mechanical allodynia and local anaesthetic efficacy in patients with irreversible pulpitis and acute periradicular periodontitis. J Endod 2007; 33: 796-799.

6.

Mikesell P, Nusstein J, Reader A, Beck M, Weaver J. A comparison of articaine and lidocaine for inferior alveolar nerve blocks. J Endod 2005; 31: 265-270.

7.

Kanaa M D, Whitworth J M, Corbett I P, Meechan J G. Articaine and lidocaine mandibular buccal infiltration anaesthesia: a prospective randomized double-blind cross-over study. J Endod 2006; 32: 296-298.

8.

Kim S, Kractchman S. Microsurgery in endodontics. 1st ed. Oxford: John Wiley & Sons, 2017.

9.

MacPhee I T, Cowley G C. Essentials of periodontology and periodontics. 3rd ed. Oxford: Wiley-Blackwell, 1981.

10.

Isidor F, Karring T, Nyman S, Lindhe J. New attachmentreattachment following reconstructive periodontal surgery. J Clin Periodontol 1985; 12: 728-735.

11.

Kramper B J, Kaminski E J, Osetek E M, Heuer M A. A comparative study of the wound healing of three types of flap design used in periapical surgery. J Endod 1984; 10: 17-25.

12.

Lang N P, Löe H. The relationship between the width of keratinized gingiva and gingival health. J Periodontol 1972; 43: 623-627.

13.

Velvart P, Peters C I, Peters O A. Soft tissue management: flap design, incision, tissue elevation, and tissue retraction. Endod Topics 2006; 11: 78-97.

14.

Rubinstein R A, Kim S. Short-term observation of the results of endodontic surgery with the use of a surgical operation microscope and super-EBA as root-end filling material. J Endod 1999; 25: 43-48.

15.

Matthews L S, Hirsch C. Temperatures measured in human cortical bone when drilling. J Bone Joint Surg Am 1972; 54: 297-308.

16.

Vertucci F J. Root canal anatomy of the human permanent teeth. Oral Surg Oral Med Oral Pathol 1984; 58: 589-599.

17.

Gilheany P A, Figdor D, Tyas M J. Apical dentin permeability and microleakage associated with root-end resection and retrograde filling. J Endod 1994; 20: 22-26.

18.

Shearer J, McManners J. Comparison between the use of an ultrasonic tip and a microhead handpiece in periradicular surgery: a prospective randomised trial. Br J Oral Maxillofac Surg 2009; 47: 386-388.

19.

Gutman J L, Harrison J W. Surgical Endodontics. Boston: Blackwell Scientific, 1994.

20.

Burns R C, Cohen S. Pathways of the pulp. 7th ed. St Louis: C V Mosby, 1998.

21.

Dorn S O, Gartner A H. Retrograde filling materials: a retrospective success-failure study of amalgam, EBA, and IRm. J Endod 1990; 16: 391-393.

22.

Bodrumlu E. Biocompatibility of retrograde root filling materials: a review. Aust Endod J 2008; 34: 30-35.

23.

Torabinejad M, Hong C U, Lee S J, Monsef M, Pitt Ford T R. Investigation of mineral trioxide aggregate for root-end filling in dogs. J Endod 1995; 21: 603-608.

24.

Damas B A, Wheater M A, Bringas J S, Hoen M M. Cytotoxicity comparison of mineral trioxide aggregates and EndoSequence bioceramic root repair materials. J Endod 2011; 37: 372-375.

25.

Lovato K F, Sedgley C M. Antibacterial activity of endosequence root repair material and proroot MTA against clinical isolates of Enterococcus faecalis. J Endod 2011; 37: 1542-1546.

26.

Nair U, Ghattas S, Saber M, Natera M, Walker C, Pileggi R. A comparative evaluation of the sealing ability of 2 root-end filling materials: an in vitro leakage study using Enterococcus faecalis. Oral Surg Oral Med Oral Pathol Oral Radiol Endod 2011; 112: e74-e77.

27.

Hirschman W R, Wheater M A, Bringas J S, Hoen M M. Cytotoxicity comparison of three current direct pulp-capping agents with a new bioceramic root repair putty. J Endod 2012; 38: 385-388.

28.

Kokate S R, Pawar A M. An in vitro comparative stereomicroscopic evaluation of marginal seal between MTA, glass inomer cement and biodentine as root-end filling materials using 1% methylene blue as tracer. Endodontology 2012; 24: 36-42.

29.

Haapasalo M, Parhar M, Huang X, Wei X, Lin J, Shen Y. Clinical use of bioceramic materials. Endod Topics 2015; 32: 97-117.

30.

Naik M M, de Ataide Ide N, Fernandes M, Lambor R. Assessment of apical seal obtained after irrigation of root-end cavity with MTAD followed by subsequent retrofilling with MTA and Biodentine: An in vitro study. J Conserv Dent 2015; 18: 132-135.

31.

Trope M, Bunes A, Debelian G. Root filling materials and techniques: bioceramics a new hope? Endod Topics 2015; 32: 86-96.

32.

Peters L B, Wesselink P R. Soft tissues management in endodontic surgery. Dent Clin North Am 1997; 41: 513-528.

33.

Selvig K A, Biagiotti G R, Leknes K N, Wikesjö U M. Oral tissue reactions to suture materials. Int J Periodontics Restorative Dent 1998; 18: 474-487.

34.

Lilly G E, Armstrong J H, Salem J E, Cutcher J L. Reaction of oral tissues to suture materials: Part II. Oral Surg Oral Med Oral Pathol 1968; 26: 592-599.

35.

Burkhardt R, Preiss A, Joss A, Lang N P. Influence of suture tension to the tearing characteristics of the soft tissues: an in vitro experiment. Clin Oral Implants Res 2008; 19: 314-319.

36.

Harrison J W, Jurosky K A. Wound healing in the tissues of the periodontium following periradicular surgery. I. The incisional wound. J Endod 1991; 17: 425-435.

37.

Seymour R A, Meechan J G, Blair G S. Postoperative pain after apicectomy. A clinical investigation. Int Endod J 1986; 19: 242-247.

38.

Bloomquist D S. Pain control in endodontics. Dent Clin North Am 1979; 23: 543-553.

39.

Smith E A, Marshall J G, Selph S S, Barker D R, Sedgley C M. Nonsteroidal anti-inflammatory drugs for managing postoperative endodontic pain in patients who present with preoperative pain: a systematic review and meta-analysis. J Endod 2017; 43: 7-15.

40.

Asboe-Jörgensen V, Attström R, Lang N P, Löe H. Effects of a chlorhexidene dressing on the healing after periodontal surgery. J Periodontol 1974; 45: 13-17.

41.

Flotra L, Gjermo P, Rolla G, Waerhaug J. A 4-month study on the effect of chlorhexidene mouth washes on 50 soldiers. Scand J Dent Res 1972; 80: 10-17.

42.

von Arx T. Failed root canals: the case for apicectomy (periradicular surgery). J Oral Maxillofac Surg 2005; 63: 832-837.
About this article
Cite this article
Jadun, S., Monaghan, L. & Darcey, J. Endodontic microsurgery. Part two: armamentarium and technique. Br Dent J 227, 101–111 (2019). https://doi.org/10.1038/s41415-019-0516-z