Abstract
Background Since its discovery in 1862, the Gaillardot Phoenician gold wire dental bridge (Louvre artefact no. 5,777) has been the subject of conflicting interpretations as to its correct situation in the jaws, the origin of replaced teeth, and the possibility of teeth having been rearranged within the appliance.
Methods This paper offers an analysis based on examination and digital macrophotography of the appliance at the Louvre. Resultant images aided never-before considered points of evidence such as aspects of individual tooth anatomy, occlusion, and the need of the fabricating artisan to allow for crowding of the original dentition.
Results Pontic and abutment teeth bear a labial horizontal developmental groove and are the same colour. Canines and incisors conform to mandibular teeth anatomy and canines are in their correct positions. Canine incisal cusp wear and a flat labial arch indicates the dentition had been an Angle Class III anterior relationship. The incisor pontic teeth had originally been crowded out of the arch and were trimmed to reduce their width to fit the bridge within the arch.
Conclusions This extra evidence confirms the interpretation of a mandibular setting and correct positioning of teeth within the appliance. To create a favourable dental arrangement to address bridge stability and longevity, the fabricating artisan had to modify the dentition.
Access options
Access options
Subscribe to Journal
Get full journal access for 1 year
$737.00
only $30.71 per issue
All prices are NET prices.
VAT will be added later in the checkout.
Rent or Buy article
Get time limited or full article access on ReadCube.
from$8.99
All prices are NET prices.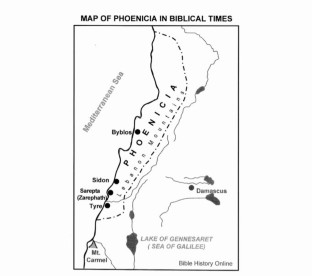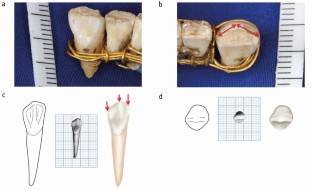 References
1.

Renan E. Mission de Phénicie. [French] Paris: Imprimerie Imperiale, 1864.

2.

Becker M J. Etruscan female tooth evulsion: gold dental appliances as ornaments. In Baker P A, Carr G (eds) Practitioners, Practices and Patients: New Approaches to Medical Archaeology and Anthropology. pp 238-259. Oxford: Oxbow Books, 2002.

3.

Becker M J, Turfa J M. The Etruscans and the History of Dentistry: The Golden Smile through the Ages. London: Routledge, 2017.

4.

Becker M J. Early dental appliances in the Eastern Mediterranean. Berytus 1997; 42: 71-102.

5.

Becker M J. The Valsiarosa Gold Dental Appliance: Etruscan Origins for Dental Prostheses. Journal of the Etruscan Foundation 1999; 6: 43-73.

6.

Becker M J. Etruscan Gold Dental Appliances Evidence for Early "Parting" of Gold in Italy Through the Study of Ancient Pontics. In Tsoucaris G, Lipkowski J (eds) Molecular and Structural Archaeology: Cosmetic and Therapeutic Chemicals. pp 11-27. Dordrecht: Springer Netherlands, 2003.

7.

Filderman J. Notice sur une prothèse fixe, datant d'avant J-C. La Revue Odontologique 1931; 52: 335-343.

8.

Van Marter J G. Further evidences of prehistoric dentistry. Independent Practitioner 1886; 7: 57-61.

9.

Lufkin A W, Castro F M, Archer W H. A History of Dentistry. 2nd ed. Philadelphia, PA: Lea & Febiger, 1948.

10.

Weinberger B W. Did dentistry evolve from the barbers, blacksmiths or from medicine? Bull Hist Med 1940; 8: 965-1011.

11.

Weinberger B W. Further evidence that dentistry was practiced in ancient Egypt, Phoenicia and Greece. Bull Hist Med 1946; 20: 188-195.

12.

Weinberger B W. An Introduction to the History of Dentistry. St. Louis, MO: The C V Mosby Company, 1948.

13.

Ring M E. Dentistry: An Illustrated History. New York: Harry N. Abrams, 1992.

14.

Farrar J N. Treatise on the Irregularities of the Teeth and Their Correction I. London: The International News Company, 1888.

15.

Guerini V. L'Odontologic. In Asbell M B Specimens of the Dental Art in Ancient Phoenicia (5th-4th Century B.C. Bull History of Medicine 1948; 22: 812-821, 815.

16.

Guerini V. A History of Dentistry: From The Most Ancient Times Until The End Of The Eighteenth Century. Philadelphia: Lea & Febiger, 1909.

17.

Deneffe V. La prosthése dentaire dans l'antiquité. [French] Anvers: H. Caals, 1899.

18.

Lemerle L. Notice sur l'historie de l'art dentaire, depuis les temps les plus recutés jusqu'à nos jours suirie du catalogue de l'exposition rétrospective de l'art dentaire organisée par l'école dentaire de Paris à l'exposition universelle de 1900. [French] Paris: Paris Bureau De L'Odontologie, 1900.

19.

Godon C. L'évolution de l'art dentaire. L'Ecole dentaire, son histories son action, son avenir. [French] Paris: Librarie J-B Bailliére et fils, 1901.

20.

Hoffmann-Axthelm W. Zahnprothetik im Ägypten: ein archäologische Tatsache? Quintessenz [German] 1976; 27: 155-163.

21.

Kirk E C. An added footnote to Guerini 1909:30, in Weinberger B W. 1948: 102

22.

Sudhoff K. Geschichte der Zahnheilkunde. [German] Leipzig: J A Barth, 1926.

23.

Weinberger B W. Orthodontics. An Historical Review of Its Origins and Evolution. St. Louis, MO: C V Mosby Company, 1926.

24.

Brown L P. The Antiquities of Dental Prosthesis (Part 1) To the Close of the Fifteenth Century, A. D. Dental Cosmos 1934; 76: 828-836.

25.

Clawson D. Phoenician Dentistry. Beirut: The Museum of Archaeology of the American University of Beirut, 1934.

26.

Iskander Z, Harris J, Farid S. Further evidence of dental prosthesis in ancient Egypt. Ann Serv Antiq Egypte 1979; 63: 103-113.

27.

Schneider H. La prosthèse dentaire dans l'Antiquité. [French] Paris: Universite Rene Descartes, 2000. Available at http://www.biusante.parisdescartes.fr/ressources/pdf/histmed-asclepiades-pdf-schneider.pdf (accessed May 2019).

28.

Blomstedt P. Dental surgery in ancient Egypt. J Hist Dent 2013; 61: 129-141.

29.

Nelson S J. Wheeler's Dental Anatomy, Physiology, and Occlusion. 9th ed. Philadelphia, PA: Elsevier Health Sciences, 2010.

30.

Dewey M. Dental Anatomy. St. Louis, MO: C V Mosby Company, 1917.

31.

Darveniza M. Full occlusal protection - theory and practice of occlusal therapy. Aust Dent J 2001; 46: 70-79.

32.

Leek F F. Bite, Attrition and Associated Oral Conditions as Seen in Ancient Egyptian Skulls. J Hum Evol 1972; 1: 289-295.

33.

Murray M A. Cereal production and processing. In Nicholson P T, Shaw I (eds) Ancient Egyptian Materials and Technology. pp 505-536. Cambridge: Cambridge University Press, 2000.

34.

Pain S. Why the pharaohs never smiled. New Scientist (London) 2005 June 29. Available at https://www.newscientist.com/article/mg18625061-900-why-the-pharaohs-never-smiled/ (accessed May 2019).

35.

Fields M. Book review: An appraisal of the skulls and dentition of ancient Egyptians, highlighting the pathology and speculating on the influence of diet and environment, J. Miller, ISBN 9781407302829. Int J Osteoarchaeol 2009; 19: 443-445.

36.

Forshaw R J. Dental health and disease in ancient Egypt. Br Dent J 2009; 206: 421-424.

37.

Pröschel P, Hofmann M. Frontal chewing patterns of the incisor point and their dependence on resistance of food and type of occlusion. J Prosthet Dent 1988; 59: 617-624.

38.

Komino M, Shiga H. Changes in mandibular movement during chewing of different hardness foods. Odontology 2017; 105: 418-425.

39.

Johansson A, Fareed K, Omar R. Analysis of possible factors influencing the occurrence of occlusal tooth wear in a young Saudi population. Acta Odontol Scand 1991; 49: 139-145.

40.

Shigenobu N, Hisano M, Shima S, Matsubara N, Soma K. Patterns of dental crowding in the lower arch and contributing factors. Angle Orthod 2007; 77: 303-310.

41.

Little R M, Wallen T R, Riedel R A. Stability and replapse of mandibular anterior alignment first premolar extraction cases treated by traditional edgewise orthodontics. Am J Orthod 1981; 80: 349-365.

42.

Forshaw R J. The practice of dentistry in ancient Egypt. Br Dent J 2009; 206: 481-486.