Next-Generation iTero Element 2 and New iTero Element Flex expand iTero's portfolio, promise fast, precision digital scanning and streamlined workflows, coupled with portability for implant practices.
Align Technology recently announced it has expanded the iTero Element portfolio with the launch of the iTero Element 2 and the iTero Element Flex scanners.
Both new scanners will be available for delegates to explore at the Association of Dental Implantology Congress (Stand 47-48) being held on 2 to 4 May 2019 at the EICC in Edinburgh.
The new additions build on the existing high precision, full-colour imaging and fast scan times of the iTero Element portfolio while streamlining orthodontic and restorative workflows.
The next-generation iTero Element 2 is designed for greater performance with two times faster start-up and 25% faster scan processing time compared with the iTero Element.
The new iTero Element Flex is a wand-only device that transforms compatible laptop computers into a highly portable scanner that works anywhere - it is perfect for practices with multiple locations who need a scanner that is convenient and easy to transport.
iTero Element 2: Next Generation Scanner with Enhanced Features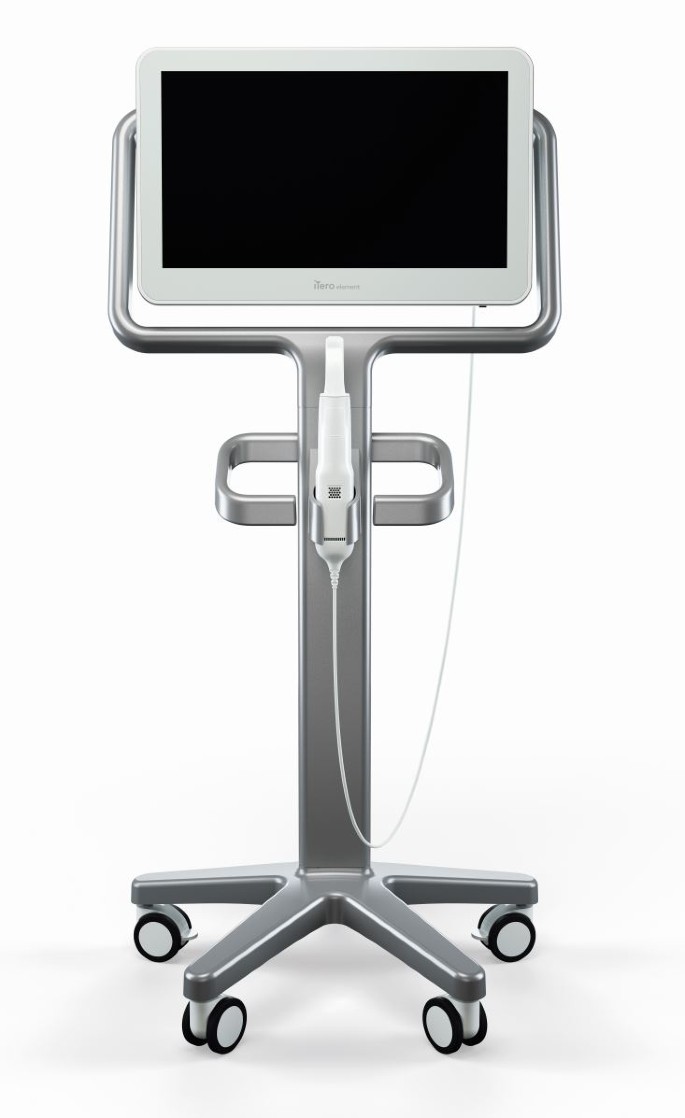 The new iTero Element 2 scanning system is equipped with next generation computing power that enables faster start-up and faster scan processing time.
The iTero Element 2 provides improved screen resolution while minimising scanner footprint due to its slim 21.5 inch monitor and 16:9 widescreen viewing format. An integrated lithium-ion battery provides easy mobility from operatory to operatory without the need to plug in for power or reboot (1). The iTero Element 2 scanner is designed with an ergonomic, centered wand cradle for easy access.
iTero Element Flex (2,3): Wand-Only, Laptop Configuration Scanner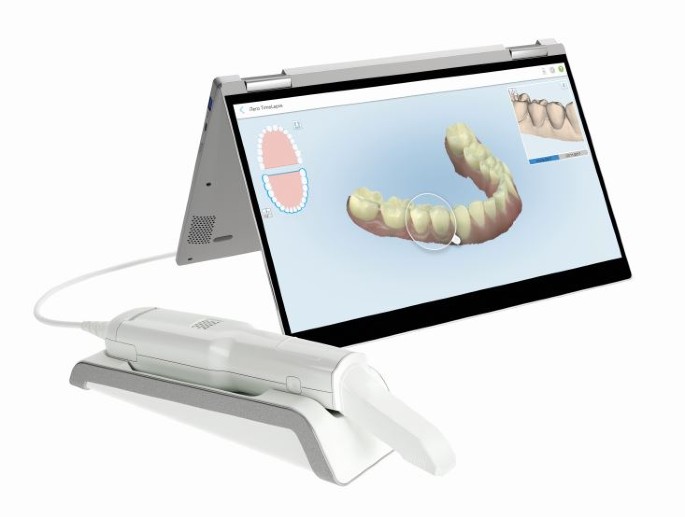 The new iTero Element Flex wand-only configuration is a portable scanner for easy transportation from practice to practice, and consulting room to consulting room, allowing doctors to leverage the power of chairside visualisation coupled with iTero scanning precision in any location.
Working seamlessly with compatible laptops, practitioners can now scan anywhere, even in the smallest of consulting rooms. The iTero Element Flex includes a convenient, custom-designed carrying case.
Streamlined Workflows with Full-Colour Scans
Like all iTero Element scanners, iTero Element 2 and iTero Element Flex are designed to work with existing iTero orthodontic and restorative workflows, including laboratory workflows, custom milled models, open STL export, custom implant abutment and chairside milling partners.
All iTero Element scanners generate crisp, full-colour, high-definition 3D scans that can be taken in as little as 60 seconds (4). The new systems will include all fundamental software applications such as Invisalign Outcome Simulator, Invisalign Progress Assessment and iTero TimeLapse popular technology.
To date, iTero scans have been used in more than 2.4 million restorative crown, bridge, and custom implant cases and more than 6.3 million iTero orthodontic scans, including more than 3 million Invisalign treatment related scans (5).
Visit The Association of Dental Implantology Congress (Stand 47-48), www.itero.com or www.facebook.com/iterodigitalimpressionsystem
1.

With a fully charged battery, the user can scan for 30 minutes without having to plug in for power

2.

iTero Element Flex is a mobile optical impression system (CAD/CAM) used to record the topographical images of teeth and oral tissue. To use the iTero Element Flex scanner, the user must purchase a laptop separately. To view a list of certified laptops, please visit the iTero.com website

3.

Laptop and all its accessories shall be located at least 1.5m away from the patient. Do not scan a patient and touch the laptop or any of its accessories at the same time

4.

Scan times vary and depend on individual experience. Data on file at Align Technology

5.

Invisalign scans include, but not limited to, additional aligner order scans, progress tracking, and do not reflect total Invisalign case shipments. Data on file at Align Technology, as of March 5, 2018.
For additional information about the Invisalign system or to find an Invisalign provider in your area, please visit www.invisalign.com. For additional information about iTero digital scanning system, please visit www.itero.com.
About this article
Cite this article
Align Technology showcases two new iTero scanners at ADI Congress. Br Dent J 226, 626 (2019). https://doi.org/10.1038/s41415-019-0256-0
Published:

Issue Date:

DOI: https://doi.org/10.1038/s41415-019-0256-0