Abstract
Aims To establish what work a sample of Overseas Registration Examination (ORE) registrants were undertaking and understand what had facilitated or impeded them from finding suitable employment as dentists. Method An online questionnaire, consisting of both closed and open questions, was used to capture data from a population of 1,106 former ORE candidates who passed the examination between 2009 and 2014 and were registered by the General Dental Council (GDC). The data were analysed and presented in the form of tables, figures and a presentation of the major themes that emerged from the responses. Results There was a 42% response rate. Seventy-one percent of respondents were employed as dentists in the UK, with the majority providing a mixture of private and NHS patient treatment. Most who were not working as dentists were actively seeking training places. Additional themes that were identified included: the availability of Dental Foundation/Vocational Training places; poor employment practices; perceptions of the strengths and weaknesses of the ORE; and some ideas about the future responsibilities of the GDC. Conclusions This survey has highlighted some difficulties that many ORE registrants face finding suitable work as dentists. Stakeholders should be aware of these challenges.
Access options
Subscribe to Journal
Get full journal access for 1 year
$119.00
only $4.96 per issue
All prices are NET prices.
VAT will be added later in the checkout.
Tax calculation will be finalised during checkout.
Rent or Buy article
Get time limited or full article access on ReadCube.
from$8.99
All prices are NET prices.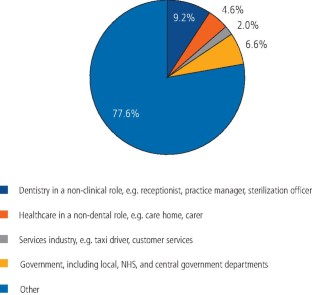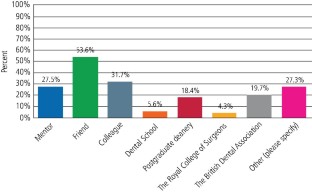 References
1.

Bissell V, Chamberlain S, Davenport E, Dawson L, Jenkins S, Murphy R. The Overseas Registration Examination of the General Dental Council. Br Dent J 2016; 221: 257-261.

2.

Tan R T, Burke F J T. Response rates to questionnaires mailed to dentists. A review of 77 publications. Int Dent J 1997; 47: 349-354.

3.

Kalsi A S, Kochlar S, Lewis N J, Haemmings K W. New graduates' knowledge of training and service provision within restorative dentistry: a survey. Br Dent J 2017; 222: 881-887.

4.

Krosnick J A. Survey research. Annu Rev Psychol 1999; 50: 537-567.

5.

British Dental Association. The State of General Dental Practice in 2013. 2013. Available at https://bda.org/dentists/policy-campaigns/campaigns/Documents/ddrb/state_of_general_dental_practice_november_2013.pdf (accessed February 2019).

6.

Farmer E, van Rooij J, Riemersma J, Moraal J, Jorna P. Handbook of simulator-based training. Abingdon: Routledge, 1999.

7.

Driskell J E, Willis R P, Copper C. The effect of overlearning on retention. J Appl Psychol 1992; 77: 615-622.

8.

Sawyer T, White M, Zaveri P et al. Learn, see, practice, prove, do, maintain: an evidence-based pedagogical framework for procedural skills training in medicine. Acad Med 2015; 90: 1025-1033.

9.

Gamble M A. Finding your first job as an associate in general dental practice. Br Dent J 2015; 218: 223-225.

10.

Royal College of Surgeons. VT by Equivalence. Available at https://www.rcseng.ac.uk/dental-faculties/fds/nacpde/vtbyequivalence/ (accessed February 2019).

11.

COPDEND. Guidelines for British citizens with an EEA or Non-UK, Non-EEA, Overseas dental degree. 2017. Available at http://www.copdend.org/content.aspx?Group=eea&Page=eea_guidance (accessed February 2019).

12.

NHS Health Careers. Information for overseas dentists. Available at https://www.healthcareers.nhs.uk/i-am/outside-uk/informationoverseasdentists (accessed February 2019).

13.

BDJ Jobs. Working in UK dentistry from overseas. 2017. Available at https://www.bdjjobs.com/article/-workinginukdentistry (accessed February 2019).
Acknowledgements
We are grateful to the GDC for funding this survey, the GDC research team for help and advice, and lastly, the many ORE dentists who shared their thoughts and experiences with us.
About this article
Cite this article
Jenkins, S., Bissell, V., Dawson, L. et al. What did they do next? A survey of dentists who have passed the Overseas Registration Examination of the General Dental Council. Br Dent J 226, 342–348 (2019). https://doi.org/10.1038/s41415-019-0032-1
Further reading
Latha S. Davda
David R. Radford
Jennifer E. Gallagher

BDJ Open (2020)