Abstract
Genetic deletions of IKZF1 (IKZF1del) and IKZF1del plus other mutations (IKZF1plus) have been identified in B-cell acute lymphoblastic leukemia (B-ALL) with a poor prognosis. Herein, we investigated the combination of IKZF1del and CD20 immunotypes in adult patients with B-ALL in the PDT-ALL-2016 cohort. This study cohort consisted of 161 patients with B-ALL with detailed information on IKZF1del and CD20 expression. The independent cohort included 196 patients from the TARGET dataset. IKZF1del was detected in 36.0% of patients with 3-year event-free survival (EFS) of 37.1 ± 6.7% and overall survival (OS) of 51.5 ± 7.3%, compared to IKZF1 wild-type (IKZF1wt) with an EFS 55.3 ± 5.1% (P = 0.011) and OS 74.4 ± 4.5% (P = 0.013), respectively. CD20-positive (CD20+) was associated with inferior EFS compared to the CD20-negative (CD20-) group (P = 0.020). Furthermore, IKZF1del coupled with CD20+, IKZF1del/CD20+, comprised 12.4% of patients with a 3-year EFS of 25.0 ± 9.7%, compared with IKZF1wt/CD20− (P ≤ 0.001) and IKZF1del/CD20− (P = 0.047) groups. Multivariable analyses demonstrated the independence of IKZF1del/CD20+, with the highest predicted hazard ratio for EFS and OS. Furthermore, the prognostic panel of IKZF1del/CD20+ was confirmed in the TARGET cohort. Notably, neither the IKZF1del, CD20+, or IKZF1del/CD20+ groups were identified to have poor outcomes in the cohort of allogeneic hematopoietic stem cell transplantation (n = 81).Collectively, our data define IKZF1del/CD20+ as a very high-risk subtype in B-ALL, and allo-HSCT could abrogate the poor outcome of both IKZF1del and IKZF1del/CD20+ subsets.
Access options
Subscribe to Journal
Get full journal access for 1 year
$119.00
only $9.92 per issue
All prices are NET prices.
VAT will be added later in the checkout.
Tax calculation will be finalised during checkout.
Buy article
Get time limited or full article access on ReadCube.
$32.00
All prices are NET prices.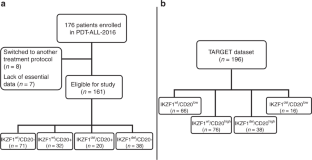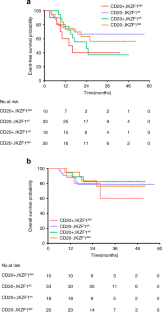 Data availability
The data that support the findings of this study are available from the corresponding author upon request.
Acknowledgements
This study was supported by National Natural Science Foundation of China (NSFC 82170163, 81970147, 81770170, to HSZ), the Science and Technology Planning Project of Guangdong Province (No. 2017A030313601 to HSZ), the Clinical Trial Funding of SMU (2016A020215112), and Nanfang Hospital (LC2016ZD009/2019CR012).
Ethics declarations
Competing interests
The authors declare no competing interests.
Ethics approval
The study was performed in accordance with the Declaration of Helsinki, and the protocol was approved by ethical review boards of Southern Hospital, Southern Medical University before study initiation(NFEC-2018-002).
Additional information
Publisher's note Springer Nature remains neutral with regard to jurisdictional claims in published maps and institutional affiliations.
Supplementary information
Rights and permissions
Springer Nature or its licensor holds exclusive rights to this article under a publishing agreement with the author(s) or other rightsholder(s); author self-archiving of the accepted manuscript version of this article is solely governed by the terms of such publishing agreement and applicable law.
About this article
Cite this article
Tang, B., Cai, Z., Wang, Z. et al. Allogeneic hematopoietic stem cell transplantation overcome the poor prognosis of patients with IKZF1plus CD20–a very high-risk subtype in B-cell acute lymphoblastic leukemia. Bone Marrow Transplant 57, 1751–1757 (2022). https://doi.org/10.1038/s41409-022-01797-1
Received:

Revised:

Accepted:

Published:

Issue Date:

DOI: https://doi.org/10.1038/s41409-022-01797-1