Abstract
The optimal conditioning regimen prior haploidentical stem cell transplantation (Haplo-SCT) with post transplantation cyclophosphamide (PT-Cy) for acute myeloid leukemia (AML) remains unknown. A non-myeloablative conditioning (NMAC) regimen (cyclophosphamide + fludarabine + TBI 2 Gy [CyFluTBI]) is a safe approach, but relapse incidence remains high in this setting. Alternatively, a reduced intensity conditioning (RIC) regimen combining thiotepa and reduced-dose busulfan with fludarabine (TBF) may decrease AML relapse. However, an excess of toxicity may counterbalance this potential benefit. We retrospectively compared CyFluTBI vs. TBF in CR AML patients who underwent Haplo-SCT with PT-Cy, in two different populations based on age. We analyzed 490 patients. In patients aged <60 years (n = 203), we observed a higher RI (HR = 3.59, 95% CI = 1.75–7.37, p < 0.01), lower LFS (HR = 1.98, 95% CI = 1.22–3.22, p < 0.01) and lower OS (HR = 1.73, 95% CI = 1.04–2.88, p = 0.04) in the CyFluTBI group, without significant difference in NRM. In older patients (n = 287), we observed that conditioning regimen did not significantly influence LFS (HR = 0.90, 95% CI = 0.56–1.44, p = 0.65), OS (HR = 0.81, 95% CI = 0.49–1.32, p = 0.39) and RI (HR = 1.78, 95% CI = 0.90–3.50, p = 0.10), but showed that CyFluTBI was associated with a significantly lower risk of NRM (HR = 0.48, 95% CI = 0.25–0.92, p = 0.03). Thus, younger patients seem to benefit from conditioning intensification from CyFluTBI to TBF regimens prior PT-Cy Haplo-SCT for CR AML, while older ones do not.
Access options
Subscribe to this journal
Receive 12 print issues and online access
$259.00 per year
only $21.58 per issue
Rent or buy this article
Prices vary by article type
from$1.95
to$39.95
Prices may be subject to local taxes which are calculated during checkout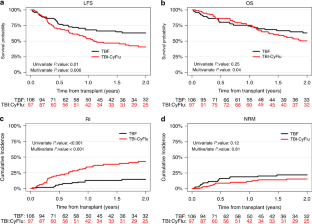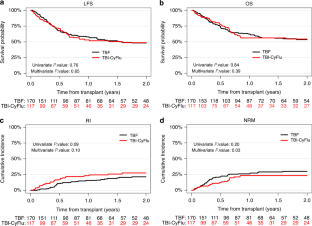 Data availability
Data is available on a specific request to the ALWP of EBMT.
References
Giralt S, Estey E, Albitar M, van Besien K, Rondón G, Anderlini P, et al. Engraftment of allogeneic hematopoietic progenitor cells with purine analog-containing chemotherapy: harnessing graft-versus-leukemia without myeloablative therapy. Blood. 1997;89:4531–6.

Blaise D, Devillier R, Lecoroller-Sorriano A-G, Boher J-M, Boyer-Chammard A, Tabrizi R, et al. Low non-relapse mortality and long-term preserved quality of life in older patients undergoing matched related donor allogeneic stem cell transplantation: a prospective multicenter phase II trial. Haematologica. 2015;100:269–74.

Devine SM, Owzar K, Blum W, Mulkey F, Stone RM, Hsu JW, et al. Phase II study of allogeneic transplantation for older patients with acute myeloid leukemia in first complete remission using a reduced-intensity conditioning regimen: results from cancer and leukemia group B 100103 (Alliance for Clinical Trials in Oncology)/Blood and Marrow Transplant Clinical Trial Network 0502. J Clin Oncol. 2015;33:4167–75.

Luznik L, O'Donnell PV, Symons HJ, Chen AR, Leffell MS, Zahurak M, et al. HLA-haploidentical bone marrow transplantation for hematologic malignancies using nonmyeloablative conditioning and high-dose, posttransplantation cyclophosphamide. Biol Blood Marrow Transpl. 2008;14:641–50.

Ciurea SO, Zhang M-J, Bacigalupo AA, Bashey A, Appelbaum FR, Aljitawi OS, et al. Haploidentical transplant with posttransplant cyclophosphamide vs matched unrelated donor transplant for acute myeloid leukemia. Blood. 2015;126:1033–40.

Cytryn S, Abdul-Hay M. Haploidentical hematopoietic stem cell transplantation followed by 'post-cyclophosphamide': The future of allogeneic stem cell transplant. Clin Hematol Int. 2020;2:49–58.

Kasamon YL, Bolaños-Meade J, Prince GT, Tsai H-L, McCurdy SR, Kanakry JA, et al. Outcomes of nonmyeloablative HLA-haploidentical blood or marrow transplantation with high-dose post-transplantation cyclophosphamide in older adults. J Clin Oncol. 2015. https://doi.org/10.1200/JCO.2014.60.4777.

Devillier R, Granata A, Fürst S, Harbi S, Faucher C, Weiller P-J, et al. Low incidence of chronic GVHD after HLA-haploidentical peripheral blood stem cell transplantation with post-transplantation cyclophosphamide in older patients. Br J Haematol. 2017;176:132–5.

Brunstein CG, Fuchs EJ, Carter SL, Karanes C, Costa LJ, Wu J, et al. Alternative donor transplantation after reduced intensity conditioning: results of parallel phase 2 trials using partially HLA-mismatched related bone marrow or unrelated double umbilical cord blood grafts. Blood. 2011;118:282–8.

McCurdy SR, Kanakry JA, Showel MM, Tsai H-L, Bolaños-Meade J, Rosner GL, et al. Risk-stratified outcomes of nonmyeloablative HLA-haploidentical BMT with high-dose posttransplantation cyclophosphamide. Blood. 2015;125:3024–31.

Raiola A, Dominietto A, Varaldo R, Ghiso A, Galaverna F, Bramanti S, et al. Unmanipulated haploidentical BMT following non-myeloablative conditioning and post-transplantation CY for advanced Hodgkin's lymphoma. Bone Marrow Transpl. 2014;49:190–4.

Di Stasi A, Milton DR, Poon LM, Hamdi A, Rondon G, Chen J, et al. Similar transplantation outcomes for acute myeloid leukemia and myelodysplastic syndrome patients with haploidentical versus 10/10 human leukocyte antigen-matched unrelated and related donors. Biol Blood Marrow Transpl. 2014;20:1975–81.

Cieri N, Greco R, Crucitti L, Morelli M, Giglio F, Levati G, et al. Post-transplantation cyclophosphamide and sirolimus after haploidentical hematopoietic stem cell transplantation using a treosulfan-based myeloablative conditioning and peripheral blood stem cells. Biol Blood Marrow Transpl. 2015;21:1506–14.

Chiusolo P, Bug G, Olivieri A, Brune M, Mordini N, Alessandrino PE, et al. A modified post-transplant cyclophosphamide regimen, for unmanipulated haploidentical marrow transplantation, in acute myeloid leukemia: a multicenter study. Biol Blood Marrow Transpl. 2018;24:1243–9.

Eder S, Labopin M, Finke J, Bunjes D, Olivieri A, Santarone S, et al. Safety and efficacy of thiotepa-based conditioning for allogeneic transplantation in AML: a survey from the ALWP of the EBMT. Bone Marrow Transpl. 2017;52:238–44.

Glucksberg H, Storb R, Fefer A, Buckner CD, Neiman PE, Clift RA, et al. Clinical manifestations of graft-versus-host disease in human recipients of marrow from HL-A-matched sibling donors. Transplantation. 1974;18:295–304.

Shulman HM, Sullivan KM, Weiden PL, McDonald GB, Striker GE, Sale GE, et al. Chronic graft-versus-host syndrome in man. A long-term clinicopathologic study of 20 Seattle patients. Am J Med. 1980;69:204–17.

Ruggeri A, Labopin M, Ciceri F, Mohty M, Nagler A. Definition of GvHD-free, relapse-free survival for registry-based studies: an ALWP-EBMT analysis on patients with AML in remission. Bone Marrow Transpl. 2016;51:610–1.

Kaplan E, Meier P. Nonparametric estimation from incomplete observations. J Am Stat Assoc. 1958;53:457–81.

Prentice RL, Kalbfleisch JD, Peterson AV, Flournoy N, Farewell VT, Breslow NE. The analysis of failure times in the presence of competing risks. Biometrics. 1978;34:541–54.

Kanate AS, Nagler A, Savani B. Summary of scientific and statistical methods, study endpoints and definitions for observational and registry-based studies in hematopoietic. Cell Transplant Clin Hematol Int. 2020;2:2–4.

Döhner H, Estey E, Grimwade D, Amadori S, Appelbaum FR, Büchner T, et al. Diagnosis and management of AML in adults: 2017 ELN recommendations from an international expert panel. Blood. 2017;129:424–47.

Ringdén O, Labopin M, Ehninger G, Niederwieser D, Olsson R, Basara N, et al. Reduced intensity conditioning compared with myeloablative conditioning using unrelated donor transplants in patients with acute myeloid leukemia. J Clin Oncol. 2009;27:4570–7.

Shimoni A, Hardan I, Shem-Tov N, Yeshurun M, Yerushalmi R, Avigdor A, et al. Allogeneic hematopoietic stem-cell transplantation in AML and MDS using myeloablative versus reduced-intensity conditioning: the role of dose intensity. Leukemia. 2006;20:322–8.

Fasslrinner F, Schetelig J, Burchert A, Kramer M, Trenschel R, Hegenbart U, et al. Long-term efficacy of reduced-intensity versus myeloablative conditioning before allogeneic haemopoietic cell transplantation in patients with acute myeloid leukaemia in first complete remission: retrospective follow-up of an open-label, randomised phase 3 trial. Lancet Haematol. 2018;5:e161–9.

Rubio MT, Savani BN, Labopin M, Piemontese S, Polge E, Ciceri F, et al. Impact of conditioning intensity in T-replete haplo-identical stem cell transplantation for acute leukemia: a report from the acute leukemia working party of the EBMT. J Hematol Oncol. 2016;9:25.

Solomon SR, St Martin A, Shah NN, Fatobene G, Al Malki MM, Ballen KK, et al. Myeloablative vs reduced intensity T-cell-replete haploidentical transplantation for hematologic malignancy. Blood Adv. 2019;3:2836–44.

Santoro N, Labopin M, Ciceri F, Van Lint MT, Nasso D, Blaise D, et al. Impact of conditioning intensity on outcomes of haploidentical stem cell transplantation for patients with acute myeloid leukemia 45 years of age and over. Cancer. 2019;125:1499–506.

Gagelmann N, Kröger N. Dose intensity for conditioning in allogeneic hematopoietic cell transplantation: can we recommend 'when and for whom' in 2021? Haematologica. 2021;106:1794–804.

Aoudjhane M, Labopin M, Gorin NC, Shimoni A, Ruutu T, Kolb H-J, et al. Comparative outcome of reduced intensity and myeloablative conditioning regimen in HLA identical sibling allogeneic haematopoietic stem cell transplantation for patients older than 50 years of age with acute myeloblastic leukaemia: a retrospective survey from the Acute Leukemia Working Party (ALWP) of the European group for Blood and Marrow Transplantation (EBMT). Leukemia. 2005;19:2304–12.

Bacigalupo A, Ballen K, Rizzo D, Giralt S, Lazarus H, Ho V, et al. Defining the intensity of conditioning regimens: working definitions. Biol Blood Marrow Transpl. 2009;15:1628–33.

Spyridonidis A, Labopin M, Savani BN, Niittyvuopio R, Blaise D, Craddock C, et al. Redefining and measuring transplant conditioning intensity in current era: a study in acute myeloid leukemia patients. Bone Marrow Transplant. 2020;55:1114–25.

Blaise D, Tabrizi R, Boher J-M, Le Corroller-Soriano A-G, Bay J-O, Fegueux N, et al. Randomized study of 2 reduced-intensity conditioning strategies for human leukocyte antigen-matched, related allogeneic peripheral blood stem cell transplantation: prospective clinical and socioeconomic evaluation. Cancer. 2013;119:602–11.

Bacigalupo A, Raiola AM, Lamparelli T, Gualandi F, Occhini D, Bregante S, et al. Thiotepa-based reduced intensity conditioning regimen: a 10 year follow up. Bone Marrow Transpl. 2007;40:1091–3.

Sora F, Grazia CD, Chiusolo P, Raiola AM, Bregante S, Mordini N, et al. Allogeneic hemopoietic stem cell transplants in patients with acute myeloid leukemia (AML) prepared with busulfan and fludarabine (BUFLU) or thiotepa, busulfan, and fludarabine (TBF): a retrospective study. Biol Blood Marrow Transpl. 2020;26:698–703.

Pagliardini T, Castagna L, Harbi S, Porta MD, Rey J, Fürst S, et al. Thiotepa, fludarabine, and busulfan conditioning regimen before T Cell-Replete haploidentical transplantation with post-transplant cyclophosphamide for acute myeloid leukemia: a bicentric experience of 100 patients. Biol Blood Marrow Transpl. 2019;25:1803–9.

Bazarbachi A, Labopin M, Blaise D, Forcade E, Socié G, Berceanu A, et al. Comparable outcomes of haploidentical transplant with TBF conditioning versus matched unrelated donor with fludarabine/busulfan conditioning for acute myeloid leukemia. Bone Marrow Transpl. 2021;56:622–34.

Saraceni F, Scortechini I, Fiorentini A, Dubbini MV, Mancini G, Federici I, et al. Conditioning regimens for frail patients with acute leukemia undergoing allogeneic stem cell transplant: how to strike gently. Clin Hematol Int. 2021;3:153–60.
Acknowledgements
We thank Emmanuelle Polge and Irma Khvedelidze from the EBMT Paris Study Unit. The list of participating centers is provided in the Supplementary Appendix 1.
Ethics declarations
Competing interests
The authors declare no competing interests.
Additional information
Publisher's note Springer Nature remains neutral with regard to jurisdictional claims in published maps and institutional affiliations.
Supplementary information
About this article
Cite this article
Devillier, R., Galimard, JE., Labopin, M. et al. Reduced intensity versus non-myeloablative conditioning regimen for haploidentical transplantation and post-transplantation cyclophosphamide in complete remission acute myeloid leukemia: a study from the ALWP of the EBMT. Bone Marrow Transplant 57, 1421–1427 (2022). https://doi.org/10.1038/s41409-022-01674-x
Received:

Revised:

Accepted:

Published:

Issue Date:

DOI: https://doi.org/10.1038/s41409-022-01674-x
This article is cited by
Rémy Duléry
Florent Malard
Mohamad Mohty

Bone Marrow Transplantation (2023)