To the Editor:
VEXAS (vacuoles, E1 enzyme, X-linked, autoinflammatory, somatic) syndrome is a newly described entity linked to somatic mutation of UBA1, encompassing inflammatory disorders and hematological malignancies. Patients experiments symptoms related to inflammatory manifestations on the skin, joints, lungs. Most patients are refractory to usual anti-inflammatory or immunosuppressive treatments. Half of them will develop hematological diseases, mostly myelodysplastic syndromes. VEXAS patients with hematological malignancies have a poor outcome and no curative option has been described so far. Because in the first reported cohort of VEXAS patients the UBA1 mutation was only found in hematopoietic stem cells but not in fibroblasts, we hypothesized that bone marrow transplantation would provide a cure for the disease. Here we report the case of a VEXAS patient who successfully received an allogeneic hematopoietic stem cell transplantation as a curative option.
Access options
Subscribe to Journal
Get full journal access for 1 year
$119.00
only $9.92 per issue
All prices are NET prices.
VAT will be added later in the checkout.
Tax calculation will be finalised during checkout.
Buy article
Get time limited or full article access on ReadCube.
$32.00
All prices are NET prices.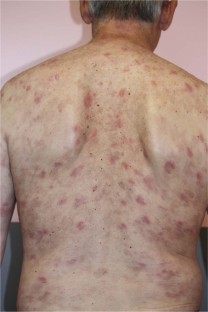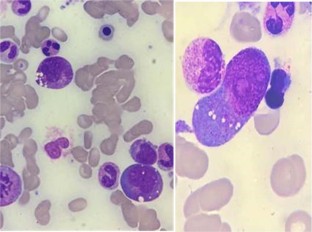 References
Beck DB, Ferrada MA, Sikora KA, Ombrello AK, Collins JC, Pei W, et al. Somatic Mutations in UBA1 and Severe Adult-Onset Autoinflammatory Disease. N Engl J Med. 2020;383:2628–38.

Obiorah IE, Patel BA, Groarke EM, Wang W, Trick M, Ombrello AK, et al. Benign and malignant hematologic manifestations in patients with VEXAS syndrome due to somatic mutations in UBA1. Blood Adv. 2021;5:3203–15.

Wang L, Raffoux E, Thomas X, Yakoub-Agha I, Bouhris J-H, de Botton S, et al. Immune stimulation during chemotherapy increases incidence of acute graft versus host disease in acute myeloid leukemia: a study on behalf of SFGM-TC and ALFA. Leuk Res. 2017;54:12–16.

Zeiser R, von Bubnoff N, Butler J, Mohty M, Niederwieser D, Or R, et al. Ruxolitinib for Glucocorticoid-Refractory Acute Graft-versus-Host Disease. N Engl J Med. 2020;382:1800–10.

Staels F, Betrains A. Woei-A-Jin FJSH, Boeckx N, Beckers M, Bervoets A et al. Case Report: VEXAS Syndrome: From Mild Symptoms to Life-Threatening Macrophage Activation Syndrome. Front Immunol. 2021;12:678927.

Muratore F, Marvisi C, Castrignanò P, Nicoli D, Farnetti E, Bonanno O et al. VEXAS syndrome: a case series from a single-center cohort of Italian patients with vasculitis. Arthritis Rheumatol. 2021. https://doi.org/10.1002/art.41992.

Georgin-Lavialle S, Terrier B, Guedon A f., Heiblig M, Comont T, Lazaro E et al. Further characterization of clinical and laboratory features occurring in VEXAS syndrome in a large-scale analysis of multicenter case-series of 116 French patients. Br J Dermatol. n/a. https://doi.org/10.1111/bjd.20805.

Bourbon E, Heiblig M, Gerfaud Valentin M, Barba T, Durel C-A, Lega JC, et al. Therapeutic options in VEXAS syndrome: insights from a retrospective series. Blood. 2021;137:3682–4.

Braun T, Fenaux P. Myelodysplastic Syndromes (MDS) and autoimmune disorders (AD): cause or consequence? Best Pr Res Clin Haematol. 2013;26:327–36.

Fain O, Braun T, Stirnemann J, Fenaux P. [Systemic and autoimmune manifestations in myelodysplastic syndromes]. Rev Med Interne. 2011;32:552–9.

Komrokji RS, Kulasekararaj A, Al Ali NH, Kordasti S, Bart-Smith E, Craig BM, et al. Autoimmune diseases and myelodysplastic syndromes. Am J Hematol. 2016;91:E280–283.

Fraison J-B, Mekinian A, Grignano E, Kahn J-E, Arlet J-B, Decaux O, et al. Efficacy of Azacitidine in autoimmune and inflammatory disorders associated with myelodysplastic syndromes and chronic myelomonocytic leukemia. Leuk Res. 2016;43:13–17.

Comont T, Heiblig M, Rivière E, Terriou L, Rossignol J, Bouscary D et al. Azacitidine for patients with Vacuoles, E1 Enzyme, X-linked, Autoinflammatory, Somatic syndrome (VEXAS) and myelodysplastic syndrome: data from the French VEXAS registry. Br J Haematol. 2021. https://doi.org/10.1111/bjh.17893.

Mutant UBA1 and Severe Adult-Onset Autoinflammatory Disease. N Engl J Med. 2021. https://doi.org/10.1056/NEJMc2102124.

Diarra A, Duployez N, Fournier E, Preudhomme C, Coiteux V, Magro L et al. Successful allogeneic hematopoietic stem cell transplantation in patients with VEXAS syndrome: a two center experience. Blood Adv. 2021. https://doi.org/10.1182/bloodadvances.2021004749.
Ethics declarations
Competing interests
The authors declare no competing interests.
Additional information
Publisher's note Springer Nature remains neutral with regard to jurisdictional claims in published maps and institutional affiliations.
About this article
Cite this article
Loschi, M., Roux, C., Sudaka, I. et al. Allogeneic stem cell transplantation as a curative therapeutic approach for VEXAS syndrome: a case report. Bone Marrow Transplant 57, 315–318 (2022). https://doi.org/10.1038/s41409-021-01544-y
Received:

Revised:

Accepted:

Published:

Issue Date:

DOI: https://doi.org/10.1038/s41409-021-01544-y
This article is cited by
Carmelo Gurnari
Donal P. McLornan

Bone Marrow Transplantation (2022)

Camila Andrea Guerrero-Bermúdez
Andrés Felipe Cardona-Cardona
Carlos Horacio Muñoz-Vahos

Clinical Rheumatology (2022)