Astract
Granulocyte–Colony-Stimulating factor (G-CSF) is currently the standard mobilising agent for peripheral blood stem cell (PBSC) donation. Concerns that it may trigger chromosome aberrations similar to those observed in leukaemia patients were refuted but long-term effects of G-CSF mobilisation on genome integrity remains unclear. In the setting of a multi-centre clinical trial we screened blood samples from 50 PBSC donors at cellular and gene level for aberrations common in haematological malignancies using fluorescence in situ hybridisation (FISH) and next generation sequencing (NGS) assays. Analysis of samples collected before, on the day of donation, 90 and 180 days after G-CSF admission confirmed the absence of short-term effects in PBSC donors on both quiescent and dividing cells. This data did not differ from the results of 50 individuals tested 3–5 years after bone marrow donation and 50 healthy persons. NGS using a panel targeting 54 genes recurrently affected in myeloid disorders (TruSight Myeloid panel, Illumina) showed that the gene profiles of samples from 48 PBSC donors remained stable throughout the study period. These data strongly indicate absence of detrimental effects on the genome integrity caused by PBSC donation.
Access options
Subscribe to Journal
Get full journal access for 1 year
$1,070.00
only $89.17 per issue
All prices are NET prices.
VAT will be added later in the checkout.
Rent or Buy article
Get time limited or full article access on ReadCube.
from$8.99
All prices are NET prices.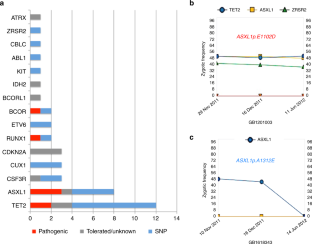 References
1.

Anderlini P, Przepiorka D, Champlin R, Körbling M. Biologic and clinical effects of granulocyte colony-stimulating factor in normal individuals. Blood 1996;88:2819–25.

2.

Pamphilon D, Nacheva E, Navarrete C, Madrigal A, Goldman J. The use of granulocyte-colony-stimulating factor in volunteer unrelated hemopoietic stem cell donors. Transfusion 2008;48:1495–501.

3.

Battiwalla M, McCarthy P. Filgrastim support in allogeneic HSCT for myeloid malignancies: a review of the role of G-CSF and the implications for current practice. Bone Marrow Transpl. 2009;43:351–6.

4.

Beekman R, Touw IP. G-CSF and its receptor in myeloid malignancy. Blood 2010;115:5131–6.

5.

Martino M, Fedele R, Massara E, Recchia A, Irrera G, Morabito F. Long-term safety of granulocyte colony-stimulating factor in normal donors: is it all clear? Expert Opin Biol Ther. 2012;12:609–21.

6.

Nagler A, Korenstein-Ilan A, Amiel A, Avivi L. Granulocyte colony-stimulating factor generates epigenetic and genetic alterations in lymphocytes of normal volunteer donors of stem cells. Exp Hematol. 2004;32:122–30.

7.

Avalos BR, Lazaryan A, Copelan EA. Can G-CSF cause leukaemia in hematopoietic stem cell donors? Biol Blood Marrow Transpl. 2011;17:1739–46.

8.

Shaw B, Confer D, Hwang W, Pulsipher M. A review of the genetic and long-term effects of G-CSF injections in healthy donors: a reassuring lack of evidence for the development of haematological malignancies. Bone Marrow Transpl. 2015;50:334–40.

9.

Marmier-Savet C, Larosa F, Legrand F, Witz B, Michallet M, Ranta D, et al. G-CSF-induced aneuploidy does not affect CD34+ cells and does not require cell division. Blood 2010;115:910–1.

10.

Hirsch B, Oseth L, Cain M, Trader E, Pulkrabek S, Lindgren B, et al. Effects of granulocyte-colony stimulating factor on chromosome aneuploidy and replication asynchrony in healthy peripheral blood stem cell donors. Blood 2011;118:2602–8.

11.

Mitelman F, Heim S. Cancer Cytogenetics: chromosomal and molecular genetic aberrations of tumour cells. 4th Edition. Wiley-Blackwell. 2015. p.1–10.

12.

Forbes SA, Bindal N, Bamford S, Cole C, Kok C, Beare D, et al. COSMIC: mining complete cancer genomes in the Catalogue of Somatic Mutations in Cancer. Nucleic Acids Res. 2011;39(supl. 1):D945–50.

13.

Network C, Weinstein JN, Collisson EA, Mills GB, Shaw KR, Ozenberger BA, et al. The Cancer Genome Atlas Pan-Cancer analysis project. Nat Genet. 2013;45:1113–20.

14.

Nangalia J, Mitchell E, Green AR. Clonal approaches to understanding the impact of mutations on hematologic disease development. Blood 2019;133:1436–45.

15.

Virgili A, Nacheva EP. Genomic amplification of BCR/ABL1 and a region downstream of ABL1 in chronic myeloid leukaemia: a FISH mapping study of CML patients and cell lines. Mol Cytogenet. 2010;3:15.

16.

Lek M, Karczewski KJ, Minikel EV, Samocha KE, Banks E, Fennell T, et al. Analysis of protein-coding genetic variation in 60,706 humans. Nature 2016;536:285–91.

17.

Stratton MR. Journeys into the genome of cancer cells. EMBO Mol Med. 2013;5:169–72.

18.

Steensma DP. Clinical Implications of Clonal Haematopoiesis. Mayo Clin Proc. 2018;93:1122–30.

19.

Bodian DL, McCutcheon JN, Kothiyal P, Huddleston KC, Iyer RK, Vockley JG, et al. Germline variation in cancer-susceptibility genes in a healthy, ancestrally diverse cohort: implications for individual genome sequencing. PloS one. 2014;9:e94554.

20.

Sperling AS, Gibson CJ, Ebert BL. The genetics of myelodysplastic syndrome: from clonal haematopoiesis to secondary leukaemia. Nat Rev Cancer. 2017;17:5–19.

21.

Tomasetti C, Li L, Vogelstein B. Stem cell divisions, somatic mutations, cancer aetiology, and cancer prevention. Science. 2017;355:1330–4.

22.

Boneva T. Prognostic significance of gene mutations in MDS depends on the loci of gene variances. EHA Library 2017;180952. (Abstract E1176).

23.

Dewald G, Noonan K, Spurbeck J, Johnson D. T-lymphocytes with 7;14 translocations: frequency of occurrence, breakpoints, and clinical and biological significance. Am J Hum Genet. 1986;38:520–32.
Acknowledgements
We are grateful to all the donors who agreed to take part in this study and the nursing staff who assisted us. We also thank all the office staff at the British Bone Marrow Registry (BBMR) and at Anthony Nolan, for their support in tracing the samples. The laboratory investigations were performed by A. Virgili, K. Gancheva, L. Rai, G. Uka and S. Phyo. Chugai, Amgen and Illumina, the Royal Free Charity, the BBMDA Charity, Anthony Nolan and the BBMR through NHSBT provided the financial support for this study.
Ethics declarations
Conflict of interest
The authors declare that they have no conflict of interest.
Additional information
Publisher's note Springer Nature remains neutral with regard to jurisdictional claims in published maps and institutional affiliations.
Supplementary information
About this article
Cite this article
Nacheva, E., Ahyee, T., Addada, J. et al. Absence of damaging effects of stem cell donation in unrelated donors assessed by FISH and gene variance screening. Bone Marrow Transplant (2020). https://doi.org/10.1038/s41409-020-0945-y
Received:

Revised:

Accepted:

Published: