Your institute does not have access to this article
Access options
Subscribe to Journal
Get full journal access for 1 year
$119.00
only $9.92 per issue
All prices are NET prices.
VAT will be added later in the checkout.
Tax calculation will be finalised during checkout.
Buy article
Get time limited or full article access on ReadCube.
$32.00
All prices are NET prices.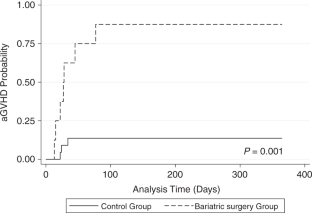 References
Weiss BM, Vogl DT, Berger NA, Stadtmauer EA, Lazarus HM. Trimming the fat: obesity and hematopoietic cell transplantation. Bone Marrow Transplant. 2013;48:1152–60. https://doi.org/10.1038/bmt.2012.201.

Navarro WH, Agovi MA, Logan BR, Ballen K, Bolwell BJ, Frangoul H, et al. Obesity does not preclude safe and effective myeloablative hematopoietic cell transplantation (HCT) for acute myelogenous leukemia (AML) in adults. Biol Blood Marrow Transplant. 2010;16:1442–50. https://doi.org/10.1016/j.bbmt.2010.04.009.

Nikolousis E, Nagra S, Paneesha S, Delgado J, Holder K, Bratby L, et al. Allogeneic transplant outcomes are not affected by body mass index (BMI) in patients with haematological malignancies. Ann Hematol. 2010;89:1141–5. https://doi.org/10.1007/s00277-010-1001-6.

Fleming DR, Rayens MK, Garrison J. Impact of obesity on allogeneic stem cell transplant patients: a matched case-controlled study. Am J Med. 1997;102:265–8. https://doi.org/10.1016/S0002-9343(96)00450-0.

Przepiorka D, Weisdorf D, Martin P, Klingemann HG, Beatty P, Hows J, et al. 1994 consensus conference on acute GVHD grading. Bone Marrow Transplant. 1995;15:825–8.

Arora M, Klein JP, Weisdorf DJ, Hassebroek A, Flowers ME, Cutler CS, et al. Chronic GVHD risk score: a Center for International Blood and Marrow Transplant Research analysis. Blood. 2011;117:6714–20. https://doi.org/10.1182/blood-2010-12-323824.

Muscaritoli M, Grieco G, Capria S, Iori AP, Rossi Fanelli F. Nutritional and metabolic support in patients undergoing bone marrow transplantation. Am J Clin Nutr. 2002;75:183–90. https://doi.org/10.1093/ajcn/75.2.183.

Rogers CC, Alloway RR, Alexander JW, Cardi M, Trofe J, Vinks AA. Pharmacokinetics of mycophenolic acid, tacrolimus and sirolimus after gastric bypass surgery in end-stage renal disease and transplant patients: a pilot study. Clin Transplant. 2008;22:281–91. https://doi.org/10.1111/j.1399-0012.2007.00783.x.

Furet JP, Kong LC, Tap J, Poitou C, Basdevant A, Bouillot JL, et al. Differential adaptation of human gut microbiota to bariatric surgery-induced weight loss: links with metabolic and low-grade inflammation markers. Diabetes. 2010;59:3049–57. https://doi.org/10.2337/db10-0253.
Ethics declarations
Conflict of interest
The authors declare that they have no conflict of interest.
Additional information
Publisher's note Springer Nature remains neutral with regard to jurisdictional claims in published maps and institutional affiliations.
Supplementary information
About this article
Cite this article
Gergis, U., Reich-Slotky, R. & Abdulahad, B. Gastric bypass bariatric surgery in patients undergoing allogeneic hematopoietic stem cell transplantation warrants special considerations. Bone Marrow Transplant 55, 2202–2203 (2020). https://doi.org/10.1038/s41409-020-0922-5
Received:

Revised:

Accepted:

Published:

Issue Date:

DOI: https://doi.org/10.1038/s41409-020-0922-5