Abstract
Vitamin D (Vit-D), an essential nutrient, interacts with different drugs including chemotherapeutic agents like busulphan, an alkylating agent used for conditioning prior to stem cell transplantation. The correlation between Vit-D plasma levels and busulphan clearance was investigated in an uncontrolled prospective study in patients and mice. Plasma 25(OH)D levels were measured and busulphan pharmacokinetics calculated in 81 patients. Adults received oral busulphan (n = 34) while children received busulphan orally (n = 19) or intravenously (n = 28). Patients received no Vit-D supplementation. To confirm our findings, pharmacokinetics after a single dose of busulphan (oral or intravenous) were evaluated in two groups of mice (n = 60) receiving high or standard-level Vit-D supplementation. Both busulphan clearance (P < 0.0001) and 25(OH)D levels (P = 0.0004) were significantly higher in adults compared to children. A significant negative correlation (P = 0.041) was found between busulphan clearance and 25(OH)D levels in children treated orally. No such correlation was observed in adults or in children receiving intravenous busulphan. In addition, no significant effect of Vit-D levels on busulphan pharmacokinetics in mice regardless of the administration route. In conclusion, 25(OH)D can affect oral busulphan pharmacokinetics in children and its level should be considered when personalizing oral busulphan treatment. Further studies are warranted to confirm the underlying mechanisms.
Access options
Subscribe to Journal
Get full journal access for 1 year
$499.00
only $41.58 per issue
All prices are NET prices.
VAT will be added later in the checkout.
Rent or Buy article
Get time limited or full article access on ReadCube.
from$8.99
All prices are NET prices.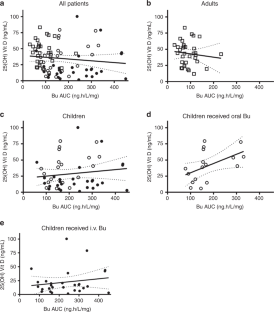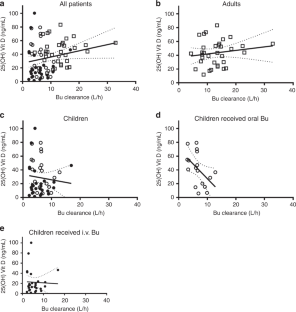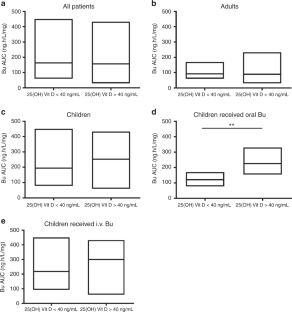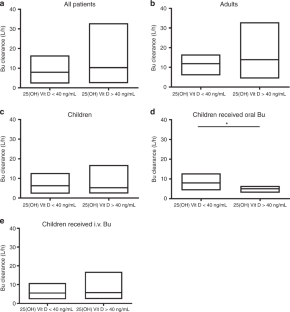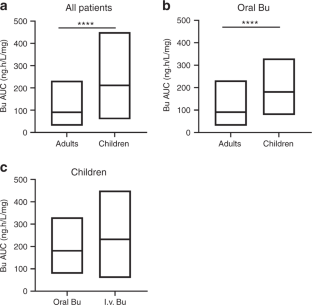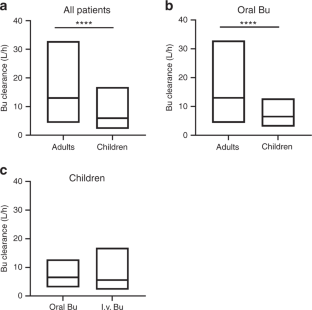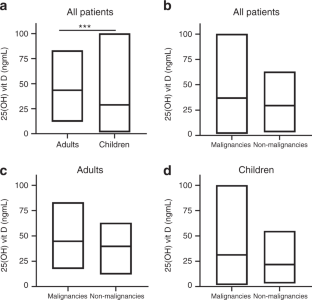 References
1.

Grochow LB. Busulfan disposition: the role of therapeutic monitoring in bone marrow transplantation induction regimens. Semin Oncol. 1993;20:18–25. quiz 26.

2.

Hassan M, Ehrsson H, Ljungman P. Aspects concerning busulfan pharmacokinetics and bioavailability. Leuk Lymphoma. 1996;22:395-&.

3.

Geddes M, Kangarloo SB, Naveed F, Quinlan D, Chaudhry MA, Stewart D, et al. High busulfan exposure is associated with worse outcomes in a daily i.v. busulfan and fludarabine allogeneic transplant regimen. Biol Blood Marrow Transpl. 2008;14:220–8.

4.

Andersson BS, Thall PF, Madden T, Couriel D, Wang XM, Tran HT, et al. Busulfan systemic exposure relative to regimen-related toxicity and acute graft-versus-host disease: Defining a therapeutic window for IV BuCy2 in chronic myelogenous leukemia. Biol Blood Marrow Transplant. 2002;8:477–85.

5.

Slattery JT, Risler LJ. Therapeutic monitoring of busulfan in hematopoietic stem cell transplantation. Ther Drug Monit. 1998;20:543–9.

6.

Hassan M, El-Serafi I. Personalized treatment: the future of medicine. A perspective on the preconditioning for stem cell transplantation. MOJ Cell Sci Rep. 2015;2:81–3.

7.

Palmer J, McCune JS, Perales MA, Marks D, Bubalo J, Mohty M, et al. Personalizing Busulfan-based conditioning: considerations from the American Society for Blood and Marrow Transplantation Practice Guidelines Committee. Biol Blood Marrow Transplant. 2016;22:1915–25. https://doi.org/10.1016/j.bbmt.2016.07.013.

8.

Beumer JH, Owzar K, Lewis LD, Jiang C, Holleran JL, Christner SM, et al. Effect of age on the pharmacokinetics of busulfan in patients undergoing hematopoietic cell transplantation; an alliance study (CALGB 10503, 19808, and 100103). Cancer Chemother Pharmacol. 2014;74:927–38.

9.

Savic RM, Cowan MJ, Dvorak CC, Pai SY, Pereira L, Bartelink IH, et al. Effect of weight and maturation on busulfan clearance in infants and small children undergoing hematopoietic cell transplantation. Biol Blood Marrow Transpl. 2013;19:1608–14.

10.

ten Brink MH, van Bavel T, Swen JJ, van der Straaten T, Bredius RGM, Lankester AC, et al. Effect of genetic variants GSTA1 and CYP39A1 and age on busulfan clearance in pediatric patients undergoing hematopoietic stem cell transplantation. Pharmacogenomics. 2013;14:1683–90.

11.

Buggia I, Zecca M, Alessandrino EP, Locatelli F, Rosti G, Bosi A, et al. Itraconazole can increase systemic exposure to busulfan in patients given bone marrow transplantation. GITMO (Gruppo Italiano Trapianto di Midollo Osseo). Anticancer Res. 1996;16:2083–8.

12.

El-Serafi I, Terelius Y, Abedi-Valugerdi M, Naughton S, Saghafian M, Moshfegh A, et al. Flavin-containing monooxygenase 3 (FMO3) role in busulphan metabolic pathway. PLoS One. 2017;12:e0187294.

13.

Hassan M, Svensson JO, Nilsson C, Hentschke P, Al-Shurbaji A, Aschan J, et al. Ketobemidone may alter busulfan pharmacokinetics during high-dose therapy. Ther Drug Monit. 2000;22:383–5.

14.

Nilsson C, Aschan J, Hentschke P, Ringden O, Ljungman P, Hassan M. The effect of metronidazole on busulfan pharmacokinetics in patients undergoing hematopoietic stem cell transplantation. Bone Marrow Transpl. 2003;31:429–35.

15.

Bikle DD. Vitamin D metabolism, mechanism of action, and clinical applications. Chem Biol. 2014;21:319–29.

16.

Ross AC, Manson JE, Abrams SA, Aloia JF, Brannon PM, Clinton SK, et al. The 2011 report on dietary reference intakes for calcium and vitamin D from the Institute of Medicine: what clinicians need to know. J Clin Endocrinol Metab. 2011;96:53–8.

17.

Webb AR, Kline L, Holick MF. Influence of season and latitude on the cutaneous synthesis of vitamin D3: exposure to winter sunlight in Boston and Edmonton will not promote vitamin D3 synthesis in human Skin. J Clin Endocrinol Metab. 1988;67:373–8.

18.

Cheng JB, Levine MA, Bell NH, Mangelsdorf DJ, Russell DW. Genetic evidence that the human CYP2R1 enzyme is a key vitamin D 25-hydroxylase. Proc Natl Acad Sci USA. 2004;101:7711–5.

19.

Holick MF. Vitamin D deficiency. N. Engl J Med. 2007;357:266–81.

20.

Parise RA, Egorin MJ, Kanterewicz B, Taimi M, Petkovich M, Lew AM, et al. CYP24, the enzyme that catabolizes the antiproliferative agent vitamin D, is increased in lung cancer. Int J Cancer. 2006;119:1819–28.

21.

Holick MF, Siris ES, Binkley N, Beard MK, Khan A, Katzer JT, et al. Prevalence of Vitamin D inadequacy among postmenopausal North American women receiving osteoporosis therapy. J Clin Endocrinol Metab. 2005;90:3215–24.

22.

Holick MF, Binkley NC, Bischoff-Ferrari HA, Gordon CM, Hanley DA, Heaney RP, et al. Evaluation, treatment, and prevention of vitamin D deficiency: an Endocrine Society clinical practice guideline. J Clin Endocrinol Metab. 2011;96:1911–30.

23.

Cannell JJ, Hollis BW. Use of vitamin D in clinical practice. Alter Med Rev. 2008;13:6–20.

24.

Jeon SM, Shin EA. Exploring vitamin D metabolism and function in cancer. Exp Mol Med. 2018;50:20.

25.

Ng K, Nimeiri HS, McCleary NJ, Abrams TA, Yurgelun MB, Cleary JM, et al. Effect of high-dose vs standard-dose vitamin D3 supplementation on progression-free survival among patients with advanced or metastatic colorectal cancer: the SUNSHINE randomized clinical trial. JAMA. 2019;321:1370–9.

26.

Chae YJ, Cho KH, Yoon IS, Noh CK, Lee HJ, Park Y, et al. Vitamin D receptor-mediated upregulation of CYP3A4 and MDR1 by quercetin in Caco-2 cells. Planta Med. 2016;82:121–30.

27.

Wang ZC, Schuetz EG, Xu Y, Thummel KE. Interplay between vitamin D and the drug metabolizing enzyme CYP3A4. J Steroid Biochem Mol Biol. 2013;136:54–8.

28.

Wigington DP, Urben CM, Strugnell SA, Knutson JC. Combination study of 1,24(S)-dihydroxyvitamin D2 and chemotherapeutic agents on human breast and prostate cancer cell lines. Anticancer Res. 2004;24:2905–12.

29.

Hongeng S, Pakakasama S, Chuansumrit A, Sirachainan N, Sura T, Ungkanont A, et al. Reduced intensity stem cell transplantation for treatment of class 3 Lucarelli severe thalassemia patients. Am J Hematol. 2007;82:1095–8.

30.

Leblanc AF, Huang KM, Uddin ME, Anderson JT, Chen M, Hu S. Murine pharmacokinetic studies. Bio Protoc. 2018;8:e3056.

31.

Lang E, Jilani K, Bissinger R, Rexhepaj R, Zelenak C, Lupescu A, et al. Vitamin D-rich diet in mice modulates erythrocyte survival. Kidney Blood Press Res. 2015;40:403–12.

32.

Lewis CA, Manning J, Barr C, Peake K, Humphries RK, Rossi F, et al. Myelosuppressive conditioning using busulfan enables bone marrow cell accumulation in the spinal cord of a mouse model of amyotrophic lateral sclerosis. PLoS ONE. 2013;8:e60661.

33.

Peake K, Manning J, Lewis CA, Barr C, Rossi F, Krieger C. Busulfan as a myelosuppressive agent for generating stable high-level bone marrow chimerism in mice. J Vis Exp. 2015;e52553. https://doi.org/10.3791/52553.

34.

Sjoo F, El-Serafi I, Enestig J, Mattsson J, Liwing J, Hassan M. Comparison of algorithms for oral busulphan area under the concentration-time curve limited sampling estimate. Clin Drug Investig. 2013. https://doi.org/10.1007/s40261-013-0148-z.

35.

Riley RS, Idowu M, Chesney A, Zhao S, McCarty J, Lamb LS, et al. Hematologic aspects of myeloablative therapy and bone marrow transplantation. J Clin Lab Anal. 2005;19:47–79.

36.

Burt RK, Loh Y, Pearce W, Beohar N, Barr WG, Craig R, et al. Clinical applications of blood-derived and marrow-derived stem cells for nonmalignant diseases. JAMA. 2008;299:925–36. e-pub ahead of print 2008/03/04[pii]. https://doi.org/10.1001/jama.299.8.925.

37.

Socie G, Clift RA, Blaise D, Devergie A, Ringden O, Martin PJ, et al. Busulfan plus cyclophosphamide compared with total-body irradiation plus cyclophosphamide before marrow transplantation for myeloid leukemia: long-term follow-up of 4 randomized studies. Blood. 2001;98:3569–74.

38.

McCune JS, Gibbs JP, Slattery JT. Plasma concentration monitoring of busulfan: does it improve clinical outcome? Clin Pharmacokinet. 2000;39:155–65.

39.

Masson E, Zamboni WC. Pharmacokinetic optimisation of cancer chemotherapy. Eff Outcomes Clin Pharmacokinet. 1997;32:324–43.

40.

Hassan M, Ljungman P, Bolme P, Ringden O, Syruckova Z, Bekassy A, et al. Busulfan bioavailability. Blood. 1994;84:2144–50.

41.

Andersson BS, Bhagwatwar HP, Chow DS. Parenteral busulfan for treatment of malignant disease. Google Patents; 1995.

42.

Nguyen L, Fuller D, Lennon S, Leger F, Puozzo C. IV busulfan in pediatrics: a novel dosing to improve safety/efficacy for hematopoietic progenitor cell transplantation recipients. Bone Marrow Transplant. 2004;33:979.

43.

Malar R, Sjoo F, Rentsch K, Hassan M, Gungor T. Therapeutic drug monitoring is essential for intravenous busulfan therapy in pediatric hematopoietic stem cell recipients. Pediatr Transpl. 2011;15:580–8.

44.

Wallace G, Jodele S, Howell J, Myers KC, Teusink A, Zhao X, et al. Vitamin D deficiency and survival in children after hematopoietic stem cell transplant. Biol Blood Marrow Transpl. 2015;21:1627–31.

45.

Peng J, Liu Y, Xie J, Yang G, Huang Z. Effects of vitamin D on drugs: response and disposal. Nutrition. 2020;74:110734. e-pub ahead of print 2020/03/18.

46.

Schwartz JB. Effects of vitamin D supplementation in atorvastatin-treated patients: a new drug interaction with an unexpected consequence. Clin Pharm Ther. 2009;85:198–203. e-pub ahead of print 2008/08/30.

47.

Hansson ME, Norlin AC, Omazic B, Wikstrom AC, Bergman P, Winiarski J, et al. Vitamin d levels affect outcome in pediatric hematopoietic stem cell transplantation. Biol Blood Marrow Transpl. 2014;20:1537–43.

48.

Liu C, Weng H, Chen L, Yang S, Wang H, Debnath G, et al. Impaired intestinal calcium absorption in protein 4.1R-deficient mice due to altered expression of plasma membrane calcium ATPase 1b (PMCA1b). J Biol Chem. 2013;288:11407–15. e-pub ahead of print 2013/03/06.

49.

Grochow LB, Krivit W, Whitley CB, Blazar B. Busulfan disposition in children. Blood. 1990;75:1723–7. e-pub ahead of print 1990/04/15.

50.

Wong GK, Shulman RJ, Chumpitazi BP. Gastric emptying scintigraphy results in children are affected by age, anthropometric factors, and study duration. Neurogastroenterol Motil. 2015;27:356–62. e-pub ahead of print 2015/01/06.

51.

Giraldi G, Fioravanti A, De Luca d'Alessandro E, Palmery M, Martinoli L. Investigation of the effects of vitamin D and calcium on intestinal motility: in vitro tests and implications for clinical treatment. Acta Pharm. 2015;65:343–9. e-pub ahead of print 2015/10/03.

52.

Kedar A, Nikitina Y, Henry OR, Abell KB, Vedanarayanan V, Griswold ME, et al. Gastric dysmotility and low serum vitamin D levels in patients with gastroparesis. Horm Metab Res. 2013;45:47–53. e-pub ahead of print 2012/09/08.

53.

Hassan M, Ehrsson H, Ljungman P. Aspects concerning busulfan pharmacokinetics and bioavailability. Leuk Lymphoma. 1996;22:395–407.

54.

Assa A, Vong L, Pinnell LJ, Avitzur N, Johnson-Henry KC, Sherman PM. Vitamin D deficiency promotes epithelial barrier dysfunction and intestinal inflammation. J Infect Dis. 2014;210:1296–305. e-pub ahead of print 2014/04/24.

55.

Pielichowski W, Gawronski K, Mlot B, Oborska S, Wasko-Grabowska A, Rzepecki P. Triple drug combination in the prevention of nausea and vomiting following busulfan plus cyclophosphamide chemotherapy before allogeneic hematopoietic stem cell transplantation. J BUON. 2011;16:541–6.

56.

Hassan M, Ehrsson H. Metabolism of 14C-busulfan in isolated perfused rat liver. Eur J Drug Metab Pharmacokinet. 1987;12:71–6. e-pub ahead of print 1987/01/01.

57.

Hassan M, Ehrsson H. Urinary metabolites of busulfan in the rat. Drug Metab Dispos. 1987;15:399–402. e-pub ahead of print 1987/05/01.

58.

Hassan M, Ehrsson H, Wallin I, Eksborg S. Pharmacokinetic and metabolic studies of busulfan in rat plasma and brain. Eur J Drug Metab Pharmacokinet. 1988;13:301–5. e-pub ahead of print 1988/10/01.

59.

Hassan M, Oberg G, Ehrsson H, Ehrnebo M, Wallin I, Smedmyr B, et al. Pharmacokinetic and metabolic studies of high-dose busulphan in adults. Eur J Clin Pharm. 1989;36:525–30. e-pub ahead of print 1989/01/01.

60.

McCune JS, Bemer MJ, Barrett JS, Scott Baker K, Gamis AS, Holford NH. Busulfan in infant to adult hematopoietic cell transplant recipients: a population pharmacokinetic model for initial and Bayesian dose personalization. Clin Cancer Res. 2014;20:754–63.

61.

Czerwinski M, Gibbs JP, Slattery JT. Busulfan conjugation by glutathione S-transferases alpha, mu, and pi. Drug Metab Dispos. 1996;24:1015–9.

62.

Gibbs JP, Czerwinski M, Slattery JT. Busulfan-glutathione conjugation catalyzed by human liver cytosolic glutathione S-transferases. Cancer Res. 1996;56:3678–81.

63.

Gibbs JP, Yang JS, Slattery JT. Comparison of human liver and small intestinal glutathione S-transferase-catalyzed busulfan conjugation in vitro. Drug Metab Dispos. 1998;26:52–5.

64.

Herman TF, Santos C. First Pass Effect. In: StatPearls: Treasure Island (FL); 2020.

65.

Uppugunduri CR, Rezgui MA, Diaz PH, Tyagi AK, Rousseau J, Daali Y, et al. The association of cytochrome P450 genetic polymorphisms with sulfolane formation and the efficacy of a busulfan-based conditioning regimen in pediatric patients undergoing hematopoietic stem cell transplantation. Pharmacogenomics J. 2014;14:263–71.

66.

Qin X, Wang X. Role of vitamin D receptor in the regulation of CYP3A gene expression. Acta Pharm Sin B. 2019;9:1087–98.

67.

Drocourt L, Ourlin JC, Pascussi JM, Maurel P, Vilarem MJ. Expression of CYP3A4, CYP2B6, and CYP2C9 is regulated by the vitamin D receptor pathway in primary human hepatocytes. J Biol Chem. 2002;277:25125–32.

68.

Tateishi T, Nakura H, Asoh M, Watanabe M, Tanaka M, Kumai T, et al. A comparison of hepatic cytochrome P450 protein expression between infancy and postinfancy. Life Sci. 1997;61:2567–74.

69.

Beath SV. Hepatic function and physiology in the newborn. Semin Neonatol. 2003;8:337–46.

70.

Ginty F, Cavadini C, Michaud PA, Burckhardt P, Baumgartner M, Mishra GD, et al. Effects of usual nutrient intake and vitamin D status on markers of bone turnover in Swiss adolescents. Eur J Clin Nutr. 2004;58:1257–65.

71.

Gordon CM, DePeter KC, Feldman HA, Grace E, Emans SJ. Prevalence of vitamin D deficiency among healthy adolescents. Arch Pediatr Adolesc Med. 2004;158:531–7.

72.

Balasubramanian S, Ganesh R. Vitamin D deficiency in exclusively breast-fed infants. Indian J Med Res. 2008;127:250–5.
Acknowledgements
This study was supported by the Swedish Cancer Society (CAN2014/759), the Swedish Childhood Cancer Foundation (PR2017-0083), KI funds (2018-02377) and (2018-02344), and Radiumhemmets Research Funding (grant no. 161082). The authors would like to express their gratitude to Professor Per Ljungman for his valuable discussions.
Ethics declarations
Conflict of interest
The authors declare that they have no conflict of interest.
Additional information
Publisher's note Springer Nature remains neutral with regard to jurisdictional claims in published maps and institutional affiliations.
About this article
Cite this article
El-Serafi, A., He, R., Zheng, W. et al. Vitamin D levels and busulphan kinetics in patients undergoing hematopoietic stem cell transplantation, a multicenter study. Bone Marrow Transplant (2020). https://doi.org/10.1038/s41409-020-01091-y
Received:

Revised:

Accepted:

Published: