Abstract
Sarcopenia, defined as loss of muscle mass, can occur with aging. We conducted a single-center retrospective analysis to evaluate the impact of muscle quality in multiple myeloma (MM), a hematologic cancer of older adults, undergoing autologous hematopoietic cell transplantation (autoHCT). Healthy muscle was quantified by measuring the percent of high-density muscle within the L3 psoas muscle using a novel computed tomography method in 142 eligible patients. Early post-transplant complications were assessed in the first 100 days after transplant. Sarcopenia, defined as ≤80% high-density muscle, was found in 72 (51%) patients. Sarcopenic obesity, defined as sarcopenia and a BMI ≥ 30, was found in 32 (23%) patients. One or more early complications occurred in 22 (16%) patients. Cardiovascular events accounted for 36% of all complications. Patients with sarcopenia had more cardiac complications (12.5%) than patients without (2.9%, p = 0.03). Multivariate analysis revealed increased BMI at transplant, but not sarcopenia, was associated with worse OS (hazard ratio: 1.11, 95% confidence interval: 1.02–1.22, p = 0.02). Our analysis suggests that sarcopenia is prevalent in MM and associated with increased early post-transplant cardiovascular complications in MM. Obesity, regardless of sarcopenia, is associated with worse survival in MM. Our study generates hypothesis-generating data to risk-stratify patients being considered for autoHCT.
Your institute does not have access to this article
Access options
Subscribe to Journal
Get full journal access for 1 year
$119.00
only $9.92 per issue
All prices are NET prices.
VAT will be added later in the checkout.
Tax calculation will be finalised during checkout.
Buy article
Get time limited or full article access on ReadCube.
$32.00
All prices are NET prices.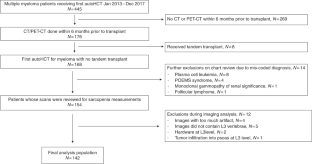 Acknowledgements
This work was funded by the 2019 American Society of Hematology Minority Medical Student Award Program (AW) and supported by a K23HL141445 from the National Heart, Lung, and Blood Institute (AD). Its contents are solely the responsibility of the authors and do not represent the official views of the National Institutes of Health.
Ethics declarations
Conflict of interest
AW, DB, JP, AS, SC, SJ, and MS do not report any conflict of interest. BD reports grants and/or fees from Celgene, Takeda, Jannsen, Amgen, GSK; PH reports grants and fees from Celgene/BMS, Takeda, Janssen, Amgen, Sanofi, Karyopharm; AD reports grants Takeda, Sanofi, TeneoBio, EDO Mundipharma and Prothena, and fees from Prothena, Pfizer, Akcea, Imbrium
Additional information
Publisher's note Springer Nature remains neutral with regard to jurisdictional claims in published maps and institutional affiliations.
About this article
Cite this article
Williams, A., Baruah, D., Patel, J. et al. Prevalence and significance of sarcopenia in multiple myeloma patients undergoing autologous hematopoietic cell transplantation. Bone Marrow Transplant 56, 225–231 (2021). https://doi.org/10.1038/s41409-020-01008-9
Received:

Revised:

Accepted:

Published:

Issue Date:

DOI: https://doi.org/10.1038/s41409-020-01008-9
Further reading
Richa Parikh
Syed Maaz Tariq
Urvi A. Shah

Leukemia (2022)