Abstract
Detectable measurable residual disease (MRD) is a key prognostic factor in both acute lymphoblastic leukemia (ALL) and acute myeloid leukemia (AML) patients. Thus, we conducted a survey in EBMT transplant centers focusing on pre- and post-allo-HCT MRD. One hundred and six centers from 29 countries responded. One hundred had a formal strategy for routine MRD assessment, 91 for both ALL and AML. For ALL (n = 95), assessing MRD has been routine practice starting from 2010 (range, 1990–2019). Techniques used for MRD assessment consisted of PCR techniques alone (n = 27), multiparameter flow cytometry (MFC, n = 16), both techniques (n = 43), next-generation sequencing (NGS) + PCR (n = 2), or PCR + MFC + NGS (n = 7). The majority of centers assessed MRD every 2–3 months for 2 (range, 1-until relapse) years. For AML, assessing MRD was routine in 92 centers starting in 2010 (range 1990–2019). Assessment of MRD was by PCR (n = 23), MFC (n = 13), both PCR and MFC (n = 39), both PCR and NGS (n = 3), and by all three techniques (n = 14). The majority assesses MRD for AML every 2–3 months for 2 (range, 1-until relapse) years. This survey is the first step in the aim to include MRD status as a routine registry capture parameter in acute leukemia.
Access options
Subscribe to Journal
Get full journal access for 1 year
$499.00
only $41.58 per issue
All prices are NET prices.
VAT will be added later in the checkout.
Rent or Buy article
Get time limited or full article access on ReadCube.
from$8.99
All prices are NET prices.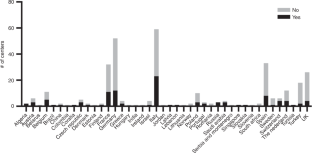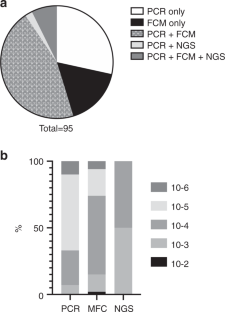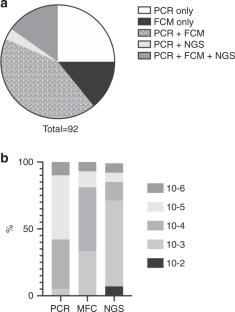 Funding
FB is Senior Research Associate at the National Fund for Scientific Research (FNRS) Belgium.
Ethics declarations
Conflict of interest
FB has received travel grants from Celgene, Abbvie, Novartis, and Sanofi as well as honoraria from Merck and Abbvie. The remaining authors declare that they have no relevant conflict of interest.
Additional information
Publisher's note Springer Nature remains neutral with regard to jurisdictional claims in published maps and institutional affiliations.
Supplementary information
About this article
Cite this article
Nagler, A., Baron, F., Labopin, M. et al. Measurable residual disease (MRD) testing for acute leukemia in EBMT transplant centers: a survey on behalf of the ALWP of the EBMT. Bone Marrow Transplant (2020). https://doi.org/10.1038/s41409-020-01005-y
Received:

Revised:

Accepted:

Published:
Further reading
Leukemia & Lymphoma (2020)