Abstract
Allogeneic hematopoietic stem cell transplantation is the only potentially curative therapy for acute myeloid leukemia. In the absence of an HLA-matched related or unrelated donor (MRD or MUD), the best alternative donor source remains controversial. Umbilical cord blood and haploidentical donors offer a shorter delay from indication to transplantation. This retrospective multicentre study of a French registry compares overall survival in the 18 months following registration in the absence of a MRD between four types of donors. Between 2012 and 2016, 1302 patients were transplanted using MUD (control, n = 803), mismatched MUD (n = 219), umbilical cord blood (n = 153) and haploidentical (n = 127) donors. Multivariate analyses were conducted for overall survival after registration, after transplant, and transplant-related mortality. After adjustment for variables, the type of donor did not influence any of the three end points. Our results confirmed the significant negative impact of longer time between registration and transplant: HR = 1.04 [1.02–1.06] (p < 0.0001). This indicates a positive correlation between better survival and shorter registration-to-transplantation wait time. In the absence of a sibling donor, the alternative stem cell source does not impact early survival in acute myeloid leukemia patients. The minimization of registration-to-transplantation time should be considered when weighing the alternative donor options.
Access options
Subscribe to Journal
Get full journal access for 1 year
$1,070.00
only $89.17 per issue
All prices are NET prices.
VAT will be added later in the checkout.
Rent or Buy article
Get time limited or full article access on ReadCube.
from$8.99
All prices are NET prices.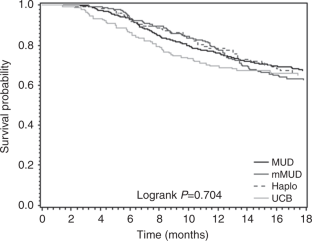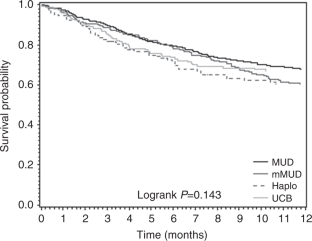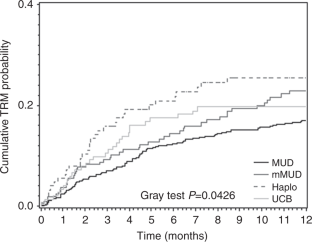 References
1.

Tiercy J-M. How to select the best available related or unrelated donor of hematopoietic stem cells? Haematologica. 2016;101:680–7.

2.

Gragert L, Eapen M, Williams E, Freeman J, Spellman S, Baitty R, et al. HLA match likelihoods for hematopoietic stem-cell grafts in the US registry. N Engl J Med. 2014;371:339–48.

3.

Schlenk RF, Döhner K, Mack S, Stoppel M, Király F, Götze K, et al. Prospective evaluation of allogeneic hematopoietic stem-cell transplantation from matched related and matched unrelated donors in younger adults with high-risk acute myeloid leukemia: German-Austrian trial AMLHD98A. J Clin Oncol J Am Soc Clin Oncol. 2010;28:4642–8.

4.

Saber W, Opie S, Rizzo JD, Zhang M-J, Horowitz MM, Schriber J. Outcomes after matched unrelated donor versus identical sibling hematopoietic cell transplantation in adults with acute myelogenous leukemia. Blood. 2012;119:3908–16.

5.

Yakoub-Agha I, Mesnil F, Kuentz M, Boiron JM, Ifrah N, Milpied N, et al. Allogeneic marrow stem-cell transplantation from human leukocyte antigen-identical siblings versus human leukocyte antigen-allelic-matched unrelated donors (10/10) in patients with standard-risk hematologic malignancy: a prospective study from the French society of bone marrow transplantation and cell therapy. J Clin Oncol J Am Soc Clin Oncol. 2006;24:5695–702.

6.

Versluis J, Labopin M, Ruggeri A, Socie G, Wu D, Volin L, et al. Alternative donors for allogeneic hematopoietic stem cell transplantation in poor-risk AML in CR1. Blood Adv. 2017;1:477–85.

7.

Raiola AM, Dominietto A, di Grazia C, Lamparelli T, Gualandi F, Ibatici A, et al. Unmanipulated haploidentical transplants compared with other alternative donors and matched sibling grafts. Biol Blood Marrow Transpl. 2014;20:1573–9.

8.

Ciurea SO, Zhang M-J, Bacigalupo AA, Bashey A, Appelbaum FR, Aljitawi OS, et al. Haploidentical transplant with posttransplant cyclophosphamide vs matched unrelated donor transplant for acute myeloid leukemia. Blood. 2015;126:1033–40.

9.

Davies SM, Ramsay NK, Weisdorf DJ. Feasibility and timing of unrelated donor identification for patients with ALL. Bone Marrow Transpl. 1996;17:737–40.

10.

Ruggeri A, Labopin M, Sanz G, Piemontese S, Arcese W, Bacigalupo A, et al. Comparison of outcomes after unrelated cord blood and unmanipulated haploidentical stem cell transplantation in adults with acute leukemia. Leukemia. 2015;29:1891–900.

11.

Passweg JR, Baldomero H, Bader P, Bonini C, Cesaro S, Dreger P, et al. Hematopoietic SCT in Europe 2013: recent trends in the use of alternative donors showing more haploidentical donors but fewer cord blood transplants. Bone Marrow Transpl. 2015;50:476–82.

12.

Döhner H, Estey EH, Amadori S, Appelbaum FR, Büchner T, Burnett AK, et al. Diagnosis and management of acute myeloid leukemia in adults: recommendations from an international expert panel, on behalf of the European LeukemiaNet. Blood. 2010;115:453–74.

13.

Kaplan EL, Meier P. Nonparametric estimation for incomplete observations. J Am Stat Assoc. 1958;53:457–81.

14.

Gray RJ. A class of K-sample tests for comparing the cumulative incidence of a competing risk. Ann Stat. 1988;16:1141–54.

15.

Kohl M, Plischke M, Leffondré K, Heinze G. PSHREG: a SAS macro for proportional and nonproportional subdistribution hazards regression. Comput Methods Prog Biomed. 2015;118:218–33.

16.

Fine JP, Gray RJ. A proportional hazards model for the subdistribution of a competing risk. J Am Stat Assoc. 1999;94:496–509.

17.

Cox DR. Regression models and life-tables. J R Stat Soc Ser B Methodol. 1972;34:187–220.

18.

Grambsch PM, Therneau TM. Proportional hazards tests and diagnostics based on weighted residuals. Biometrika. 1994;81:515–26.

19.

Kekre N, Mak KS, Stopsack KH, Binder M, Ishii K, Brånvall E, et al. Impact of HLA-mismatch in unrelated donor hematopoietic stem cell transplantation: a meta-analysis. Am J Hematol. 2016;91:551–5.

20.

Rio B, Chevret S, Vigouroux S, Chevallier P, Fürst S, Sirvent A, et al. Decreased nonrelapse mortality after unrelated cord blood transplantation for acute myeloid leukemia using reduced-intensity conditioning: a prospective phase II multicenter trial. Biol Blood Marrow Transpl. 2015;2:445–53.
Acknowledgements
The authors would like to thank Nicole Raus for data management, Rachel Tipton for critical reading of the manuscript and the French "Agence de Biomedecine" for permission to extract data from their database.
Funding
Clinical research department Grenoble Alpes University Hospital, France
Ethics declarations
Conflict of interest
The authors declare that they have no conflict of interest.
Additional information
Publisher's note Springer Nature remains neutral with regard to jurisdictional claims in published maps and institutional affiliations.
Supplementary information
About this article
Cite this article
Deteix, C., Mesnil, F., Furst, S. et al. Influence of alternative donor type on early survival after hematopoietic stem cell transplantation for acute myeloid leukemia lacking a sibling donor. Bone Marrow Transplant (2019) doi:10.1038/s41409-019-0722-y
Received:

Revised:

Accepted:

Published: