This is a preview of subscription content
Access options
Subscribe to Journal
Get full journal access for 1 year
$119.00
only $9.92 per issue
All prices are NET prices.
VAT will be added later in the checkout.
Tax calculation will be finalised during checkout.
Buy article
Get time limited or full article access on ReadCube.
$32.00
All prices are NET prices.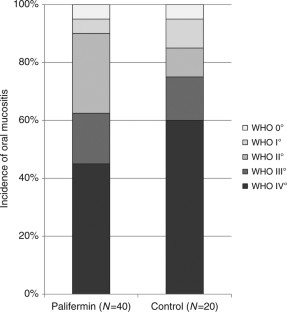 References
Bellm LA, Epstein JB, Rose-Ped A, Martin P, Fuchs HJ. Patient reports of complications of bone marrow transplantation. Support Care Cancer. 2000;8:33–9.

Sonis ST, Elting LS, Keefe D, Peterson DE, Schubert M, Hauer-Jensen M, et al. Perspectives on cancer therapy-induced mucosal injury: pathogenesis, measurement, epidemiology, and consequences for patients. Cancer. 2004;100:1995–2025.

Spielberger R, Stiff P, Bensinger W, Gentile T, Weisdorf D, Kewalramani T, et al. Palifermin for oral mucositis after intensive therapy for hematologic cancers. N Engl J Med. 2004;351:2590–8.

Sonis ST, Oster G, Fuchs H, Bellm L, Bradford WZ, Edelsberg J, et al. Oral mucositis and the clinical and economic outcomes of hematopoietic stem-cell transplantation. J Clin Oncol. 2001;19:2201–5.

Finch PW, Mark Cross LJ, McAuley DF, Farrell CL. Palifermin for the protection and regeneration of epithelial tissues following injury: new findings in basic research and pre-clinical models. J Cell Mol Med. 2013;17:1065–87.

Vadhan-Raj S, Goldberg JD, Perales MA, Berger DP, van den Brink MR. Clinical applications of palifermin: amelioration of oral mucositis and other potential indications. J Cell Mol Med. 2013;17:1371–84.

Keefe DM, Schubert MM, Elting LS, Sonis ST, Epstein JB, Raber-Durlacher JE, et al. Updated clinical practice guidelines for the prevention and treatment of mucositis. Cancer. 2007;109:820–31.

World Health Organization. WHO handbook for reporting results of cancer treatment. Geneva: World Health Organization; 1979.

Przepiorka D, Weisdorf D, Martin P, Klingemann HG, Beatty P, Hows J, et al. 1994 Consensus conference on acute GVHD grading. Bone Marrow Transplant. 1995;15:825–8.

Langner S, Staber P, Schub N, Gramatzki M, Grothe W, Behre G, et al. Palifermin reduces incidence and severity of oral mucositis in allogeneic stem-cell transplant recipients. Bone Marrow Transplant. 2008;42:275–9.

Goldberg JD, Zheng J, Castro-Malaspina H, Jakubowski AA, Heller G, van den Brink MR, et al. Palifermin is efficacious in recipients of TBI-based but not chemotherapy-based allogeneic hematopoietic stem cell transplants. Bone Marrow Transplant. 2013;48:99–104.

Jagasia MH, Abonour R, Long GD, Bolwell BJ, Laport GG, Shore TB, et al. Palifermin for the reduction of acute GVHD: a randomized, double-blind, placebo-controlled trial. Bone Marrow Transplant. 2012;47:1350–5.

Verhagen MP, Wondergem MJ, Visser O. Palifermin dose should be adjusted to different therapy regimens. Bone Marrow Transplant. 2009;43:665.

Gibson RJ, Keefe DM, Clarke JM, Regester GO, Thompson FM, Goland GJ, et al. The effect of keratinocyte growth factor on tumour growth and small intestinal mucositis after chemotherapy in the rat with breast cancer. Cancer Chemother Pharmacol. 2002;50:53–8.

van der Velden WJ, Herbers AH, Blijlevens NM. Palifermin in allogeneic HSCT: many questions remain. Bone Marrow Transplant. 2009;43:85–6.
Acknowledgements
The study was conducted in cooperation with the Eastern German Study Group of Haematology and Oncology (OSHO, protocol code OSHO #76). Palifermin (Kepivance®) was provided by Swedish Orphan Biovitrum AB (Sobi), SE-112 76 Stockholm, Sweden. We further thank GMIHO (Gesellschaft für medizinische Innovation/Hämatologie und Onkologie mbH, Berlin, Germany) for the technical support of this trial, and Dr. Andreas Engelen (WiSP—Wissenschaftlicher Service Pharma GmbH, Langenfeld, Germany) for data monitoring and biostatistics.
Ethics declarations
Conflict of interest
The authors declare that they have no conflict of interest.
Additional information
Support: Palifermin was provided by Swedish Orphan Biovitrum
EudraCT database: 2006-003683-54.
About this article
Cite this article
Schmidt, V., Niederwieser, D., Schenk, T. et al. Efficacy and safety of keratinocyte growth factor (palifermin) for prevention of oral mucositis in TBI-based allogeneic hematopoietic stem cell transplantation. Bone Marrow Transplant 53, 1188–1192 (2018). https://doi.org/10.1038/s41409-018-0135-3
Received:

Revised:

Accepted:

Published:

Issue Date:

DOI: https://doi.org/10.1038/s41409-018-0135-3
Further reading
Faizah Jabr Alsulami
Sadr ul Shaheed

BMC Cancer (2022)