Equality in the dental profession
There has been a great amount of discussion about equality in the dental profession. Female dental practitioners outweigh their male counterparts, but does inequality and a lack of representation persist?
This was the much-discussed topic of Lala and Thompson's opinion piece. The authors made a call to the BDA to promote more equally in the interests of its membership so all are fairly represented, as a significant majority of the BDA's principal decision-making body - the Principal Executive Committee (PEC), is male (87% - 12 out of 15).
Read the full piece at: https://www.nature.com/articles/s41404-020-0300-4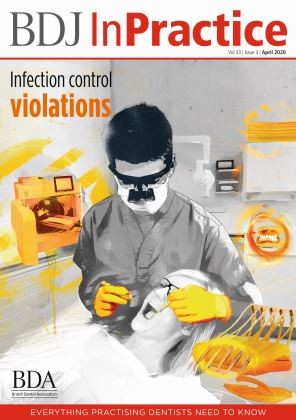 Patient complaints
The last five or six years has seen a rise in the number of Fitness to Practise cases heard by the General Dental Council. But how many of them could have been solved by dealing with a complaint better?
Patient expectations have increased significantly - and will continue to do so. The way in which the next generation of dentists deal with these expectations will have a huge say in how the relationship evolves. Is the way the profession deals with patient complaints changing, or is the way in which a patient makes a complaint changing?
You decide which it is at: https://www.nature.com/articles/s41404-020-0338-3
How much should you be paid?
For some of you, the time for you to take your training wheels off is fast approaching. It's important for you to know your worth, whatever you decide to do with your career.
In 2006, the current NHS dental contract was introduced in England and Wales. Many of you may not be aware how flawed this contract is.
To help you find out how much you should be paid, the BDA has created the UDA Value Checker, enabling members to look up an estimated UDA value for each contract in England, for every postcode district and for all NHS regions. It's hoped that by putting this information in the hands of members, you can use it to seek improvements to your working lives.
To find out the averages across England, and to use the checker, visit: https://www.nature.com/articles/s41404-020-0308-9
About this article
Cite this article
BDJ In Practice. BDJ Student 27, 11 (2020). https://doi.org/10.1038/s41406-020-0139-5