Abstract
Previous studies show that notoginsenoside R1 (NG-R1), a novel saponin isolated from Panax notoginseng, protects kidney, intestine, lung, brain and heart from ischemia-reperfusion injury. In this study we investigated the cardioprotective mechanisms of NG-R1 in myocardial ischemia/reperfusion (MI/R) injury in vivo and in vitro. MI/R injury was induced in mice by occluding the left anterior descending coronary artery for 30 min followed by 4 h reperfusion. The mice were treated with NG-R1 (25 mg/kg, i.p.) every 2 h for 3 times starting 30 min prior to ischemic surgery. We showed that NG-R1 administration significantly decreased the myocardial infarction area, alleviated myocardial cell damage and improved cardiac function in MI/R mice. In murine neonatal cardiomyocytes (CMs) subjected to hypoxia/reoxygenation (H/R) in vitro, pretreatment with NG-R1 (25 μM) significantly inhibited apoptosis. We revealed that NG-R1 suppressed the phosphorylation of transforming growth factor β-activated protein kinase 1 (TAK1), JNK and p38 in vivo and in vitro. Pretreatment with JNK agonist anisomycin or p38 agonist P79350 partially abolished the protective effects of NG-R1 in vivo and in vitro. Knockdown of TAK1 greatly ameliorated H/R-induced apoptosis of CMs, and NG-R1 pretreatment did not provide further protection in TAK1-silenced CMs under H/R injury. Overexpression of TAK1 abolished the anti-apoptotic effect of NG-R1 and diminished the inhibition of NG-R1 on JNK/p38 signaling in MI/R mice as well as in H/R-treated CMs. Collectively, NG-R1 alleviates MI/R injury by suppressing the activity of TAK1, subsequently inhibiting JNK/p38 signaling and attenuating cardiomyocyte apoptosis.
Access options
Subscribe to this journal
Receive 12 print issues and online access
$259.00 per year
only $21.58 per issue
Rent or buy this article
Get just this article for as long as you need it
$39.95
Prices may be subject to local taxes which are calculated during checkout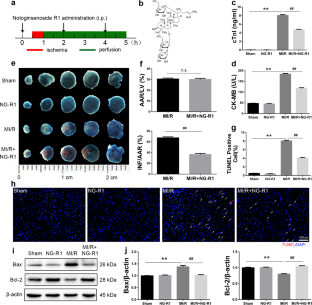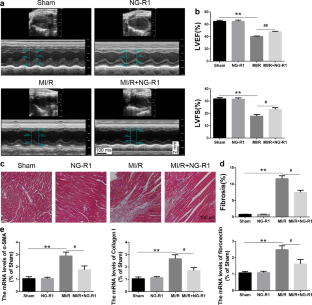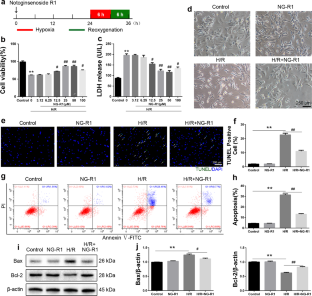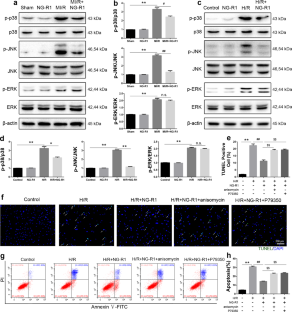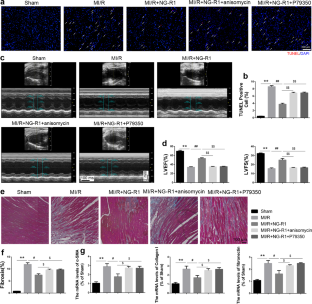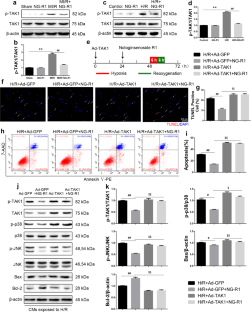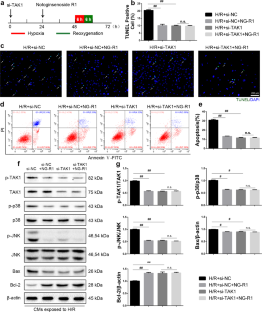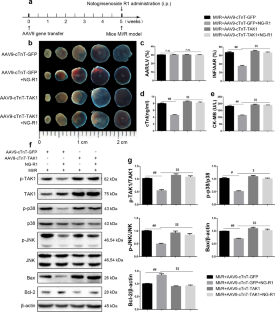 References
Benjamin EJ, Blaha MJ, Chiuve SE, Cushman M, Das SR, Deo R, et al. Heart Disease and Stroke Statistics-2017 Update: A Report From the American Heart Association. Circulation. 2017;135:e146–146e603.

Hausenloy DJ, Yellon DM. Targeting myocardial reperfusion injury–the search continues. N Engl J Med. 2015;373:1073–5.

Hausenloy DJ, Yellon DM. Ischaemic conditioning and reperfusion injury. Nat Rev Cardiol. 2016;13:193–209.

Heusch G. The coronary circulation as a target of cardioprotection. Circ Res. 2016;118:1643–58.

Ruan Y, Zeng J, Jin Q, Chu M, Ji K, Wang Z, et al. Endoplasmic reticulum stress serves an important role in cardiac ischemia/reperfusion injury (Review). Exp Ther Med. 2020;20:268.

Sun S, Yu W, Xu H, Li C, Zou R, Wu NN, et al. TBC1D15-Drp1 interaction-mediated mitochondrial homeostasis confers cardioprotection against myocardial ischemia/reperfusion injury. Metabolism. 2022;134:155239.

Chang X, Lochner A, Wang HH, Wang S, Zhu H, Ren J, et al. Coronary microvascular injury in myocardial infarction: perception and knowledge for mitochondrial quality control. Theranostics. 2021;11:6766–85.

Paskeh M, Asadi A, Mirzaei S, Hashemi M, Entezari M, Raesi R, et al. Targeting AMPK signaling in ischemic/reperfusion injury: from molecular mechanism to pharmacological interventions. Cell Signal. 2022;94:110323.

Ferdinandy P, Schulz R, Baxter GF. Interaction of cardiovascular risk factors with myocardial ischemia/reperfusion injury, preconditioning, and postconditioning. Pharmacol Rev. 2007;59:418–58.

Fan Q, Tao R, Zhang H, Xie H, Lu L, Wang T, et al. Dectin-1 contributes to myocardial ischemia/reperfusion injury by regulating macrophage polarization and neutrophil infiltration. Circulation. 2019;139:663–78.

Yi Q, Tan FH, Tan JA, Chen XH, Xiao Q, Liu YH, et al. Minocycline protects against myocardial ischemia/reperfusion injury in rats by upregulating MCPIP1 to inhibit NF-κB activation. Acta Pharmacol Sin. 2019;40:1019–28.

Steenbergen C. The role of p38 mitogen-activated protein kinase in myocardial ischemia/reperfusion injury; relationship to ischemic preconditioning. Basic Res Cardiol. 2002;97:276–85.

Chen X, Li X, Zhang W, He J, Xu B, Lei B, et al. Activation of AMPK inhibits inflammatory response during hypoxia and reoxygenation through modulating JNK-mediated NF-κB pathway. Metabolism 2018;83:256–70.

Ottani A, Galantucci M, Ardimento E, Neri L, Canalini F, Calevro A, et al. Modulation of the JAK/ERK/STAT signaling in melanocortin-induced inhibition of local and systemic responses to myocardial ischemia/reperfusion. Pharmacol Res. 2013;72:1–8.

Feng M, Wang L, Chang S, Yuan P. Penehyclidine hydrochloride regulates mitochondrial dynamics and apoptosis through p38MAPK and JNK signal pathways and provides cardioprotection in rats with myocardial ischemia-reperfusion injury. Eur J Pharm Sci. 2018;121:243–50.

Forouzanfar MH, Moran AE, Flaxman AD, Roth G, Mensah GA, Ezzati M, et al. Assessing the global burden of ischemic heart disease, part 2: analytic methods and estimates of the global epidemiology of ischemic heart disease in 2010. Glob Heart. 2012;7:331–42.

Benjamin EJ, Virani SS, Callaway CW, Chamberlain AM, Chang AR, Cheng S, et al. Heart Disease and Stroke Statistics-2018 Update: A Report From the American Heart Association. Circulation. 2018;137:e67–67e492.

Lakota J. Molecular mechanism of ischemia - Reperfusion injury after myocardial infarction and its possible targeted treatment. Int J Cardiol. 2016;220:571–2.

Li L, Chen Y, Doan J, Murray J, Molkentin JD, Liu Q. Transforming growth factor β-activated kinase 1 signaling pathway critically regulates myocardial survival and remodeling. Circulation. 2014;130:2162–72.

Wei Q, Tu Y, Zuo L, Zhao J, Chang Z, Zou Y, et al. MiR-345-3p attenuates apoptosis and inflammation caused by oxidized low-density lipoprotein by targeting TRAF6 via TAK1/p38/NF-κB signaling in endothelial cells. Life Sci. 2020;241:117142.

Wang J, Ma J, Nie H, Zhang XJ, Zhang P, She ZG, et al. Hepatic regulator of G protein signaling 5 ameliorates nonalcoholic fatty liver disease by suppressing transforming growth factor beta-activated kinase 1-c-Jun-N-terminal kinase/p38 signaling. Hepatology. 2021;73:104–25.

Wang X, Mao W, Fang C, Tian S, Zhu X, Yang L, et al. Dusp14 protects against hepatic ischaemia-reperfusion injury via Tak1 suppression. J Hepatol. 2017;S0168-8278:32275–4.

Song H, Wang P, Liu J, Wang C. Panax notoginseng preparations for unstable angina pectoris: a systematic review and Meta-analysis. Phytother Res. 2017;31:1162–72.

Zeng J, Jin Q, Ruan Y, Sun C, Xu G, Chu M, et al. Inhibition of TGFβ-activated protein kinase 1 ameliorates myocardial ischaemia/reperfusion injury via endoplasmic reticulum stress suppression. J Cell Mol Med. 2020;24:6846–59.

Chan P, Thomas GN, Tomlinson B. Protective effects of trilinolein extracted from panax notoginseng against cardiovascular disease. Acta Pharmacol Sin. 2002;23:1157–62.

Liu J, Wang Y, Qiu L, Yu Y, Wang C. Saponins of Panax notoginseng: chemistry, cellular targets and therapeutic opportunities in cardiovascular diseases. Expert Opin Investig Drugs. 2014;23:523–39.

Liu H, Yang J, Yang W, Hu S, Wu Y, Zhao B, et al. Focus on notoginsenoside R1 in metabolism and prevention against human diseases. Drug Des Devel Ther. 2020;14:551–65.

Yu Y, Sun G, Luo Y, Wang M, Chen R, Zhang J, et al. Cardioprotective effects of Notoginsenoside R1 against ischemia/reperfusion injuries by regulating oxidative stress- and endoplasmic reticulum stress- related signaling pathways. Sci Rep. 2016;6:21730.

Sun B, Xiao J, Sun XB, Wu Y. Notoginsenoside R1 attenuates cardiac dysfunction in endotoxemic mice: an insight into oestrogen receptor activation and PI3K/Akt signalling. Br J Pharmacol. 2013;168:1758–70.

Tu L, Wang Y, Chen D, Xiang P, Shen J, Li Y, et al. Protective effects of notoginsenoside R1 via regulation of the PI3K-Akt-mTOR/JNK pathway in neonatal cerebral hypoxic-ischemic brain injury. Neurochem Res. 2018;43:1210–26.

Liu WJ, Tang HT, Jia YT, Ma B, Fu JF, Wang Y, et al. Notoginsenoside R1 attenuates renal ischemia-reperfusion injury in rats. Shock. 2010;34:314–20.

Ge ZR, Xu MC, Huang YU, Zhang CJ, Lin JE, Ruan CW. Cardioprotective effect of notoginsenoside R1 in a rabbit lung remote ischemic postconditioning model via activation of the TGF-β1/TAK1 signaling pathway. Exp Ther Med. 2016;11:2341–8.

Zhu T, Wang L, Tian F, Zhao X, Pu XP, Sun GB, et al. Anti-ischemia/reperfusion injury effects of notoginsenoside R1 on small molecule metabolism in rat brain after ischemic stroke as visualized by MALDI-MS imaging. Biomed Pharmacother. 2020;129:110470.

An S, Wang X, Shi H, Zhang X, Meng H, Li W, et al. Apelin protects against ischemia-reperfusion injury in diabetic myocardium via inhibiting apoptosis and oxidative stress through PI3K and p38-MAPK signaling pathways. Aging. 2020;12:25120–37.

Guo X, Yin H, Li L, Chen Y, Li J, Doan J, et al. Cardioprotective role of tumor necrosis factor receptor-associated factor 2 by suppressing apoptosis and necroptosis. Circulation. 2017;136:729–42.

Guo X, Yin H, Chen Y, Li L, Li J, Liu Q. TAK1 regulates caspase 8 activation and necroptotic signaling via multiple cell death checkpoints. Cell Death Dis. 2016;7:e2381.

Zhang XJ, Liu X, Hu M, Zhao GJ, Sun D, Cheng X, et al. Pharmacological inhibition of arachidonate 12-lipoxygenase ameliorates myocardial ischemia-reperfusion injury in multiple species. Cell Metab. 2021;33:2059–75.e10.

Wang Q, Feng J, Wang J, Zhang X, Zhang D, Zhu T, et al. Disruption of TAB1/p38α interaction using a cell-permeable peptide limits myocardial ischemia/reperfusion injury. Mol Ther. 2013;21:1668–77.

Zheng QN, Wei XH, Pan CS, Li Q, Liu YY, Fan JY, et al. QiShenYiQi Pills(®) ameliorates ischemia/reperfusion-induced myocardial fibrosis involving RP S19-mediated TGFβ1/Smads signaling pathway. Pharmacol Res. 2019;146:104272.

Xiao J, Zhu T, Yin YZ, Sun B. Notoginsenoside R1, a unique constituent of Panax notoginseng, blinds proinflammatory monocytes to protect against cardiac hypertrophy in ApoE(-/-) mice. Eur J Pharmacol. 2018;833:441–50.

Zhang B, Zhang J, Zhang C, Zhang X, Ye J, Kuang S, et al. Notoginsenoside R1 protects against diabetic cardiomyopathy through activating estrogen receptor α and its downstream signaling. Front Pharmacol. 2018;9:1227.

Zhou P, Xie W, He S, Sun Y, Meng X, Sun G, et al. Ginsenoside Rb1 as an anti-diabetic agent and its underlying mechanism analysis. Cells. 2019;8:204.

Liu H, Lu X, Hu Y, Fan X. Chemical constituents of Panax ginseng and Panax notoginseng explain why they differ in therapeutic efficacy. Pharmacol Res. 2020;161:105263.

Han JY, Li Q, Ma ZZ, Fan JY. Effects and mechanisms of compound Chinese medicine and major ingredients on microcirculatory dysfunction and organ injury induced by ischemia/reperfusion. Pharmacol Ther. 2017;177:146–73.

Duan L, Xiong X, Hu J, Liu Y, Li J, Wang J. Panax notoginseng saponins for treating coronary artery disease: a functional and mechanistic overview. Front Pharmacol. 2017;8:702.

Jin Z, Gan C, Luo G, Hu G, Yang X, Qian Z, et al. Notoginsenoside R1 protects hypoxia-reoxygenation deprivation-induced injury by upregulation of miR-132 in H9c2 cells. Hum Exp Toxicol. 2021;40:S29–29S38.

Xia KP, Ca HM, Shao CZ. Protective effect of notoginsenoside R1 in a rat model of myocardial ischemia reperfusion injury by regulation of Vitamin D3 upregulated protein 1/NF-κB pathway. Pharmazie. 2015;70:740–4.

Freude B, Masters TN, Robicsek F, Fokin A, Kostin S, Zimmermann R, et al. Apoptosis is initiated by myocardial ischemia and executed during reperfusion. J Mol Cell Cardiol. 2000;32:197–208.

Bassat E, Mutlak YE, Genzelinakh A, Shadrin IY, Baruch Umansky K, Yifa O, et al. The extracellular matrix protein agrin promotes heart regeneration in mice. Nature. 2017;547:179–84.

Yue TL, Wang C, Gu JL, Ma XL, Kumar S, Lee JC, et al. Inhibition of extracellular signal-regulated kinase enhances ischemia/reoxygenation-induced apoptosis in cultured cardiac myocytes and exaggerates reperfusion injury in isolated perfused heart. Circ Res. 2000;86:692–9.

Xu W, Zhang L, Zhang Y, Zhang K, Wu Y, Jin D. TRAF1 exacerbates myocardial ischemia reperfusion Injury via ASK1-JNK/p38 signaling. J Am Heart Assoc. 2019;8:e012575.

Engelbrecht AM, Niesler C, Page C, Lochner A. p38 and JNK have distinct regulatory functions on the development of apoptosis during simulated ischaemia and reperfusion in neonatal cardiomyocytes. Basic Res Cardiol. 2004;99:338–50.

Shvedova M, Anfinogenova Y, Atochina-Vasserman EN, Schepetkin IA, Atochin DN. c-Jun N-Terminal Kinases (JNKs) in myocardial and cerebral ischemia/reperfusion injury. Front Pharmacol. 2018;9:715.

Barancik M, Htun P, Strohm C, Kilian S, Schaper W. Inhibition of the cardiac p38-MAPK pathway by SB203580 delays ischemic cell death. J Cardiovasc Pharmacol. 2000;35:474–83.

Li X, Lin H, Zhang X, Jaspers RT, Yu Q, Ji Y, et al. Notoginsenoside R1 attenuates oxidative stress-induced osteoblast dysfunction through JNK signalling pathway. J Cell Mol Med. 2021;25:11278–89.

Ge B, Gram H, Di Padova F, Huang B, New L, Ulevitch RJ, et al. MAPKK-independent activation of p38alpha mediated by TAB1-dependent autophosphorylation of p38alpha. Science. 2002;295:1291–4.

Li J, Miller EJ, Ninomiya-Tsuji J, Russell RR 3rd, Young LH. AMP-activated protein kinase activates p38 mitogen-activated protein kinase by increasing recruitment of p38 MAPK to TAB1 in the ischemic heart. Circ Res. 2005;97:872–9.

Shibuya H, Yamaguchi K, Shirakabe K, Tonegawa A, Gotoh Y, Ueno N, et al. TAB1: an activator of the TAK1 MAPKKK in TGF-beta signal transduction. Science. 1996;272:1179–82.

Sakurai H, Miyoshi H, Mizukami J, Sugita T. Phosphorylation-dependent activation of TAK1 mitogen-activated protein kinase kinase kinase by TAB1. FEBS Lett. 2000;474:141–5.

Yu Y, Ge N, Xie M, Sun W, Burlingame S, Pass AK, et al. Phosphorylation of Thr-178 and Thr-184 in the TAK1 T-loop is required for interleukin (IL)−1-mediated optimal NFkappaB and AP-1 activation as well as IL-6 gene expression. J Biol Chem. 2008;283:24497–505.

Hashimoto K, Simmons AN, Kajino-Sakamoto R, Tsuji Y, Ninomiya-Tsuji J. TAK1 regulates the Nrf2 antioxidant system through modulating p62/SQSTM1. Antioxid Redox Signal. 2016;25:953–64.

Qian D, Shao X, Li Y, Sun X. Notoginsenoside R1 protects WI-38 cells against lipopolysaccharide-triggered injury via adjusting the miR-181a/TLR4 axis. J Cell Biochem. 2019;120:19764–74.

Wang Y, Tu L, Li Y, Chen D, Liu Z, Hu X, et al. Notoginsenoside R1 alleviates oxygen-glucose deprivation/reoxygenation injury by suppressing endoplasmic reticulum calcium release via PLC. Sci Rep. 2017;7:16226.
Acknowledgements
This work was supported by National Natural Science Foundation of China (81900340, 82170265), Wenzhou Science and Technology Major Projects (2018ZY007, 2018ZY018) and the Ningbo HwaMei Research Fund (2021HMKY14) for funding.
Ethics declarations
Competing interests
The authors declare no competing interests.
Rights and permissions
Springer Nature or its licensor (e.g. a society or other partner) holds exclusive rights to this article under a publishing agreement with the author(s) or other rightsholder(s); author self-archiving of the accepted manuscript version of this article is solely governed by the terms of such publishing agreement and applicable law.
About this article
Cite this article
Zeng, Jj., Shi, Hq., Ren, Ff. et al. Notoginsenoside R1 protects against myocardial ischemia/reperfusion injury in mice via suppressing TAK1-JNK/p38 signaling. Acta Pharmacol Sin (2023). https://doi.org/10.1038/s41401-023-01057-y
Received:

Accepted:

Published:

DOI: https://doi.org/10.1038/s41401-023-01057-y
Keywords
myocardial ischemia/reperfusion injury

notoginsenoside R1

TAK1

JNK

p38

apoptosis