Abstract
The transient receptor potential vanilloid 1 (TRPV1) is a non-selective cation channel that is activated by capsaicin (CAP), the main component of chili pepper. Despite studies in several neurological diseases, the role of TRPV1 in demyelinating diseases remains unknown. Herein, we reported that TRPV1 expression was increased within the corpus callosum during demyelination in a cuprizone (CPZ)-induced demyelination mouse model. TRPV1 deficiency exacerbated motor coordinative dysfunction and demyelination in CPZ-treated mice, whereas the TRPV1 agonist CAP improved the behavioral performance and facilitated remyelination. TRPV1 was predominantly expressed in Iba1+ microglia/macrophages in human brain sections of multiple sclerosis patients and mouse corpus callosum under demyelinating conditions. TRPV1 deficiency decreased microglial recruitment to the corpus callosum, with an associated increase in the accumulation of myelin debris. Conversely, the activation of TRPV1 by CAP enhanced the recruitment of microglia to the corpus callosum and potentiated myelin debris clearance. Using real-time live imaging we confirmed an increased phagocytic function of microglia following CAP treatment. In addition, the expression of the scavenger receptor CD36 was increased, and that of the glycolysis regulators Hif1a and Hk2 was decreased. We conclude that TRPV1 is an important regulator of microglial function in the context of demyelination and may serve as a promising therapeutic target for demyelinating diseases such as multiple sclerosis.
Relevant articles
Open Access articles citing this article.
Yumeng Wang

,

Jingxian Sun

…

Jun Wang

Journal of Neuroinflammation Open Access 25 March 2023
Access options
Subscribe to this journal
Receive 12 print issues and online access
$259.00 per year
only $21.58 per issue
Rent or buy this article
Get just this article for as long as you need it
$39.95
Prices may be subject to local taxes which are calculated during checkout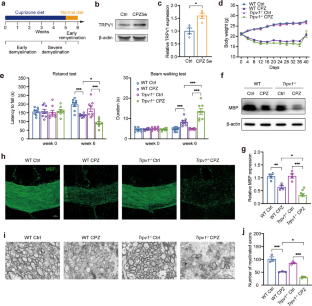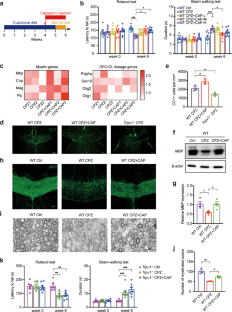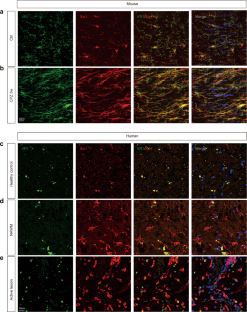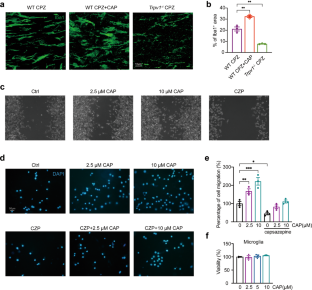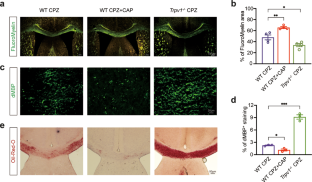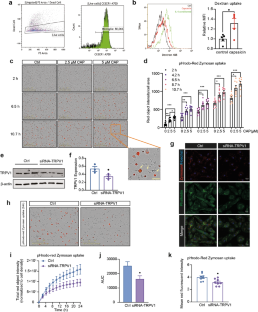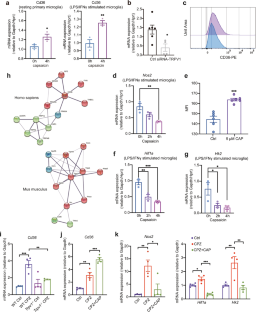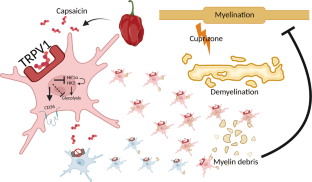 References
Stadelmann C, Timmler S, Barrantes-Freer A, Simons M. Myelin in the Central nervous system: structure, function, and pathology. Physiol Rev. 2019;99:1381–431.

Franklin RJM, Ffrench-Constant C. Regenerating CNS myelin—from mechanisms to experimental medicines. Nat Rev Neurosci. 2017;18:753–69.

Lubetzki C, Zalc B, Williams A, Stadelmann C, Stankoff B. Remyelination in multiple sclerosis: from basic science to clinical translation. Lancet Neurol. 2020;19:678–88.

Reich DS, Lucchinetti CF, Calabresi PA. Multiple sclerosis. N Engl J Med. 2018;378:169–80.

Faissner S, Plemel JR, Gold R, Yong VW. Progressive multiple sclerosis: from pathophysiology to therapeutic strategies. Nat Rev Drug Discov. 2019;18:905–22.

Prinz M, Jung S, Priller J. Microglia biology: one century of evolving concepts. Cell. 2019;179:292–311.

Voet S, Prinz M, van Loo G. Microglia in central nervous system inflammation and multiple sclerosis pathology. Trends Mol Med. 2019;25:112–23.

International Multiple Sclerosis Genetics Consortium. Multiple sclerosis genomic map implicates peripheral immune cells and microglia in susceptibility. Science. 2019;365:eaav7188.

Olsson T, Barcellos LF, Alfredsson L. Interactions between genetic, lifestyle and environmental risk factors for multiple sclerosis. Nat Rev Neurol. 2017;13:25–36.

Moran MM, McAlexander MA, Bíró T, Szallasi A. Transient receptor potential channels as therapeutic targets. Nat Rev Drug Discov. 2011;10:601–20.

Caterina MJ, Schumacher MA, Tominaga M, Rosen TA, Levine JD, Julius D. The capsaicin receptor: a heat-activated ion channel in the pain pathway. Nature. 1997;389:816–24.

Szallasi A, Blumberg PM. Vanilloid (Capsaicin) receptors and mechanisms. Pharmacol Rev. 1999;51:159–212.

Sasamura T, Sasaki M, Tohda C, Kuraishi Y. Existence of capsaicin-sensitive glutamatergic terminals in rat hypothalamus. Neuroreport. 1998;9:2045–8.

Mezey E, Tóth ZE, Cortright DN, Arzubi MK, Krause JE, Elde R, et al. Distribution of mRNA for vanilloid receptor subtype 1 (VR1), and VR1-like immunoreactivity, in the central nervous system of the rat and human. Proc Natl Acad Sci USA. 2000;97:3655–60.

Roberts JC, Davis JB, Benham CD. [3H]Resiniferatoxin autoradiography in the CNS of wild-type and TRPV1 null mice defines TRPV1 (VR-1) protein distribution. Brain Res. 2004;995:176–83.

Tóth A, Boczán J, Kedei N, Lizanecz E, Bagi Z, Papp Z, et al. Expression and distribution of vanilloid receptor 1 (TRPV1) in the adult rat brain. Brain Res Mol Brain Res. 2005;135:162–8.

Cristino L, de Petrocellis L, Pryce G, Baker D, Guglielmotti V, Di Marzo V. Immunohistochemical localization of cannabinoid type 1 and vanilloid transient receptor potential vanilloid type 1 receptors in the mouse brain. Neuroscience. 2006;139:1405–15.

Edwards JG. TRPV1 in the central nervous system: synaptic plasticity, function, and pharmacological implications. Prog Drug Res. 2014;68:77–104.

Kong WL, Peng YY, Peng BW. Modulation of neuroinflammation: role and therapeutic potential of TRPV1 in the neuro-immune axis. Brain Behav Immun. 2017;64:354–66.

Ramírez-Barrantes R, Cordova C, Poblete H, Muñoz P, Marchant I, Wianny F, et al. Perspectives of TRPV1 function on the neurogenesis and neural plasticity. Neural Plast. 2016;2016:1568145.

Huang WX, Yu F, Sanchez RM, Liu YQ, Min JW, Hu JJ, et al. TRPV1 promotes repetitive febrile seizures by pro-inflammatory cytokines in immature brain. Brain Behav Immun. 2015;48:68–77.

Musumeci G, Grasselli G, Rossi S, De Chiara V, Musella A, Motta C, et al. Transient receptor potential vanilloid 1 channels modulate the synaptic effects of TNF-α and of IL-1β in experimental autoimmune encephalomyelitis. Neurobiol Dis. 2011;43:669–77.

Tsuji F, Murai M, Oki K, Seki I, Ueda K, Inoue H, et al. Transient receptor potential vanilloid 1 agonists as candidates for anti-inflammatory and immunomodulatory agents. Eur J Pharmacol. 2010;627:332–9.

Barclay W, Shinohara ML. Inflammasome activation in multiple sclerosis and experimental autoimmune encephalomyelitis (EAE). Brain Pathol. 2017;27:213–9.

Zhu K, Sun J, Kang Z, Zou Z, Wu G, Wang J. Electroacupuncture promotes remyelination after cuprizone treatment by enhancing myelin debris clearance. Front Neurosci. 2016;10:613.

Polman CH, Reingold SC, Edan G, Filippi M, Hartung HP, Kappos L, et al. Diagnostic criteria for multiple sclerosis: 2005 revisions to the "McDonald Criteria". Ann Neurol. 2005;58:840–6.

Martins D, Tavares I, Morgado C. "Hotheaded": the role OF TRPV1 in brain functions. Neuropharmacology. 2014;85:151–7.

Doly S, Fischer J, Salio C, Conrath M. The vanilloid receptor-1 is expressed in rat spinal dorsal horn astrocytes. Neurosci Lett. 2004;357:123–6.

Marrone MC, Morabito A, Giustizieri M, Chiurchiù V, Leuti A, Mattioli M, et al. TRPV1 channels are critical brain inflammation detectors and neuropathic pain biomarkers in mice. Nat Commun. 2017;8:15292.

Lloyd AF, Miron VE. The pro-remyelination properties of microglia in the central nervous system. Nat Rev Neurol. 2019;15:447–58.

Skripuletz T, Hackstette D, Bauer K, Gudi V, Pul R, Voss E, et al. Astrocytes regulate myelin clearance through recruitment of microglia during cuprizone-induced demyelination. Brain. 2013;136:147–67.

Lampron A, Larochelle A, Laflamme N, Préfontaine P, Plante MM, Sánchez MG, et al. Inefficient clearance of myelin debris by microglia impairs remyelinating processes. J Exp Med. 2015;212:481–95.

Choi JJ, Wang S, Tung YS, Morrison B 3rd, Konofagou EE. Molecules of various pharmacologically-relevant sizes can cross the ultrasound-induced blood-brain barrier opening in vivo. Ultrasound Med Biol. 2010;36:58–67.

Zhu Z, Zheng L, Li Y, Huang T, Chao YC, Pan L, et al. Potential immunotherapeutic targets on myeloid cells for neurovascular repair after ischemic stroke. Front Neurosci. 2019;13:758.

Woo MS, Yang J, Beltran C, Cho S. Cell surface CD36 protein in monocyte/macrophage contributes to phagocytosis during the resolution phase of ischemic stroke in mice. J Biol Chem. 2016;291:23654–61.

Zhu K, Sun J, Kang Z, Zou Z, Wu X, Wang Y, et al. Repurposing of omeprazole for oligodendrocyte differentiation and remyelination. Brain Res. 2019;1710:33–42.

Balleza-Tapia H, Crux S, Andrade-Talavera Y, Dolz-Gaiton P, Papadia D, Chen G, et al. TrpV1 receptor activation rescues neuronal function and network gamma oscillations from Aβ-induced impairment in mouse hippocampus in vitro. Elife. 2018;7:e37703.

Zhao Z, Wang J, Wang L, Yao X, Liu Y, Li Y, et al. Capsaicin protects against oxidative insults and alleviates behavioral deficits in rats with 6-OHDA-induced Parkinson's disease via activation of TRPV1. Neurochem Res. 2017;42:3431–8.

Cao Z, Balasubramanian A, Marrelli SP. Pharmacologically induced hypothermia via TRPV1 channel agonism provides neuroprotection following ischemic stroke when initiated 90 min after reperfusion. Am J Physiol Regul Integr Comp Physiol. 2014;306:R149–56.

Patel S, Hill MN, Cheer JF, Wotjak CT, Holmes A. The endocannabinoid system as a target for novel anxiolytic drugs. Neurosci Biobehav Rev. 2017;76:56–66.

Du Y, Fu M, Huang Z, Tian X, Li J, Pang Y, et al. TRPV1 activation alleviates cognitive and synaptic plasticity impairments through inhibiting AMPAR endocytosis in APP23/PS45 mouse model of Alzheimer's disease. Aging Cell. 2020;19:e13113.

Stampanoni Bassi M, Gentile A, Iezzi E, Zagaglia S, Musella A, Simonelli I, et al. Transient receptor potential vanilloid 1 modulates central inflammation in multiple sclerosis. Front Neurol. 2019;10:30.

Xu W, Liu J, Ma D, Yuan G, Lu Y, Yang Y. Capsaicin reduces Alzheimer-associated tau changes in the hippocampus of type 2 diabetes rats. PLoS ONE. 2017;12:e0172477.

Chung YC, Baek JY, Kim SR, Ko HW, Bok E, Shin WH, et al. Capsaicin prevents degeneration of dopamine neurons by inhibiting glial activation and oxidative stress in the MPTP model of Parkinson's disease. Exp Mol Med. 2017;49:e298.

Kim SR, Kim SU, Oh U, Jin BK. Transient receptor potential vanilloid subtype 1 mediates microglial cell death in vivo and in vitro via Ca2+-mediated mitochondrial damage and cytochrome c release. J Immunol. 2006;177:4322–9.

Schilling T, Eder C. Importance of the non-selective cation channel TRPV1 for microglial reactive oxygen species generation. J Neuroimmunol. 2009;216:118–21.

Miyake T, Shirakawa H, Nakagawa T, Kaneko S. Activation of mitochondrial transient receptor potential vanilloid 1 channel contributes to microglial migration. Glia. 2015;63:1870–82.

Kong W, Wang X, Yang X, Huang W, Han S, Yin J, et al. Activation of TRPV1 contributes to recurrent febrile seizures via inhibiting the microglial M2 phenotype in the immature brain. Front Cell Neurosci. 2019;13:442.

Hassan S, Eldeeb K, Millns PJ, Bennett AJ, Alexander SP, Kendall DA. Cannabidiol enhances microglial phagocytosis via transient receptor potential (TRP) channel activation. Br J Pharmacol. 2014;171:2426–39.

Lu J, Zhou W, Dou F, Wang C, Yu Z. TRPV1 sustains microglial metabolic reprogramming in Alzheimer's disease. EMBO Rep. 2021;22:e52013.

Umpierre AD, Wu LJ. How microglia sense and regulate neuronal activity. Glia. 2021;69:1637–53.

Chen X, Jiang M, Li H, Wang Y, Shen H, Li X, et al. CX3CL1/CX3CR1 axis attenuates early brain injury via promoting the delivery of exosomal microRNA-124 from neuron to microglia after subarachnoid hemorrhage. J Neuroinflammation. 2020;17:209.

Nguyen PT, Dorman LC, Pan S, Vainchtein ID, Han RT, Nakao-Inoue H, et al. Microglial remodeling of the extracellular matrix promotes synapse plasticity. Cell. 2020;182:388–403.

Zhu K, Wang Y, Sarlus H, Geng K, Nutma E, Sun J, et al. Myeloid cell-specific topoisomerase 1 inhibition using DNA origami mitigates neuroinflammation. EMBO Rep. 2022;23:e54499.

Umpierre AD, Bystrom LL, Ying Y, Liu YU, Worrell G, Wu LJ. Microglial calcium signaling is attuned to neuronal activity in awake mice. Elife. 2020;9:e56502.

Yi MH, Liu YU, Umpierre AD, Chen T, Ying Y, Zheng J, et al. Optogenetic activation of spinal microglia triggers chronic pain in mice. PLoS Biol. 2021;19:e3001154.

Zhang Y, Hou B, Liang P, Lu X, Wu Y, Zhang X, et al. TRPV1 channel mediates NLRP3 inflammasome-dependent neuroinflammation in microglia. Cell Death Dis. 2021;12:1159.

Yuan J, Liu H, Zhang H, Wang T, Zheng Q, Li Z. Controlled activation of TRPV1 channels on microglia to boost their autophagy for clearance of alpha-synuclein and enhance therapy of Parkinson's disease. Adv Mater. 2022;34:e2108435.

Gordan JD, Thompson CB, Simon MC. HIF and c-Myc: sibling rivals for control of cancer cell metabolism and proliferation. Cancer Cell. 2007;12:108–13.

Mikkelsen TS, Xu Z, Zhang X, Wang L, Gimble JM, Lander ES, et al. Comparative epigenomic analysis of murine and human adipogenesis. Cell. 2010;143:156–69.

Yamanaka M, Ishikawa T, Griep A, Axt D, Kummer MP, Heneka MT. PPARγ/RXRα-induced and CD36-mediated microglial amyloid-β phagocytosis results in cognitive improvement in amyloid precursor protein/presenilin 1 mice. J Neurosci. 2012;32:17321–31.

Medrano-Jiménez E, Jiménez-Ferrer Carrillo I, Pedraza-Escalona M, Ramírez-Serrano CE, Álvarez-Arellano L, Cortés-Mendoza J, et al. Malva parviflora extract ameliorates the deleterious effects of a high fat diet on the cognitive deficit in a mouse model of Alzheimer's disease by restoring microglial function via a PPAR-γ-dependent mechanism. J Neuroinflammation. 2019;16:143.

Krishnan V, Baskaran P, Thyagarajan B. Troglitazone activates TRPV1 and causes deacetylation of PPARγ in 3T3-L1 cells. Biochim Biophys Acta Mol Basis Dis. 2019;1865:445–53.
Acknowledgements
This study was supported by the National Natural Science Foundation of China (82074538, 81671597), the Innovative Research Team of High-Level Local Universities in Shanghai (2019-2023), the Shanghai Municipal Science and Technology Major Project (No. 2018SHZDZX01) and the Development Project of Shanghai Peak Disciplines-Integrated Chinese and Western Medicine. KZ was sponsored by China Scholarship Council (201700260280). We thank Meng Sun from Karolinska Institutet for the help with setting up IncuCyte. We thank Jingdian Zhang and Shengduo Pei from Karolinska Institutet for sharing experimental reagents and materials for pilot tests.
Ethics declarations
Competing interests
The authors declare no competing interests.
Supplementary information
Rights and permissions
Springer Nature or its licensor holds exclusive rights to this article under a publishing agreement with the author(s) or other rightsholder(s); author self-archiving of the accepted manuscript version of this article is solely governed by the terms of such publishing agreement and applicable law.
About this article
Cite this article
Sun, Jx., Zhu, Ky., Wang, Ym. et al. Activation of TRPV1 receptor facilitates myelin repair following demyelination via the regulation of microglial function. Acta Pharmacol Sin 44, 766–779 (2023). https://doi.org/10.1038/s41401-022-01000-7
Received:

Accepted:

Published:

Issue Date:

DOI: https://doi.org/10.1038/s41401-022-01000-7
Keywords
TRPV1

capsaicin

microglia

remyelination

phagocytosis
This article is cited by
Yumeng Wang
Jingxian Sun
Jun Wang

Journal of Neuroinflammation (2023)