Abstract
Protein aggregation and the abnormal accumulation of aggregates are considered as common mechanisms of neurodegeneration such as Parkinson's disease (PD). Ursolic acid (UA), a natural pentacyclic triterpenoid compound, has shown a protective activity in several experimental models of brain dysfunction through inhibiting oxidative stress and inflammatory responses and suppressing apoptotic signaling in the brain. In this study, we investigated whether UA promoted autophagic clearance of protein aggregates and attenuated the pathology and characteristic symptoms in PD mouse model. Mice were injected with rotenone (1 mg · kg−1 · d−1, i.p.) five times per week for 1 or 2 weeks. We showed that rotenone injection induced significant motor deficit and prodromal non-motor symptoms accompanied by a significant dopaminergic neuronal loss and the deposition of aggregated proteins such as p62 and ubiquitin in the substantia nigra and striatum. Co-injection of UA (10 mg · kg−1 · d−1, i.p.) ameliorated all the rotenone-induced pathological alterations. In differentiated human neuroblastoma SH-SY5Y cells, two-step treatment with a proteasome inhibitor MG132 (0.25, 2.5 μM) induced marked accumulation of ubiquitin and p62 with clear and larger aggresome formation, while UA (5 μM) significantly attenuated the MG132-induced protein accumulation. Furthermore, we demonstrated that UA (5 μM) significantly increased autophagic clearance by promoting autophagic flux in primary neuronal cells and SH-SY5Y cells; UA affected autophagy regulation by increasing the phosphorylation of JNK, which triggered the dissociation of Bcl-2 from Beclin 1. These results suggest that UA could be a promising therapeutic candidate for reducing PD progression from the prodromal stage by regulating abnormal protein accumulation in the brain.
Relevant articles
Open Access articles citing this article.
O. Damri

,

S. Natour

…

G. Agam

Molecular Psychiatry Open Access 23 January 2023
Access options
Subscribe to Journal
Get full journal access for 1 year
$119.00
only $9.92 per issue
All prices are NET prices.
VAT will be added later in the checkout.
Tax calculation will be finalised during checkout.
Buy article
Get time limited or full article access on ReadCube.
$32.00
All prices are NET prices.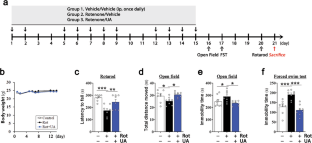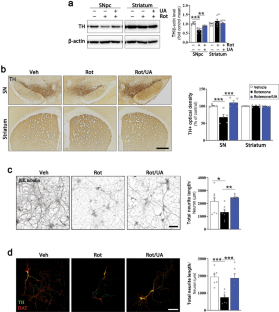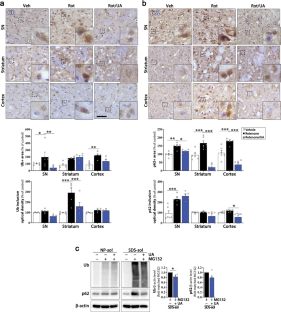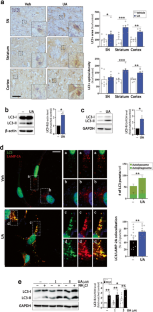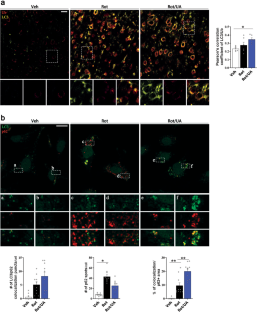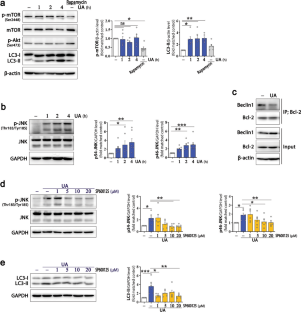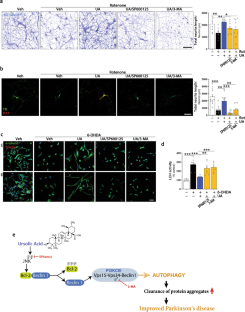 References
Kumar V, Sami N, Kashav T, Islam A, Ahmad F, Hassan MI. Protein aggregation and neurodegenerative diseases: From theory to therapy. Eur J Med Chem. 2016;124:1105–20.

Li J, Zhang L, Jiang Z, Shu B, Li F, Bao Q. Toxicities of aristolochic acid I and aristololactam I in cultured renal epithelial cells. Toxicol In Vitro. 2010;24:1092–7.

Lim J, Bang Y, Choi HJ. Abnormal hippocampal neurogenesis in Parkinson's disease: relevance to a new therapeutic target for depression with Parkinson's disease. Arch Pharm Res. 2018;41:943–54.

Funderburk SF, Wang QJ, Yue Z. The Beclin 1-VPS34 complex–at the crossroads of autophagy and beyond. Trends Cell Biol. 2010;20:355–62.

Yan H, Gao Y, Zhang Y. Inhibition of JNK suppresses autophagy and attenuates insulin resistance in a rat model of nonalcoholic fatty liver disease. Mol Med Rep. 2017;15:180–6.

Lu J, Zheng YL, Wu DM, Luo L, Sun DX, Shan Q. Ursolic acid ameliorates cognition deficits and attenuates oxidative damage in the brain of senescent mice induced by D-galactose. Biochem Pharmacol. 2007;74:1078–90.

Lin CW, Chin HK, Lee SL, Chiu CF, Chung JG, Lin ZY, et al. Ursolic acid induces apoptosis and autophagy in oral cancer cells. Environ Toxicol. 2019;34:983–91.

Leng S, Iwanowycz S, Saaoud F, Wang J, Wang Y, Sergin I, et al. Ursolic acid enhances macrophage autophagy and attenuates atherogenesis. J Lipid Res. 2016;57:1006–16.

Wu J, Zhao S, Tang Q, Zheng F, Chen Y, Yang L, et al. Activation of SAPK/JNK mediated the inhibition and reciprocal interaction of DNA methyltransferase 1 and EZH2 by ursolic acid in human lung cancer cells. J Exp Clin Cancer Res. 2015;34:99.

Katashima CK, Silva VR, Gomes TL, Pichard C, Pimentel GD. Ursolic acid and mechanisms of actions on adipose and muscle tissue: a systematic review. Obes Rev. 2017;18:700–11.

Peshattiwar V, Muke S, Kaikini A, Bagle S, Dighe V, Sathaye S. Mechanistic evaluation of Ursolic acid against rotenone induced Parkinson's disease- emphasizing the role of mitochondrial biogenesis. Brain Res Bull. 2020;160:150–61.

Zahra W, Rai SN, Birla H, Singh SS, Rathore AS, Dilnashin H, et al. Neuroprotection of rotenone-induced Parkinsonism by ursolic acid in PD mouse model. CNS Neurol Disord Drug Targets. 2020;19:527–40.

Seo DY, Lee SR, Heo JW, No MH, Rhee BD, Ko KS, et al. Ursolic acid in health and disease. Korean J Physiol Pharmacol. 2018;22:235–48.

Rai SN, Yadav SK, Singh D, Singh SP. Ursolic acid attenuates oxidative stress in nigrostriatal tissue and improves neurobehavioral activity in MPTP-induced Parkinsonian mouse model. J Chem Neuroanat. 2016;71:41–9.

Li Y, Liu W, Oo TF, Wang L, Tang Y, Jackson-Lewis V, et al. Mutant LRRK2(R1441G) BAC transgenic mice recapitulate cardinal features of Parkinson's disease. Nat Neurosci. 2009;12:826–8.

Walsh RN, Cummins RA. The Open-Field Test: a critical review. Psychol Bull. 1976;83:482–504.

Francardo V, Recchia A, Popovic N, Andersson D, Nissbrandt H, Cenci MA. Impact of the lesion procedure on the profiles of motor impairment and molecular responsiveness to L-DOPA in the 6-hydroxydopamine mouse model of Parkinson's disease. Neurobiol Dis. 2011;42:327–40.

Castagné V, Moser PC, Porsolt RD. Preclinical behavioral models for predicting antipsychotic activity. Adv Pharmacol. 2009;57:381–418.

Sadleir KR, Kandalepas PC, Buggia-Prévot V, Nicholson DA, Thinakaran G, Vassar R. Presynaptic dystrophic neurites surrounding amyloid plaques are sites of microtubule disruption, BACE1 elevation, and increased Aβ generation in Alzheimer's disease. Acta Neuropathol. 2016;132:235–56.

Bang Y, Lim J, Kim SS, Jeong HM, Jung KK, Kang IH, et al. Aroclor1254 interferes with estrogen receptor-mediated neuroprotection against beta-amyloid toxicity in cholinergic SN56 cells. Neurochem Int. 2011;59:582–90.

Kwon Y, Bang Y, Moon SH, Kim A, Choi HJ. Amitriptyline interferes with autophagy-mediated clearance of protein aggregates via inhibiting autophagosome maturation in neuronal cells. Cell Death Dis. 2020;11:874.

Cannon JR, Tapias V, Na HM, Honick AS, Drolet RE, Greenamyre JT. A highly reproducible rotenone model of Parkinson's disease. Neurobiol Dis. 2009;34:279–90.

Johnson ME, Bobrovskaya L. An update on the rotenone models of Parkinson's disease: their ability to reproduce the features of clinical disease and model gene-environment interactions. Neurotoxicology. 2015;46:101–16.

Moon SH, Kwon Y, Huh YE, Choi HJ. Trehalose ameliorates prodromal non-motor deficits and aberrant protein accumulation in a rotenone-induced mouse model of Parkinson's disease. Arch Pharm Res. 2022;45:417–32.

Ross CA, Poirier MA. Protein aggregation and neurodegenerative disease. Nat Med. 2004;10 Suppl:S10–7.

Kuusisto E, Kauppinen T, Alafuzoff I. Use of p62/SQSTM1 antibodies for neuropathological diagnosis. Neuropathol Appl Neurobiol. 2008;34:169–80.

Bang Y, Kang BY, Choi HJ. Preconditioning stimulus of proteasome inhibitor enhances aggresome formation and autophagy in differentiated SH-SY5Y cells. Neurosci Lett. 2014;566C:263–8.

Bang Y, Kim KS, Seol W, Choi HJ. LRRK2 interferes with aggresome formation for autophagic clearance. Mol Cell Neurosci. 2016;75:71–80.

Hart PD, Young MR. Ammonium chloride, an inhibitor of phagosome-lysosome fusion in macrophages, concurrently induces phagosome-endosome fusion, and opens a novel pathway: studies of a pathogenic mycobacterium and a nonpathogenic yeast. J Exp Med. 1991;174:881–9.

Xiong N, Xiong J, Jia M, Liu L, Zhang X, Chen Z, et al. The role of autophagy in Parkinson's disease: rotenone-based modeling. Behav Brain Funct. 2013;9:13.

Wu F, Xu HD, Guan JJ, Hou YS, Gu JH, Zhen XC, et al. Rotenone impairs autophagic flux and lysosomal functions in Parkinson's disease. Neuroscience. 2015;284:900–11.

Mader BJ, Pivtoraiko VN, Flippo HM, Klocke BJ, Roth KA, Mangieri LR, et al. Rotenone inhibits autophagic flux prior to inducing cell death. ACS Chem Neurosci. 2012;3:1063–72.

Sarkar S. Regulation of autophagy by mTOR-dependent and mTOR-independent pathways: autophagy dysfunction in neurodegenerative diseases and therapeutic application of autophagy enhancers. Biochem Soc Trans. 2013;41:1103–30.

Wei Y, Pattingre S, Sinha S, Bassik M, Levine B. JNK1-mediated phosphorylation of Bcl-2 regulates starvation-induced autophagy. Mol Cell. 2008;30:678–88.

He C, Zhu H, Li H, Zou MH, Xie Z. Dissociation of Bcl-2-Beclin1 complex by activated AMPK enhances cardiac autophagy and protects against cardiomyocyte apoptosis in diabetes. Diabetes. 2013;62:1270–81.

Wu YT, Tan HL, Shui G, Bauvy C, Huang Q, Wenk MR, et al. Dual role of 3-methyladenine in modulation of autophagy via different temporal patterns of inhibition on class I and III phosphoinositide 3-kinase. J Biol Chem. 2010;285:10850–61.

Saito Y, Nishio K, Ogawa Y, Kinumi T, Yoshida Y, Masuo Y, et al. Molecular mechanisms of 6-hydroxydopamine-induced cytotoxicity in PC12 cells: involvement of hydrogen peroxide-dependent and -independent action. Free Radic Biol Med. 2007;42:675–85.

Braak H, Del Tredici K, Rüb U, de Vos RA, Jansen Steur EN, Braak E. Staging of brain pathology related to sporadic Parkinson's disease. Neurobiol Aging. 2003;24:197–211.

Dehay B, Bové J, Rodríguez-Muela N, Perier C, Recasens A, Boya P, et al. Pathogenic lysosomal depletion in Parkinson's disease. J Neurosci. 2010;30:12535–44.

Decressac M, Mattsson B, Weikop P, Lundblad M, Jakobsson J, Björklund A. TFEB-mediated autophagy rescues midbrain dopamine neurons from α-synuclein toxicity. Proc Natl Acad Sci USA. 2013;110:E1817–26.

Fowler AJ, Moussa CE. Activating autophagy as a therapeutic strategy for Parkinson's disease. CNS Drugs. 2018;32:1–11.

Leng S, Hao Y, Du D, Xie S, Hong L, Gu H, et al. Ursolic acid promotes cancer cell death by inducing Atg5-dependent autophagy. Int J Cancer. 2013;133:2781–90.

Habtemariam S. Antioxidant and anti-inflammatory mechanisms of neuroprotection by ursolic acid: addressing brain injury, cerebral ischemia, cognition deficit, anxiety, and depression. Oxid Med Cell Longev. 2019;2019:8512048.

Heo HJ, Cho HY, Hong B, Kim HK, Heo TR, Kim EK, et al. Ursolic acid of Origanum majorana L. reduces Abeta-induced oxidative injury. Mol Cells. 2002;13:5–11.

Hong SY, Jeong WS, Jun M. Protective effects of the key compounds isolated from Corni fructus against β-amyloid-induced neurotoxicity in PC12 cells. Molecules. 2012;17:10831–45.

Li L, Zhang X, Cui L, Wang L, Liu H, Ji H, et al. Ursolic acid promotes the neuroprotection by activating Nrf2 pathway after cerebral ischemia in mice. Brain Res. 2013;1497:32–9.

Hardie DG. AMPK and autophagy get connected. EMBO J. 2011;30:634–5.

Zhang Y, Kong C, Zeng Y, Wang L, Li Z, Wang H, et al. Ursolic acid induces PC-3 cell apoptosis via activation of JNK and inhibition of Akt pathways in vitro. Mol Carcinog. 2010;49:374–85.

Xavier CP, Lima CF, Pedro DF, Wilson JM, Kristiansen K, Pereira-Wilson C. Ursolic acid induces cell death and modulates autophagy through JNK pathway in apoptosis-resistant colorectal cancer cells. J Nutr Biochem. 2013;24:706–12.

Liu XS, Jiang J. Induction of apoptosis and regulation of the MAPK pathway by ursolic acid in human leukemia K562 cells. Planta Med. 2007;73:1192–4.

Conway GE, Zizyte D, Mondala JRM, He Z, Lynam L, Lecourt M, et al. Ursolic acid inhibits collective cell migration and promotes JNK-dependent lysosomal associated cell death in glioblastoma multiforme cells. Pharmaceuticals. 2021;14:91–106.

Bang Y, Lim J, Choi HJ. Recent advances in the pathology of prodromal non-motor symptoms olfactory deficit and depression in Parkinson's disease: clues to early diagnosis and effective treatment. Arch Pharm Res. 2021;44:588–604.

Lim J, Kim HI, Bang Y, Choi HJ. Peroxisome proliferator-activated receptor gamma: a novel therapeutic target for cognitive impairment and mood disorders that functions via the regulation of adult neurogenesis. Arch Pharm Res. 2021;44:553–63.

Manfredsson FP, Luk KC, Benskey MJ, Gezer A, Garcia J, Kuhn NC, et al. Induction of alpha-synuclein pathology in the enteric nervous system of the rat and non-human primate results in gastrointestinal dysmotility and transient CNS pathology. Neurobiol Dis. 2018;112:106–18.

Ferreira N, Goncalves NP, Jan A, Jensen NM, van der Laan A, Mohseni S, et al. Trans-synaptic spreading of alpha-synuclein pathology through sensory afferents leads to sensory nerve degeneration and neuropathic pain. Acta Neuropathol Commun. 2021;9:31.

Flores-Cuadrado A, Ubeda-Banon I, Saiz-Sanchez D, de la Rosa-Prieto C, Martinez-Marcos A. alpha-Synuclein staging in the amygdala of a Parkinson's disease model: cell types involved. Eur J Neurosci. 2015;41:137–46.

Navarro-Zaragoza J, Cuenca-Bermejo L, Almela P, Laorden ML, Herrero MT. Could small heat shock protein HSP27 be a first-line target for preventing protein aggregation in Parkinson's disease? Int J Mol Sci. 2021;22:3038–50.

Percie du Sert N, Hurst V, Ahluwalia A, Alam S, Avey MT, Baker M, et al. The ARRIVE guidelines 2.0: updated guidelines for reporting animal research. BMJ Open Sci. 2020;4:e100115.
Acknowledgements
This work was supported by the GRRC program of Gyeonggi Province, Korea (GRRC-CHA2017-A01, Validity and Safety Evaluation of Regional Specialized Resources) and the Basic Science Research Program through the National Research Foundation of Korea funded by the Ministry of Science, ICT & Future Planning, Korea (NRF-2016R1C1B1015991, NRF-2019R1H1A1080255, and NRF2021R1A2C1013180).
Ethics declarations
Competing interests
The authors declare no competing interests.
Ethics approval
All animal care and experimental procedures complied with and were approved by the Institutional Animal Care and Use Committee (IACUC) of CHA University (IACUC190113, IACUC200111, and IACUC210106). The animal studies are reported in compliance with the ARRIVE guidelines [58]. Every effort was made to minimize animal suffering and to perform the experiments using fewer mice.
Supplementary information
Rights and permissions
Springer Nature or its licensor holds exclusive rights to this article under a publishing agreement with the author(s) or other rightsholder(s); author self-archiving of the accepted manuscript version of this article is solely governed by the terms of such publishing agreement and applicable law.
About this article
Cite this article
Bang, Y., Kwon, Y., Kim, M. et al. Ursolic acid enhances autophagic clearance and ameliorates motor and non-motor symptoms in Parkinson's disease mice model. Acta Pharmacol Sin (2022). https://doi.org/10.1038/s41401-022-00988-2
Received:

Accepted:

Published:

DOI: https://doi.org/10.1038/s41401-022-00988-2
Keywords
autophagy

JNK

Parkinson's disease

rotenone

SH-SY5Y cells

ursolic acid
This article is cited by
Molecular Psychiatry (2023)