Abstract
Aversive emotion of opioid withdrawal generates motivational state leading to compulsive drug seeking and taking. Kappa opioid receptor (KOR) and its endogenous ligand dynorphin have been shown to participate in the regulation of aversive emotion. In the present study, we investigated the role of dynorphin/KOR system in the aversive emotion following opioid withdrawal in acute morphine-dependent mice. We found that blockade of KORs before pairing by intracerebroventricular injection of KOR antagonist norBNI (20, 40 μg) attenuated the development of morphine withdrawal-induced conditioned place aversion (CPA) behavior. We further found that morphine withdrawal increased dynorphin A expression in the dorsal hippocampus, but not in the amygdala, prefrontal cortex, nucleus accumbens, and thalamus. Microinjection of norBNI (20 μg) into the dorsal hippocampus significantly decreased morphine withdrawal-induced CPA behavior. We further found that p38 MAPK was significantly activated in the dorsal hippocampus after morphine withdrawal, and the activation of p38 MAPK was blocked by pretreatment with norBNI. Accordingly, microinjection of p38 MAPK inhibitor SB203580 (5 μg) into the dorsal hippocampus significantly decreased morphine withdrawal-produced CPA behavior. This study demonstrates that upregulation of dynorphin/KOR system in the dorsal hippocampus plays a critical role in the formation of aversive emotion associated with morphine withdrawal, suggesting that KOR antagonists may have therapeutic value for the treatment of opioid withdrawal-induced mood-related disorders.
Access options
Subscribe to Journal
Get full journal access for 1 year
$119.00
only $9.92 per issue
All prices are NET prices.
VAT will be added later in the checkout.
Tax calculation will be finalised during checkout.
Buy article
Get time limited or full article access on ReadCube.
$32.00
All prices are NET prices.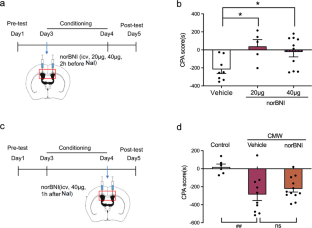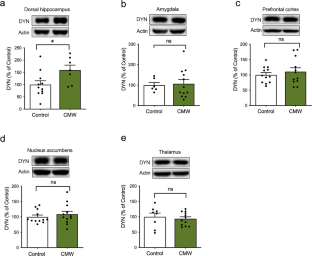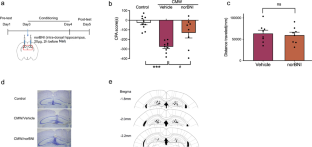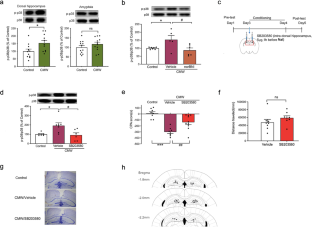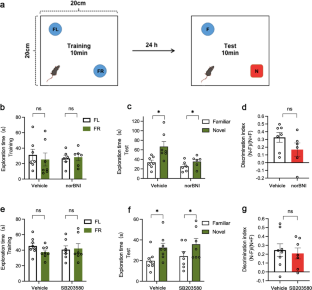 References
Leshner AI. Addiction is a brain disease, and it matters. Science. 1997;278:45–7.

Koob GF, Le Moal M. Drug addiction, dysregulation of reward, and allostasis. Neuropsychopharmacology. 2001;24:97–129.

Childress AR, Hole AV, Ehrman RN, Robbins SJ, McLellan AT, O'Brien CP. Cue reactivity and cue reactivity interventions in drug dependence. NIDA Res Monogr. 1993;137:73–95.

Bechara A, Nader K, van der Kooy D. A two-separate-motivational-systems hypothesis of opioid addiction. Pharmacol Biochem Behav. 1998;59:1–17.

Hou YY, Lu B, Li M, Liu Y, Chen J, Chi ZQ, et al. Involvement of actin rearrangements within the amygdala and the dorsal hippocampus in aversive memories of drug withdrawal in acute morphine-dependent rats. J Neurosci. 2009;29:12244–54.

Quirion R, Pilapil C, Magnan J. Localization of kappa opioid receptor binding sites in human forebrain using [3H] U69, 593: comparison with [3H] bremazocine. Cell Mol Neurobiol. 1987;7:303–7.

Mansour A, Khachaturian H, Lewis ME, Akil H, Watson SJ. Anatomy of CNS opioid receptors. Trends Neurosci. 1988;11:308–14.

Wang YJ, Rasakham K, Huang P, Chudnovskaya D, Cowan A, Liu-Chen LY. Sex difference in κ-opioid receptor (KOPR)-mediated behaviors, brain region KOPR level and KOPR-mediated guanosine 5′-O-(3-[35S] thiotriphosphate) binding in the guinea pig. J Pharmacol Exp Ther. 2011;339:438–50.

Liu-Chen LY. Agonist-induced regulation and trafficking of κ opioid receptors. Life Sci. 2004;75:511–36.

Knoll AT, Carlezon WA Jr. Dynorphin, stress, and depression. Brain Res. 2010;1314:56–73.

Schwarzer C. 30 years of dynorphins—new insights on their functions in neuropsychiatric diseases. Pharmacol Ther. 2009;123:353–70.

Tejeda HA, Shippenberg TS, Henriksson R. The dynorphin/kappa-opioid receptor system and its role in psychiatric disorders. Cell Mol Life Sci. 2012;69:857–96.

Van't Veer A, Carlezon WA Jr. Role of kappa-opioid receptors in stress and anxiety-related behavior. Psychopharmacology. 2013;229:435–52.

Hang A, Wang YJ, He L, Liu JG. The role of the dynorphin/κ opioid receptor system in anxiety. Acta Pharmacol Sin. 2015;36:783–90.

Land BB, Bruchas MR, Lemos JC, Xu M, Melief EJ, Chavkin C. The dysphoric component of stress is encoded by activation of the dynorphin κ-opioid system. J Neurosci. 2008;28:407–14.

Land BB, Bruchas MR, Schattauer S, Giardino WJ, Aita M, Messinger D, et al. Activation of the kappa opioid receptor in the dorsal raphe nucleus mediates the aversive effects of stress and reinstates drug seeking. Proc Natl Acad Sci USA. 2009;106:19168–73.

Ehrich JM, Messinger DI, Knakal CR, Kuhar JR, Schattauer SS, Bruchas MR, et al. Kappa opioid receptor-induced aversion requires p38 MAPK activation in VTA dopamine neurons. J Neurosci. 2015;35:12917–31.

Zan GY, Wang Q, Wang YJ, Chen JC, Wu X, Yang CH, et al. p38 mitogen-activated protein kinase activation in amygdala mediates κ opioid receptor agonist U50, 488H-induced conditioned place aversion. Neuroscience. 2016;320:122–8.

Todtenkopf MS, Marcus JF, Portoghese PS, Carlezon WA Jr. Effects of kappa-opioid receptor ligands on intracranial self-stimulation in rats. Psychopharmacology. 2004;172:463–70.

Liang J, Li Y, Ping X, Yu P, Zuo Y, Wu L, et al. The possible involvement of endogenous ligands for mu-, delta- and kappa-opioid receptors in modulating morphine-induced CPP expression in rats. Peptides. 2006;27:3307–14.

Gillett K, Harshberger E, Valdez GR. Protracted withdrawal from ethanol and enhanced responsiveness stress: regulation via the dynorphin/kappa opioid receptor system. Alcohol. 2013;47:359–65.

Chartoff E, Sawyer A, Rachlin A, Potter D, Pliakas A, Carlezon WA. Blockade of kappa opioid receptors attenuates the development of depressive-like behaviors induced by cocaine withdrawal in rats. Neuropharmacology. 2012;62:167–76.

Lalanne L, Ayranci G, Kieffer BL, Lutz PE. The kappa opioid receptor: from addiction to depression, and back. Front Psychiatry. 2014;5:170.

Lalanne L, Ayranci G, Filliol D, Gavériaux‐Ruff C, Befort K, Kieffer B, et al. Kappa opioid receptor antagonism and chronic antidepressant treatment have beneficial activities on social interactions and grooming deficits during heroin abstinence. Addict Biol. 2017;22:1010–21.

Lutz P-E, Ayranci G, Chu-Sin-Chung P, Matifas A, Koebel P, Filliol D, et al. Distinct mu, delta, and kappa opioid receptor mechanisms underlie low sociability and depressive-like behaviors during heroin abstinence. Neuropsychopharmacology. 2014;39:2694–705.

Zan GY, Wang Q, Wang YJ, Liu Y, Hang A, Shu XH, et al. Antagonism of kappa opioid receptor in the nucleus accumbens prevents the depressive-like behaviors following prolonged morphine abstinence. Behav Brain Res. 2015;291:334–41.

Zan GY, Wang YJ, Li XP, Fang JF, Yao SY, Du JY, et al. Amygdalar κ-opioid receptor-dependent upregulating glutamate transporter 1 mediates depressive-like behaviors of opioid abstinence. Cell Rep. 2021;37:109913.

Azar MR, Jones BC, Schulteis G. Conditioned place aversion is a highly sensitive index of acute opioid dependence and withdrawal. Psychopharmacology. 2003;170:42–50.

Liu Y, Zhou QX, Hou YY, Lu B, Yu C, Chen J, et al. Actin polymerization-dependent increase in synaptic Arc/Arg3. 1 expression in the amygdala is crucial for the expression of aversive memory associated with drug withdrawal. J Neurosci. 2012;32:12005–17.

Wang YJ, Yu C, Wu WW, Ju YY, Liu Y, Xu C, et al. Alteration of twinfilin1 expression underlies opioid withdrawal-induced remodeling of actin cytoskeleton at synapses and formation of aversive memory. Mol Psychiatry. 2021;26:6218–36.

Gray JA, McNaughton N. The neuropsychology of anxiety: reprise. Nebr Symp Motiv. 1996;43:61–134.

McNaughton N, Corr PJ. A two-dimensional neuropsychology of defense: fear/anxiety and defensive distance. Neurosci Biobehav Rev. 2004;28:285–305.

Williams AV, Laman-Maharg A, Armstrong CV, Ramos-Maciel S, Minie VA, Trainor BC. Acute inhibition of kappa opioid receptors before stress blocks depression-like behaviors in California mice. Prog Neuro-Psychopharmacol Biol Psychiatry. 2018;86:166–74.

Bruchas MR, Macey TA, Lowe JD, Chavkin C. Kappa opioid receptor activation of p38 MAPK is GRK3-and arrestin-dependent in neurons and astrocytes. J Biol Chem. 2006;281:18081–9.

Bruchas MR, Land BB, Aita M, Xu M, Barot SK, Li S, et al. Stress-induced p38 mitogen-activated protein kinase activation mediates κ-opioid-dependent dysphoria. J Neurosci. 2007;27:11614–23.

Bruchas MR, Schindler AG, Shankar H, Messinger DI, Miyatake M, Land BB, et al. Selective p38α MAPK deletion in serotonergic neurons produces stress resilience in models of depression and addiction. Neuron. 2011;71:498–511.
Acknowledgements
This research was supported by grants from the Ministry of Science and Technology (2021ZD0203500 to YJW; 2021ZD0202900 to JGL), from the National Natural Science Foundation of China (82030112 to JGL, 81773710 to YJW), from Science and Technology Commission of Shanghai Municipality (20ZR1468200 to YJW) and from Shenzhen-Hong Kong Institute of Brain Science—Shenzhen Fundamental Research Institutions (NYKFKT2019015 to JGL).
Ethics declarations
Competing interests
The authors declare no competing interests.
Rights and permissions
Springer Nature or its licensor holds exclusive rights to this article under a publishing agreement with the author(s) or other rightsholder(s); author self-archiving of the accepted manuscript version of this article is solely governed by the terms of such publishing agreement and applicable law.
About this article
Cite this article
Chen, Y., Wang, Cy., Zan, Gy. et al. Upregulation of dynorphin/kappa opioid receptor system in the dorsal hippocampus contributes to morphine withdrawal-induced place aversion. Acta Pharmacol Sin (2022). https://doi.org/10.1038/s41401-022-00987-3
Received:

Accepted:

Published:

DOI: https://doi.org/10.1038/s41401-022-00987-3
Keywords
morphine withdrawal

conditioned place aversion

kappa opioid receptor

p38 MAPK

norBNI

dorsal hippocampus