Abstract
Herpes simplex virus (HSV) infection induces a rapid and transient increase in intracellular calcium concentration ([Ca2+]i), which plays a critical role in facilitating viral entry. T-type calcium channel blockers and EGTA, a chelate of extracellular Ca2+, suppress HSV-2 infection. But the cellular mechanisms mediating HSV infection-activated Ca2+ signaling have not been completely defined. In this study we investigated whether the TRPV4 channel was involved in HSV-2 infection in human vaginal epithelial cells. We showed that the TRPV4 channel was expressed in human vaginal epithelial cells (VK2/E6E7). Using distinct pharmacological tools, we demonstrated that activation of the TRPV4 channel induced Ca2+ influx, and the TRPV4 channel worked as a Ca2+-permeable channel in VK2/E6E7 cells. We detected a direct interaction between the TRPV4 channel protein and HSV-2 glycoprotein D in the plasma membrane of VK2/E6E7 cells and the vaginal tissues of HSV-2–infected mice as well as in phallic biopsies from genital herpes patients. Pretreatment with specific TRPV4 channel inhibitors, GSK2193874 (1−4 μM) and HC067047 (100 nM), or gene silence of the TRPV4 channel not only suppressed HSV-2 infectivity but also reduced HSV-2-induced cytokine and chemokine generation in VK2/E6E7 cells by blocking Ca2+ influx through TRPV4 channel. These results reveal that the TRPV4 channel works as a Ca2+-permeable channel to facilitate HSV-2 infection in host epithelial cells and suggest that the design and development of novel TRPV4 channel inhibitors may help to treat HSV-2 infections.
Access options
Subscribe to Journal
Get full journal access for 1 year
$119.00
only $9.92 per issue
All prices are NET prices.
VAT will be added later in the checkout.
Tax calculation will be finalised during checkout.
Buy article
Get time limited or full article access on ReadCube.
$32.00
All prices are NET prices.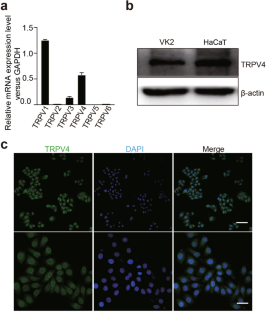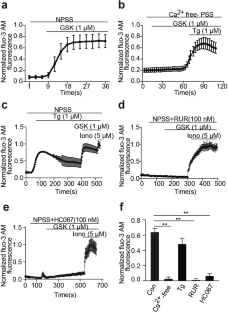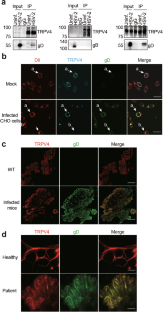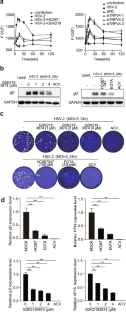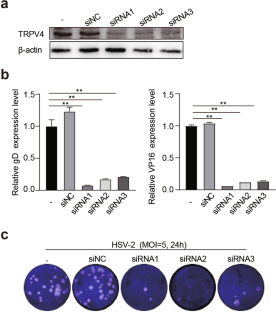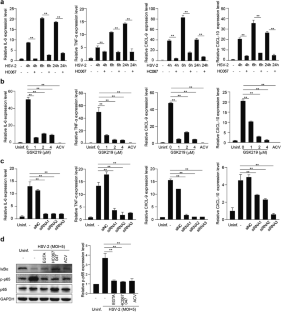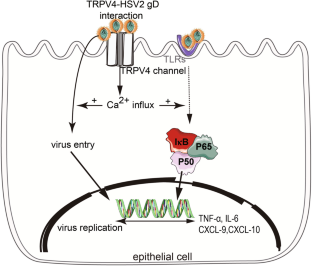 References
He D, Mao A, Li Y, Tam S, Zheng Y, Yao X, et al. TRPC1 participates in the HSV-1 infection process by facilitating viral entry. Sci Adv. 2020;6:z3367.

Cheshenko N, Trepanier JB, Gonzalez PA, Eugenin EA, Jacobs WJ, Herold BC. Herpes simplex virus type 2 glycoprotein H interacts with integrin alphavbeta3 to facilitate viral entry and calcium signaling in human genital tract epithelial cells. J Virol. 2014;88:10026–38.

Cheshenko N, Trepanier JB, Stefanidou M, Buckley N, Gonzalez P, Jacobs W, et al. HSV activates Akt to trigger calcium release and promote viral entry: novel candidate target for treatment and suppression. Faseb J. 2013;27:2584–99.

Cheshenko N, Liu W, Satlin LM, Herold BC. Multiple receptor interactions trigger release of membrane and intracellular calcium stores critical for herpes simplex virus entry. Mol Biol Cell. 2007;18:3119–30.

Ding L, Jiang P, Xu X, Lu W, Yang C, Li L, et al. T-type calcium channels blockers inhibit HSV-2 infection at the late stage of genome replication. Eur J Pharmacol. 2021;892:173782.

Pumroy RA, Fluck ER, Ahmed T, Moiseenkova-Bell VY. Structural insights into the gating mechanisms of TRPV channels. Cell Calcium. 2020;87:102168.

Toft-Bertelsen TL, MacAulay N. TRPing to the point of clarity: Understanding the function of the complex TRPV4 ion channel. Cells. 2021;10:2–16.

Taylor D, Hamid SM, Andres AM, Saadaeijahromi H, Piplani H, Germano JF, et al. Antiviral effects of menthol on Coxsackievirus B. Viruses. 2020;12:692–701.

Cortright DN, Buck ME, Krause JE. Hunting for ion channel modulators with herpes simplex virus. Nat Methods. 2007;4:692–3.

Sanjai KP, Nayak TK, Mahish C, Sahoo SS, Radhakrishnan A, De S, et al. Inhibition of transient receptor potential vanilloid 1 (TRPV1) channel regulates chikungunya virus infection in macrophages. Arch Virol. 2021;166:139–55.

Abdullah H, Heaney LG, Cosby SL, McGarvey LP. Rhinovirus upregulates transient receptor potential channels in a human neuronal cell line: implications for respiratory virus-induced cough reflex sensitivity. Thorax. 2014;69:46–54.

Harford TJ, Rezaee F, Scheraga RG, Olman MA, Piedimonte G. Asthma predisposition and respiratory syncytial virus infection modulate transient receptor potential vanilloid 1 function in children's airways. J Allergy Clin Immunol. 2018;141:414–6.

Harford TJ, Grove L, Rezaee F, Scheraga R, Olman MA, Piedimonte G. RSV infection potentiates TRPV1-mediated calcium transport in bronchial epithelium of asthmatic children. Am J Physiol Lung Cell Mol Physiol. 2021;320:L1074–84.

Jing X, Yan W, Zeng H, Cheng W. Qingfei oral liquid alleviates airway hyperresponsiveness and mucus hypersecretion via TRPV1 signaling in RSV-infected asthmatic mice. Biomed Pharmacother. 2020;128:110340.

Cabrera JR, Viejo-Borbolla A, Alcami A, Wandosell F. Secreted herpes simplex virus-2 glycoprotein G alters thermal pain sensitivity by modifying NGF effects on TRPV1. J Neuroinflammation. 2016;13:210.

Schmittgen TD, Livak KJ. Analyzing real-time PCR data by the comparative C(T) method. Nat Protoc. 2008;3:1101–8.

Ding L, Jiang P, Xu X, Lu W, Yang C, Zhou P, et al. Resveratrol promotes HSV-2 replication by increasing histone acetylation and activating NF-kappaB. Biochem Pharmacol. 2020;171:113691.

Xie Q, Chen X, Meng ZM, Huang XL, Zhang Q, Zhou JQ, et al. Glial-derived neurotrophic factor regulates enteric mast cells and ameliorates dextran sulfate sodium-induced experimental colitis. Int Immunopharmacol. 2020;85:106638.

Sasaki K, Hayashi K, Matsuya Y, Sugimoto K, Lee JB, Kurosaki F, et al. In vitro and in vivo antiherpetic effects of (1R,2R)-1-(5'-methylful-3'-yl)propane-1,2,3-triol. J Nat Med. 2016;70:217–24.

Nilius B, Owsianik G. The transient receptor potential family of ion channels. Genome Biol. 2011;12:218.

Veteto AB, Peana D, Lambert MD, McDonald KS, Domeier TL. TRPV4 contributes to stretch-induced hypercontractility and time-dependent dysfunction in the aged heart. Cardiovasc Res. 2019;231:116555.

Geraghty RJ, Krummenacher C, Cohen GH, Eisenberg RJ, Spear PG. Entry of alphaherpesviruses mediated by poliovirus receptor-related protein 1 and poliovirus receptor. Science. 1998;280:1618–20.

Krummenacher C, Nicola AV, Whitbeck JC, Lou H, Hou W, Lambris JD, et al. Herpes simplex virus glycoprotein D can bind to poliovirus receptor-related protein 1 or herpesvirus entry mediator, two structurally unrelated mediators of virus entry. J Virol. 1998;72:7064–74.

Cocchi F, Lopez M, Dubreuil P, Campadelli FG, Menotti L. Chimeric nectin1-poliovirus receptor molecules identify a nectin1 region functional in herpes simplex virus entry. J Virol. 2001;75:7987–94.

Struyf F, Martinez WM, Spear PG. Mutations in the N-terminal domains of nectin-1 and nectin-2 reveal differences in requirements for entry of various alphaherpesviruses and for nectin-nectin interactions. J Virol. 2002;76:12940–50.

Ishino R, Kawase Y, Kitawaki T, Sugimoto N, Oku M, Uchida S, et al. Oncolytic virus therapy with HSV-1 for hematological malignancies. Mol Ther. 2021;29:762–74.

Du Q, Gu Z, Leneva I, Jiang H, Li R, Deng L, et al. The antiviral activity of arbidol hydrochloride against herpes simplex virus type II (HSV-2) in a mouse model of vaginitis. Int Immunopharmacol. 2019;68:58–67.

Donate-Macian P, Jungfleisch J, Perez-Vilaro G, Rubio-Moscardo F, Peralvarez-Marin A, Diez J, et al. The TRPV4 channel links calcium influx to DDX3X activity and viral infectivity. Nat Commun. 2018;9:2307.

Stahl JP, Mailles A. Herpes simplex virus encephalitis update. Curr Opin Infect Dis. 2019;32:239–43.

Rayees S, Joshi JC, Tauseef M, Anwar M, Baweja S, Rochford I, et al. PAR2-mediated cAMP generation suppresses TRPV4-dependent Ca2+ signaling in alveolar macrophages to resolve TLR4-induced inflammation. Cell Rep. 2019;27:793–805.

Triantafilou K, Eryilmazlar D, Triantafilou M. Herpes simplex virus 2-induced activation in vaginal cells involves Toll-like receptors 2 and 9 and DNA sensors DAI and IFI16. Am J Obstet Gynecol. 2014;210:121–2.

Tognarelli EI, Palomino TF, Corrales N, Bueno SM, Kalergis AM, Gonzalez PA. Herpes simplex virus evasion of early host antiviral responses. Front Cell Infect Microbiol. 2019;9:127.

Berry CT, May MJ, Freedman BD. STIM- and Orai-mediated calcium entry controls NF-kappaB activity and function in lymphocytes. Cell Calcium. 2018;74:131–43.

Lu X, Huang C, Zhang Y, Lin Y, Wang X, Li Q, et al. The Us2 gene product of herpes simplex virus 2 modulates NF-kappaB activation by targeting TAK1. Sci Rep. 2017;7:8396.

Donate-Macian P, Duarte Y, Rubio-Moscardo F, Perez-Vilaro G, Canan J, Diez J, et al. Structural determinants of TRPV4 inhibition and identification of new antagonists with antiviral activity. Br J Pharmacol. 2020;6:1239–43.

Lo IC, Chan HC, Qi Z, Ng KL, So C, Tsang SY. TRPV3 channel negatively regulates cell cycle progression and safeguards the pluripotency of embryonic stem cells. J Cell Physiol. 2016;231:403–13.

Iversen MB, Reinert LS, Thomsen MK, Bagdonaite I, Nandakumar R, Cheshenko N, et al. An innate antiviral pathway acting before interferons at epithelial surfaces. Nat Immunol. 2016;17:150–8.

Garcia-Elias A, Mrkonjic S, Jung C, Pardo-Pastor C, Vicente R, Valverde MA. The TRPV4 channel. Handb Exp Pharmacol. 2014;222:293–319.

Sun L, Wu J, Du F, Chen X, Chen ZJ. Cyclic GMP-AMP synthase is a cytosolic DNA sensor that activates the type I interferon pathway. Science. 2013;339:786–91.

Ansari MA, Dutta S, Veettil MV, Dutta D, Iqbal J, Kumar B, et al. Herpesvirus genome recognition induced acetylation of nuclear IFI16 is essential for its cytoplasmic translocation, inflammasome and IFN-beta responses. PLoS Pathog. 2015;11:e1005019.

Brun P, Scarpa M, Marchiori C, Conti J, Kotsafti A, Porzionato A, et al. Herpes simplex virus type 1 engages toll like receptor 2 to recruit macrophages during infection of enteric neurons. Front Microbiol. 2018;9:2148.

Marsden V, Donaghy H, Bertram KM, Harman AN, Nasr N, Keoshkerian E, et al. Herpes simplex virus type 2-infected dendritic cells produce TNF-alpha, which enhances CCR5 expression and stimulates HIV production from adjacent infected cells. J Immunol. 2015;194:4438–45.

Ichinohe T, Pang IK, Iwasaki A. Influenza virus activates inflammasomes via its intracellular M2 ion channel. Nat Immunol. 2010;11:404–10.

Bair AM, Thippegowda PB, Freichel M, Cheng N, Ye RD, Vogel SM, et al. Ca2+ entry via TRPC channels is necessary for thrombin-induced NF-kappaB activation in endothelial cells through AMP-activated protein kinase and protein kinase Cdelta. J Biol Chem. 2009;284:563–74.

Rao A. Signaling to gene expression: calcium, calcineurin and NFAT. Nat Immunol. 2009;10:3–5.
Acknowledgements
The research was supported by the National Natural Science Foundation of China (82003815 to PJ), Major Scientific and Technological Projects of Guangdong Province (2019B020202002 to SWL), Natural Science Foundation of Guangdong Province (2017A030310602 to PJ), Chinese Academy of Traditional Chinese Medicine (ZZ13-035-02 and 2019XZZX-LG04 to SWL), and Medical Scientific Research Foundation of Guangdong Province (A2017368 to PJ).
Ethics declarations
Competing interests
The authors declare no competing interests.
Rights and permissions
Springer Nature or its licensor holds exclusive rights to this article under a publishing agreement with the author(s) or other rightsholder(s); author self-archiving of the accepted manuscript version of this article is solely governed by the terms of such publishing agreement and applicable law.
About this article
Cite this article
Jiang, P., Li, Ss., Xu, Xf. et al. TRPV4 channel is involved in HSV-2 infection in human vaginal epithelial cells through triggering Ca2+ oscillation. Acta Pharmacol Sin (2022). https://doi.org/10.1038/s41401-022-00975-7
Received:

Accepted:

Published:

DOI: https://doi.org/10.1038/s41401-022-00975-7
Keywords
Herpes simplex virus type 2

TRPV4 channel

Ca2+ signals

NF-κB

GSK2193874

HC067047