Abstract
Adiponectin, an adipokine secreted by adipocytes, has anti-atherosclerotic and antithrombotic activities. AdipoRon is synthetic small molecule adiponectin receptor agonist. In this study, we investigated the effect of AdipoRon on platelet activation and thrombus formation. Washed human platelets were prepared from the peripheral blood of healthy donors. In a series of in vitro platelet functional assays, pre-treatment with AdipoRon (10, 20, 40 µg/mL) dose-dependently inhibited the aggregation, granule secretion and spreading of washed human platelets. We showed that AdipoRon (20, 40 µg/mL) significantly inhibited AMPK, Syk, PLCγ2, PI3K, Akt, p38-MAPK and ERK1/2 signalling pathways in washed human platelets. In addition, we demonstrated that the phosphorylation of CKII at Tyr255 was an important mechanism of the integrin αIIbβ3-mediated platelet activation. Meanwhile, AdipoR1 deficiency impaired the inhibitory effect of AdipoRon on mouse platelets. In ferric chloride-induced carotid injury model, injection of AdipoRon (5 or 12.5 mg/kg, iv) significantly attenuated arterial thrombosis. In conclusion, AdipoRon attenuates platelet function via the AdipoR1/AMPK/CKII/PI3K/AKT signalling pathways, while exerting a protective effect against arterial thrombosis. This study offers new insights into the fields of cardiovascular disease and antiplatelet drug discovery.
Schematic model of AdipoRon regulating platelet activation. (BioRender.com)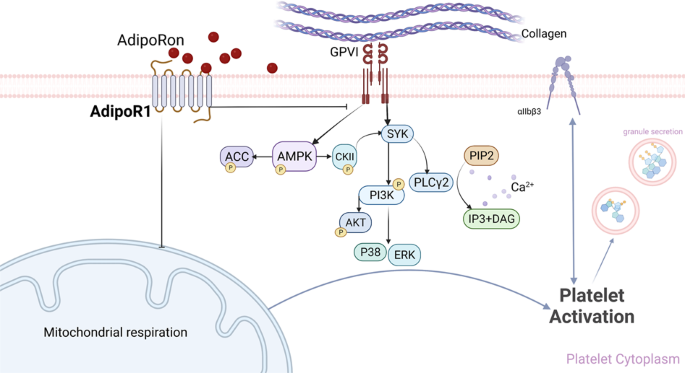 Access options
Subscribe to Journal
Get full journal access for 1 year
$119.00
only $9.92 per issue
All prices are NET prices.
VAT will be added later in the checkout.
Tax calculation will be finalised during checkout.
Buy article
Get time limited or full article access on ReadCube.
$32.00
All prices are NET prices.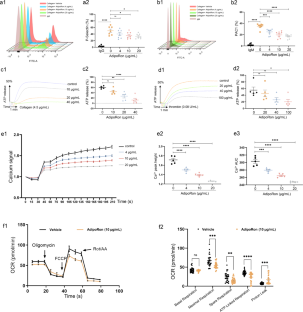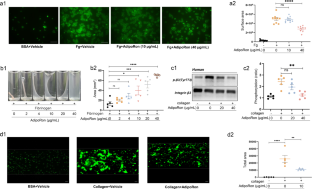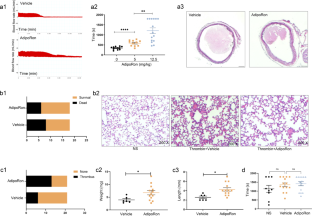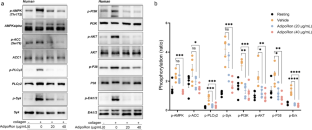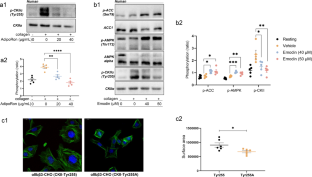 References
Gregg D, Goldschmidt-Clermont PJ. Cardiology patient page. Platelets and cardiovascular disease. Circulation. 2003;108:e88–90.

Maenhaut N, Van de Voorde J. Regulation of vascular tone by adipocytes. BMC Med. 2011;9:25.

Ouchi N, Parker JL, Lugus JJ, Walsh K. Adipokines in inflammation and metabolic disease. Nat Rev Immunol. 2011;11:85–97.

Alexopoulos N, Katritsis D, Raggi P. Visceral adipose tissue as a source of inflammation and promoter of atherosclerosis. Atherosclerosis. 2014;233:104–12.

Guh DP, Zhang W, Bansback N, Amarsi Z, Birmingham CL, Anis AH. The incidence of co-morbidities related to obesity and overweight: a systematic review and meta-analysis. BMC Public Health. 2009;9:88.

Ouchi N, Kihara S, Arita Y, Maeda K, Kuriyama H, Okamoto Y, et al. Novel modulator for endothelial adhesion molecules: adipocyte-derived plasma protein adiponectin. Circulation. 1999;100:2473–6.

Kumada M, Kihara S, Sumitsuji S, Kawamoto T, Matsumoto S, Ouchi N, et al. Association of hypoadiponectinemia with coronary artery disease in men. Arterioscler Thromb Vasc Biol. 2003;23:85–89.

Ouchi N, Kihara S, Funahashi T, Nakamura T, Nishida M, Kumada M, et al. Reciprocal association of C-reactive protein with adiponectin in blood stream and adipose tissue. Circulation. 2003;107:671–4.

Pischon T, Girman CJ, Hotamisligil GS, Rifai N, Hu FB, Rimm EB. Plasma adiponectin levels and risk of myocardial infarction in men. JAMA. 2004;291:1730–7.

Kiris I, Tekin I, Yesildag A, Vural H, Oyar O, Sirin B, et al. Inverse relationship between adiponectin levels and subclinical carotid atherosclerosis in patients undergoing coronary artery bypass grafting. Int Heart J. 2006;47:855–66.

Chow WS, Cheung BM, Tso AW, Xu A, Wat NM, Fong CH, et al. Hypoadiponectinemia as a predictor for the development of hypertension: a 5-year prospective study. Hypertension. 2007;49:1455–61.

Maeda N, Shimomura I, Kishida K, Nishizawa H, Matsuda M, Nagaretani H, et al. Diet-induced insulin resistance in mice lacking adiponectin/ACRP30. Nat Med. 2002;8:731–7.

Kato H, Kashiwagi H, Shiraga M, Tadokoro S, Kamae T, Ujiie H, et al. Adiponectin acts as an endogenous antithrombotic factor. Arterioscler Thromb Vasc Biol. 2006;26:224–30.

Matsuzawa Y, Funahashi T, Kihara S, Shimomura I. Adiponectin and metabolic syndrome. Arterioscler Thromb Vasc Biol. 2004;24:29–33.

Yamauchi T, Iwabu M, Okada-Iwabu M, Kadowaki T. Adiponectin receptors: a review of their structure, function and how they work. Best Pract Res Clin Endocrinol Metab. 2014;28:15–23.

Yamauchi T, Nio Y, Maki T, Kobayashi M, Takazawa T, Iwabu M, et al. Targeted disruption of AdipoR1 and AdipoR2 causes abrogation of adiponectin binding and metabolic actions. Nat Med. 2007;13:332–9.

Matsuda M, Shimomura I. Roles of adiponectin and oxidative stress in obesity-associated metabolic and cardiovascular diseases. Rev Endocr Metab Disord. 2014;15:1–10.

Kockx MM, Herman AG. Apoptosis in atherosclerosis: beneficial or detrimental? Cardiovasc Res. 2000;45:736–46.

Chen H, Montagnani M, Funahashi T, Shimomura I, Quon MJ. Adiponectin stimulates production of nitric oxide in vascular endothelial cells. J Biol Chem. 2003;278:45021–6.

Kobayashi H, Ouchi N, Kihara S, Walsh K, Kumada M, Abe Y, et al. Selective suppression of endothelial cell apoptosis by the high molecular weight form of adiponectin. Circ Res. 2004;94:e27–31.

Cheng KK, Lam KS, Wang Y, Huang Y, Carling D, Wu D, et al. Adiponectin-induced endothelial nitric oxide synthase activation and nitric oxide production are mediated by APPL1 in endothelial cells. Diabetes. 2007;56:1387–94.

Lee CH, Hung YJ. Possible new therapeutic approach for obesity-related diseases: role of adiponectin receptor agonists. J Diabetes Investig. 2015;6:264–6.

Okada-Iwabu M, Yamauchi T, Iwabu M, Honma T, Hamagami K, Matsuda K, et al. A small-molecule AdipoR agonist for type 2 diabetes and short life in obesity. Nature. 2013;503:493–9.

Cheng Z, Gao W, Fan X, Chen X, Mei H, Liu J, et al. Extracellular signal-regulated kinase 5 associates with casein kinase II to regulate GPIb-IX-mediated platelet activation via the PTEN/PI3K/Akt pathway. J Thromb Haemost. 2017;15:1679–88.

Miao S, Shu D, Zhu Y, Lu M, Zhang Q, Pei Y, et al. Cancer cell-derived immunoglobulin G activates platelets by binding to platelet FcγRIIa. Cell Death Dis. 2019;10:87.

Xu Y, Jiang H, Li L, Chen F, Liu Y, Zhou M, et al. Branched-chain amino acid catabolism promotes thrombosis risk by enhancing tropomodulin-3 propionylation in platelets. Circulation. 2020;142:49–64.

Brill A, Fuchs TA, Chauhan AK, Yang JJ, De Meyer SF, Köllnberger M, et al. von Willebrand factor-mediated platelet adhesion is critical for deep vein thrombosis in mouse models. Blood. 2011;117:1400–7.

Deng Y, Scherer PE. Adipokines as novel biomarkers and regulators of the metabolic syndrome. Ann N Y Acad Sci. 2010;1212:E1–E19.

Matsuda M, Shimomura I, Sata M, Arita Y, Nishida M, Maeda N, et al. Role of adiponectin in preventing vascular stenosis. The missing link of adipo-vascular axis. J Biol Chem. 2002;277:37487–91.

Zoccali C, Mallamaci F, Tripepi G, Benedetto FA, Cutrupi S, Parlongo S, et al. Adiponectin, metabolic risk factors, and cardiovascular events among patients with end-stage renal disease. J Am Soc Nephrol. 2002;13:134–41.

Zhang Y, Zhao J, Li R, Lau WB, Yuan YX, Liang B, et al. AdipoRon, the first orally active adiponectin receptor activator, attenuates postischemic myocardial apoptosis through both AMPK-mediated and AMPK-independent signalings. Am J Physiol Endocrinol Metab. 2015;309:E275–282.

Restituto P, Colina I, Varo JJ, Varo N. Adiponectin diminishes platelet aggregation and sCD40L release. Potential role in the metabolic syndrome. Am J Physiol Endocrinol Metab. 2010;298:E1072–1077.

Heijnen H, van der Sluijs P. Platelet secretory behaviour: as diverse as the granules … or not? J Thromb Haemost. 2015;13:2141–51.

Yeh JJ, Tsai S, Wu DC, Wu JY, Liu TC, Chen A. P-selectin-dependent platelet aggregation and apoptosis may explain the decrease in platelet count during Helicobacter pylori infection. Blood. 2010;115:4247–53.

Schoenwaelder SM, Darbousset R, Cranmer SL, Ramshaw HS, Orive SL, Sturgeon S, et al. 14-3-3ζ regulates the mitochondrial respiratory reserve linked to platelet phosphatidylserine exposure and procoagulant function. Nat Commun. 2016;7:12862.

Kramer PA, Ravi S, Chacko B, Johnson MS, Darley-Usmar VM. A review of the mitochondrial and glycolytic metabolism in human platelets and leukocytes: implications for their use as bioenergetic biomarkers. Redox Biol. 2014;2:206–10.

Zhang W, Ma Q, Siraj S, Ney PA, Liu J, Liao X, et al. Nix-mediated mitophagy regulates platelet activation and life span. Blood Adv. 2019;3:2342–54.

Wang Y, An H, Liu T, Qin C, Sesaki H, Guo S, et al. Metformin improves mitochondrial respiratory activity through activation of AMPK. Cell Rep. 2019;29:1511–23.

Wu S, Zou MH. AMPK, mitochondrial function, and cardiovascular disease. Int J Mol Sci. 2020;21:4987.

Lepropre S, Kautbally S, Octave M, Ginion A, Onselaer MB, Steinberg GR, et al. AMPK-ACC signaling modulates platelet phospholipids and potentiates thrombus formation. Blood. 2018;132:1180–92.

Ya F, Xu XR, Shi Y, Gallant RC, Song F, Zuo X, et al. Coenzyme Q10 upregulates platelet cAMP/PKA pathway and attenuates integrin αIIbβ3 signaling and thrombus growth. Mol Nutr Food Res. 2019;63:e1900662.

Okamoto Y, Kihara S, Ouchi N, Nishida M, Arita Y, Kumada M, et al. Adiponectin reduces atherosclerosis in apolipoprotein E-deficient mice. Circulation. 2002;106:2767–70.

Yamauchi T, Kamon J, Ito Y, Tsuchida A, Yokomizo T, Kita S, et al. Cloning of adiponectin receptors that mediate antidiabetic metabolic effects. Nature. 2003;423:762–9.

Mackman N. Triggers, targets and treatments for thrombosis. Nature. 2008;451:914–8.

von Brühl ML, Stark K, Steinhart A, Chandraratne S, Konrad I, Lorenz M, et al. Monocytes, neutrophils, and platelets cooperate to initiate and propagate venous thrombosis in mice in vivo. J Exp Med. 2012;209:819–35.

Eckly A, Hechler B, Freund M, Zerr M, Cazenave JP, Lanza F, et al. Mechanisms underlying FeCl3-induced arterial thrombosis. J Thromb Haemost. 2011;9:779–89.

Qiao J, Arthur JF, Gardiner EE, Andrews RK, Zeng L, Xu K. Regulation of platelet activation and thrombus formation by reactive oxygen species. Redox Biol. 2018;14:126–30.

Li Z, Delaney MK, O'Brien KA, Du X. Signaling during platelet adhesion and activation. Arterioscler Thromb Vasc Biol. 2010;30:2341–9.

Clark EA, Shattil SJ, Ginsberg MH, Bolen J, Brugge JS. Regulation of the protein tyrosine kinase pp72syk by platelet agonists and the integrin alpha IIb beta 3. J Biol Chem. 1994;269:28859–64.

Phillips DR, Jennings LK, Edwards HH. Identification of membrane proteins mediating the interaction of human platelets. J Cell Biol. 1980;86:77–86.

Shattil SJ, Kashiwagi H, Pampori N. Integrin signaling: the platelet paradigm. Blood. 1998;91:2645–57.

Watson SP, Herbert JM, Pollitt AY. GPVI and CLEC-2 in hemostasis and vascular integrity. J Thromb Haemost. 2010;8:1456–67.

Börsch-Haubold AG, Ghomashchi F, Pasquet S, Goedert M, Cohen P, Gelb MH, et al. Phosphorylation of cytosolic phospholipase A2 in platelets is mediated by multiple stress-activated protein kinase pathways. Eur J Biochem. 1999;265:195–203.

Lin LL, Wartmann M, Lin AY, Knopf JL, Seth A, Davis RJ. cPLA2 is phosphorylated and activated by MAP kinase. Cell. 1993;72:269–78.

Ryu SY, Kim S. Evaluation of CK2 inhibitor (E)-3-(2,3,4,5-tetrabromophenyl)acrylic acid (TBCA) in regulation of platelet function. Eur J Pharmacol. 2013;720:391–400.

Münzer P, Walker-Allgaier B, Geue S, Langhauser F, Geuss E, Stegner D, et al. CK2β regulates thrombopoiesis and Ca2+-triggered platelet activation in arterial thrombosis. Blood. 2017;130:2774–85.

Donella-Deana A, Cesaro L, Sarno S, Ruzzene M, Brunati AM, Marin O, et al. Tyrosine phosphorylation of protein kinase CK2 by Src-related tyrosine kinases correlates with increased catalytic activity. Biochem J. 2003;372:841–9.
Acknowledgements
This work was supported by grants from the National Natural Science Foundation of China (No. 31620103909 to YH and No. 81800134 to ZPC) and the Fundamental Research Funds for the Central Universities (HUST: 2021yjsCXCY122) to XHZ. We would like to thank Prof Jun-ling Liu's team from the Department of Biochemistry and Molecular Cell Biology, Key Laboratory of Cell Differentiation and Apoptosis of Chinese Ministry of Education, Shanghai Jiao Tong University School of Medicine, for providing αIIbβ3-CHO cells for our experiment.
Ethics declarations
Competing interests
The authors declare no competing interests.
Supplementary information
Rights and permissions
Springer Nature or its licensor holds exclusive rights to this article under a publishing agreement with the author(s) or other rightsholder(s); author self-archiving of the accepted manuscript version of this article is solely governed by the terms of such publishing agreement and applicable law.
About this article
Cite this article
Zhou, Xh., Cheng, Zp., Lu, M. et al. Adiponectin receptor agonist AdipoRon modulates human and mouse platelet function. Acta Pharmacol Sin (2022). https://doi.org/10.1038/s41401-022-00943-1
Received:

Accepted:

Published:

DOI: https://doi.org/10.1038/s41401-022-00943-1
Keywords
adiponectin

adipoRon

platelet activation

signalling pathway

thrombosis

antiplatelet drug