Abstract
Progressive ischemic stroke (PIS) is featured by progressive neurological dysfunction after ischemia. Ischemia-evoked neuroinflammation is implicated in the progressive brain injury after cerebral ischemia, while Caspase-1, an active component of inflammasome, exaggerates ischemic brain injury. Current Caspase-1 inhibitors are inadequate in safety and druggability. Here, we investigated the efficacy of CZL80, a novel Caspase-1 inhibitor, in mice with PIS. Mice and Caspase-1−/− mice were subjected to photothrombotic (PT)-induced cerebral ischemia. CZL80 (10, 30 mg·kg−1·d−1, i.p.) was administered for one week after PT onset. The transient and the progressive neurological dysfunction (as foot faults in the grid-walking task and forelimb symmetry in the cylinder task) was assessed on Day1 and Day4-7, respectively, after PT onset. Treatment with CZL80 (30 mg/kg) during Day1-7 significantly reduced the progressive, but not the transient neurological dysfunction. Furthermore, we showed that CZL80 administered on Day4-7, when the progressive neurological dysfunction occurred, produced significant beneficial effects against PIS, suggesting an extended therapeutic time-window. CZL80 administration could improve the neurological function even as late as Day43 after PT. In Caspase-1−/− mice with PIS, the beneficial effects of CZL80 were abolished. We found that Caspase-1 was upregulated during Day4-7 after PT and predominantly located in activated microglia, which was coincided with the progressive neurological deficits, and attenuated by CZL80. We showed that CZL80 administration did not reduce the infarct volume, but significantly suppressed microglia activation in the peri-infarct cortex, suggesting the involvement of microglial inflammasome in the pathology of PIS. Taken together, this study demonstrates that Caspase-1 is required for the progressive neurological dysfunction in PIS. CZL80 is a promising drug to promote the neurological recovery in PIS by inhibiting Caspase-1 within a long therapeutic time-window.
Access options
Subscribe to this journal
Receive 12 print issues and online access
$259.00 per year
only $21.58 per issue
Rent or buy this article
Get just this article for as long as you need it
$39.95
Prices may be subject to local taxes which are calculated during checkout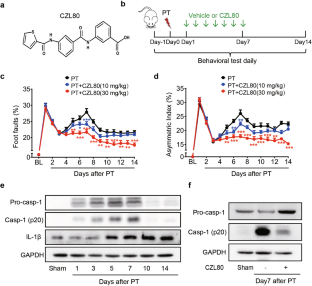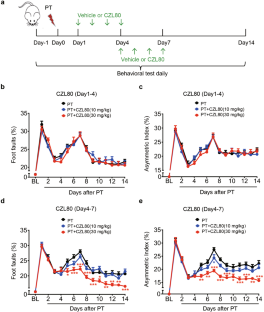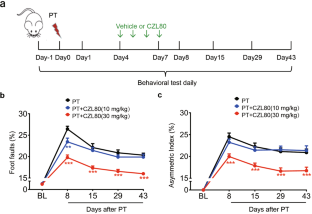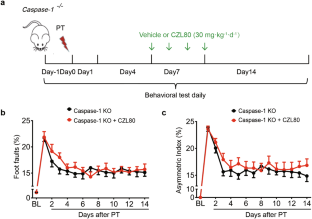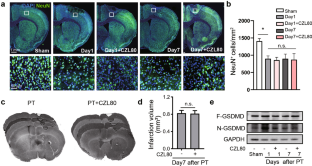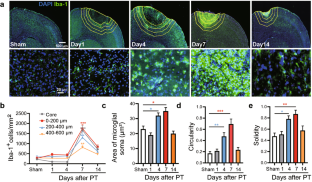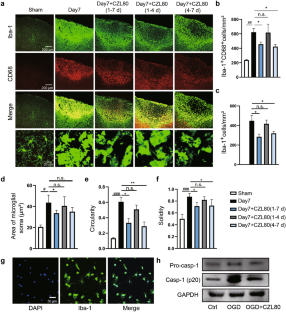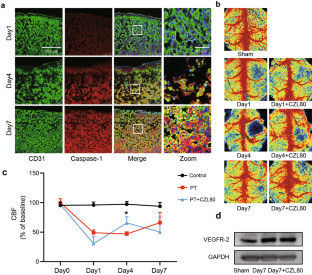 References
Mendis S, Davis S, Norrving B. Organizational update: the world health organization global status report on noncommunicable diseases 2014; one more landmark step in the combat against stroke and vascular disease. Stroke. 2015;46:e121–2.

Birschel P, Ellul J, Barer D. Progressing stroke: towards an internationally agreed definition. Cerebrovasc Dis. 2004;17:242–52.

Siegler JE, Boehme AK, Albright KC, George AJ, Monlezun DJ, Beasley TM, et al. A proposal for the classification of etiologies of neurologic deterioration after acute ischemic stroke. J Stroke Cerebrovasc Dis. 2013;22:e549–56.

Caplan LR. Worsening in ischemic stroke patients: is it time for a new strategy? Stroke. 2002;33:1443–5.

Lin YH, Dong J, Tang Y, Ni HY, Zhang Y, Su P, et al. Opening a new time window for treatment of stroke by targeting HDAC2. J Neurosci. 2017;37:6712–28.

Anrather J, Iadecola C. Inflammation and stroke: an overview. Neurotherapeutics. 2016;13:661–70.

Chamorro Á, Dirnagl U, Urra X, Planas AM. Neuroprotection in acute stroke: targeting excitotoxicity, oxidative and nitrosative stress, and inflammation. Lancet Neurol. 2016;15:869–81.

Lambertsen KL, Finsen B, Clausen BH. Post-stroke inflammation-target or tool for therapy? Acta Neuropathol. 2019;137:693–714.

An C, Shi Y, Li P, Hu X, Gan Y, Stetler RA, et al. Molecular dialogs between the ischemic brain and the peripheral immune system: dualistic roles in injury and repair. Prog Neurobiol. 2014;115:6–24.

Wang R, Pu H, Ye Q, Jiang M, Chen J, Zhao J, et al. Transforming growth factor beta-activated kinase 1-dependent microglial and macrophage responses aggravate long-term outcomes after ischemic stroke. Stroke. 2020;51:975–85.

Vila N, Castillo J, Dávalos A, Chamorro A. Proinflammatory cytokines and early neurological worsening in ischemic stroke. Stroke. 2000;31:2325–9.

Yang C, Hawkins KE, Dore S, Candelario-Jalil E. Neuroinflammatory mechanisms of blood-brain barrier damage in ischemic stroke. Am J Physiol Cell Physiol. 2019;316:C135–C53.

Yesin M, Cagdas M, Karabag Y, Rencuzogullari I, Burak C, Kalcik M, et al. Assessment of the relationship between C-reactive protein-to-albumin ratio and slow coronary flow in patients with stable angina pectoris. Coron Artery Dis. 2019;30:505–10.

Schroder K, Tschopp J. The inflammasomes. Cell. 2010;140:821–32.

Sanjo N, Nose Y, Shishido-Hara Y, Mizutani S, Sekijima Y, Aizawa H, et al. A controlled inflammation and a regulatory immune system are associated with more favorable prognosis of progressive multifocal leukoencephalopathy. J Neurol. 2019;266:369–77.

Yang S, Wang H, Yang Y, Wang R, Wang Y, Wu C, et al. Baicalein administered in the subacute phase ameliorates ischemia-reperfusion-induced brain injury by reducing neuroinflammation and neuronal damage. Biomed Pharmacother. 2019;117:109102.

Boucher D, Monteleone M, Coll RC, Chen KW, Ross CM, Teo JL, et al. Caspase-1 self-cleavage is an intrinsic mechanism to terminate inflammasome activity. J Exp Med. 2018;215:827–40.

Elliott EI, Sutterwala FS. Initiation and perpetuation of NLRP3 inflammasome activation and assembly. Immunol Rev. 2015;265:35–52.

Li J, Hao JH, Yao D, Li R, Li XF, Yu ZY, et al. Caspase-1 inhibition prevents neuronal death by targeting the canonical inflammasome pathway of pyroptosis in a murine model of cerebral ischemia. CNS Neurosci Ther. 2020;26:925–39.

Rashad S, Niizuma K, Sato-Maeda M, Fujimura M, Mansour A, Endo H, et al. Early BBB breakdown and subacute inflammasome activation and pyroptosis as a result of cerebral venous thrombosis. Brain Res. 2018;1699:54–68.

Li Q, Dai Z, Cao Y, Wang L. Caspase-1 inhibition mediates neuroprotection in experimental stroke by polarizing M2 microglia/macrophage and suppressing NF-kappaB activation. Biochem Biophys Res Commun. 2019;513:479–85.

Huang FP, Wang ZQ, Wu DC, Schielke GP, Sun Y, Yang GY. Early NF-kappaB activation is inhibited during focal cerebral ischemia in interleukin-1beta-converting enzyme deficient mice. J Neurosci Res. 2003;73:698–707.

Schielke GP, Yang GY, Shivers BD, Betz AL. Reduced ischemic brain injury in interleukin-1 beta converting enzyme-deficient mice. J Cereb Blood Flow Metab. 1998;18:180–5.

Aglietti RA, Dueber EC. Recent insights into the molecular mechanisms underlying pyroptosis and Gasdermin family functions. Trends Immunol. 2017;38:261–71.

Fischer U, Schulze-Osthoff K. Apoptosis-based therapies and drug targets. Cell Death Differ. 2005;12:942–61. Suppl 1.

Tang Y, Feng B, Wang Y, Sun H, You Y, Yu J, et al. Structure-based discovery of CZL80, a caspase-1 inhibitor with therapeutic potential for febrile seizures and later enhanced epileptogenic susceptibility. Br J Pharmacol. 2020;177:3519–34.

Xu C, Zhang S, Gong Y, Nao J, Shen Y, Tan B, et al. Subicular Caspase-1 contributes to pharmacoresistance in temporal lobe epilepsy. Ann Neurol. 2021;90:377–90.

Clarkson AN, Huang BS, Macisaac SE, Mody I, Carmichael ST. Reducing excessive GABA-mediated tonic inhibition promotes functional recovery after stroke. Nature. 2010;468:305–9.

Wu XL, Lu SS, Liu MR, Tang WD, Chen JZ, Zheng YR, et al. Melatonin receptor agonist ramelteon attenuates mouse acute and chronic ischemic brain injury. Acta Pharmacol Sin. 2020;41:1016–24.

Shen Z, Zheng Y, Wu J, Chen Y, Wu X, Zhou Y, et al. PARK2-dependent mitophagy induced by acidic postconditioning protects against focal cerebral ischemia and extends the reperfusion window. Autophagy. 2017;13:473–85.

Clarkson AN, Overman JJ, Zhong S, Mueller R, Lynch G, Carmichael ST. AMPA receptor-induced local brain-derived neurotrophic factor signaling mediates motor recovery after stroke. J Neurosci. 2011;31:3766–75.

Weimar C, Mieck T, Buchthal J, Ehrenfeld CE, Schmid E, Diener HC. German Stroke Study Collaboration. Neurologic worsening during the acute phase of ischemic stroke. Arch Neurol. 2005;62:393–7.

Tang Y, Lin YH, Ni HY, Dong J, Yuan HJ, Zhang Y, et al. Inhibiting Histone Deacetylase 2 (HDAC2) promotes functional recovery from stroke. J Am Heart Assoc. 2017;6:e007236.

Zhang WH, Wang X, Narayanan M, Zhang Y, Huo C, Reed JC, et al. Fundamental role of the Rip2/caspase-1 pathway in hypoxia and ischemia-induced neuronal cell death. Proc Natl Acad Sci USA. 2003;100:16012–7.

Zhang D, Qian J, Zhang P, Li H, Shen H, Li X, et al. Gasdermin D serves as a key executioner of pyroptosis in experimental cerebral ischemia and reperfusion model both in vivo and in vitro. J Neurosci Res. 2019;97:645–60.

Beck H, Plate KH. Angiogenesis after cerebral ischemia. Acta Neuropathol. 2009;117:481–96.

Zhang X, Chen XP, Lin JB, Xiong Y, Liao WJ, Wan Q. Effect of enriched environment on angiogenesis and neurological functions in rats with focal cerebral ischemia. Brain Res. 2017;1655:176–85.

Lopez-Pastrana J, Ferrer LM, Li YF, Xiong X, Xi H, Cueto R, et al. Inhibition of Caspase-1 activation in endothelial cells improves angiogenesis: a novel therapeutic potential for ischemia. J Biol Chem. 2015;290:17485–94.

Qiu ZD, Deng G, Yang J, Min Z, Li DY, Fang Y, et al. A new method for evaluating regional cerebral blood flow changes: laser speckle contrast imaging in a C57BL/6J mouse model of photothrombotic ischemia. J Huazhong Univ Sci Technol Med Sci. 2016;36:174–80.

Seners P, Baron JC. Revisiting 'progressive stroke': incidence, predictors, pathophysiology, and management of unexplained early neurological deterioration following acute ischemic stroke. J Neurol. 2018;265:216–25.

Comarmond C, Biard L, Lambert M, Mekinian A, Ferfar Y, Kahn JE, et al. Long-term outcomes and prognostic factors of complications in takayasu arteritis: a multicenter study of 318 patients. Circulation. 2017;136:1114–22.

Abulafia DP, de Rivero Vaccari JP, Lozano JD, Lotocki G, Keane RW, Dietrich WD. Inhibition of the inflammasome complex reduces the inflammatory response after thromboembolic stroke in mice. J Cereb Blood Flow Metab. 2009;29:534–44.

Strowig T, Henao-Mejia J, Elinav E, Flavell R. Inflammasomes in health and disease. Nature. 2012;481:278–86.

Fann DY, Lee SY, Manzanero S, Tang SC, Gelderblom M, Chunduri P, et al. Intravenous immunoglobulin suppresses NLRP1 and NLRP3 inflammasome-mediated neuronal death in ischemic stroke. Cell Death Dis. 2013;4:e790.

Ross J, Brough D, Gibson RM, Loddick SA, Rothwell NJ. A selective, non-peptide caspase-1 inhibitor, VRT-018858, markedly reduces brain damage induced by transient ischemia in the rat. Neuropharmacology. 2007;53:638–42.

Liu X, Zhang Z, Ruan J, Pan Y, Magupalli VG, Wu H, et al. Inflammasome-activated gasdermin D causes pyroptosis by forming membrane pores. Nature. 2016;535:153–8.

Chen AQ, Fang Z, Chen XL, Yang S, Zhou YF, Mao L, et al. Microglia-derived TNF-alpha mediates endothelial necroptosis aggravating blood brain-barrier disruption after ischemic stroke. Cell Death Dis. 2019;10:487.

Ma J, Zhang J, Hou WW, Wu XH, Liao RJ, Chen Y, et al. Early treatment of minocycline alleviates white matter and cognitive impairments after chronic cerebral hypoperfusion. Sci Rep. 2015;5:12079.

Ma Y, Wang J, Wang Y, Yang GY. The biphasic function of microglia in ischemic stroke. Prog Neurobiol. 2017;157:247–72.

Xiong XY, Liu L, Yang QW. Functions and mechanisms of microglia/macrophages in neuroinflammation and neurogenesis after stroke. Prog Neurobiol. 2016;142:23–44.

Kavita U, Mizel SB. Differential sensitivity of interleukin-1 alpha and -beta precursor proteins to cleavage by calpain, a calcium-dependent protease. J Biol Chem. 1995;270:27758–65.

Kayagaki N, Warming S, Lamkanfi M, Vande Walle L, Louie S, Dong J, et al. Non-canonical inflammasome activation targets caspase-11. Nature. 2011;479:117–21.

Denes A, Lopez-Castejon G, Brough D. Caspase-1: is IL-1 just the tip of the ICEberg? Cell Death Dis. 2012;3:e338.

Keller M, Ruegg A, Werner S, Beer HD. Active caspase-1 is a regulator of unconventional protein secretion. Cell. 2008;132:818–31.
Acknowledgements
This work was funded by the National Natural Science Foundation of China (82173792 and 81822044), Zhejiang Provincial Natural Science Foundation (LZ21H310001) and the Starry Night Science Fund of Zhejiang University Shanghai Institute for Advanced Study (SN-ZJU-SIAS-0011). We are grateful to the Imaging Facilities, Zhejiang University School of Medicine for the help in microscopy.
Ethics declarations
Competing interests
The authors declare no competing interests.
Supplementary information
About this article
Cite this article
Pan, L., Tang, Wd., Wang, K. et al. Novel Caspase-1 inhibitor CZL80 improves neurological function in mice after progressive ischemic stroke within a long therapeutic time-window. Acta Pharmacol Sin 43, 2817–2827 (2022). https://doi.org/10.1038/s41401-022-00913-7
Received:

Accepted:

Published:

Issue Date:

DOI: https://doi.org/10.1038/s41401-022-00913-7
Keywords
progressive ischemic stroke

neuroinflammation

Caspase-1 inhibitor

microglia

neurological dysfunction

therapeutic time-window