Abstract
Clinical evidence shows that postmenpausal women are almost twice as likely to develop Alzheimer's disease (AD) as men of the same age, and estrogen is closely related to the occurrence of AD. Estrogen receptor (ER) α is mainly expressed in the mammary gland and other reproductive organs like uterus while ERβ is largely distributed in the hippocampus and cardiovascular system, suggesting that ERβ selective agonist is a valuable drug against neurodegenerative diseases with low tendency in inducing cancers of breast and other reproductive organs. In this study we identified a natural product patchouli alcohol (PTA) as a selective ERβ agonist which improved the cognitive defects in female APP/PS1 mice, and explore the underlying mechanisms. Six-month-old female APP/PS1 mice were administered PTA (20, 40 mg · kg−1 · d−1, i.g.) for 90 days. We first demonstrated that PTA bound to ERβ with a dissociation constant (KD) of 288.9 ± 35.14 nM in microscale thermophoresis. Then we showed that PTA administration dose-dependently ameliorated cognitive defects evaluated in Morris water maze and Y-maze testes. Furthermore, PTA administration reduced amyloid plaque deposition in the hippocampus by promoting microglial phagocytosis; PTA administration improved synaptic integrity through enhancing BDNF/TrkB/CREB signaling, ameliorated oxidative stress by Catalase level, and regulated Bcl-2 family proteins in the hippocampus. The therapeutic effects of PTA were also observed in vitro: PTA (5, 10, 20 μM) dose-dependently increased phagocytosis of o-FAM-Aβ42 in primary microglia and BV2 cells through enhancing ERβ/TLR4 signaling; PTA treatment ameliorated o-Aβ25-35-induced reduction of synapse-related proteins VAMP2 and PSD95 in primary neurons through enhancing ERβ/BDNF/TrkB/CREB pathways; PTA treatment alleviated o-Aβ25-35-induced oxidative stress in primary neurons through targeting ERβ and increasing Catalase expression. Together, this study has addressed the efficacy of selective ERβ agonist in the amelioration of AD and highlighted the potential of PTA as a drug lead compound against the disease.
Access options
Subscribe to Journal
Get full journal access for 1 year
$119.00
only $9.92 per issue
All prices are NET prices.
VAT will be added later in the checkout.
Tax calculation will be finalised during checkout.
Buy article
Get time limited or full article access on ReadCube.
$32.00
All prices are NET prices.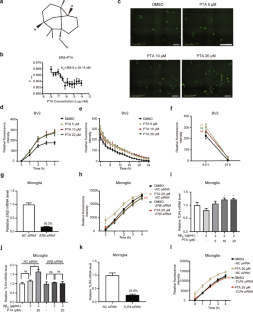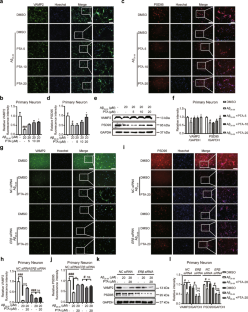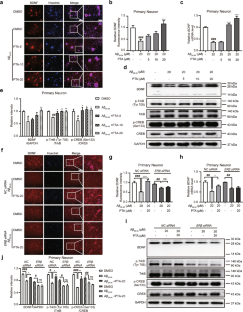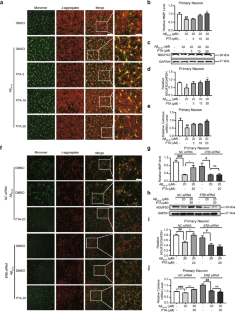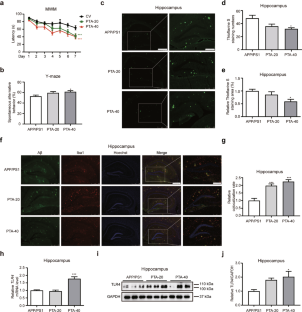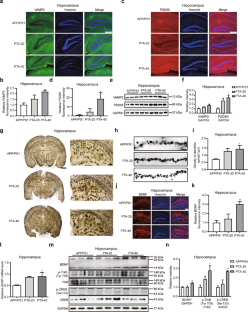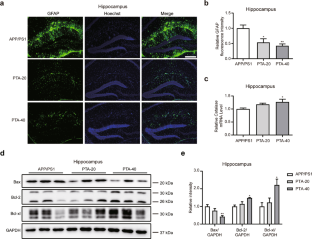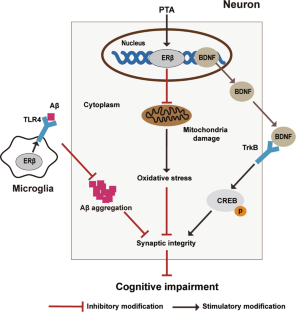 References
Nabavi SM, Talarek S, Listos J, Nabavi SF, Devi KP, Roberto de Oliveira M, et al. Phosphodiesterase inhibitors say NO to Alzheimer's disease. Food Chem Toxicol. 2019;134:110822.

Gjoneska E, Pfenning AR, Mathys H, Quon G, Kundaje A, Tsai LH, et al. Conserved epigenomic signals in mice and humans reveal immune basis of Alzheimer's disease. Nature. 2015;518:365–9.

Stoiljkovic M, Horvath TL, Hajos M. Therapy for Alzheimer's disease: missing targets and functional markers? Ageing Res Rev. 2021;68:101318.

Alzheimer's A. 2015 Alzheimer's disease facts and figures. Alzheimers Dement. 2015;11:332–84.

Irvine K, Laws KR, Gale TM, Kondel TK. Greater cognitive deterioration in women than men with Alzheimer's disease: a meta analysis. J Clin Exp Neuropsychol. 2012;34:989–98.

Wang JM, Irwin RW, Brinton RD. Activation of estrogen receptor α increases and estrogen receptor β decreases apolipoprotein E expression in hippocampus in vitro and in vivo. Proc Natl Acad Sci USA 2006;103:16983–88.

Lai YJ, Liu L, Hu XT, He L, Chen GJ. Estrogen modulates ubc9 expression and synaptic redistribution in the brain of APP/PS1 mice and cortical neurons. J Mol Neurosci. 2017;61:436–48.

Janicki SC, Park N, Cheng R, Lee JH, Schupf N, Clark LN. Estrogen receptor β variants modify risk for Alzheimer's disease in a multiethnic female cohort. J Alzheimers Dis. 2014;40:83–93.

Li J, Wang F, Ding H, Jin C, Chen J, Zhao Y, et al. Geniposide, the component of the Chinese herbal formula Tongluojiunao, protects amyloid-β peptide (1-42-mediated death of hippocampal neurons via the non-classical estrogen signaling pathway.Neural Regen Res.2014;9:474–80.

Li L, Xue Z, Chen L, Chen X, Wang H, Wang X. Puerarin suppression of Aβ1-42-induced primary cortical neuron death is largely dependent on ERβ. Brain Res. 2017;1657:87–94.

Chhibber A, Zhao L. ERβ and ApoE isoforms interact to regulate BDNF-5-HT2A signaling and synaptic function in the female brain. Alzheimers Res Ther. 2017;9:79.

Lee S, Lee SO, Kim GL, Rhee DK. Estrogen receptor-β of microglia underlies sexual differentiation of neuronal protection via ginsenosides in mice brain. CNS Neurosci Ther. 2018;24:930–9.

Sohanaki H, Baluchnejadmojarad T, Nikbakht F, Roghani M. Pelargonidin improves memory deficit in amyloid β25-35 rat model of Alzheimer's disease by inhibition of glial activation, cholinesterase, and oxidative stress. Biomed Pharmacother. 2016;83:85–91.

Hidalgo-Lanussa O, Ávila-Rodriguez M, Baez-Jurado E, Zamudio J, Echeverria V, Garcia-Segura LM, et al. Tibolone reduces oxidative damage and inflammation in microglia stimulated with palmitic acid through mechanisms involving estrogen receptor β. Mol Neurobiol. 2017;55:5462–77.

Farkas I, Balint F, Farkas E, Vastagh C, Fekete C, Liposits Z. Estradiol increases glutamate and GABA neurotransmission into GnRH neurons via retrograde NO-signaling in proestrous mice during the positive estradiol feedback period. eNeuro 2018;5:e0057.

Pandey D, Banerjee S, Basu M, Mishra N. Memory enhancement by Tamoxifen on amyloidosis mouse model. Horm Behav. 2016;79:70–3.

Merlo S, Spampinato SF, Sortino MA. Estrogen and Alzheimer's disease: still an attractive topic despite disappointment from early clinical results. Eur J Pharmacol. 2017;817:51–8.

Chhibber A, Woody SK, Karim Rumi MA, Soares MJ, Zhao L. Estrogen receptor β deficiency impairs BDNF-5-HT2A signaling in the hippocampus of female brain: A possible mechanism for menopausal depression. Psychoneuroendocrinology. 2017;82:107–16.

Jia M, Dahlman-Wright K, Gustafsson JA. Estrogen receptor α and β in health and disease. Best Pr Res. Clin Endocrinol Metab. 2015;29:557–68.

Petry FDS, Hoppe JB, Klein CP, Dos Santos BG, Hozer RM, Bifi F, et al. Genistein attenuates amyloid-β-induced cognitive impairment in rats by modulation of hippocampal synaptotoxicity and hyperphosphorylation of Tau. J Nutr Biochem. 2021;87:108525.

Qin C, Hu S, Zhang S, Zhao D, Wang Y, Li H, et al. Hydroxytyrosol acetate improves the cognitive function of APP/PS1 transgenic mice in ERβ-dependent manner. Mol Nutr Food Res. 2021;65:e2000797.

Hu G, Peng C, Xie X, Zhang S, Cao X. Availability, pharmaceutics, security, pharmacokinetics, and pharmacological activities of patchouli alcohol. Evid Based Complement Altern Med. 2017;2017:4850612.

Wang HT, Wang ZZ, Wang ZC, Wang SM, Cai XJ, Su GH, et al. Patchouli alcohol attenuates experimental atherosclerosis via inhibiting macrophage infiltration and its inflammatory responses. Biomed Pharmacother. 2016;83:930–35.

Liao JB, Wu DW, Peng SZ, Xie JH, Li YC, Su JY, et al. Immunomodulatory potential of patchouli alcohol isolated from Pogostemon cablin (Blanco) Benth (Lamiaceae) in mice. Trop Pharmacol Res. 2013;12:559–65.

Jeong JB, Shin YK, Lee SH. Anti-inflammatory activity of patchouli alcohol in RAW264.7 and HT-29 cells. Food Chem Toxicol. 2013;55:229–33.

Li YC, Xian YF, Ip SP, Su ZR, Su JY, He JJ, et al. Anti-inflammatory activity of patchouli alcohol isolated from Pogostemonis Herba in animal models. Fitoterapia. 2011;82:1295–301.

Jeong JB, Choi J, Lou Z, Jiang X, Lee SH. Patchouli alcohol, an essential oil of Pogostemon cablin, exhibits anti-tumorigenic activity in human colorectal cancer cells. Int Immunopharmacol. 2013;16:184–90.

Sah SP, Mathela CS, Chopra K. Antidepressant effect of Valeriana wallichii patchouli alcohol chemotype in mice: behavioural and biochemical evidence. J Ethnopharmacol. 2011;135:197–200.

Xu X, Lu Y, Chen L, Chen J, Luo X, Shen X. Identification of 15d-PGJ2 as an antagonist of farnesoid X receptor: molecular modeling with biological evaluation. Steroids. 2013;78:813–22.

Lu J, Zhang C, Lv J, Zhu X, Jiang X, Lu W, et al. Antiallergic drug desloratadine as a selective antagonist of 5HT2A receptor ameliorates pathology of Alzheimer's disease model mice by improving microglial dysfunction. Aging Cell. 2021;20:e13286.

Liu JF, Yan XD, Qi LS, Li L, Hu GY, Li P, et al. Ginsenoside Rd attenuates Aβ25-35-induced oxidative stress and apoptosis in primary cultured hippocampal neurons. Chem Biol Interact. 2015;239:12–8.

Wang J, Yuan Y, Zhang P, Zhang H, Liu X, Zhang Y. Neohesperidin prevents Aβ25-35-induced apoptosis in primary cultured hippocampal neurons by blocking the S-nitrosylation of protein-disulphide isomerase. Neurochem Res. 2018;43:1736–44.

Lv J, Wang W, Zhu X, Xu X, Yan Q, Lu J, et al. DW14006 as a direct AMPKα1 activator improves pathology of AD model mice by regulating microglial phagocytosis and neuroinflammation. Brain Behav Immun. 2020;90:55–69.

Welge V, Fiege O, Lewczuk P, Mollenhauer B, Esselmann H, Klafki HW, et al. Combined CSF tau, p-tau181 and amyloid-β 38/40/42 for diagnosing Alzheimer's disease. J Neural Transm (Vienna). 2009;116:203–12.

Holtzman DM, Morris JC, Goate AM. Alzheimer's disease: the challenge of the second century. Sci Transl Med. 2011;3:77sr1.

Zhao Y, Wu X, Li X, Jiang LL, Gui X, Liu Y, et al. TREM2 is a receptor for β-amyloid that mediates microglial function. Neuron. 2018;97:1023–31 e7.

Lian WW, Zhou W, Zhang BY, Jia H, Xu LJ, Liu AL, et al. DL0410 ameliorates cognitive disorder in SAMP8 mice by promoting mitochondrial dynamics and the NMDAR-CREB-BDNF pathway. Acta Pharmacol Sin. 2021;42:1055–68.

Lin SP, Wei JX, Hu JS, Bu JY, Zhu LD, Li Q, et al. Artemisinin improves neurocognitive deficits associated with sepsis by activating the AMPK axis in microglia. Acta Pharmacol Sin. 2021;42:1069–79.

Stine WB, Jungbauer L, Yu C, LaDu MJ. Preparing synthetic Aβ in different aggregation states. Methods Mol Biol. 2011;670:13–32.

Ito D, Imai Y, Ohsawa K, Nakajima K, Fukuuchi Y, Kohsaka S. Microglia-specific localisation of a novel calcium binding protein, Iba1. Mol Brain Res. 1998;57:1–9.

Jin X, Liu MY, Zhang DF, Zhong X, Du K, Qian P, et al. Baicalin mitigates cognitive impairment and protects neurons from microglia-mediated neuroinflammation via suppressing NLRP3 inflammasomes and TLR4/NF-κB signaling pathway. CNS Neurosci Ther. 2019;25:575–90.

Shi XZ, Wei X, Sha LZ, Xu Q. Comparison of β-amyloid plaque labeling methods: Antibody staining, gallyas silver staining, and Thioflavin-S staining. Chin Med Sci J. 2018;33:167–73.

Jerabek-Willemsen M, Wienken CJ, Braun D, Baaske P, Duhr S. Molecular interaction studies using microscale thermophoresis. Assay Drug Dev Technol. 2011;9:342–53.

Roher AE, Kokjohn TA, Clarke SG, Sierks MR, Maarouf CL, Serrano GE, et al. APP/Aβ structural diversity and Alzheimer's disease pathogenesis. Neurochem Int. 2017;110:1–13.

Gold M, El Khoury J. β-amyloid, microglia, and the inflammasome in Alzheimer's disease. Semin Immunopathol. 2015;37:607–11.

Li R, Shen Y, Yang L-B, Lue L-F, Finch C, Rogers J. Estrogen enhances uptake of amyloid. J Neurochem. 2000;75:1447–54.

Fujikura M, Iwahara N, Hisahara S, Kawamata J, Matsumura A, Yokokawa K, et al. CD14 and toll-like receptor 4 promote fbrillar Aβ42 uptake by microglia through a clathrin-mediated pathway. J Alzheimers Dis. 2019;68:323–37.

Jang SS, Chung HJ. Emerging link between Alzheimer's disease and homeostatic synaptic plasticity. Neural Plast. 2016;2016:7969272.

Hussain S, Davanger S. Postsynaptic VAMP/synaptobrevin facilitates differential vesicle trafficking of GluA1 and GluA2 AMPA receptor subunits. PLoS One. 2015;10:e0140868.

Skaper S, Facci L, Zusso M, Giusti P. Synaptic plasticity, dementia and Alzheimer disease. CNS Neurol Disord Drug Targets. 2017;16:220–33.

Wang S, Zhu J, Xu T. 17β-estradiol (E2) promotes growth and stability of new dendritic spines via estrogen receptor β pathway in intact mouse cortex. Brain Res Bull. 2018;137:241–8.

Galvin C, Ninan I. Regulation of the mouse medial prefrontal cortical synapses by endogenous estradiol. Neuropsychopharmacology. 2014;39:2086–94.

Bathina S, Das UN. Brain-derived neurotrophic factor and its clinical implications. Arch Med Sci. 2015;11:1164–78.

Meltser I, Tahera Y, Simpson E, Hultcrantz M, Charitidi K, Gustafsson JA, et al. Estrogen receptor β protects against acoustic trauma in mice. J Clin Invest. 2008;118:1563–70.

Kemper MF, Zhao Y, Duckles SP, Krause DN. Endogenous ovarian hormones affect mitochondrial efficiency in cerebral endothelium via distinct regulation of PGC-1 isoforms. J Cereb Blood Flow Metab. 2013;33:122–8.

Dixit S, Fessel JP, Harrison FE. Mitochondrial dysfunction in the APP/PSEN1 mouse model of Alzheimer's disease and a novel protective role for ascorbate. Free Radic Biol Med. 2017;112:515–23.

Varshney V, Garabadu D. Naringin exhibits mas receptor-mediated neuroprotection against amyloid β-induced cognitive deficits and mitochondrial toxicity in rat brain. Neurotox Res. 2021;39:1023–43.

Lin X, Wen X, Wei Z, Guo K, Shi F, Huang T, et al. Vitamin K2 protects against Aβ42-induced neurotoxicity by activating autophagy and improving mitochondrial function in Drosophila. Neuroreport. 2021;32:431–7.

Wei X, Xu X, Chen Z, Liang T, Wen Q, Qin N, et al. Protective effects of 2-dodecyl-6-methoxycyclohexa-2,5 -diene-1,4-dione isolated from Averrhoa Carambola L. (Oxalidaceae) roots on neuron apoptosis and memory deficits in Alzheimer's disease. Cell Physiol Biochem. 2018;49:1064–73.

Caruso G, Spampinato SF, Cardaci V, Caraci F, Sortino MA, Merlo S. β-amyloid and oxidative stress: Perspectives in drug development. Curr Pharm Des. 2019;25:4771–81.

Long J, He P, Shen Y, Li R. New evidence of mitochondria dysfunction in the female Alzheimer's disease brain: deficiency of estrogen receptor-β. J Alzheimers Dis. 2012;30:545–58.

Henikoff S, Henikoff JG, Kaya-Okur HS, Ahmad K. Efficient chromatin accessibility mapping in situ by nucleosome-tethered tagmentation. eLife. 2020;9:e63274.

Turnbull MT, Boskovic Z, Coulson EJ. Acute down-regulation of BDNF signaling does not replicate exacerbated amyloid-β levels and cognitive impairment induced by cholinergic basal forebrain lesion. Front Mol Neurosci. 2018;11:51.

Qu X, Guan P, Han L, Wang Z, Huang X. Levistolide A attenuates Alzheimer's pathology through activation of the PPARγ pathway. Neurotherapeutics. 2020;18:326–39.

Khan A, Ikram M, Muhammad T, Park J, Kim MO. Caffeine modulates cadmium-induced oxidative stress, neuroinflammation, and cognitive impairments by regulating Nrf-2/HO-1 in vivo and in vitro. J Clin Med. 2019;8:680.

Koleske AJ. Molecular mechanisms of dendrite stability. Nat Rev Neurosci. 2013;14:536–50.

Gipson CD, Olive MF. Structural and functional plasticity of dendritic spines - root or result of behavior? Genes Brain Behav. 2017;16:101–17.

Sa-Nguanmoo P, Tanajak P, Kerdphoo S, Satjaritanun P, Wang X, Liang G, et al. FGF21 improves cognition by restored synaptic plasticity, dendritic spine density, brain mitochondrial function and cell apoptosis in obese-insulin resistant male rats. Horm Behav. 2016;85:86–95.

Zhao P, Qian X, Nie Y, Sun N, Wang Z, Wu J, et al. Neuropeptide S ameliorates cognitive impairment of APP/PS1 transgenic mice by promoting synaptic plasticity and reducing Aβ deposition. Front Behav Neurosci. 2019;13:138.

Sharifi F, Reisi P, Malek M. Synaptic plasticity in hippocampal CA1 neurons and learning behavior in acute kidney injury, and estradiol replacement in ovariectomized rats. BMC Neurosci. 2019;20:52.

Frost GR, Li YM. The role of astrocytes in amyloid production and Alzheimer's disease. Open Biol. 2017;7:170228.

Acaz-Fonseca E, Sanchez-Gonzalez R, Azcoitia I, Arevalo MA, Garcia-Segura LM. Role of astrocytes in the neuroprotective actions of 17β-estradiol and selective estrogen receptor modulators. Mol Cell Endocrinol. 2014;389:48–57.

Lassmann H, van Horssen J. Oxidative stress and its impact on neurons and glia in multiple sclerosis lesions. Biochim Biophys Acta. 2016;1862:506–10.

Tao CC, Cheng KM, Ma YL, Hsu WL, Chen YC, Fuh JL, et al. Galectin-3 promotes Aβ oligomerization and Aβ toxicity in a mouse model of Alzheimer's disease. Cell Death Differ. 2020;27:192–209.

Shi XM, Zhang H, Zhou ZJ, Ruan YY, Pang J, Zhang L, et al. Effects of safflower yellow on β-amyloid deposition and activation of astrocytes in the brain of APP/PS1 transgenic mice. Biomed Pharmacother. 2018;98:553–65.

Luo Y, Yang W, Li N, Yang X, Zhu B, Wang C, et al. Anodal transcranial direct current stimulation can improve spatial learning and memory and attenuate Aβ42 burden at the early stage of Alzheimer's disease in APP/PS1 transgenic mice. Front Aging Neurosci. 2020;12:134.

Jorda A, Cauli O, Santonja JM, Aldasoro M, Aldasoro C, Obrador E, et al. Changes in chemokines and chemokine receptors expression in a mouse model of Alzheimer's disease. Int J Biol Sci. 2019;15:453–63.

Wan T, Wang Z, Luo Y, Zhang Y, He W, Mei Y, et al. FA-97, a new synthetic caffeic acid phenethyl ester derivative, protects against oxidative stress-mediated neuronal cell apoptosis and scopolamine-induced cognitive impairment by activating Nrf2/HO-1 signaling. Oxid Med Cell Longev. 2019;2019:8239642.

Obulesu M, Lakshmi MJ. Apoptosis in Alzheimer's disease: an understanding of the physiology, pathology and therapeutic avenues. Neurochem Res. 2014;39:2301–12.

Knight T, Luedtke D, Edwards H, Taub JW, Ge Y. A delicate balance - The BCL-2 family and its role in apoptosis, oncogenesis, and cancer therapeutics. Biochem Pharmacol. 2019;162:250–61.

Singh R, Letai A, Sarosiek K. Regulation of apoptosis in health and disease: the balancing act of BCL-2 family proteins. Nat Rev Mol Cell Biol. 2019;20:175–93.

Yue X, Lu M, Lancaster T, Cao P, Honda SI, Staufenbiel M, et al. Brain estrogen deficiency accelerates Aβ plaque formation in an Alzheimer's disease animal model. Proc Natl Acad Sci USA 2005;102:19198–203.

Ginsberg SD, Malek-Ahmadi MH, Alldred MJ, Chen Y, Chen K, Chao MV, et al. Brain-derived neurotrophic factor (BDNF) and TrkB hippocampal gene expression are putative predictors of neuritic plaque and neurofibrillary tangle pathology. Neurobiol Dis. 2019;132:104540.

Song JH, Yu JT, Tan L. Brain-derived neurotrophic factor in Alzheimer's disease: risk, mechanisms, and therapy. Mol Neurobiol. 2015;52:1477–93.

Choi SH, Bylykbashi E, Chatila ZK, Lee SW, Pulli B, Clemenson GD, et al. Combined adult neurogenesis and BDNF mimic exercise effects on cognition in an Alzheimer's mouse model. Science. 2018;361:eaan8821.

Liu S, Li X, Gao J, Liu Y, Shi J, Gong Q. Icariside II, a phosphodiesterase-5 inhibitor, attenuates β-amyloid-induced cognitive deficits via BDNF/TrkB/CREB signaling. Cell Physiol Biochem. 2018;49:985.

Tang M-X, Jacobs D, Stern Y, Marder K, Schofield P, Gurland B, et al. Effect of oestrogen during menopause on risk and age at onset of Alzheimer's disease. Lancet. 1996;348:429–32.

Simpkins JW, Yi KD, Yang SH, Dykens JA. Mitochondrial mechanisms of estrogen neuroprotection. Biochim Biophys Acta. 2010;1800:1113–20.

Li R, Cui J, Shen Y. Brain sex matters: estrogen in cognition and Alzheimer's disease. Mol Cell Endocrinol. 2014;389:13–21.

Beresford SAA, Weiss NS, Voigt LF, McKnight B. Risk of endometrial cancer in relation to use of oestrogen combined with cyclic progestagen therapy in postmenopausal women. Lancet. 1997;349:458–61.

Maggiolini M, Recchia AG, Bonofiglio D, Catalano S, Vivacqua A, Carpino A, et al. The red wine phenolics piceatannol and myricetin act as agonists for estrogen receptor α in human breast cancer cells. J Mol Endocrinol. 2005;35:269–81.

Hinsche O, Girgert R, Emons G, Gründker C. Estrogen receptor β selective agonists reduce invasiveness of triple‑negative breast cancer cells. Int J Oncol. 2015;46:878–84.

Ramasamy K, Samayoa C, Krishnegowda N, Tekmal RR. Therapeutic use of estrogen receptor β agonists in prevention and treatment of endocrine therapy resistant breast cancers: observations from preclinical models. Prog Mol Biol Transl Sci. 2017;151:177–94.

Morinaga A, Hirohata M, Ono K, Yamada M. Estrogen has anti-amyloidogenic effects on Alzheimer's β-amyloid fibrils in vitro. Biochem Biophys Res Commun. 2007;359:697–702.

Yu J, Kwon H, Cho E, Jeon J, Kang RH, Youn K, et al. The effects of pinoresinol on cholinergic dysfunction-induced memory impairments and synaptic plasticity in mice. Food Chem Toxicol. 2019;125:376–82.

Kim J, Kim J, Huang Z, Goo N, Bae HJ, Jeong Y, et al. Theracurmin ameliorates cognitive dysfunctions in 5XFAD mice by improving synaptic function and mitigating oxidative stress. Biomol Ther (Seoul). 2019;27:327–35.

Collins JM, King AE, Woodhouse A, Kirkcaldie MT, Vickers JC. The effect of focal brain injury on β-amyloid plaque deposition, inflammation and synapses in the APP/PS1 mouse model of Alzheimer's disease. Exp Neurol. 2015;267:219–29.

Biundo F, Del Prete D, Zhang H, Arancio O, D'Adamio L. A role for tau in learning, memory and synaptic plasticity. Sci Rep. 2018;8:3184.

Singh B, Covelo A, Martell-Martinez H, Nanclares C, Sherman MA, Okematti E, et al. Tau is required for progressive synaptic and memory deficits in a transgenic mouse model of α-synucleinopathy. Acta Neuropathol. 2019;138:551–74.

Perez Ortiz JM, Swerdlow RH. Mitochondrial dysfunction in Alzheimer's disease: role in pathogenesis and novel therapeutic opportunities. Br J Pharmacol. 2019;176:3489–507.

Uddin MS, Rahman MM, Jakaria M, Rahman MS, Hossain MS, Islam A, et al. Estrogen signaling in Alzheimer's disease: molecular insights and therapeutic targets for Alzheimer's dementia. Mol Neurobiol. 2020;57:2654–70.

Sarkar S, Jun S, Simpkins JW. Estrogen amelioration of Aβ-induced defects in mitochondria is mediated by mitochondrial signaling pathway involving ERβ, AKAP and Drp1. Brain Res. 2015;1616:101–11.

Wu MN, Zhou LW, Wang ZJ, Han WN, Zhang J, Liu XJ, et al. Colivelin ameliorates amyloid β peptide-induced impairments in spatial memory, synaptic plasticity, and calcium homeostasis in rats. Hippocampus. 2015;25:363–72.

Ravi SK, Narasingappa RB, Prasad M, Javagal MR, Vincent B. Cassia tora prevents Aβ1-42 aggregation, inhibits acetylcholinesterase activity and protects against Aβ1-42-induced cell death and oxidative stress in human neuroblastoma cells. Pharmacol Rep. 2019;71:1151–9.

Ali MA, Menze ET, Tadros MG, Tolba MF. Caffeic acid phenethyl ester counteracts doxorubicin-induced chemobrain in Sprague-Dawley rats: Emphasis on the modulation of oxidative stress and neuroinflammation. Neuropharmacology. 2020;181:108334.
Acknowledgements
This work was supported by Innovative Research Team of Six Talent Peaks Project in Jiangsu Province (TD-SWYY-013), the National Natural Science Foundation for Young Scientists of China (81703806), the Natural Science Foundation for Young Scientists of Nanjing University of Chinese Medicine (NZY81703806), the Open Project of Chinese Materia Medica First-Class Discipline of Nanjing University of Chinese Medicine (No. 2020YLXK018), and Postgraduate Research & Practice Innovation Program of Jiangsu Province (KYCX21_1737).
Ethics declarations
Competing interests
The authors declare no competing interests.
Supplementary information
About this article
Cite this article
Yan, Qy., Lv, Jl., Shen, Xy. et al. Patchouli alcohol as a selective estrogen receptor β agonist ameliorates AD-like pathology of APP/PS1 model mice. Acta Pharmacol Sin 43, 2226–2241 (2022). https://doi.org/10.1038/s41401-021-00857-4
Received:

Accepted:

Published:

Issue Date:

DOI: https://doi.org/10.1038/s41401-021-00857-4
Keywords
Alzheimer's disease

patchouli alcohol

amyloid-β

ER selective agonist

Toll-like receptor 4

synaptic plasticity