Abstract
Bile acid (BA) homeostasis is regulated by the extensive cross-talk between liver and intestine. Many bile-acid-activated signaling pathways have become attractive therapeutic targets for the treatment of metabolic disorders. In this study we investigated the regulatory mechanisms of BA in the intestine. We showed that the BA levels in the gallbladder and faeces were significantly increased, whereas serum BA levels decreased in systemic Krüppel-like factor 9 (Klf9) deficiency (Klf9−/−) mice. These phenotypes were also observed in the intestine-specific Klf9-deleted (Klf9vil−/−) mice. In contrast, BA levels in the gallbladder and faeces were reduced, whereas BA levels in the serum were increased in intestinal Klf9 transgenic (Klf9Rosa26+/+) mice. By using a combination of biochemical, molecular and functional assays, we revealed that Klf9 promoted the expression of apical sodium-dependent bile acid transporter (Asbt) in the terminal ileum to enhance BA absorption in the intestine. Reabsorbed BA affected liver BA synthetic enzymes by regulating Fgf15 expression. This study has identified a previously neglected transcriptional pathway that regulates BA homeostasis.
Access options
Subscribe to Journal
Get full journal access for 1 year
$119.00
only $9.92 per issue
All prices are NET prices.
VAT will be added later in the checkout.
Tax calculation will be finalised during checkout.
Buy article
Get time limited or full article access on ReadCube.
$32.00
All prices are NET prices.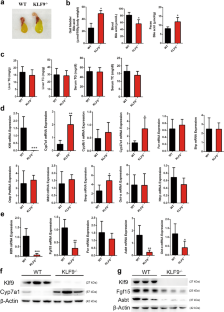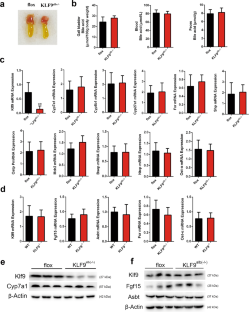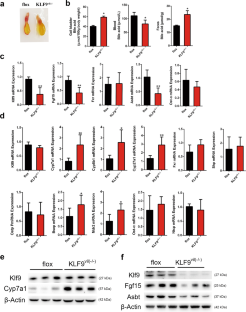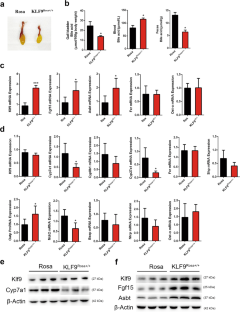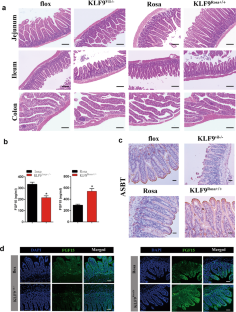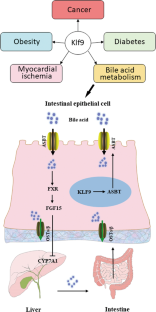 References
Dawson PA, Lan T, Rao A. Bile acid transporters. J Lipid Res. 2009;50:2340–57.

Gonzalez FJ. Nuclear receptor control of enterohepatic circulation. Compr Physiol. 2012;2:2811–28.

Chiang JY. Regulation of bile acid synthesis: pathways, nuclear receptors, and mechanisms. J Hepatol. 2004;40:539–51.

de Aguiar Vallim TQ, Tarling EJ, Edwards PA. Pleiotropic roles of bile acids in metabolism. Cell Metab. 2013;17:657–69.

Li T, Matozel M, Boehme S, Kong B, Nilsson LM, Guo G, et al. Overexpression of cholesterol 7alpha-hydroxylase promotes hepatic bile acid synthesis and secretion and maintains cholesterol homeostasis. Hepatology. 2011;53:996–1006.

Galman C, Angelin B, Rudling M. Pronounced variation in bile acid synthesis in humans is related to gender, hypertriglyceridaemia and circulating levels of fibroblast growth factor 19. J Intern Med. 2011;270:580–8.

Zhu Y, Liu H, Zhang M, Guo GL. Fatty liver diseases, bile acids, and FXR. Acta Pharm Sin B. 2016;6:409–12.

Kouzuki H, Suzuki H, Ito K, Ohashi R, Sugiyama Y. Contribution of sodium taurocholate co-transporting polypeptide to the uptake of its possible substrates into rat hepatocytes. J Pharmacol Exp Ther. 1998;286:1043–50.

Boyer JL, Trauner M, Mennone A, Soroka CJ, Cai SY, Moustafa T, et al. Upregulation of a basolateral FXR-dependent bile acid efflux transporter OSTalpha-OSTbeta in cholestasis in humans and rodents. Am J Physiol Gastrointest Liver Physiol. 2006;290:G1124–1130.

Stieger B, Meier Y, Meier PJ. The bile salt export pump. Pflug Arch. 2007;453:611–20.

Goodwin B, Jones SA, Price RR, Watson MA, McKee DD, Moore LB, et al. A regulatory cascade of the nuclear receptors FXR, SHP-1, and LRH-1 represses bile acid biosynthesis. Mol Cell. 2000;6:517–26.

Inagaki T, Choi M, Moschetta A, Peng L, Cummins CL, McDonald JG, et al. Fibroblast growth factor 15 functions as an enterohepatic signal to regulate bile acid homeostasis. Cell Metab. 2005;2:217–25.

Wong MH, Oelkers P, Craddock AL, Dawson PA. Expression cloning and characterization of the hamster ileal sodium-dependent bile acid transporter. J Biol Chem. 1994;269:1340–7.

Craddock AL, Love MW, Daniel RW, Kirby LC, Walters HC, Wong MH, et al. Expression and transport properties of the human ileal and renal sodium-dependent bile acid transporter. Am J Physiol. 1998;274:G157–169.

Degirolamo C, Rainaldi S, Bovenga F, Murzilli S, Moschetta A. Microbiota modification with probiotics induces hepatic bile acid synthesis via downregulation of the Fxr-Fgf15 axis in mice. Cell Rep. 2014;7:12–18.

Rao A, Kosters A, Mells JE, Zhang W, Setchell KD, Amanso AM, et al. Inhibition of ileal bile acid uptake protects against nonalcoholic fatty liver disease in high-fat diet-fed mice. Sci Transl Med. 2016;8:357ra122.

Cicione C, Degirolamo C, Moschetta A. Emerging role of fibroblast growth factors 15/19 and 21 as metabolic integrators in the liver. Hepatology. 2012;56:2404–11.

Byun S, Kim DH, Ryerson D, Kim YC, Sun H, Kong B, et al. Postprandial FGF19-induced phosphorylation by Src is critical for FXR function in bile acid homeostasis. Nat Commun. 2018;9:2590.

Sogawa K, Imataka H, Yamasaki Y, Kusume H, Abe H, Fujii-Kuriyama Y. cDNA cloning and transcriptional properties of a novel GC box-binding protein, BTEB2. Nucleic Acids Res. 1993;21:1527–32.

Fan H, Zhang Y, Zhang J, Yao Q, Song Y, Shen Q, et al. Cold-inducible Klf9 regulates thermogenesis of brown and beige fat. Diabetes. 2020;69:2603–18.

Zhang Y, Xue Y, Cao C, Huang J, Hong Q, Hai T, et al. Thyroid hormone regulates hematopoiesis via the TR-KLF9 axis. Blood. 2017;130:2161–70.

Kasai S, Shimizu S, Tatara Y, Mimura J, Itoh K. Regulation of Nrf2 by mitochondrial reactive oxygen species in physiology and pathology. Biomolecules. 2020;10:320.

Otsuka K, Takehara A, Chiba N, Matsui Y. Identification of KLF9 and BCL3 as transcription factors that enhance reprogramming of primordial germ cells. PLoS One. 2018;13:e0205004.

Simmen FA, Xiao R, Velarde MC, Nicholson RD, Bowman MT, Fujii-Kuriyama Y, et al. Dysregulation of intestinal crypt cell proliferation and villus cell migration in mice lacking Kruppel-like factor 9. Am J Physiol Gastrointest Liver Physiol. 2007;292:G1757–1769.

Luo J, Deng ZL, Luo X, Tang N, Song WX, Chen J, et al. A protocol for rapid generation of recombinant adenoviruses using the AdEasy system. Nat Protoc. 2007;2:1236–47.

Cui A, Fan H, Zhang Y, Zhang Y, Niu D, Liu S, et al. Dexamethasone-induced Kruppel-like factor 9 expression promotes hepatic gluconeogenesis and hyperglycemia. J Clin Invest. 2019;129:2266–78.

Boesjes M, Brufau G. Metabolic effects of bile acids in the gut in health and disease. Curr Med Chem. 2014;21:2822–9.

Song X, Sun X, Oh SF, Wu M, Zhang Y, Zheng W, et al. Microbial bile acid metabolites modulate gut RORgamma+ regulatory T cell homeostasis. Nature. 2020;577:410–5.

Sinha SR, Haileselassie Y, Nguyen LP, Tropini C, Wang M, Becker LS, et al. Dysbiosis-induced secondary bile acid deficiency promotes intestinal inflammation. Cell Host Microbe. 2020;27:659–70. e655

Han S, Ray JW, Pathak P, Sweet DR, Zhang R, Gao H, et al. KLF15 regulates endobiotic and xenobiotic metabolism. Nat Metab. 2019;1:422–30.

Ovadia C, Perdones-Montero A, Spagou K, Smith A, Sarafian MH, Gomez-Romero M, et al. Enhanced microbial bile acid deconjugation and impaired ileal uptake in pregnancy repress intestinal regulation of bile acid synthesis. Hepatology. 2019;70:276–93.

Malhotra U, Concannon P. Human T-cell receptor CD3-delta (CD3D)/MspI DNA polymorphism. Nucleic Acids Res. 1989;17:2373.

Dawson PA. Roles of Ileal ASBT and OSTalpha-OSTbeta in regulating bile acid signaling. Dig Dis. 2017;35:261–6.

Uriarte I, Latasa MU, Carotti S, Fernandez-Barrena MG, Garcia-Irigoyen O, Elizalde M, et al. Ileal FGF15 contributes to fibrosis-associated hepatocellular carcinoma development. Int J Cancer. 2015;136:2469–75.

Zhou M, Luo J, Chen M, Yang H, Learned RM, DePaoli AM, et al. Mouse species-specific control of hepatocarcinogenesis and metabolism by FGF19/FGF15. J Hepatol. 2017;66:1182–92.

Wang Y, Gunewardena S, Li F, Matye DJ, Chen C, Chao X, et al. An FGF15/19-TFEB regulatory loop controls hepatic cholesterol and bile acid homeostasis. Nat Commun. 2020;11:3612.

Ghosh A, Chen F, Banerjee S, Xu M, Shneider BL. c-Fos mediates repression of the apical sodium-dependent bile acid transporter by fibroblast growth factor-19 in mice. Am J Physiol Gastrointest Liver Physiol. 2014;306:G163–171.

Neimark E, Chen F, Li X, Magid MS, Alasio TM, Frankenberg T, et al. c-Fos is a critical mediator of inflammatory-mediated repression of the apical sodium-dependent bile acid transporter. Gastroenterology. 2006;131:554–67.
Acknowledgements
This work was supported by the National Natural Science Foundation of China (grants 81730024 and 81825004), the National Key Research and Development Program of China (2018YFA0800601), the Scientific and Technological Research Project of Xinjiang Production and Construction Corps (grants 2018AB018 and 2021AB028) and the Tianjin Research Innovation Project for Postgraduate Students (2021YJSB259).
Ethics declarations
Competing interests
The authors declare no competing interests.
Supplementary information
About this article
Cite this article
Liu, S., Liu, M., Zhang, Ml. et al. Transcription factor Klf9 controls bile acid reabsorption and enterohepatic circulation in mice via promoting intestinal Asbt expression. Acta Pharmacol Sin 43, 2362–2372 (2022). https://doi.org/10.1038/s41401-021-00850-x
Received:

Accepted:

Published:

Issue Date:

DOI: https://doi.org/10.1038/s41401-021-00850-x
Keywords