Abstract
Myocardial infarction (MI) causes disturbances in myocardial energy metabolism, ultimately leading to a poor prognosis. Cytosolic glycogen autophagy (glycophagy) and mitochondrial autophagy (mitophagy) are upregulated in MI to optimize energy metabolism but to a limited extent. Asiatic acid (AA), a pentacyclic triterpene derived from the traditional Chinese herb Centella asiatica, displays anti-inflammatory, antioxidant, and antiapoptotic activities. AA has been found to alleviate focal cerebral and liver ischemic injury by reversing mitochondrial dysfunction. In this study, we investigated whether AA exerted cardioprotective effects against MI by activating glycophagy and mitophagy to improve the energy balance. In vitro cardioprotective effects were examined in neonatal mouse cardiomyocytes subjected to oxygen-glucose deprivation for 12 h. Treatment with AA (2–50 μM) significantly increased cell viability and improved the energy metabolism evidenced by increased ATP level and phosphocreatine/ATP ratio. In vivo cardioprotective effects were studied in a mouse model of MI. Administration of AA (5–125 mg·kg−1·d−1, ig) significantly reduced infarct size and ischemic myocardial injury, and improved cardiac function. AA treatment also promoted mitophagy and relieved mitochondrial edema evidenced by increased number of mitophagosomes in ischemic myocardium in vivo and increased mitochondria-light chain 3 (LC3)-II colocalization in ODG-treated cardiomyocytes in vitro. Mitophagy activation was accompanied by activation of the AMPK signaling pathway. Knockdown of AMPK abolished AA-activated mitophagy. Furthermore, we showed that glycophagy was upregulated in OGD cardiomyocytes evidenced by increased starch binding domain protein 1 (STBD1)-GABA type A receptor-associated protein-like 1(GABARAPL1) interaction and extracellular acidification rate, whereas AA treatment further promoted glycophagy accompanied by PI3K/Akt activation. PI3K inhibitor LY294002 or Akt inhibitor GSK690693 blocked the effects of AA on glycophagy and glycolysis. Finally, simultaneous inhibition of glycophagy and mitophagy abolished the cardioprotective effects and energy regulation of AA. These results demonstrate that AA protects ischemic cardiomyocytes by modulating glycophagy- and mitophagy-based energy metabolism through the PI3K/Akt and AMPK pathways.
Access options
Subscribe to Journal
Get full journal access for 1 year
$119.00
only $9.92 per issue
All prices are NET prices.
VAT will be added later in the checkout.
Tax calculation will be finalised during checkout.
Rent or Buy article
Get time limited or full article access on ReadCube.
from$8.99
All prices are NET prices.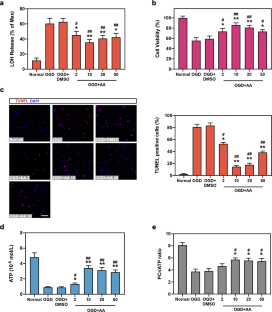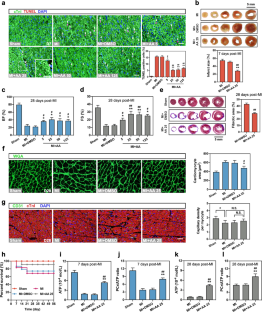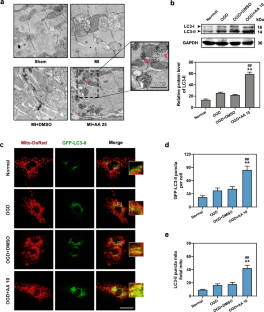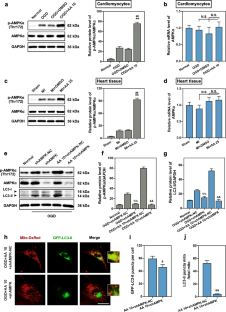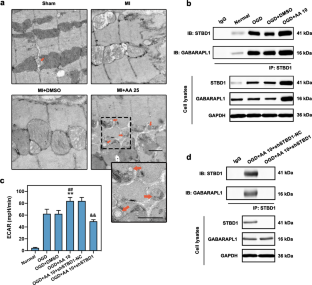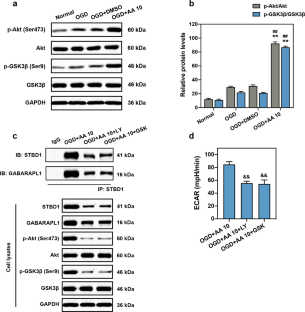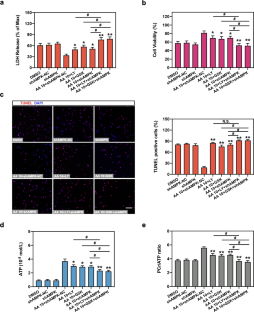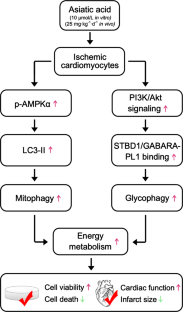 References
1.

Yeh RW, Sidney S, Chandra M, Sorel M, Selby JV, Go AS. Population trends in the incidence and outcomes of acute myocardial infarction. N Engl J Med. 2010;362:2155–65.

2.

Roger VL, Go AS, Lloyd-Jones DM, Adams RJ, Berry JD, Brown TM, et al. Heart disease and stroke statistics–2011 update: a report from the American Heart Association. Circulation. 2011;123:e18–e209.

3.

Saito T, Sadoshima J. Molecular mechanisms of mitochondrial autophagy/mitophagy in the heart. Circ Res. 2015;116:1477–90.

4.

Lorentzon M, Ramunddal T, Bollano E, Soussi B, Waagstein F, Omerovic E. In vivo effects of myocardial creatine depletion on left ventricular function, morphology, and energy metabolism–consequences in acute myocardial infarction. J Card Fail. 2007;13:230–7.

5.

Schaneberg BT, Mikell JR, Bedir E, Khan IA. An improved HPLC method for quantitative determination of six triterpenes in Centella asiatica extracts and commercial products. Pharmazie. 2003;58:381–4.

6.

Tsao SM, Yin MC. Antioxidative and antiinflammatory activities of asiatic acid, glycyrrhizic acid, and oleanolic acid in human bronchial epithelial cells. J Agric Food Chem. 2015;63:3196–204.

7.

Lu Y, Kan H, Wang Y, Wang D, Wang X, Gao J, et al. Asiatic acid ameliorates hepatic ischemia/reperfusion injury in rats via mitochondria-targeted protective mechanism. Toxicol Appl Pharmacol. 2018;338:214–23.

8.

Chao PC, Yin MC, Mong MC. Anti-apoptotic and anti-glycative effects of asiatic acid in the brain of D-galactose treated mice. Food Funct. 2015;6:542–8.

9.

Maquart FX, Chastang F, Simeon A, Birembaut P, Gillery P, Wegrowski Y. Triterpenes from Centella asiatica stimulate extracellular matrix accumulation in rat experimental wounds. Eur J Dermatol. 1999;9:289–96.

10.

Grimaldi R, De Ponti F, D'Angelo L, Caravaggi M, Guidi G, Lecchini S, et al. Pharmacokinetics of the total triterpenic fraction of Centella asiatica after single and multiple administrations to healthy volunteers. A new assay for asiatic acid. J Ethnopharmacol. 1990;28:235–41.

11.

Lee KY, Bae ON, Serfozo K, Hejabian S, Moussa A, Reeves M, et al. Asiatic acid attenuates infarct volume, mitochondrial dysfunction, and matrix metalloproteinase-9 induction after focal cerebral ischemia. Stroke. 2012;43:1632–8.

12.

Kubli DA, Gustafsson AB. Mitochondria and mitophagy: the yin and yang of cell death control. Circ Res. 2012;111:1208–21.

13.

Kim J, Kundu M, Viollet B, Guan KL. AMPK and mTOR regulate autophagy through direct phosphorylation of Ulk1. Nat Cell Biol. 2011;13:132–41.

14.

Hardie DG. AMPK: a key regulator of energy balance in the single cell and the whole organism. Int J Obes (Lond). 2008;32:S7–12. Suppl 4.

15.

Fritzen AM, Frosig C, Jeppesen J, Jensen TE, Lundsgaard AM, Serup AK, et al. Role of AMPK in regulation of LC3 lipidation as a marker of autophagy in skeletal muscle. Cell Signal. 2016;28:663–74.

16.

Zhao H, Tang M, Liu M, Chen L. Glycophagy: an emerging target in pathology. Clin Chim Acta. 2018;484:298–303.

17.

Kotoulas OB, Kalamidas SA, Kondomerkos DJ. Glycogen autophagy in glucose homeostasis. Pathol Res Pr. 2006;202:631–8.

18.

Delbridge LM, Mellor KM, Taylor DJ, Gottlieb RA. Myocardial autophagic energy stress responses–macroautophagy, mitophagy, and glycophagy. Am J Physiol Heart Circ Physiol. 2015;308:H1194–204.

19.

Jiang S, Heller B, Tagliabracci VS, Zhai L, Irimia JM, DePaoli-Roach AA, et al. Starch binding domain-containing protein 1/genethonin 1 is a novel participant in glycogen metabolism. J Biol Chem. 2010;285:34960–71.

20.

Jiang S, Wells CD, Roach PJ. Starch-binding domain-containing protein 1 (Stbd1) and glycogen metabolism: Identification of the Atg8 family interacting motif (AIM) in Stbd1 required for interaction with GABARAPL1. Biochem Biophys Res Commun. 2011;413:420–5.

21.

Sun M, Ouzounian M, de Couto G, Chen M, Yan R, Fukuoka M, et al. Cathepsin-L ameliorates cardiac hypertrophy through activation of the autophagy-lysosomal dependent protein processing pathways. J Am Heart Assoc. 2013;2:e000191.

22.

Yuan Y, Zheng Y, Zhang X, Chen Y, Wu X, Wu J, et al. BNIP3L/NIX-mediated mitophagy protects against ischemic brain injury independent of PARK2. Autophagy. 2017;13:1754–66.

23.

Yang H, Shen H, Li J, Guo LW. SIGMAR1/Sigma-1 receptor ablation impairs autophagosome clearance. Autophagy. 2019;15:1539–57.

24.

Reichert K, Colantuono B, McCormack I, Rodrigues F, Pavlov V, Abid MR. Murine left anterior descending (LAD) coronary artery ligation: an improved and simplified model for myocardial infarction. J Vis Exp. 2017;122:55353.

25.

Hardy CJ, Weiss RG, Bottomley PA, Gerstenblith G. Altered myocardial high-energy phosphate metabolites in patients with dilated cardiomyopathy. Am Heart J. 1991;122:795–801.

26.

Herzig S, Shaw RJ. AMPK: guardian of metabolism and mitochondrial homeostasis. Nat Rev Mol Cell Biol. 2018;19:121–35.

27.

Mellor KM, Varma U, Stapleton DI, Delbridge LM. Cardiomyocyte glycophagy is regulated by insulin and exposure to high extracellular glucose. Am J Physiol Heart Circ Physiol. 2014;306:H1240–5.

28.

Marchand B, Arsenault D, Raymond-Fleury A, Boisvert FM, Boucher MJ. Glycogen synthase kinase-3 (GSK3) inhibition induces prosurvival autophagic signals in human pancreatic cancer cells. J Biol Chem. 2015;290:5592–605.

29.

Reichelt ME, Mellor KM, Curl CL, Stapleton D, Delbridge LM. Myocardial glycophagy - a specific glycogen handling response to metabolic stress is accentuated in the female heart. J Mol Cell Cardiol. 2013;65:67–75.

30.

Cheng W, Wu P, Du Y, Wang Y, Zhou N, Ge Y, et al. Puerarin improves cardiac function through regulation of energy metabolism in streptozotocin-nicotinamide induced diabetic mice after myocardial infarction. Biochem Biophys Res Commun. 2015;463:1108–14.

31.

Lim SH, Lee J. Xyloglucan intake attenuates myocardial injury by inhibiting apoptosis and improving energy metabolism in a rat model of myocardial infarction. Nutr Res. 2017;45:19–29.

32.

Qiu F, Zhang H, Yuan Y, Liu Z, Huang B, Miao H, et al. A decrease of ATP production steered by PEDF in cardiomyocytes with oxygen-glucose deprivation is associated with an AMPK-dependent degradation pathway. Int J Cardiol. 2018;257:262–71.

33.

Huo L, Shi W, Chong L, Wang J, Zhang K, Li Y. Asiatic acid inhibits left ventricular remodeling and improves cardiac function in a rat model of myocardial infarction. Exp Ther Med. 2016;11:57–64.

34.

Dai Y, Wang Z, Quan M, Lv Y, Li Y, Xin HB, et al. Asiatic acid protests against myocardial ischemia/reperfusion injury via modulation of glycometabolism in rat cardiomyocyte. Drug Des Devel Ther. 2018;12:3573–82.

35.

Moloudizargari M, Asghari MH, Ghobadi E, Fallah M, Rasouli S, Abdollahi M. Autophagy, its mechanisms and regulation: Implications in neurodegenerative diseases. Ageing Res Rev. 2017;40:64–74.

36.

Komatsu M, Ichimura Y. Selective autophagy regulates various cellular functions. Genes Cells. 2010;15:923–33.

37.

Johansen T, Lamark T. Selective autophagy mediated by autophagic adapter proteins. Autophagy. 2011;7:279–96.

38.

Matsui Y, Takagi H, Qu X, Abdellatif M, Sakoda H, Asano T, et al. Distinct roles of autophagy in the heart during ischemia and reperfusion: roles of AMP-activated protein kinase and Beclin 1 in mediating autophagy. Circ Res. 2007;100:914–22.

39.

Sciarretta S, Zhai P, Shao D, Maejima Y, Robbins J, Volpe M, et al. Rheb is a critical regulator of autophagy during myocardial ischemia: pathophysiological implications in obesity and metabolic syndrome. Circulation. 2012;125:1134–46.

40.

Buss SJ, Muenz S, Riffel JH, Malekar P, Hagenmueller M, Weiss CS, et al. Beneficial effects of mammalian target of rapamycin inhibition on left ventricular remodeling after myocardial infarction. J Am Coll Cardiol. 2009;54:2435–46.

41.

Egan DF, Shackelford DB, Mihaylova MM, Gelino S, Kohnz RA, Mair W, et al. Phosphorylation of ULK1 (hATG1) by AMP-activated protein kinase connects energy sensing to mitophagy. Science. 2011;331:456–61.

42.

Sinha RA, Singh BK, Zhou J, Wu Y, Farah BL, Ohba K, et al. Thyroid hormone induction of mitochondrial activity is coupled to mitophagy via ROS-AMPK-ULK1 signaling. Autophagy. 2015;11:1341–57.

43.

Itakura E, Kishi-Itakura C, Koyama-Honda I, Mizushima N. Structures containing Atg9A and the ULK1 complex independently target depolarized mitochondria at initial stages of Parkin-mediated mitophagy. J Cell Sci. 2012;125:1488–99.

44.

Lazarou M, Sliter DA, Kane LA, Sarraf SA, Wang C, Burman JL, et al. The ubiquitin kinase PINK1 recruits autophagy receptors to induce mitophagy. Nature. 2015;524:309–14.

45.

Zhu J, Wang KZ, Chu CT. After the banquet: mitochondrial biogenesis, mitophagy, and cell survival. Autophagy. 2013;9:1663–76.

46.

Hanna RA, Quinsay MN, Orogo AM, Giang K, Rikka S, Gustafsson AB. Microtubule-associated protein 1 light chain 3 (LC3) interacts with Bnip3 protein to selectively remove endoplasmic reticulum and mitochondria via autophagy. J Biol Chem. 2012;287:19094–104.

47.

Nielsen J, Ortenblad N. Physiological aspects of the subcellular localization of glycogen in skeletal muscle. Appl Physiol Nutr Metab. 2013;38:91–9.

48.

Chen K, Li G, Geng F, Zhang Z, Li J, Yang M, et al. Berberine reduces ischemia/reperfusion-induced myocardial apoptosis via activating AMPK and PI3K-Akt signaling in diabetic rats. Apoptosis. 2014;19:946–57.

49.

Sun Y, Jiang C, Jiang J, Qiu L. Dexmedetomidine protects mice against myocardium ischaemic/reperfusion injury by activating an AMPK/PI3K/Akt/eNOS pathway. Clin Exp Pharmacol Physio. 2017;44:946–53.
Acknowledgements
This work was supported by the National Key Research and Development Program of China (2017YFA0105600, 2020YFA0112600), the National Natural Sciences Foundation of China (81870208, 82070260), the Shanghai Pujiang Program (19PJ1408900), the Shanghai Animal Research Program (21140901800), the Science and Technology Development Fund of Shanghai Pudong New Area (PKJ2020-Y23), Shanghai Engineering Research Center of Artificial Heart and Heart Failure Medicine (19DZ2251000), the Major Program of Development Fund for Shanghai Zhangjiang National Innovation Demonstration Zone < Stem Cell Strategic Biobank and Stem Cell Clinical Technology Transformation Platform > (ZJ2018-ZD-004), and the Peak Disciplines (Type IV) of Institutions of Higher Learning in Shanghai.
Ethics declarations
Competing interests
The authors declare no competing interests.
Supplementary information
About this article
Cite this article
Qiu, F., Yuan, Y., Luo, W. et al. Asiatic acid alleviates ischemic myocardial injury in mice by modulating mitophagy- and glycophagy-based energy metabolism. Acta Pharmacol Sin (2021). https://doi.org/10.1038/s41401-021-00763-9
Received:

Accepted:

Published:
Keywords
myocardial infarction

asiatic acid

glycophagy

mitophagy

energy metabolism

AMPK signaling