Abstract
Spinal cord injury (SCI) is one kind of severe trauma for central nervous system. Myelin debris clearance and axon regeneration are essential for nerve regeneration after SCI. Metformin, a glucose-lowering drug, has been demonstrated to promote the locomotor functional recovery after SCI. In this study, we investigated the role and molecular mechanism of metformin on myelin preservation in a rat SCI model. SCI was induced in rats by compression at T9 level using a vascular clip. We showed that administration of metformin (50 mg·kg−1·d−1, ip) for 28 days significantly improved locomotor function in SCI rats. Metformin also ameliorated SCI-induced neuronal apoptosis and promoted axon regeneration in the spinal cord. Using co-immunofluorescence of IBa-1 and MBP, and luxol fasting blue (LFB) staining, we demonstrated that metformin promoted the transformation of M1 to M2 phenotype polarization of microglial cells, then greatly facilitated myelin debris clearance and protected the myelin in SCI rats. Furthermore, metformin ameliorated SCI-induced blockade of autophagic flux in the spinal cord, and enhanced the fusion of autophagosome and lysosome by inhibiting the AMPK-mTOR signaling pathway. Moreover, metformin significantly attenuated inflammatory responses in the spinal cord. In LPS-treated BV2 cells, pretreatment with metformin (2 mM) significantly enhanced autophagy level, suppressed inflammation and cell apoptosis. The protective effects were blocked in the presence of an autophagy inhibitor 3-methyladenine (3-MA, 5 mM), suggesting that the effect of metformin on autophagy in microglial cells is essential for the myelin preservation during nerve recovery. This study reveals a novel therapeutic effect of metformin in SCI recovery by regulating the activation of microglial cells and enhancing its autophagy level.
Access options
Subscribe to Journal
Get full journal access for 1 year
$119.00
only $9.92 per issue
All prices are NET prices.
VAT will be added later in the checkout.
Tax calculation will be finalised during checkout.
Rent or Buy article
Get time limited or full article access on ReadCube.
from$8.99
All prices are NET prices.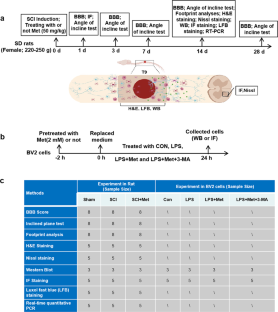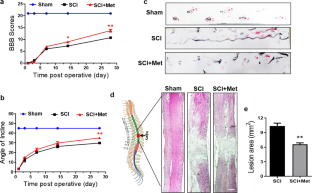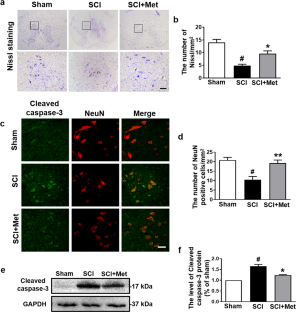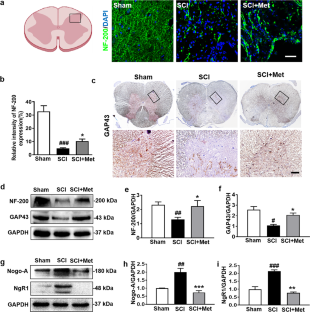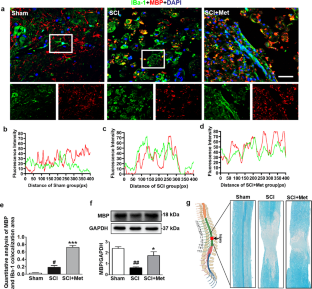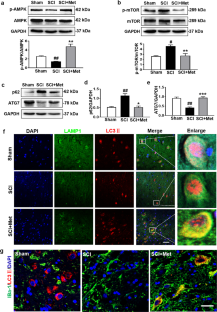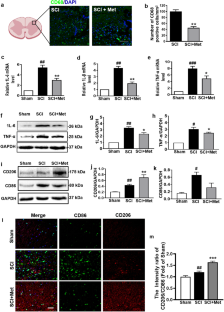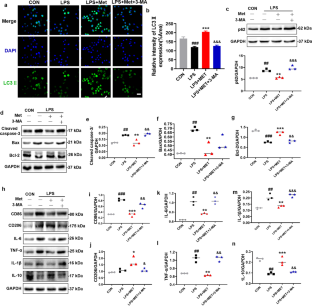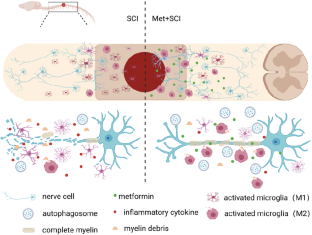 References
1.

Nave KA. Myelination and support of axonal integrity by glia. Nature. 2010;468:244–52.

2.

Lüders KA, Nessler S, Kusch K, Patzig J, Jung RB, Möbius W, et al. Maintenance of high proteolipid protein level in adult central nervous system myelin is required to preserve the integrity of myelin and axons. Glia. 2019;67:634–49.

3.

Papastefanaki F, Matsas R. From demyelination to remyelination: the road toward therapies for spinal cord injury. Glia. 2015;63:1101–25.

4.

Koch JC, Lingor P. The role of autophagy in axonal degeneration of the optic nerve. Exp Eye Res. 2016;144:81–9.

5.

Li R, Li D, Wu C, Ye L, Wu Y, Yuan Y, et al. Nerve growth factor activates autophagy in schwann cells to enhance myelin debris clearance and to expedite nerve regeneration. Theranostics. 2020;10:1649–77.

6.

Yue Z. Regulation of neuronal autophagy in axon: implication of autophagy in axonal function and dysfunction/degeneration. Autophagy. 2007;3:139–41.

7.

Zheng Z, Wu Y, Li Z, Ye L, Lu Q, Zhou Y, et al. Valproic acid affects neuronal fate and microglial function via enhancing autophagic flux in mice after traumatic brain injury. J Neurochem. 2020;154:284–300.

8.

Zhou K, Zheng Z, Li Y, Han W, Zhang J, Mao Y, et al. TFE3, a potential therapeutic target for spinal cord injury via augmenting autophagy flux and alleviating ER stress. Theranostics. 2020;10:9280–302.

9.

Gyoneva S, Davalos D, Biswas D, Swanger SA, Garnier-Amblard E, Loth F, et al. Systemic inflammation regulates microglial responses to tissue damage in vivo. Glia. 2014;62:1345–60.

10.

Lan X, Han X, Li Q, Yang QW, Wang J. Modulators of microglial activation and polarization after intracerebral haemorrhage. Nat Rev Neurol. 2017;13:420–33.

11.

Kim J, Kundu M, Viollet B, Guan KL. AMPK and mTOR regulate autophagy through direct phosphorylation of Ulk1. Nat Cell Biol. 2011;13:132–41.

12.

Shaw RJ. LKB1 and AMP-activated protein kinase control of mTOR signalling and growth. Acta Physiol (Oxf). 2009;196:65–80.

13.

Martin-Montalvo A, Mercken EM, Mitchell SJ, Palacios HH, Mote PL, Scheibye-Knudsen M, et al. Metformin improves healthspan and lifespan in mice. Nat Commun. 2013;4:2192.

14.

Liu Y, Tang G, Li Y, Wang Y, Chen X, Gu X, et al. Metformin attenuates blood-brain barrier disruption in mice following middle cerebral artery occlusion. J Neuroinflammation. 2014;11:177.

15.

Patil SP, Jain PD, Ghumatkar PJ, Tambe R, Sathaye S. Neuroprotective effect of metformin in MPTP-induced Parkinson's disease in mice. Neuroscience. 2014;277:747–54.

16.

Vázquez-Manrique RP, Farina F, Cambon K, Dolores Sequedo M, Parker AJ, Millán JM, et al. AMPK activation protects from neuronal dysfunction and vulnerability across nematode, cellular and mouse models of Huntington's disease. Hum Mol Genet. 2016;25:1043–58.

17.

Zhang D, Tang Q, Zheng G, Wang C, Zhou Y, Wu Y, et al. Metformin ameliorates BSCB disruption by inhibiting neutrophil infiltration and MMP-9 expression but not direct TJ proteins expression regulation. J Cell Mol Med. 2017;21:3322–36.

18.

Zhang D, Xuan J, Zheng BB, Zhou YL, Lin Y, Wu YS, et al. Metformin improves functional recovery after spinal cord injury via autophagy flux stimulation. Mol Neurobiol. 2017;54:3327–41.

19.

Wu H, Ding J, Li S, Lin J, Jiang R, Lin C, et al. Metformin promotes the survival of random-pattern skin flaps by inducing autophagy via the AMPK-mTOR-TFEB signaling pathway. Int J Biol Sci. 2019;15:325–40.

20.

Blasi E, Barluzzi R, Bocchini V, Mazzolla R, Bistoni F. Immortalization of murine microglial cells by a v-raf/v-myc carrying retrovirus. J Neuroimmunol. 1990;27:229–37.

21.

Kumsta C, Chang JT, Lee R, Tan EP, Yang Y, Loureiro R, et al. The autophagy receptor p62/SQST-1 promotes proteostasis and longevity in C. elegans by inducing autophagy. Nat Commun. 2019;10:5648.

22.

Komatsu M, Kageyama S, Ichimura Y. p62/SQSTM1/A170: physiology and pathology. Pharmacol Res. 2012;66:457–62.

23.

Wang C, Liu C, Gao K, Zhao H, Zhou Z, Shen Z, et al. Metformin preconditioning provide neuroprotection through enhancement of autophagy and suppression of inflammation and apoptosis after spinal cord injury. Biochem Biophys Res Commun. 2016;477:534–40.

24.

Wang H, Zheng Z, Han W, Yuan Y, Li Y, Zhou K, et al. Metformin promotes axon regeneration after spinal cord injury through inhibiting oxidative stress and stabilizing microtubule. Oxid Med Cell Longev. 2020;2020:9741369.

25.

Jiang T, Yu JT, Zhu XC, Wang HF, Tan MS, Cao L, et al. Acute metformin preconditioning confers neuroprotection against focal cerebral ischaemia by pre-activation of AMPK-dependent autophagy. Br J Pharmacol. 2014;171:3146–57.

26.

Liu L, Tian D, Liu C, Yu K, Bai J. Metformin enhances functional recovery of peripheral nerve in rats with sciatic nerve crush injury. Med Sci Monit. 2019;25:10067–76.

27.

Jin Q, Cheng J, Liu Y, Wu J, Wang X, Wei S, et al. Improvement of functional recovery by chronic metformin treatment is associated with enhanced alternative activation of microglia/macrophages and increased angiogenesis and neurogenesis following experimental stroke. Brain Behav, Immun. 2014;40:131–42.

28.

Brosius Lutz A, Chung WS, Sloan SA, Carson GA, Zhou L, Lovelett E, et al. Schwann cells use TAM receptor-mediated phagocytosis in addition to autophagy to clear myelin in a mouse model of nerve injury. Proc Nat Acad Sci U S A. 2017;114:E8072–E8080.

29.

Zielasek J, Hartung HP. Molecular mechanisms of microglial activation. Adv Neuroimmunol. 1996;6:191–22.

30.

Gehrmann J, Gold R, Linington C, Lannes VJ, Wekerle H, Kreutzberg GW. Microglial involvement in experimental autoimmune inflammation of the central and peripheral nervous system. Glia. 1993;7:50–9.

31.

Cherry JD, Olschowka JA, O'Banion MK. Neuroinflammation and M2 microglia: the good, the bad, and the inflamed. J Neuroinflammation. 2014;11:98.

32.

Loane DJ, Kumar A, Stoica BA, Cabatbat R, Faden AI. Progressive neurodegeneration after experimental brain trauma: association with chronic microglial activation. J Neuropathol Exp Neurol. 2014;73:14–29.

33.

Pischiutta F, Brunelli L, Romele P, Silini A, Sammali E, Paracchini L, et al. Protection of brain injury by amniotic mesenchymal stromal cell-secreted metabolites. Crit Care Med. 2016;44:e1118–e31.

34.

Bellver LV, Bretheau F, Mailhot B, Vallières N, Lessard M, Janelle ME, et al. Microglia are an essential component of the neuroprotective scar that forms after spinal cord injury. Nat Commun. 2019;10:518.

35.

Kuhlmann T, Brück W. Immunoglobulins induce increased myelin debris clearance by mouse macrophages. Neurosci Lett. 1999;275:191–4.

36.

Kopper TJ, Gensel JC. Myelin as an inflammatory mediator: Myelin interactions with complement, macrophages, and microglia in spinal cord injury. J Neurosci Res. 2018;96:969–77.

37.

Grajchen E, Wouters E, van de Haterd B, Haidar M, Hardonnière K, Dierckx T, et al. CD36-mediated uptake of myelin debris by macrophages and microglia reduces neuroinflammation. J Neuroinflammation. 2020;17:224.

38.

Zhang YB, Gong JL, Xing TY, Zheng SP, Ding W. Autophagy protein p62/SQSTM1 is involved in HAMLET-induced cell death by modulating apotosis in U87MG cells. Cell Death Dis. 2013;4:e550.

39.

Zhong L, Zhang H, Ding ZF, Li J, Lv JW, Pan ZJ, et al. Erythropoietin-induced autophagy protects against spinal cord injury and improves neurological function via the extracellular-regulated protein kinase signaling pathway. Mol Neurobiol. 2020;57:3993–4006.

40.

Zhu S, Chen M, Deng L, Zhang J, Ni W, Wang X, et al. The repair and autophagy mechanisms of hypoxia-regulated bFGF-modified primary embryonic neural stem cells in spinal cord injury. Stem Cells Transl Med. 2020;9:603–19.

41.

Zheng Z, Zhou Y, Ye L, Lu Q, Zhang K, Zhang J, et al. Histone deacetylase 6 inhibition restores autophagic flux to promote functional recovery after spinal cord injury. Exp Neurol. 2020;324:113138.

42.

Saitoh T, Akira S. Regulation of innate immune responses by autophagy-related proteins. J Cell Biol. 2010;189:925–35.

43.

She H, He Y, Zhao Y, Mao Z. Release the autophage brake on inflammation: the MAPK14/p38α-ULK1 pedal. Autophagy. 2018;14:1097–8.
Acknowledgements
This study was partially supported by National Natural Science Foundation of China (81801233 to YQW, 81802251 to KX), Zhejiang Provincial Natural Science Foundation (LQ18H090011 to YQW and LQ18H150003 to KX), Research Unit of Research and Clinical Translation of Cell Growth Factors and Diseases, Chinese Academy of Medical Science (2019RU010), and Graduate Student Innovation Foundation of Wenzhou University (316202001029).
Ethics declarations
Competing interests
The authors declare no competing interests.
Supplementary information
About this article
Cite this article
Wu, Yq., Xiong, J., He, Zl. et al. Metformin promotes microglial cells to facilitate myelin debris clearance and accelerate nerve repairment after spinal cord injury. Acta Pharmacol Sin (2021). https://doi.org/10.1038/s41401-021-00759-5
Received:

Accepted:

Published:
Keywords
spinal cord injury

metformin

microglial cells

autophagy

nerve regeneration

3-methyladenine