Abstract
We previously show that fatty acid-binding protein 3 (FABP3) triggers α-synuclein (Syn) accumulation and induces dopamine neuronal cell death in Parkinson disease mouse model. But the role of fatty acid-binding protein 7 (FABP7) in the brain remains unclear. In this study we investigated whether FABP7 was involved in synucleinopathies. We showed that FABP7 was co-localized and formed a complex with Syn in Syn-transfected U251 human glioblastoma cells, and treatment with arachidonic acid (100 M) significantly promoted FABP7-induced Syn aggregation, which was associated with cell death. We demonstrated that synthetic FABP7 ligand 6 displayed a high affinity against FABP7 with Kd value of 209 nM assessed in 8-anilinonaphthalene-1-sulfonic acid (ANS) assay; ligand 6 improved U251 cell survival via disrupting the FABP7–Syn interaction. We showed that activation of phospholipase A2 (PLA2) by psychosine (10 M) triggered oligomerization of endogenous Syn and FABP7, and induced cell death in both KG-1C human oligodendroglia cells and oligodendrocyte precursor cells (OPCs). FABP7 ligand 6 (1 M) significantly decreased Syn oligomerization and aggregation thereby prevented KG-1C and OPC cell death. This study demonstrates that FABP7 triggers α-synuclein oligomerization through oxidative stress, while FABP7 ligand 6 can inhibit FABP7-induced Syn oligomerization and aggregation, thereby rescuing glial cells and oligodendrocytes from cell death.
Access options
Subscribe to Journal
Get full journal access for 1 year
$119.00
only $9.92 per issue
All prices are NET prices.
VAT will be added later in the checkout.
Tax calculation will be finalised during checkout.
Buy article
Get time limited or full article access on ReadCube.
$32.00
All prices are NET prices.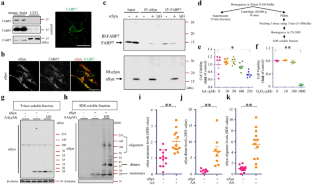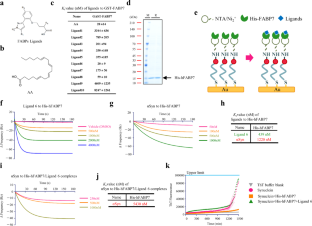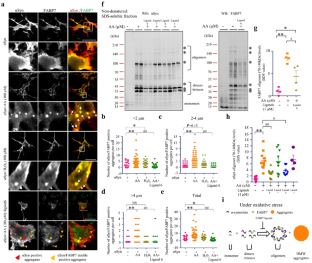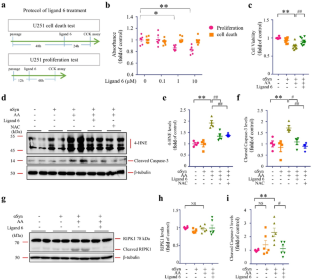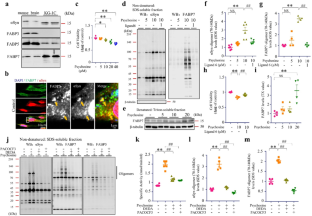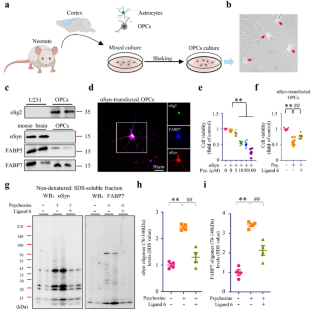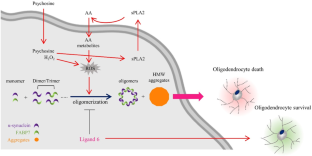 References
Roncevic D, Palma JA, Martinez J, Goulding N, Norcliffe-Kaufmann L, Kaufmann H. Cerebellar and parkinsonian phenotypes in multiple system atrophy: similarities, differences and survival. J Neural Transm. 2014;121:507–12.

Spillantini MG, Schmidt ML, Lee VM, Trojanowski JQ, Jakes R, Goedert M. Alpha-synuclein in Lewy bodies. Nature. 1997;388:839–40.

Palma JA, Norcliffe-Kaufmann L, Kaufmann H. Diagnosis of multiple system atrophy. Auton Neurosci. 2018;211:15–25.

Ettle B, Kerman BE, Valera E, Gillmann C, Schlachetzki JC, Reiprich S, et al. α-Synuclein-induced myelination deficit defines a novel interventional target for multiple system atrophy. Acta Neuropathol. 2016;132:59–75.

Stefanova N, Bücke P, Duerr S, Wenning GK. Multiple system atrophy: an update. Lancet Neurol. 2009;8:1172–8.

Ubhi K, Low P, Masliah E. Multiple system atrophy: a clinical and neuropathological perspective. Trends Neurosci. 2011;34:581–90.

Wong JH, Halliday GM, Kim WS. Exploring myelin dysfunction in multiple system atrophy. Exp Neurobiol. 2014;23:337–44.

Winner B, Jappelli R, Maji SK, Desplats PA, Boyer L, Aigner S, et al. In vivo demonstration that alpha-synuclein oligomers are toxic. Proc Natl Acad Sci USA. 2011;108:4194–9.

Abdelmotilib H, Maltbie T, Delic V, Liu Z, Hu X, Fraser KB, et al. α-Synuclein fibril-induced inclusion spread in rats and mice correlates with dopaminergic neurodegeneration. Neurobiol Dis. 2017;105:84–98.

Luk KC, Song C, O'Brien P, Stieber A, Branch JR, Brunden KR, et al. Exogenous alpha-synuclein fibrils seed the formation of Lewy body-like intracellular inclusions in cultured cells. Proc Natl Acad Sci USA. 2009;106:20051–6.

Islam MT. Oxidative stress and mitochondrial dysfunction-linked neurodegenerative disorders. Neurol Res. 2017;39:73–82.

Tanaka A, Yamamoto A, Murota K, Tsujiuchi T, Iwamori M, Fukushima N. Polyunsaturated fatty acids induce ovarian cancer cell death through ROS-dependent MAP kinase activation. Biochem Biophys Res Commun. 2017;493:468–73.

García-Krauss A, Ferrada L, Astuya A, Salazar K, Cisternas P, Martínez F, et al. Dehydroascorbic acid promotes cell death in neurons under oxidative stress: a protective role for astrocytes. Mol Neurobiol. 2016;53:5847–63.

Besnard P, Niot I, Poirier H, Clément L, Bernard A. New insights into the fatty acid-binding protein (FABP) family in the small intestine. Mol Cell Biochem. 2002;239:139–47.

Owada Y. Fatty acid binding protein: localization and functional significance in the brain. Tohoku J Exp Med. 2008;214:213–20.

Owada Y, Yoshimoto T, Kondo H. Spatio-temporally differential expression of genes for three members of fatty acid binding proteins in developing and mature rat brains. J Chem Neuroanat. 1996;12:113–22.

Matsumata M, Sakayori N, Maekawa M, Owada Y, Yoshikawa T, Osumi N. The effects of Fabp7 and Fabp5 on postnatal hippocampal neurogenesis in the mouse. Stem Cells. 2012;30:1532–43.

Eusebi P, Giannandrea D, Biscetti L, Abraha I, Chiasserini D, Orso M, et al. Diagnostic utility of cerebrospinal fluid α-synuclein in Parkinson's disease: a systematic review and meta-analysis. Mov Disord. 2017;32:1389–400.

Zhou B, Wen M, Yu WF, Zhang CL, Jiao L. The diagnostic and differential diagnosis utility of cerebrospinal fluid α-synuclein levels in Parkinson's disease: a meta-analysis. Parkinsons Dis. 2015;2015:567386.

Teunissen CE, Veerhuis R, De Vente J, Verhey FR, Vreeling F, van Boxtel MP, et al. Brain-specific fatty acid-binding protein is elevated in serum of patients with dementia-related diseases. Eur J Neurol. 2011;18:865–71.

Mollenhauer B, Steinacker P, Bahn E, Bibl M, Brechlin P, Schlossmacher MG, et al. Serum heart-type fatty acid-binding protein and cerebrospinal fluid tau: marker candidates for dementia with Lewy bodies. Neurodegener Dis. 2007;4:366–75.

Shioda N, Yabuki Y, Kobayashi Y, Onozato M, Owada Y, Fukunaga K. FABP3 protein promotes α-synuclein oligomerization associated with 1-methyl-1,2,3,6-tetrahydropiridine-induced neurotoxicity. J Biol Chem. 2014;289:18957–65.

Cheng A, Shinoda Y, Yamamoto T, Miyachi H, Fukunaga K. Development of FABP3 ligands that inhibit arachidonic acid-induced α-synuclein oligomerization. Brain Res. 2019;1707:190–7.

Matsuo K, Cheng A, Yabuki Y, Takahata I, Miyachi H, Fukunaga K. Inhibition of MPTP-induced α-synuclein oligomerization by fatty acid-binding protein 3 ligand in MPTP-treated mice. Neuropharmacology. 2019;150:164–74.

George JM, Jin H, Woods WS, Clayton DF. Characterization of a novel protein regulated during the critical period for song learning in the zebra finch. Neuron. 1995;15:361–72.

Jin H, Ishikawa K, Tsunemi T, Ishiguro T, Amino T, Mizusawa H. Analyses of copy number and mRNA expression level of the alpha-synuclein gene in multiple system atrophy. J Med Dent Sci. 2008;55:145–53.

Asi YT, Simpson JE, Heath PR, Wharton SB, Lees AJ, Revesz T, et al. Alpha-synuclein mRNA expression in oligodendrocytes in MSA. Glia. 2014;62:964–70.

Cheng A, Kawahata I, Fukunaga K. Fatty acid binding protein 5 mediates cell death by psychosine exposure through mitochondrial macropores formation in oligodendrocytes. Biomedicines. 2020;8:635.

Shioda N, Han F, Moriguchi S, Fukunaga K. Constitutively active calcineurin mediates delayed neuronal death through Fas-ligand expression via activation of NFAT and FKHR transcriptional activities in mouse brain ischemia. J Neurochem. 2007;102:1506–17.

Sun M, Shinoda Y, Fukunaga K. KY-226 protects blood-brain barrier function through the Akt/FoxO1 signaling pathway in brain ischemia. Neuroscience. 2019;399:89–102.

Liu JW, Almaguel FG, Bu L, De Leon DD, De Leon M. Expression of E-FABP in PC12 cells increases neurite extension during differentiation: involvement of n-3 and n-6 fatty acids. J Neurochem. 2008;106:2015–29.

Sulsky R, Magnin DR, Huang Y, Simpkins L, Taunk P, Patel M, et al. Potent and selective biphenyl azole inhibitors of adipocyte fatty acid binding protein (aFABP). Bioorg Med Chem Lett. 2007;17:3511–5.

Beniyama Y, Matsuno K, Miyachi H. Structure-guided design, synthesis and in vitro evaluation of a series of pyrazole-based fatty acid binding protein (FABP) 3 ligands. Bioorg Med Chem Lett. 2013;23:1662–6.

Shinoda Y, Wang Y, Yamamoto T, Miyachi H, Fukunaga K. Analysis of binding affinity and docking of novel fatty acid-binding protein (FABP) ligands. J Pharmacol Sci. 2020;143:264–71.

Yamamoto H, Fukui N, Adachi M, Saiki E, Yamasaki A, Matsumura R, et al. Human molecular chaperone Hsp60 and its apical domain suppress amyloid fibril formation of α-synuclein. Int J Mol Sci. 2019;21:47.

Sharon R, Bar-Joseph I, Frosch MP, Walsh DM, Hamilton JA, Selkoe DJ. The formation of highly soluble oligomers of alpha-synuclein is regulated by fatty acids and enhanced in Parkinson's disease. Neuron. 2003;37:583–95.

Ikeda M, Kawarabayashi T, Harigaya Y, Sasaki A, Yamada S, Matsubara E, et al. Motor impairment and aberrant production of neurochemicals in human alpha-synuclein A30P+A53T transgenic mice with alpha-synuclein pathology. Brain Res. 2009;1250:232–41.

Bandopadhyay R. Sequential extraction of soluble and insoluble alpha-synuclein from Parkinsonian brains. J Vis Exp. 2016:53415.

Zhang DW, Shao J, Lin J, Zhang N, Lu BJ, Lin SC, et al. RIP3, an energy metabolism regulator that switches TNF-induced cell death from apoptosis to necrosis. Science. 2009;325:332–6.

Giri S, Khan M, Rattan R, Singh I, Singh AK. Krabbe disease: psychosine-mediated activation of phospholipase A2 in oligodendrocyte cell death. J Lipid Res. 2006;47:1478–92.

Tu PH, Galvin JE, Baba M, Giasson B, Tomita T, Leight S, et al. Glial cytoplasmic inclusions in white matter oligodendrocytes of multiple system atrophy brains contain insoluble alpha-synuclein. Ann Neurol. 1998;44:415–22.

Conway KA, Lee SJ, Rochet JC, Ding TT, Williamson RE, Lansbury PT Jr. Acceleration of oligomerization, not fibrillization, is a shared property of both alpha-synuclein mutations linked to early-onset Parkinson's disease: implications for pathogenesis and therapy. Proc Natl Acad Sci USA. 2000;97:571–6.

Peelaerts W, Bousset L, Van der Perren A, Moskalyuk A, Pulizzi R, Giugliano M, et al. Synuclein strains cause distinct synucleinopathies after local and systemic administration. Nature. 2015;522:340–4.

Prusiner SB, Woerman AL, Mordes DA, Watts JC, Rampersaud R, Berry DB, et al. Evidence for α-synuclein prions causing multiple system atrophy in humans with parkinsonism. Proc Natl Acad Sci USA. 2015;112:E5308–17.

Kisos H, Pukaß K, Ben-Hur T, Richter-Landsberg C, Sharon R. Increased neuronal α-synuclein pathology associates with its accumulation in oligodendrocytes in mice modeling α-synucleinopathies. PLoS ONE. 2012;7:e46817.

Reyes JF, Rey NL, Bousset L, Melki R, Brundin P, Angot E. Alpha-synuclein transfers from neurons to oligodendrocytes. Glia. 2014;62:387–98.

Kagawa Y, Yasumoto Y, Sharifi K, Ebrahimi M, Islam A, Miyazaki H, et al. Fatty acid-binding protein 7 regulates function of caveolae in astrocytes through expression of caveolin-1. Glia. 2015;63:780–94.

Marshall MS, Jakubauskas B, Bogue W, Stoskute M, Hauck Z, Rue E, et al. Analysis of age-related changes in psychosine metabolism in the human brain. PLoS ONE. 2018;13:e0193438.

Chang D, Nalls MA, Hallgrímsdóttir IB, Hunkapiller J, van der Brug M, Cai F, et al. A meta-analysis of genome-wide association studies identifies 17 new Parkinson's disease risk loci. Nat Genet. 2017;49:1511–6.

Abdelkarim H, Marshall MS, Scesa G, Smith RA, Rue E, Marshall J, et al. α-Synuclein interacts directly but reversibly with psychosine: implications for α-synucleinopathies. Sci Rep. 2018;8:12462.

Rui Q, Ni H, Lin X, Zhu X, Li D, Liu H, et al. Astrocyte-derived fatty acid-binding protein 7 protects blood-brain barrier integrity through a caveolin-1/MMP signaling pathway following traumatic brain injury. Exp Neurol. 2019;322:113044.

Liapounova N, Azar KH, Findlay JM, Lu JQ. Vanishing cerebral vasculitis in a patient with Lewy pathology. J Biomed Res. 2017;31:559–62.

Ma LY, Gao LY, Li X, Ma HZ, Feng T. Nitrated alpha-synuclein in minor salivary gland biopsies in Parkinson's disease. Neurosci Lett. 2019;704:45–9.

Tao RR, Ji YL, Lu YM, Fukunaga K, Han F. Targeting nitrosative stress for neurovascular protection: new implications in brain diseases. Curr Drug Targets. 2012;13:272–84.
Acknowledgements
We gratefully thank The Uehara Memorial Foundation for financial support. This work was supported in part by the Strategic Research Program for Brain Sciences from Japan Agency for Medical Research and Development (JP17dm0107071, JP18dm0107071, JP19dm0107071, and JP20dm0107071; awarded to KF).
Ethics declarations
Competing interests
The authors declare no competing interests.
About this article
Cite this article
Cheng, A., Wang, Yf., Shinoda, Y. et al. Fatty acid-binding protein 7 triggers α-synuclein oligomerization in glial cells and oligodendrocytes associated with oxidative stress. Acta Pharmacol Sin 43, 552–562 (2022). https://doi.org/10.1038/s41401-021-00675-8
Received:

Accepted:

Published:

Issue Date:

DOI: https://doi.org/10.1038/s41401-021-00675-8
Keywords
synucleinopathies

α-synuclein oligomerization

fatty acid binding protein 7

arachidonic acid

psychosine

cell death