Abstract
Metastasis is the main cause of mortality in patients with cancer. Epithelial–mesenchymal transition (EMT), a crucial process in cancer metastasis, is an established target for antimetastatic drug development. LFG-500, a novel synthetic flavonoid, has been revealed as a potential antitumor agent owing to its various activities, including modulation of EMT in the inflammatory microenvironment. Here, using a transforming growth factor beta (TGF-β)-induced EMT models, we found that LFG-500 inhibited EMT-associated migration and invasion in human breast cancer, MCF-7, and lung adenocarcinoma, A549, cell lines, consistent with the observed downregulation of YAP activity. Further studies demonstrated that LGF-500-induced suppression of YAP activation was mediated by integrin-linked kinase (ILK), suggesting that the ILK/YAP axis might be feasible target for anti-EMT and antimetastatic treatments, which was verified by a correlation analysis with clinical data and tumor specimens. Hence, our data support the use of LGF-500 as an antimetastatic drug in cancer therapy and provide evidence that the ILK/YAP axis is a feasible biomarker of cancer progression and a promising target for repression of EMT and metastasis in cancer therapy.
Access options
Subscribe to Journal
Get full journal access for 1 year
$399.00
only $33.25 per issue
All prices are NET prices.
VAT will be added later in the checkout.
Tax calculation will be finalised during checkout.
Rent or Buy article
Get time limited or full article access on ReadCube.
from$8.99
All prices are NET prices.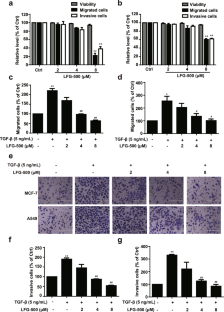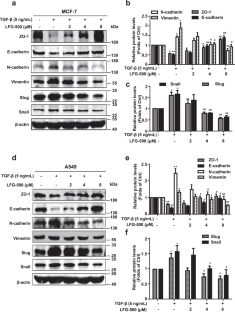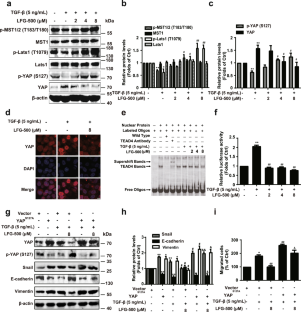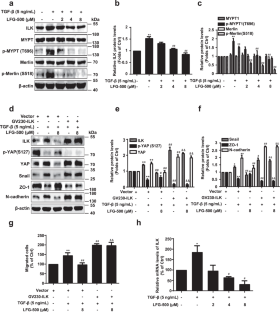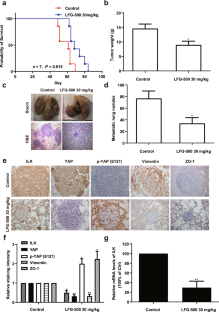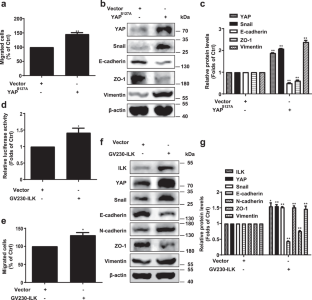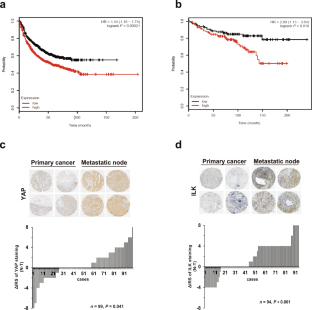 References
1.

Derynck R, Weinberg RA. EMT and cancer: more than meets the eye. Dev Cell. 2019;49:313–6.

2.

Zeisberg M, Neilson EG. Biomarkers for epithelial-mesenchymal transitions. J Clin Invest. 2009;119:1429–37.

3.

Wang H, Li J, He J, Liu Y, Feng W, Zhou H, et al. Methyl-CpG-binding protein 2 drives the Furin/TGF-beta1/Smad axis to promote epithelial-mesenchymal transition in pancreatic cancer cells. Oncogenesis. 2020;9:76.

4.

Mao L, Yang J, Yue J, Chen Y, Zhou H, Fan D, et al. Decorin deficiency promotes epithelial-mesenchymal transition and colon cancer metastasis. Matrix Biol. 2021;95:1–14.

5.

Wang Z, Wu Y, Wang H, Zhang Y, Mei L, Fang X, et al. Interplay of mevalonate and Hippo pathways regulates RHAMM transcription via YAP to modulate breast cancer cell motility. Proc Natl Acad Sci USA. 2014;111:E89–98.

6.

Wang D, Lin L, Lei K, Zeng J, Luo J, Yin Y, et al. Vitamin D3 analogue facilitates epithelial wound healing through promoting epithelial-mesenchymal transition via the Hippo pathway. J Dermatol Sci. 2020;100:120–8.

7.

Shen S, Huang K, Wu Y, Ma Y, Wang J, Qin F, et al. A miR-135b-TAZ positive feedback loop promotes epithelial-mesenchymal transition (EMT) and tumorigenesis in osteosarcoma. Cancer Lett. 2017;407:32–44.

8.

Pobbati AV, Hong W. A combat with the YAP/TAZ-TEAD oncoproteins for cancer therapy. Theranostics. 2020;10:3622–35.

9.

Zhao W, Li LW, Tian RF, Dong QF, Li PQ, Yan ZF, et al. Truncated TEAD-binding protein of TAZ inhibits glioma survival through the induction of apoptosis and repression of epithelial-mesenchymal transition. J Cell Biochem. 2019;120:17337–44.

10.

Qi Q, Li DY, Luo HR, Guan KL, Ye K. Netrin-1 exerts oncogenic activities through enhancing Yes-associated protein stability. Proc Natl Acad Sci USA. 2015;112:7255–60.

11.

Fan R, Kim NG, Gumbiner BM. Regulation of Hippo pathway by mitogenic growth factors via phosphoinositide 3-kinase and phosphoinositide-dependent kinase-1. Proc Natl Acad Sci USA. 2013;110:2569–74.

12.

Yu FX, Zhao B, Panupinthu N, Jewell JL, Lian I, Wang LH, et al. Regulation of the Hippo-YAP pathway by G-protein-coupled receptor signaling. Cell. 2012;150:780–91.

13.

Troussard AA, Costello P, Yoganathan TN, Kumagai S, Roskelley CD, Dedhar S. The integrin linked kinase (ILK) induces an invasive phenotype via AP-1 transcription factor-dependent upregulation of matrix metalloproteinase 9 (MMP-9). Oncogene. 2000;19:5444–52.

14.

Wu C, Keightley SY, Leung-Hagesteijn C, Radeva G, Coppolino M, Goicoechea S, et al. Integrin-linked protein kinase regulates fibronectin matrix assembly, E-cadherin expression, and tumorigenicity. J Biol Chem. 1998;273:528–36.

15.

Duxbury MS, Ito H, Benoit E, Waseem T, Ashley SW, Whang EE. RNA interference demonstrates a novel role for integrin-linked kinase as a determinant of pancreatic adenocarcinoma cell gemcitabine chemoresistance. Clin Cancer Res. 2005;11:3433–8.

16.

Serrano I, McDonald PC, Lock FE, Dedhar S. Role of the integrin-linked kinase (ILK)/Rictor complex in TGFbeta-1-induced epithelial-mesenchymal transition (EMT). Oncogene. 2013;32:50–60.

17.

Zhou W, Peng Z, Zhang C, Liu S, Zhang Y. ILK-induced epithelial-mesenchymal transition promotes the invasive phenotype in adenomyosis. Biochem Biophys Res Commun. 2018;497:950–6.

18.

Louca M, Zaravinos A, Stylianopoulos T, Gkretsi V. ILK silencing inhibits migration and invasion of more invasive glioblastoma cells by downregulating ROCK1 and Fascin-1. Mol Cell Biochem. 2020;471:143–53.

19.

Serrano I, McDonald PC, Lock F, Muller WJ, Dedhar S. Inactivation of the Hippo tumour suppressor pathway by integrin-linked kinase. Nat Commun. 2013;4:2976.

20.

Chakraborty S, Njah K, Pobbati AV, Lim YB, Raju A, Lakshmanan M, et al. Agrin as a mechanotransduction signal regulating YAP through the Hippo pathway. Cell Rep. 2017;18:2464–79.

21.

Li C, Yang D, Cao X, Wang F, Jiang H, Guo H, et al. LFG-500, a newly synthesized flavonoid, attenuates lipopolysaccharide-induced acute lung injury and inflammation in mice. Biochem Pharmacol. 2016;113:57–69.

22.

Li C, Li F, Zhao K, Yao J, Cheng Y, Zhao L, et al. LFG-500 inhibits the invasion of cancer cells via down-regulation of PI3K/AKT/NF-kappaB signaling pathway. PLoS One. 2014;9:e91332.

23.

Yang D, Cao X, Wang F, Jiang H, Feng D, Guo H, et al. LFG-500, a novel synthetic flavonoid, suppresses epithelial-mesenchymal transition in human lung adenocarcinoma cells by inhibiting NLRP3 in inflammatory microenvironment. Cancer Lett. 2017;400:137–48.

24.

Qi Q, Lu N, Li C, Zhao J, Liu W, You Q, et al. Involvement of RECK in gambogic acid induced anti-invasive effect in A549 human lung carcinoma cells. Mol Carcinog. 2015;54:E13–25.

25.

Qi Q, Gu H, Yang Y, Lu N, Zhao J, Liu W, et al. Involvement of matrix metalloproteinase 2 and 9 in gambogic acid induced suppression of MDA-MB-435 human breast carcinoma cell lung metastasis. J Mol Med. 2008;86:1367–77.

26.

Li CL, Lu N, Qi Q, Li FN, Ling Y, Chen Y, et al. Gambogic acid inhibits tumor cell adhesion by suppressing integrin beta 1 and membrane lipid rafts-associated integrin signaling pathway. Biochem Pharmacol. 2011;82:1873–83.

27.

Li X, Tang X, Su J, Xu G, Zhao L, Qi Q. Involvement of E-cadherin/AMPK/mTOR axis in LKB1-induced sensitivity of non-small cell lung cancer to gambogic acid. Biochem Pharmacol. 2019;169:113635.

28.

Qiao Y, Lin SJ, Chen Y, Voon DCC, Zhu F, Chuang LSH, et al. RUNX3 is a novel negative regulator of oncogenic TEAD-YAP complex in gastric cancer. Oncogene. 2016;35:2664–74.

29.

Li C, Yang D, Zhao Y, Qiu Y, Cao X, Yu Y, et al. Inhibitory effects of isorhamnetin on the invasion of human breast carcinoma cells by downregulating the expression and activity of matrix metalloproteinase-2/9. Nutr Cancer. 2015;67:1191–200.

30.

Lin EY, Jones JG, Li P, Zhu L, Whitney KD, Muller WJ, et al. Progression to malignancy in the polyoma middle T oncoprotein mouse breast cancer model provides a reliable model for human diseases. Am J Pathol. 2003;163:2113–26.

31.

Li CL, Zhao YW, Yang D, Yu YY, Guo H, Zhao ZM, et al. Inhibitory effects of kaempferol on the invasion of human breast carcinoma cells by downregulating the expression and activity of matrix metalloproteinase-9. Biochem Cell Biol. 2015;93:16–27.

32.

Weichert W, Roske A, Gekeler V, Beckers T, Ebert MPA, Pross M, et al. Association of patterns of class I histone deacetylase expression with patient prognosis in gastric cancer: a retrospective analysis. Lancet Oncol. 2008;9:139–48.

33.

Cascione M, De Matteis V, Toma CC, Leporatti S. Morphomechanical alterations induced by transforming growth factor-beta1 in epithelial breast cancer cells. Cancers (Basel). 2018;10:234. https://doi.org/10.3390/cancers10070234.

34.

Lu W, Zhang H, Niu Y, Wu Y, Sun W, Li H, et al. Long non-coding RNA linc00673 regulated non-small cell lung cancer proliferation, migration, invasion and epithelial mesenchymal transition by sponging miR-150-5p. Mol Cancer. 2017;16:118.

35.

Garg M. Epithelial-mesenchymal transition—activating transcription factors—multifunctional regulators in cancer. World J Stem Cells. 2013;5:188–95.

36.

Khandelwal M, Anand V, Appunni S, Seth A, Singh P, Mathur S, et al. Decitabine augments cytotoxicity of cisplatin and doxorubicin to bladder cancer cells by activating hippo pathway through RASSF1A. Mol Cell Biochem. 2018;446:105–14.

37.

Meng Z, Moroishi T, Guan KL. Mechanisms of Hippo pathway regulation. Genes Dev. 2016;30:1–17.

38.

Cai Y, Nogales-Cadenas R, Zhang QW, Lin JR, Zhang W, O'Brien K, et al. Transcriptomic dynamics of breast cancer progression in the MMTV-PyMT mouse model. BMC Genomics. 2017;18:185. https://doi.org/10.1186/s12864-017-3563-3.

39.

Yu YP, Luo JH. Phosphorylation and interaction of myopodin by integrin-link kinase lead to suppression of cell growth and motility in prostate cancer cells. Oncogene. 2011;30:4855–63.

40.

Wani AA, Jafarnejad SM, Zhou J, Li G. Integrin-linked kinase regulates melanoma angiogenesis by activating NF-kappaB/interleukin-6 signaling pathway. Oncogene. 2011;30:2778–88.

41.

Hannigan GE, Leung-Hagesteijn C, Fitz-Gibbon L, Coppolino MG, Radeva G, Filmus J, et al. Regulation of cell adhesion and anchorage-dependent growth by a new beta 1-integrin-linked protein kinase. Nature. 1996;379:91–6.

42.

Kunschmann T, Puder S, Fischer T, Perez J, Wilharm N, Mierke CT. Integrin-linked kinase regulates cellular mechanics facilitating the motility in 3D extracellular matrices. Biochim Biophys Acta Mol Cell Res. 2017;1864:580–93.

43.

Zheng CC, Hu HF, Hong P, Zhang QH, Xu WW, He QY, et al. Significance of integrin-linked kinase (ILK) in tumorigenesis and its potential implication as a biomarker and therapeutic target for human cancer. Am J Cancer Res. 2019;9:186–97.

44.

Tang C, Mo X, Niu Q, Wahafu A, Yang X, Qui M, et al. Hypomorph mutation-directed small-molecule protein-protein interaction inducers to restore mutant SMAD4-suppressed TGF-beta signaling. Cell Chem Biol. 2020;S2451-9456:30473-6. https://doi.org/10.1016/j.chembiol.2020.11.010.

45.

Du M, Wang Q, Li W, Ma X, Wu L, Guo F, et al. Overexpression of FOXO1 ameliorates the podocyte epithelial-mesenchymal transition induced by high glucose in vitro and in vivo. Biochem Biophys Res Commun. 2016;471:416–22.

46.

Canel M, Serrels A, Frame MC, Brunton VG. E-cadherin-integrin crosstalk in cancer invasion and metastasis. J Cell Sci. 2013;126:393–401.

47.

Rothe K, Babaian A, Nakamichi N, Chen M, Chafe SC, Watanabe A, et al. Integrin-linked kinase mediates therapeutic resistance of quiescent CML stem cells to tyrosine kinase inhibitors. Cell Stem Cell. 2020;27:110.

48.

Xing Y, Qi J, Deng S, Wang C, Zhang L, Chen J. Small interfering RNA targeting ILK inhibits metastasis in human tongue cancer cells through repression of epithelial-to-mesenchymal transition. Exp Cell Res. 2013;319:2058–72.

49.

Lee SL, Hsu EC, Chou CC, Chuang HC, Bai LY, Kulp SK, et al. Identification and characterization of a novel integrin-linked kinase inhibitor. J Med Chem. 2011;54:6364–74.

50.

Hosseinzadeh E, Hassanzadeh A, Marofi F, Alivand MR, Solali S. Flavonoid-based cancer therapy: an updated review. Anticancer Agents Med Chem. 2020;20:1398–414.
Acknowledgements
The authors are grateful to Professor Qing-long Guo, who kindly provided LFG-500, to Professor Xiu-ping Zhou for YAP (S127A) plasmid, and to Dr. Hai-ying Li and Dr. Ying Zhang (Department of pathology, Basic Medical Sciences of Xuzhou Medical University) for the assessment of immunohistochemistry. This work was supported by the National Natural Science Foundation of China (grant no. 81402969 and 81973341), supported by the 333 High-level Talents Project of Jiangsu Province, the Six Talent Peaks Project in Jiangsu Province (grant no. 2017-SWYY-075), the Science and Technology Program of Guangzhou (grant no. 202002030010), and the Fundamental Research Funds for the Central Universities (grant no. 21620426), the Science and Technology Innovation Promoting Project of Xuzhou (grant no. KC20066), and the National Demonstration Center for Experimental Basic Medical Science Education (Xuzhou Medical University).
Ethics declarations
Competing interests
The authors declare no competing interests.
Supplementary Information
About this article
Cite this article
Li, Cl., Li, J., Gong, Sy. et al. Targeting the ILK/YAP axis by LFG-500 blocks epithelial–mesenchymal transition and metastasis. Acta Pharmacol Sin (2021). https://doi.org/10.1038/s41401-021-00655-y
Received:

Accepted:

Published:
Keywords
epithelial–mesenchymal transition

metastasis

LFG-500

YAP

ILK