Abstract
Our previous study showed that chronic treatment with tumor necrosis factor-α (TNF-α) decreased cAMP concentration in fibroblast-like synoviocytes (FLSs) of collagen-induced arthritis (CIA) rats. In this study we investigated how TNF-α impairs cAMP homeostasis, particularly clarifying the potential downstream molecules of TNF-α and prostaglandin receptor 4 (EP4) signaling that would interact with each other. Using a cAMP FRET biosensor PM-ICUE3, we demonstrated that TNF-α (20 ng/mL) blocked ONO-4819-triggered EP4 signaling, but not Butaprost-triggered EP2 signaling in normal rat FLSs. We showed that TNF-α (0.02–20 ng/mL) dose-dependently reduced EP4 membrane distribution in normal rat FLS. TNF-α significantly increased TNF receptor 2 (TNFR2) expression and stimulated proliferation in human FLS (hFLS) via ecruiting TNF receptor-associated factor 2 (TRAF2) to cell membrane. More interestingly, we revealed that TRAF2 interacted with G protein-coupled receptor kinase (GRK2) in the cytoplasm of primary hFLS and helped to bring GRK2 to cell membrane in response of TNF-α stimulation, the complex of TRAF2 and GRK2 then separated on the membrane, and translocated GRK2 induced the desensitization and internalization of EP4, leading to reduced production of intracellular cAMP. Silencing of TRAF2 by siRNA substantially diminished TRAF2-GRK2 interaction, blocked the translocation of GRK2, and resulted in upregulated expression of membrane EP4 and intracellular cAMP. In CIA rats, administration of paroxetine to inhibit GRK2 effectively improved the symptoms and clinic parameters with significantly reduced joint synovium inflammation and bone destruction. These results elucidate a novel form of cross-talk between TNFR (a cytokine receptor) and EP4 (a typical G protein-coupled receptor) signaling pathways. The interaction between TRAF2 and GRK2 may become a potential new drug target for the treatment of inflammatory diseases.
Access options
Subscribe to Journal
Get full journal access for 1 year
$399.00
only $33.25 per issue
All prices are NET prices.
VAT will be added later in the checkout.
Tax calculation will be finalised during checkout.
Rent or Buy article
Get time limited or full article access on ReadCube.
from$8.99
All prices are NET prices.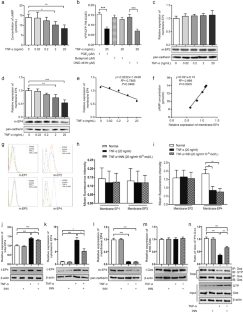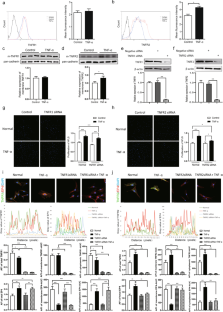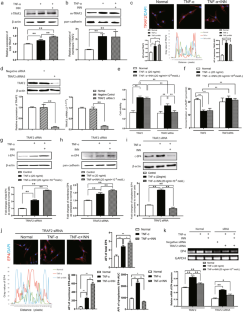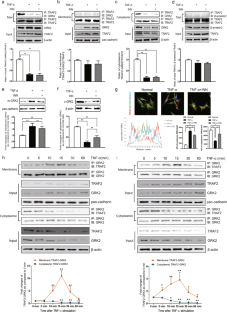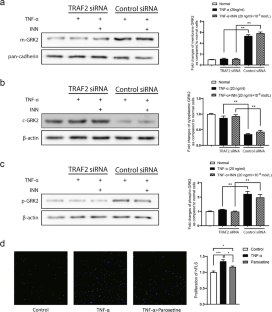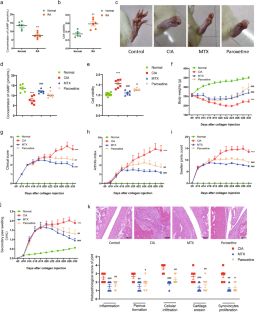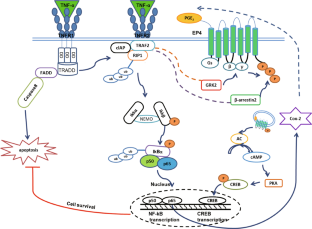 References
1.

Dayer JM. From supernatants to cytokines: a personal view on the early history of IL-1, IL-1Ra, TNF and its inhibitor in rheumatology. Arthritis Res Ther. 2018;20:101.

2.

Ursini F, Leporini C, Bene F, D'Angelo S, Mauro D, Russo E, et al. Anti-TNF-alpha agents and endothelial function in rheumatoid arthritis: a systematic review and meta-analysis. Sci Rep. 2017;7:5346.

3.

Jia XY, Chang Y, Sun XJ, Dai X, Wei W. The role of prostaglandin E2 receptor signaling of dendritic cells in rheumatoid arthritis. Int Immunopharmacol. 2014;23:163–9.

4.

Samuels JS, Holland L, Lopez M, Meyers K, Cumbie WG, McClain A, et al. Prostaglandin E2 and IL-23 interconnects STAT3 and RoRgamma pathways to initiate Th17 CD4+ T-cell development during rheumatoid arthritis. Inflamm Res. 2018;67:589–96.

5.

Lowin T, Apitz M, Anders S, Straub RH. Anti-inflammatory effects of N-acylethanolamines in rheumatoid arthritis synovial cells are mediated by TRPV1 and TRPA1 in a COX-2 dependent manner. Arthritis Res Ther. 2015;17:321.

6.

Li H, Chen HY, Liu WX, Jia XX, Zhang JG, Ma CL, et al. Prostaglandin E2 restrains human Treg cell differentiation via E prostanoid receptor 2-protein kinase A signaling. Immunol Lett. 2017;191:63–72.

7.

Frolov A, Yang L, Dong H, Hammock BD, Crofford LJ. Anti-inflammatory properties of prostaglandin E2: deletion of microsomal prostaglandin E synthase-1 exacerbates non-immune inflammatory arthritis in mice. Prostaglandins Leukot Ess Fat Acids. 2013;89:351–8.

8.

Shibata-Nozaki T, Ito H, Mitomi H, Akaogi J, Komagata T, Kanaji T, et al. Endogenous prostaglandin E2 inhibits aberrant overgrowth of rheumatoid synovial tissue and the development of osteoclast activity through EP4 receptor. Arthritis Rheum. 2011;63:2595–605.

9.

Treutlein EM, Kern K, Weigert A, Tarighi N, Schuh CD, Nusing RM, et al. The prostaglandin E2 receptor EP3 controls CC-chemokine ligand 2-mediated neuropathic pain induced by mechanical nerve damage. J Biol Chem. 2018;293:9685–95.

10.

Kawashima M, Ogura N, Akutsu M, Ito K, Kondoh T. The anti-inflammatory effect of cyclooxygenase inhibitors in fibroblast-like synoviocytes from the human temporomandibular joint results from the suppression of PGE2 production. J Oral Pathol Med. 2013;42:499–506.

11.

Vitali E, Cambiaghi V, Spada A, Tresoldi A, Zerbi A, Peverelli E, et al. cAMP effects in neuroendocrine tumors: The role of Epac and PKA in cell proliferation and adhesion. Exp Cell Res. 2015;339:241–51.

12.

Liu D, Huang Y, Bu D, Liu AD, Holmberg L, Jia Y, et al. Sulfur dioxide inhibits vascular smooth muscle cell proliferation via suppressing the Erk/MAP kinase pathway mediated by cAMP/PKA signaling. Cell Death Dis. 2014;5:e1251.

13.

Uemura Y, Shibata R, Ohashi K, Enomoto T, Kambara T, Yamamoto T, et al. Adipose-derived factor CTRP9 attenuates vascular smooth muscle cell proliferation and neointimal formation. FASEB J. 2013;27:25–33.

14.

Xie J, Ponuwei GA, Moore CE, Willars GB, Tee AR, Herbert TP. cAMP inhibits mammalian target of rapamycin complex-1 and -2 (mTORC1 and 2) by promoting complex dissociation and inhibiting mTOR kinase activity. Cell Signal. 2011;23:1927–35.

15.

Sun L, Zhao R, Zhang L, Zhang W, He G, Yang S, et al. Prevention of vascular smooth muscle cell proliferation and injury-induced neointimal hyperplasia by CREB-mediated p21 induction: an insight from a plant polyphenol. Biochem Pharmacol. 2016;103:40–52.

16.

Park ES, Choi S, Shin B, Yu J, Yu J, Hwang JM, et al. Tumor necrosis factor (TNF) receptor-associated factor (TRAF)-interacting protein (TRIP) negatively regulates the TRAF2 ubiquitin-dependent pathway by suppressing the TRAF2-sphingosine 1-phosphate (S1P) interaction. J Biol Chem. 2015;290:9660–73.

17.

Chang Y, Wei W, Zhang L, Xu HM. Effects and mechanisms of total glucosides of paeony on synoviocytes activities in rat collagen-induced arthritis. J Ethnopharmacol. 2009;121:43–8.

18.

Wang QT, Zhang LL, Wu HX, Wei W. The expression change of beta-arrestins in fibroblast-like synoviocytes from rats with collagen-induced arthritis and the effect of total glucosides of paeony. J Ethnopharmacol. 2011;133:511–6.

19.

Huang B, Wang QT, Song SS, Wu YJ, Ma YK, Zhang LL, et al. Combined use of etanercept and MTX restores CD4+/CD8+ ratio and Tregs in spleen and thymus in collagen-induced arthritis. Inflamm Res. 2012;61:1229–39.

20.

Nair A, Kanda V, Bush-Joseph C, Verma N, Chubinskaya S, Mikecz K, et al. Synovial fluid from patients with early osteoarthritis modulates fibroblast-like synoviocyte responses to toll-like receptor 4 and toll-like receptor 2 ligands via soluble CD14. Arthritis Rheum. 2012;64:2268–77.

21.

Lane JR, Beukers MW, Mulder-Krieger T, Ijzerman AP. The endocannabinoid 2-arachidonylglycerol is a negative allosteric modulator of the human A3 adenosine receptor. Biochem Pharmacol. 2010;79:48–56.

22.

Sun Z, Runne C, Tang X, Lin F, Chen S. The Gbeta3 splice variant associated with the C825T gene polymorphism is an unstable and functionally inactive protein. Cell Signal. 2012;24:2349–59.

23.

Han YS, Lan L, Chu J, Kang WQ, Ge ZM. Epigallocatechin gallate attenuated the activation of rat cardiac fibroblasts induced by angiotensin II via regulating beta-arrestin1. Cell Physiol Biochem. 2013;31:338–46.

24.

Isono E, Schwechheimer C. Co-immunoprecipitation and protein blots. Methods Mol Biol. 2010;655:377–87.

25.

Huang C, Dai X, Chai W. Human Stn1 protects telomere integrity by promoting efficient lagging-strand synthesis at telomeres and mediating C-strand fill-in. Cell Res. 2012;22:1681–95.

26.

Foudi N, Kotelevets L, Louedec L, Leseche G, Henin D, Chastre E, et al. Vasorelaxation induced by prostaglandin E2 in human pulmonary vein: role of the EP4 receptor subtype. Br J Pharmacol. 2008;154:1631–9.

27.

Angiolilli C, Kabala PA, Grabiec AM, Rossato M, Lai WS, Fossati G, et al. Control of cytokine mRNA degradation by the histone deacetylase inhibitor ITF2357 in rheumatoid arthritis fibroblast-like synoviocytes: beyond transcriptional regulation. Arthritis Res Ther. 2018;20:148.

28.

Wang H, Dong BW, Zheng ZH, Wu ZB, Li W, Ding J. Metastasis-associated protein 1 (MTA1) signaling in rheumatoid synovium: regulation of inflammatory response and cytokine-mediated production of prostaglandin E2 (PGE2). Biochem Biophys Res Commun. 2016;473:442–8.

29.

Quistad SD, Traylor-Knowles N. Precambrian origins of the TNFR superfamily. Cell Death Discov. 2016;2:16058.

30.

Cabal-Hierro L, Lazo PS. Signal transduction by tumor necrosis factor receptors. Cell Signal. 2012;24:1297–305.

31.

Legler DF, Micheau O, Doucey MA, Tschopp J, Bron C. Recruitment of TNF receptor 1 to lipid rafts is essential for TNFalpha-mediated NF-kappaB activation. Immunity. 2003;18:655–64.

32.

Lodowski DT, Barnhill JF, Pyskadlo RM, Ghirlando R, Sterne-Marr R, Tesmer JJ. The role of G beta gamma and domain interfaces in the activation of G protein-coupled receptor kinase 2. Biochemistry. 2005;44:6958–70.

33.

Park HH. Structure of TRAF family: current understanding of receptor recognition. Front Immunol. 2018;9:1999.

34.

Schumacher SM, Gao E, Zhu W, Chen X, Chuprun JK, Feldman AM, et al. Paroxetine-mediated GRK2 inhibition reverses cardiac dysfunction and remodeling after myocardial infarction. Sci Transl Med. 2015;7:277ra231.

35.

Stork PJ, Schmitt JM. Crosstalk between cAMP and MAP kinase signaling in the regulation of cell proliferation. Trends Cell Biol. 2002;12:258–66.

36.

Youn J, Kim HY, Park JH, Hwang SH, Lee SY, Cho CS, et al. Regulation of TNF-alpha-mediated hyperplasia through TNF receptors, TRAFs, and NF-kappaB in synoviocytes obtained from patients with rheumatoid arthritis. Immunol Lett. 2002;83:85–93.

37.

De Keijzer S, Meddens MB, Torensma R, Cambi A. The multiple faces of prostaglandin E2 G-protein coupled receptor signaling during the dendritic cell life cycle. Int J Mol Sci. 2013;14:6542–55.

38.

Kunisch E, Jansen A, Kojima F, Loffler I, Kapoor M, Kawai S, et al. Prostaglandin E2 differentially modulates proinflammatory/prodestructive effects of TNF-alpha on synovial fibroblasts via specific E prostanoid receptors/cAMP. J Immunol. 2009;183:1328–36.

39.

Woodward DF, Jones RL, Narumiya S. International Union of Basic and Clinical Pharmacology. LXXXIII: classification of prostanoid receptors, updating 15 years of progress. Pharmacol Rev. 2011;63:471–538.

40.

Axelsson H, Lonnroth C, Andersson M, Lundholm K. Mechanisms behind COX-1 and COX-2 inhibition of tumor growth in vivo. Int J Oncol. 2010;37:1143–52.

41.

Lin WJ, Su YW, Lu YC, Hao Z, Chio II, Chen NJ, et al. Crucial role for TNF receptor-associated factor 2 (TRAF2) in regulating NFkappaB2 signaling that contributes to autoimmunity. Proc Natl Acad Sci USA. 2011;108:18354–9.

42.

Crunkhorn S. Inflammatory disorders: targeting TRAFs tames inflammation. Nat Rev Drug Discov. 2013;12:423.

43.

Rodriguez M, Cabal-Hierro L, Carcedo MT, Iglesias JM, Artime N, Darnay BG, et al. NF-kappaB signal triggering and termination by tumor necrosis factor receptor 2. J Biol Chem. 2011;286:22814–24.

44.

Kim S, Lewis C, Nadel JA. Epidermal growth factor receptor reactivation induced by E-prostanoid-3 receptor- and tumor necrosis factor-alpha-converting enzyme-dependent feedback exaggerates interleukin-8 production in airway cancer (NCI-H292) cells. Exp Cell Res. 2011;317:2650–60.

45.

Alvarez SE, Harikumar KB, Hait NC, Allegood J, Strub GM, Kim EY, et al. Sphingosine-1-phosphate is a missing cofactor for the E3 ubiquitin ligase TRAF2. Nature. 2010;465:1084–8.

46.

Niedermeier M, Pap T, Korb A. Therapeutic opportunities in fibroblasts in inflammatory arthritis. Best Pr Res Clin Rheumatol. 2010;24:527–40.

47.

Bartok B, Firestein GS. Fibroblast-like synoviocytes: key effector cells in rheumatoid arthritis. Immunol Rev. 2010;233:233–55.

48.

Doherty GA, Byrne SM, Molloy ES, Malhotra V, Austin SC, Kay EW, et al. Proneoplastic effects of PGE2 mediated by EP4 receptor in colorectal cancer. BMC Cancer. 2009;9:207.

49.

Murdaca G, Colombo BM, Cagnati P, Gulli R, Spano F, Puppo F. Update upon efficacy and safety of TNF-alpha inhibitors. Expert Opin Drug Saf. 2012;11:1–5.

50.

Ehlers S. Role of tumour necrosis factor (TNF) in host defence against tuberculosis: implications for immunotherapies targeting TNF. Ann Rheum Dis. 2003;62(Suppl 2):ii37–42.

51.

Canete JD, Pablos JL. Biologic therapy in rheumatoid arthritis. Curr Top Med Chem. 2013;13:752–9.

52.

Eijkelkamp N, Wang H, Garza-Carbajal A, Willemen HL, Zwartkruis FJ, Wood JN, et al. Low nociceptor GRK2 prolongs prostaglandin E2 hyperalgesia via biased cAMP signaling to Epac/Rap1, protein kinase Cepsilon, and MEK/ERK. J Neurosci. 2010;30:12806–15.

53.

Nichols HL, Saffeddine M, Theriot BS, Hegde A, Polley D, El-Mays T, et al. beta-Arrestin-2 mediates the proinflammatory effects of proteinase-activated receptor-2 in the airway. Proc Natl Acad Sci USA. 2012;109:16660–5.

54.

Penn RB, Pascual RM, Kim YM, Mundell SJ, Krymskaya VP, Panettieri RA Jr., et al. Arrestin specificity for G protein-coupled receptors in human airway smooth muscle. J Biol Chem. 2001;276:32648–56.

55.

Shi CS, Kehrl JH. Tumor necrosis factor (TNF)-induced germinal center kinase-related (GCKR) and stress-activated protein kinase (SAPK) activation depends upon the E2/E3 complex Ubc13-Uev1A/TNF receptor-associated factor 2 (TRAF2). J Biol Chem. 2003;278:15429–34.

56.

Liu H, Nishitoh H, Ichijo H, Kyriakis JM. Activation of apoptosis signal-regulating kinase 1 (ASK1) by tumor necrosis factor receptor-associated factor 2 requires prior dissociation of the ASK1 inhibitor thioredoxin. Mol Cell Biol. 2000;20:2198–208.

57.

Kalsoom UE, Habib R, Khan B, Ali G, Ali N, Ansar M, et al. Mutations in lipase H gene underlie autosomal recessive hypotrichosis in five Pakistani families. Acta Derm Venereol. 2010;90:93–4.

58.

Ke F, Zhang L, Liu Z, Yan S, Xu Z, Bai J, et al. Soluble tumor necrosis factor receptor 1 released by skin-derived mesenchymal stem cells is critical for inhibiting Th17 cell differentiation. Stem Cells Transl Med. 2016;5:301–13.

59.

Wheeler MA, Heffner DL, Kim S, Espy SM, Spano AJ, Cleland CL, et al. TNF-alpha/TNFR1 signaling is required for the development and function of primary nociceptors. Neuron. 2014;82:587–602.

60.

Evron T, Daigle TL, Caron MG. GRK2: multiple roles beyond G protein-coupled receptor desensitization. Trends Pharmacol Sci. 2012;33:154–64.

61.

Vroon A, Heijnen CJ, Kavelaars A. GRKs and arrestins: regulators of migration and inflammation. J Leukoc Biol. 2006;80:1214–21.

62.

Chen JY, Wu HX, Chen Y, Zhang LL, Wang QT, Sun WY, et al. Paeoniflorin inhibits proliferation of fibroblast-like synoviocytes through suppressing G-protein-coupled receptor kinase 2. Planta Med. 2012;78:665–71.

63.

Tarrant TK, Rampersad RR, Esserman D, Rothlein LR, Liu P, Premont RT, et al. Granulocyte chemotaxis and disease expression are differentially regulated by GRK subtype in an acute inflammatory arthritis model (K/BxN). Clin Immunol. 2008;129:115–22.

64.

Ribas C, Penela P, Murga C, Salcedo A, Garcia-Hoz C, Jurado-Pueyo M, et al. The G protein-coupled receptor kinase (GRK) interactome: role of GRKs in GPCR regulation and signaling. Biochim Biophys Acta. 2007;1768:913–22.

65.

Khanna D, Park GS, Paulus HE, Simpson KM, Elashoff D, Cohen SB, et al. Reduction of the efficacy of methotrexate by the use of folic acid: post hoc analysis from two randomized controlled studies. Arthritis Rheum. 2005;52:3030–8.
Acknowledgements
This work was financially supported by the National Natural Science Foundation of China (81973332, 81973314, 81673444, 81330081 and 81202541), the Anhui Provincial Natural Science Foundation for Distinguished Young Scholars (1808085J28), the Key Projects of Natural Science Research of Anhui Colleges and Universities (KJ2017A176), the Anhui University Excellent Youth Talent Support Program (gxyqZD2017025), the Innovation and Entrepreneurship Support Program for Returnees of Anhui Province (2017), The University Synergy Innovation Program of Anhui Province (GXXT-2020-066), the Program for Upgrading Scientific Research Level of Anhui Medical University (2019xkjT008), and the Program for Upgrading Basic and Clinical Collaborative Research of Anhui Medical University (2020xkjT033).
Ethics declarations
Competing interests
The authors declare no competing interests.
About this article
Cite this article
Tai, Y., Huang, B., Guo, Pp. et al. TNF-α impairs EP4 signaling through the association of TRAF2-GRK2 in primary fibroblast-like synoviocytes. Acta Pharmacol Sin (2021). https://doi.org/10.1038/s41401-021-00654-z
Received:

Accepted:

Published:
Keywords
rheumatoid arthritis

fibroblast-like synoviocytes

TNFR2

TRAF2

GRK2

EP4