Abstract
Mantle cell lymphoma (MCL) is a lymphoproliferative disorder lacking reliable therapies. PI3K pathway contributes to the pathogenesis of MCL, serving as a potential target. However, idelalisib, an FDA-approved drug targeting PI3Kδ, has shown intrinsic resistance in MCL treatment. Here we report that a p300/CBP inhibitor, A-485, could overcome resistance to idelalisib in MCL cells in vitro and in vivo. A-485 was discovered in a combinational drug screening from an epigenetic compound library containing 45 small molecule modulators. We found that A-485, the highly selective catalytic inhibitor of p300 and CBP, was the most potent compound that enhanced the sensitivity of MCL cell line Z-138 to idelalisib. Combination of A-485 and idelalisib remarkably decreased the viability of three MCL cell lines tested. Co-treatment with A-485 and idelalisib in Maver-1 and Z-138 MCL cell xenograft mice for 3 weeks dramatically suppressed the tumor growth by reversing the unsustained inhibition in PI3K downstream signaling. We further demonstrated that p300/CBP inhibition decreased histone acetylation at RTKs gene promoters and reduced transcriptional upregulation of RTKs, thereby inhibiting the downstream persistent activation of MAPK/ERK signaling, which also contributed to the pathogenesis of MCL. Therefore, additional inhibition of p300/CBP blocked MAPK/ERK signaling, which rendered maintaining activation to PI3K-mTOR downstream signals p-S6 and p-4E-BP1, thus leading to suppression of cell growth and tumor progression and eliminating the intrinsic resistance to idelalisib ultimately. Our results provide a promising combination therapy for MCL and highlight the potential use of epigenetic inhibitors targeting p300/CBP to reverse drug resistance in tumor.
Access options
Subscribe to Journal
Get full journal access for 1 year
$399.00
only $33.25 per issue
All prices are NET prices.
VAT will be added later in the checkout.
Tax calculation will be finalised during checkout.
Rent or Buy article
Get time limited or full article access on ReadCube.
from$8.99
All prices are NET prices.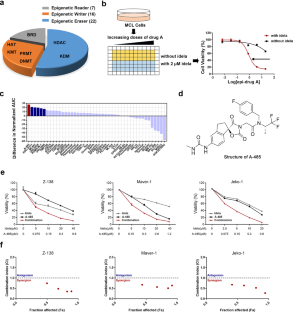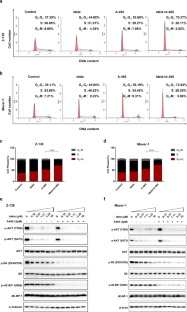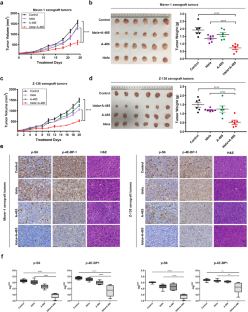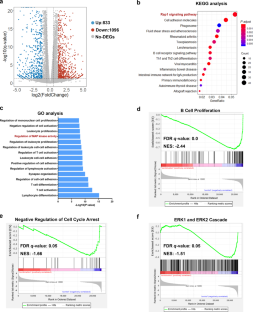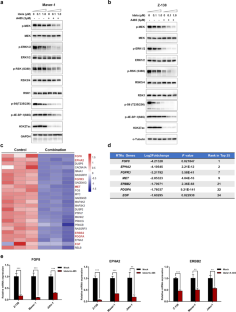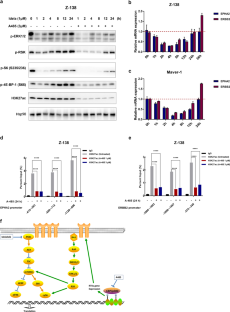 References
1.

Ghielmini M, Zucca E. How I treat mantle cell lymphoma. Blood. 2009;114:1469–76.

2.

Weigert O, Unterhalt M, Hiddemann W, Dreyling M. Mantle cell lymphoma: state-of-the-art management and future perspective. Leuk Lymphoma. 2009;50:1937–50.

3.

Hoster E, Dreyling M, Klapper W, Gisselbrecht C, van Hoof A, Kluin-Nelemans HC, et al. A new prognostic index (MIPI) for patients with advanced-stage mantle cell lymphoma. Blood. 2008;111:558–65.

4.

Jares P, Colomer D, Campo E. Molecular pathogenesis of mantle cell lymphoma. J Clin Invest. 2012;122:3416–23.

5.

Samuels Y, Wang Z, Bardelli A, Silliman N, Ptak J, Szabo S, et al. High frequency of mutations of the PIK3CA gene in human cancers. Science. 2004;304:554.

6.

Rudelius M, Pittaluga S, Nishizuka S, Pham TH, Fend F, Jaffe ES, et al. Constitutive activation of Akt contributes to the pathogenesis and survival of mantle cell lymphoma. Blood. 2006;108:1668–76.

7.

Dal Col J, Zancai P, Terrin L, Guidoboni M, Ponzoni M, Pavan A, et al. Distinct functional significance of Akt and mTOR constitutive activation in mantle cell lymphoma. Blood. 2008;111:5142–51.

8.

Rizzatti EG, Falcao RP, Panepucci RA, Proto-Siqueira R, Anselmo-Lima WT, Okamoto OK, et al. Gene expression profiling of mantle cell lymphoma cells reveals aberrant expression of genes from the PI3K-AKT, WNT and TGFbeta signalling pathways. Br J Haematol. 2005;130:516–26.

9.

Manning BD, Toker A. AKT/PKB signaling: navigating the network. Cell. 2017;169:381–405.

10.

Malka-Mahieu H, Newman M, Desaubry L, Robert C, Vagner S. Molecular pathways: the eIF4F translation initiation complex-new opportunities for cancer treatment. Clin Cancer Res. 2017;23:21–5.

11.

Vanhaesebroeck B, Welham MJ, Kotani K, Stein R, Warne PH, Zvelebil MJ, et al. P110delta, a novel phosphoinositide 3-kinase in leukocytes. Proc Natl Acad Sci USA. 1997;94:4330–5.

12.

Kahl B, Byrd JC, Flinn IW, Wagner-Johnston N, Spurgeon S, Benson D, et al. Clinical safety and activity in a phase 1 study of CAL-101, an isoform-selective inhibitor of phosphatidylinositol 3-kinase P110d, in patients with relapsed or refractory non-Hodgkin lymphoma [abstract]. Blood. 2010;116:1777.

13.

Jacobson C, Kopp N, Layer JV, Redd RA, Tschuri S, Haebe S, et al. HSP90 inhibition overcomes ibrutinib resistance in mantle cell lymphoma. Blood. 2016;128:2517–26.

14.

Ripperger T, von Neuhoff N, Kamphues K, Emura M, Lehmann U, Tauscher M, et al. Promoter methylation of PARG1, a novel candidate tumor suppressor gene in mantle-cell lymphomas. Haematologica. 2007;92:460–8.

15.

Hrgovic I, Doll M, Kleemann J, Wang XF, Zoeller N, Pinter A, et al. The histone deacetylase inhibitor trichostatin a decreases lymphangiogenesis by inducing apoptosis and cell cycle arrest via p21-dependent pathways. BMC Cancer. 2016;16:763.

16.

Kitazawa S, Kitazawa R, Maeda S. Transcriptional regulation of rat cyclin D1 gene by CpG methylation status in promoter region. J Biol Chem. 1999;274:28787–93.

17.

Spurgeon SE, Sharma K, Claxton DF, Ehmann C, Gallagher C, Shimko S, et al. Final results of a phase 1-2 STUDY OF VORINOSTAT (SAHA), cladribine, and rituximab (SCR) relapsed B-cell non-Hodgkin's lymphoma and previously untreated mantle cell lymphoma. Blood. 2014;124:1714. https://ashpublications.org/blood/article/128/22/1792/91238/The-Results-of-a-Phase-I-Study-using-Velcade?searchresult=1.

18.

Pu JJ, Ehmann WC, Liao J, Capper C, Levy M, Claxton DF, et al. The results of a phase I study using Velcade, Cladribine and Rituximab (VCR) in treating mantle cell lymphoma. Blood. 2016;128:1792. https://ashpublications.org/blood/article/124/21/1714/88341/Final-Results-of-a-Phase-1-2-Study-of-Vorinostat?searchresult=1.

19.

Puvvada SD, Guillen-Rodriguez J, Kumar A, Inclan L, Heard K, Rivera XI, et al. Phase 2 open-label study of bortezomib, cladribine, and rituximab in advanced, newly diagnosed, and relapsed/refractory mantle-cell and indolent lymphomas. Clin Lymphoma Myeloma Leuk. 2018;18:58–64.

20.

Carracedo A, Ma L, Teruya-Feldstein J, Rojo F, Salmena L, Alimonti A, et al. Inhibition of mTORC1 leads to MAPK pathway activation through a PI3K-dependent feedback loop in human cancer. J Clin Invest. 2008;118:3065–74.

21.

Leonard B, Brand TM, O'Keefe RA, Lee ED, Zeng Y, Kemmer JD, et al. BET inhibition overcomes receptor tyrosine kinase-mediated cetuximab resistance in HNSCC. Cancer Res. 2018;78:4331–43.

22.

Paoluzzi L, Hanniford D, Sokolova E, Osman I, Darvishian F, Wang J, et al. BET and BRAF inhibitors act synergistically against BRAF-mutant melanoma. Cancer Med. 2016;5:1183–93.

23.

Sun C, Yin J, Fang Y, Chen J, Jeong KJ, Chen X, et al. BRD4 inhibition is synthetic lethal with PARP inhibitors through the induction of homologous recombination deficiency. Cancer Cell. 2018;33:401–16.e8.

24.

Liao Y, Smyth GK, Shi W. featureCounts: an efficient general purpose program for assigning sequence reads to genomic features. Bioinformatics. 2014;30:923–30.

25.

Love MI, Huber W, Anders S. Moderated estimation of fold change and dispersion for RNA-seq data with DESeq2. Genome Biol. 2014;15:550.

26.

Vora SR, Juric D, Kim N, Mino-Kenudson M, Huynh T, Costa C, et al. CDK 4/6 inhibitors sensitize PIK3CA mutant breast cancer to PI3K inhibitors. Cancer Cell. 2014;26:136–49.

27.

Lasko LM, Jakob CG, Edalji RP, Qiu W, Montgomery D, Digiammarino EL, et al. Discovery of a selective catalytic p300/CBP inhibitor that targets lineage-specific tumours. Nature. 2017;550:128–32.

28.

Pei Y, Liu KW, Wang J, Garancher A, Tao R, Esparza LA, et al. HDAC and PI3K antagonists cooperate to inhibit growth of MYC-driven medulloblastoma. Cancer Cell. 2016;29:311–23.

29.

Chou TC. The median effect principle and the combination index for quantitation of synergism and antagonism. San Diego, Calif: Academic Press; 1991.

30.

Laplante M, Sabatini DM. mTOR signaling in growth control and disease. Cell. 2012;149:274–93.

31.

Bos JL, de Rooij J, Reedquist KA. Rap1 signalling: adhering to new models. Nat Rev Mol Cell Biol. 2001;2:369–77.

32.

Minato N, Kometani K, Hattori M. Regulation of immune responses and hematopoiesis by the Rap1 signal. Adv Immunol. 2007;93:229–64.

33.

Widmann C, Gibson S, Jarpe MB, Johnson GL. Mitogen-activated protein kinase: conservation of a three-kinase module from yeast to human. Physiol Rev. 1999;79:143–80.

34.

Ma L, Chen Z, Erdjument-Bromage H, Tempst P, Pandolfi PP. Phosphorylation and functional inactivation of TSC2 by Erk implications for tuberous sclerosis and cancer pathogenesis. Cell. 2005;121:179–93.

35.

Moelling K, Schad K, Bosse M, Zimmermann S, Schweneker M. Regulation of Raf-Akt cross-talk. J Biol Chem. 2002;277:31099–106.

36.

Janku F, Wheler JJ, Westin SN, Moulder SL, Naing A, Tsimberidou AM, et al. PI3K/AKT/mTOR inhibitors in patients with breast and gynecologic malignancies harboring PIK3CA mutations. J Clin Oncol. 2012;30:777–82.

37.

Di Nicolantonio F, Arena S, Tabernero J, Grosso S, Molinari F, Macarulla T, et al. Deregulation of the PI3K and KRAS signaling pathways in human cancer cells determines their response to everolimus. J Clin Invest. 2010;120:2858–66.

38.

Janku F, Tsimberidou AM, Garrido-Laguna I, Wang X, Luthra R, Hong DS, et al. PIK3CA mutations in patients with advanced cancers treated with PI3K/AKT/mTOR axis inhibitors. Mol Cancer Ther. 2011;10:558–65.

39.

Serra V, Eichhorn PJ, Garcia-Garcia C, Ibrahim YH, Prudkin L, Sanchez G, et al. RSK3/4 mediate resistance to PI3K pathway inhibitors in breast cancer. J Clin Invest. 2013;123:2551–63.

40.

Lemmon MA, Schlessinger J. Cell signaling by receptor tyrosine kinases. Cell. 2010;141:1117–34.

41.

Chang L, Karin M. Mammalian MAP kinase signalling cascades. Nature. 2001;410:37–40.

42.

Serra V, Scaltriti M, Prudkin L, Eichhorn PJ, Ibrahim YH, Chandarlapaty S, et al. PI3K inhibition results in enhanced HER signaling and acquired ERK dependency in HER2-overexpressing breast cancer. Oncogene. 2011;30:2547–57.

43.

Jin Q, Yu LR, Wang L, Zhang Z, Kasper LH, Lee JE, et al. Distinct roles of GCN5/PCAF-mediated H3K9ac and CBP/p300-mediated H3K18/27ac in nuclear receptor transactivation. EMBO J. 2011;30:249–62.

44.

Wang Z, Zang C, Cui K, Schones DE, Barski A, Peng W, et al. Genome-wide mapping of HATs and HDACs reveals distinct functions in active and inactive genes. Cell. 2009;138:1019–31.

45.

Yan F, Al-Kali A, Zhang Z, Liu J, Pang J, Zhao N, et al. A dynamic N(6)-methyladenosine methylome regulates intrinsic and acquired resistance to tyrosine kinase inhibitors. Cell Res. 2018;28:1062–76.

46.

Johannessen CM, Johnson LA, Piccioni F, Townes A, Frederick DT, Donahue MK, et al. A melanocyte lineage program confers resistance to MAP kinase pathway inhibition. Nature. 2013;504:138–42.

47.

Munster PN, Thurn KT, Thomas S, Raha P, Lacevic M, Miller A, et al. A phase II study of the histone deacetylase inhibitor vorinostat combined with tamoxifen for the treatment of patients with hormone therapy-resistant breast cancer. Br J Cancer. 2011;104:1828–35.

48.

Asangani IA, Dommeti VL, Wang X, Malik R, Cieslik M, Yang R, et al. Therapeutic targeting of BET bromodomain proteins in castration-resistant prostate cancer. Nature. 2014;510:278–82.

49.

Pawar A, Gollavilli PN, Wang S, Asangani IA. Resistance to BET inhibitor leads to alternative therapeutic vulnerabilities in castration-resistant prostate cancer. Cell Rep. 2018;22:2236–45.

50.

Chandarlapaty S, Sawai A, Scaltriti M, Rodrik-Outmezguine V, Grbovic-Huezo O, Serra V, et al. AKT inhibition relieves feedback suppression of receptor tyrosine kinase expression and activity. Cancer Cell. 2011;19:58–71.

51.

Mahadevan D, Cooke L, Riley C, Swart R, Simons B, Della Croce K, et al. A novel tyrosine kinase switch is a mechanism of imatinib resistance in gastrointestinal stromal tumors. Oncogene. 2007;26:3909–19.

52.

Sears R, Leone G, DeGregori J, Nevins JR. Ras enhances Myc protein stability. Mol Cell. 1999;3:169–79.
Acknowledgements
The authors gratefully acknowledge financial support from the National Natural Science Foundation of China (81625022, 91853205, 81821005 to CL, 81803554 to YZ, 81703415 to SC, 81973166 to BZ, 21820102008 to HJ); the Chinese Academy of Science grant (XDA12020353 to CL), KC Wong Education Foundation to BZ and CL, the National Science and Technology Major Project (2018ZX09711002-008-005 to BZ, 2018ZX09711002 to CL), Science and Technology Commission of Shanghai Municipality (18431907100 to HJ and 19XD1404700 to CL), the Youth Innovation Promotion Association (2017333 to YY).
Ethics declarations
Competing interests
The authors declare no competing interests.
Supplementary information
About this article
Cite this article
Zhou, Xr., Li, X., Liao, Lp. et al. P300/CBP inhibition sensitizes mantle cell lymphoma to PI3Kδ inhibitor idelalisib. Acta Pharmacol Sin (2021). https://doi.org/10.1038/s41401-021-00643-2
Received:

Accepted:

Published:
Keywords
mantle cell lymphoma

idelalisib

drug resistance

P300/CBP

synergistic drug action

PI3Kδ

epigenetics