Abstract
N-n-Butyl haloperidol iodide (F2) is a novel compound that has antiproliferative and antifibrogenic activities. In this study we investigated the therapeutic potential of F2 against liver fibrosis in mice and the underlying mechanisms. Two widely used mouse models of fibrosis was established in mice by injection of either carbon tetrachloride (CCl4) or thioacetamide (TAA). The mice received F2 (0.75, 1.5 or 3 mg·kg−1·d−1, ip) for 4 weeks of fibrosis induction. We showed that F2 administration dose-dependently ameliorated CCl4- or TAA-induced liver fibrosis, evidenced by significant decreases in collagen deposition and c-Jun, TGF-β receptor II (TGFBR2), α-smooth muscle actin (α-SMA), and collagen I expression in the liver. In transforming growth factor beta 1 (TGF-β1)-stimulated LX-2 cells (a human hepatic stellate cell line) and primary mouse hepatic stellate cells, treatment with F2 (0.1, 1, 10 μM) concentration-dependently inhibited the expression of α-SMA, and collagen I. In LX-2 cells, F2 inhibited TGF-β/Smad signaling through reducing the levels of TGFBR2; pretreatment with LY2109761 (TGF-β signaling inhibitor) or SP600125 (c-Jun signaling inhibitor) markedly inhibited TGF-β1-induced induction of α-SMA and collagen I. Knockdown of c-Jun decreased TGF-β signaling genes, including TGFBR2 levels. We revealed that c-Jun was bound to the TGFBR2 promoter, whereas F2 suppressed the binding of c-Jun to the TGFBR2 promoter to restrain TGF-β signaling and inhibit α-SMA and collagen I upregulation. In conclusion, the therapeutic benefit of F2 against liver fibrosis results from inhibition of c-Jun expression to reduce TGFBR2 and concomitant reduction of the responsiveness of hepatic stellate cells to TGF-β1. F2 may thus be a potentially new effective pharmacotherapy for human liver fibrosis.
Access options
Subscribe to Journal
Get full journal access for 1 year
$399.00
only $33.25 per issue
All prices are NET prices.
VAT will be added later in the checkout.
Tax calculation will be finalised during checkout.
Rent or Buy article
Get time limited or full article access on ReadCube.
from$8.99
All prices are NET prices.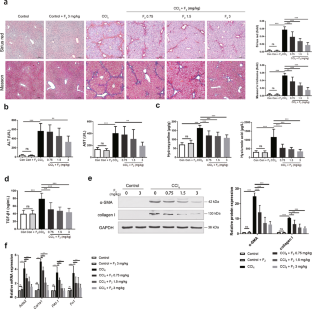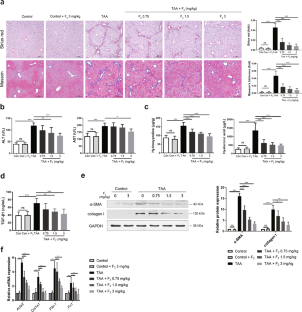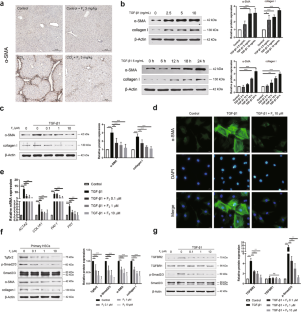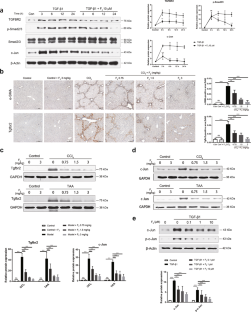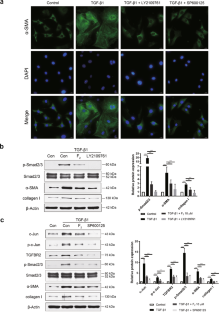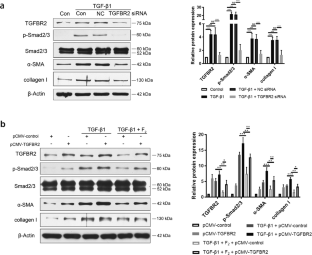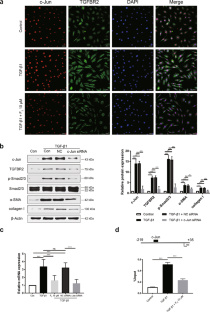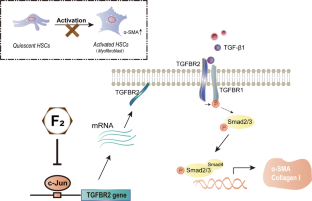 References
1.

Lee UE, Friedman SL. Mechanisms of hepatic fibrogenesis. Best Pract Res Clin Gastroenterol. 2011;25:195–206.

2.

Bataller R, Brenner DA. Liver fibrosis. J Clin Invest. 2005;115:209–18.

3.

Tsuchida T, Friedman SL. Mechanisms of hepatic stellate cell activation. Nat Rev Gastroenterol Hepatol. 2017;14:397–411.

4.

Lee YA, Wallace MC, Friedman SL. Pathobiology of liver fibrosis: a translational success story. Gut. 2015;64:830–41.

5.

Rotman Y, Sanyal AJ. Current and upcoming pharmacotherapy for non-alcoholic fatty liver disease. Gut. 2017;66:180–90.

6.

Roehlen N, Crouchet E, Baumert TF. Liver fibrosis: mechanistic concepts and therapeutic perspectives. Cells. 2020;9:875.

7.

Trautwein C, Friedman SL, Schuppan D, Pinzani M. Hepatic fibrosis: concept to treatment. J Hepatol. 2015;62:S15–24.

8.

Huang ZQ, Shi GG, Zheng JH, Liu B. Effects of N-n-butyl haloperidol iodide on rat myocardial ischemia and reperfusion injury and L-type calcium current. Acta Pharmacol Sin. 2003;24:757–63.

9.

Gao FF, Shi GG, Zheng JH, Liu B. Protective effects of N-n-butyl haloperidol iodide on myocardial ischemia-reperfusion injury in rabbits. Chin J Physiol. 2004;47:61–6.

10.

Wang JZ, Cai CY, Zhang YM, Zheng JH, Chen YC, Li WQ, et al. N-n-Butyl haloperidol iodide protects against hypoxia/reoxygenation-induced cardiomyocyte injury by modulating protein kinase C activity. Biochem Pharmacol. 2010;79:1428–36.

11.

Zhang Y, Chen G, Zhong S, Zheng F, Gao F, Chen Y, et al. N-n-butyl haloperidol iodide ameliorates cardiomyocytes hypoxia/reoxygenation injury by extracellular calcium-dependent and -independent mechanisms. Oxid Med Cell Longev. 2013;2013:912310.

12.

Zhang Y, Liao H, Zhong S, Gao F, Chen Y, Huang Z, et al. Effect of N-n-butyl haloperidol iodide on ROS/JNK/Egr-1 signaling in H9c2 cells after hypoxia/reoxygenation. Sci Rep. 2015;5:11809.

13.

Lu S, Zhang Y, Zhong S, Gao F, Chen Y, Li W, et al. N-n-butyl haloperidol iodide protects against hypoxia/reoxygenation injury in cardiac microvascular endothelial cells by regulating the ROS/MAPK/Egr-1 Pathway. Front Pharmacol. 2016;7:520.

14.

Huang ZQ, Jiang HY, Li JY, Liu XP, Zheng YS, Gao FF, et al. Effects of N-n-butly haloperidol iodide on the proliferation of intima and vascular muscle cells of rabbit carotid artery after balloon injury. Chin J Clin Pharmacol Ther. 2012;17:1112–7.

15.

Rechtman MM, Nakaryakov A, Shapira KE, Ehrlich M, Henis YI. Different domains regulate homomeric and heteromeric complex formation among type I and type II transforming growth factor-beta receptors. J Biol Chem. 2009;284:7843–52.

16.

Vaamonde-Garcia C, Malaise O, Charlier E, Deroyer C, Neuville S, Gillet P, et al. 15-Deoxy-Delta-12, 14-prostaglandin J2 acts cooperatively with prednisolone to reduce TGF-beta-induced pro-fibrotic pathways in human osteoarthritis fibroblasts. Biochem Pharmacol. 2019;165:66–78.

17.

Fu X, Qie J, Fu Q, Chen J, Jin Y, Ding Z. miR-20a-5p/TGFBR2 axis affects pro-inflammatory macrophages and aggravates liver fibrosis. Front Oncol. 2020;10:107.

18.

Fan W, Liu T, Chen W, Hammad S, Longerich T, Hausser I, et al. ECM1 prevents activation of transforming growth factor beta, hepatic stellate cells, and fibrogenesis in mice. Gastroenterology. 2019;157:1352–67.e13.

19.

Shaulian E, Karin M. AP-1 as a regulator of cell life and death. Nat Cell Biol. 2002;4:E131–6.

20.

Ryseck RP, Bravo R. c-JUN, JUN B, and JUN D differ in their binding affinities to AP-1 and CRE consensus sequences: effect of FOS proteins. Oncogene. 1991;6:533–42.

21.

Zhang Z, Gao Z, Hu W, Yin S, Wang C, Zang Y, et al. 3,3'-Diindolylmethane ameliorates experimental hepatic fibrosis via inhibiting miR-21 expression. Br J Pharmacol. 2013;170:649–60.

22.

Trierweiler C, Hockenjos B, Zatloukal K, Thimme R, Blum HE, Wagner EF, et al. The transcription factor c-JUN/AP-1 promotes HBV-related liver tumorigenesis in mice. Cell Death Differ. 2016;23:576–82.

23.

Schulien I, Hockenjos B, Schmitt-Graeff A, Perdekamp MG, Follo M, Thimme R, et al. The transcription factor c-Jun/AP-1 promotes liver fibrosis during non-alcoholic steatohepatitis by regulating osteopontin expression. Cell Death Differ. 2019;26:1688–99.

24.

Seki E, Brenner DA, Karin M. A liver full of JNK: signaling in regulation of cell function and disease pathogenesis, and clinical approaches. Gastroenterology. 2012;143:307–20.

25.

Kluwe J, Pradere JP, Gwak GY, Mencin A, De Minicis S, Osterreicher CH, et al. Modulation of hepatic fibrosis by c-Jun-N-terminal kinase inhibition. Gastroenterology. 2010;138:347–59.

26.

Mederacke I, Dapito DH, Affo S, Uchinami H, Schwabe RF. High-yield and high-purity isolation of hepatic stellate cells from normal and fibrotic mouse livers. Nat Protoc. 2015;10:305–15.

27.

Dorn C, Engelmann JC, Saugspier M, Koch A, Hartmann A, Muller M, et al. Increased expression of c-Jun in nonalcoholic fatty liver disease. Lab Invest. 2014;94:394–408.

28.

Song K, Wang H, Krebs TL, Kim SJ, Danielpour D. Androgenic control of transforming growth factor-beta signaling in prostate epithelial cells through transcriptional suppression of transforming growth factor-beta receptor II. Cancer Res. 2008;68:8173–82.

29.

Chen A. Acetaldehyde stimulates the activation of latent transforming growth factor-beta1 and induces expression of the type II receptor of the cytokine in rat cultured hepatic stellate cells. Biochem J. 2002;368:683–93.

30.

Weber LW, Boll M, Stampfl A. Hepatotoxicity and mechanism of action of haloalkanes: carbon tetrachloride as a toxicological model. Crit Rev Toxicol. 2003;33:105–36.

31.

Wallace MC, Hamesch K, Lunova M, Kim Y, Weiskirchen R, Strnad P, et al. Standard operating procedures in experimental liver research: thioacetamide model in mice and rats. Lab Anim. 2015;49:21–9.

32.

Strnad P, Tao GZ, Zhou Q, Harada M, Toivola DM, Brunt EM, et al. Keratin mutation predisposes to mouse liver fibrosis and unmasks differential effects of the carbon tetrachloride and thioacetamide models. Gastroenterology. 2008;134:1169–79.

33.

Mederacke I, Hsu CC, Troeger JS, Huebener P, Mu X, Dapito DH, et al. Fate tracing reveals hepatic stellate cells as dominant contributors to liver fibrosis independent of its aetiology. Nat Commun. 2013;4:2823.

34.

Xu L, Hui AY, Albanis E, Arthur MJ, O'Byrne SM, Blaner WS, et al. Human hepatic stellate cell lines, LX-1 and LX-2: new tools for analysis of hepatic fibrosis. Gut. 2005;54:142–51.

35.

Kim Y, Ratziu V, Choi SG, Lalazar A, Theiss G, Dang Q, et al. Transcriptional activation of transforming growth factor beta1 and its receptors by the Kruppel-like factor Zf9/core promoter-binding protein and Sp1. Potential mechanisms for autocrine fibrogenesis in response to injury. J Biol Chem. 1998;273:33750–8.

36.

Zhao Y, Shah DU. Expression of transforming growth factor-beta type I and type II receptors is altered in rat lungs undergoing bleomycin-induced pulmonary fibrosis. Exp Mol Pathol. 2000;69:67–78.

37.

Zhao N, Koenig SN, Trask AJ, Lin CH, Hans CP, Garg V, et al. MicroRNA miR145 regulates TGFBR2 expression and matrix synthesis in vascular smooth muscle cells. Circ Res. 2015;116:23–34.

38.

Jaffe M, Sesti C, Washington IM, Du L, Dronadula N, Chin MT, et al. Transforming growth factor-beta signaling in myogenic cells regulates vascular morphogenesis, differentiation, and matrix synthesis. Arterioscler Thromb Vasc Biol. 2012;32:e1–11.

39.

Akhurst RJ, Padgett RW. Matters of context guide future research in TGFbeta superfamily signaling. Sci Signal. 2015;8:re10.

40.

Mann J, Mann DA. Transcriptional regulation of hepatic stellate cells. Adv Drug Deliv Rev. 2009;61:497–512.

41.

Mann DA, Smart DE. Transcriptional regulation of hepatic stellate cell activation. Gut. 2002;50:891–6.

42.

Mathas S, Hinz M, Anagnostopoulos I, Krappmann D, Lietz A, Jundt F, et al. Aberrantly expressed c-Jun and JunB are a hallmark of Hodgkin lymphoma cells, stimulate proliferation and synergize with NF-kappa B. EMBO J. 2002;21:4104–13.

43.

Liu XJ, Yang L, Mao YQ, Wang Q, Huang MH, Wang YP, et al. Effects of the tyrosine protein kinase inhibitor genistein on the proliferation, activation of cultured rat hepatic stellate cells. World J Gastroenterol. 2002;8:739–45.

44.

Fabre T, Kared H, Friedman SL, Shoukry NH. IL-17A enhances the expression of profibrotic genes through upregulation of the TGF-beta receptor on hepatic stellate cells in a JNK-dependent manner. J Immunol. 2014;193:3925–33.

45.

Bae HW, Geiser AG, Kim DH, Chung MT, Burmester JK, Sporn MB, et al. Characterization of the promoter region of the human transforming growth factor-beta type II receptor gene. J Biol Chem. 1995;270:29460–8.

46.

Huang Y, Gao F, Zhang Y, Chen Y, Wang B, Zheng Y, et al. N-n-Butyl haloperidol iodide inhibits the augmented Na+/Ca2+ exchanger currents and L-type Ca2+ current induced by hypoxia/reoxygenation or H2O2 in cardiomyocytes. Biochem Biophys Res Commun. 2012;421:86–90.

47.

Zhou Y, Zhang Y, Gao F, Guo F, Wang J, Cai W, et al. N-n-butyl haloperidol iodide protects cardiac microvascular endothelial cells from hypoxia/reoxygenation injury by down-regulating Egr-1 expression. Cell Physiol Biochem. 2010;26:839–48.

48.

Xu D, Wu Y, Liao ZX, Wang H. Protective effect of verapamil on multiple hepatotoxic factors-induced liver fibrosis in rats. Pharmacol Res. 2007;55:280–6.

49.

Hsu YC, Chiu YT, Cheng CC, Wu CF, Lin YL, Huang YT. Antifibrotic effects of tetrandrine on hepatic stellate cells and rats with liver fibrosis. J Gastroenterol Hepatol. 2007;22:99–111.
Acknowledgements
This work was supported by the Research Team Project of the Natural Science Foundation of Guangdong Province of China (No. 9351503102000001). The authors thank the Pharmacological Department and Shantou University Medical College for providing the platform for our research.
Ethics declarations
Competing interests
The authors declare no competing interests.
Supplementary information
About this article
Cite this article
Shen, Df., Cheng, H., Cai, Bz. et al. N-n-Butyl haloperidol iodide ameliorates liver fibrosis and hepatic stellate cell activation in mice. Acta Pharmacol Sin (2021). https://doi.org/10.1038/s41401-021-00630-7
Received:

Accepted:

Published:
Keywords
liver fibrosis

N-n-butyl haloperidol iodide

antifibrotic

c-Jun

TGFBR2

TGF-β signaling

human hepatic stellate cell line LX-2