Abstract
Metabolic-associated fatty liver disease (MAFLD) is the most common metabolic disease with a global prevalence of 25%. While MAFLD is serious and incurable at the later stage, it can be controlled or reversed at the early stage of hepatosteatosis originating from unhealthy diets. Recent laboratory evidence implicates a critical role of the mammalian target of rapamycin (mTOR)-autophagy signaling pathway in the pathogenesis of MAFLD induced by a high-fructose diet mimicking the overconsumption of sugar in humans. This review discusses the possible molecular mechanisms of mTOR-autophagy-endoplasmic reticulum (ER) stress in MAFLD. Based on careful analysis of recent studies, we suggest possible new therapeutic concepts or targets that can be explored for the discovery of new anti-MAFLD drugs.
Access options
Subscribe to Journal
Get full journal access for 1 year
$119.00
only $9.92 per issue
All prices are NET prices.
VAT will be added later in the checkout.
Tax calculation will be finalised during checkout.
Rent or Buy article
Get time limited or full article access on ReadCube.
from$8.99
All prices are NET prices.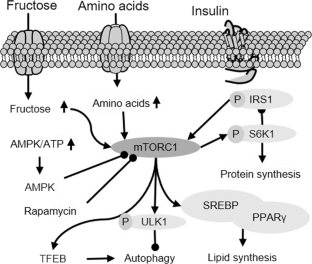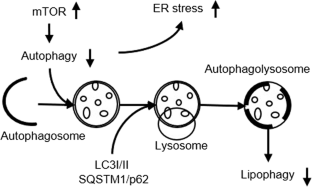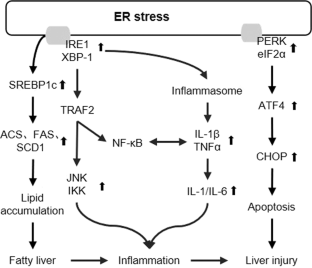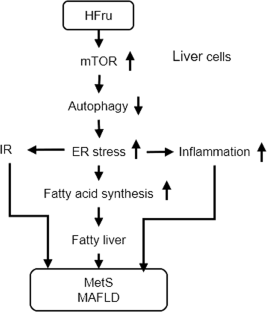 References
1.

Eslam M, Sanyal AJ, George J, International Consensus P. MAFLD: a consensus-driven proposed nomenclature for metabolic associated fatty liver disease. Gastroenterology. 2020;158:1999–2014 e1.

2.

Cotter TG, Rinella M. Nonalcoholic fatty liver disease 2020: the state of the disease. Gastroenterology. 2020;158:1851–64.

3.

Younossi Z, Anstee QM, Marietti M, Hardy T, Henry L, Eslam M, et al. Global burden of NAFLD and NASH: trends, predictions, risk factors and prevention. Nat Rev Gastroenterol Hepatol. 2018;15:11–20.

4.

Younossi Z, Tacke F, Arrese M, Chander Sharma B, Mostafa I, Bugianesi E, et al. Global perspectives on nonalcoholic fatty liver disease and nonalcoholic steatohepatitis. Hepatology. 2019;69:2672–82.

5.

Alberti KG, Eckel RH, Grundy SM, Zimmet PZ, Cleeman JI, Donato KA, et al. Harmonizing the metabolic syndrome: a joint interim statement of the International Diabetes Federation Task Force on Epidemiology and Prevention; National Heart, Lung, and Blood Institute; American Heart Association; World Heart Federation; International Atherosclerosis Society; and International Association for the Study of Obesity. Circulation. 2009;120:1640–5.

6.

Goedeke L, Perry RJ, Shulman GI. Emerging pharmacological targets for the treatment of nonalcoholic fatty liver disease, insulin resistance, and type 2 diabetes. Annu Rev Pharmacol Toxicol. 2019;59:65–87.

7.

Romero-Gomez M, Zelber-Sagi S, Trenell M. Treatment of NAFLD with diet, physical activity and exercise. J Hepatol. 2017;67:829–46.

8.

Zhou J, Zhou F, Wang W, Zhang XJ, Ji YX, Zhang P, et al. Epidemiological features of NAFLD from 1999 to 2018 in China. Hepatology. 2020;71:1851–64.

9.

Spengler EK, Loomba R. Recommendations for Diagnosis, Referral for liver biopsy, and treatment of nonalcoholic fatty liver disease and nonalcoholic steatohepatitis. Mayo Clin Proc. 2015;90:1233–46.

10.

Turner N, Zeng XY, Osborne B, Rogers S, Ye JM. Repurposing drugs to target the diabetes epidemic. Trends Pharmacol Sci. 2016;37:379–89.

11.

Chalasani N, Younossi Z, Lavine JE, Charlton M, Cusi K, Rinella M, et al. The diagnosis and management of nonalcoholic fatty liver disease: practice guidance from the american association for the study of liver diseases. Hepatology. 2018;67:328–57.

12.

Wang H, Sun RQ, Zeng XY, Zhou X, Li S, Jo E, et al. Restoration of autophagy alleviates hepatic ER stress and impaired insulin signalling transduction in high fructose-fed male mice. Endocrinology. 2015;156:169–81.

13.

Jensen T, Abdelmalek MF, Sullivan S, Nadeau KJ, Green M, Roncal C, et al. Fructose and sugar: a major mediator of non-alcoholic fatty liver disease. J Hepatol. 2018;68:1063–75.

14.

Softic S, Gupta MK, Wang GX, Fujisaka S, O'Neill BT, Rao TN, et al. Divergent effects of glucose and fructose on hepatic lipogenesis and insulin signaling. J Clin Invest. 2017;127:4059–74.

15.

Suzuki A, Diehl AM. Nonalcoholic steatohepatitis. Annu Rev Med 2017;68:85–98.

16.

Sapp V, Gaffney L, EauClaire SF, Matthews RP. Fructose leads to hepatic steatosis in zebrafish that is reversed by mechanistic target of rapamycin (mTOR) inhibition. Hepatology. 2014;60:1581–92.

17.

Zhang L, Tschumi BO, Lopez-Mejia IC, Oberle SG, Meyer M, Samson G, et al. Mammalian target of rapamycin complex 2 controls CD8 T cell memory differentiation in a Foxo1-dependent manner. Cell Rep. 2016;14:1206–17.

18.

Saxton RA, Sabatini DM. mTOR signaling in growth, metabolism, and disease. Cell. 2017;169:361–71.

19.

Hay N, Sonenberg N. Upstream and downstream of mTOR. Genes Dev. 2004;18:1926–45.

20.

Zhou X, Fouda S, Zeng XY, Li D, Zhang K, Xu J, et al. Characterization of the therapeutic profile of albiflorin for the metabolic syndrome. Front Pharmacol. 2019;10:1151.

21.

Peterson TR, Sengupta SS, Harris TE, Carmack AE, Kang SA, Balderas E, et al. mTOR complex 1 regulates lipin 1 localization to control the SREBP pathway. Cell. 2011;146:408–20.

22.

Dorrello NV, Peschiaroli A, Guardavaccaro D, Colburn NH, Sherman NE, Pagano M. S6K1- and betaTRCP-mediated degradation of PDCD4 promotes protein translation and cell growth. Science. 2006;314:467–71.

23.

Yu L, McPhee CK, Zheng L, Mardones GA, Rong Y, Peng J, et al. Termination of autophagy and reformation of lysosomes regulated by mTOR. Nature. 2010;465:942–6.

24.

Yang L, Li P, Fu S, Calay ES, Hotamisligil GS. Defective hepatic autophagy in obesity promotes ER stress and causes insulin resistance. Cell Metab. 2010;11:467–78.

25.

Yim WW, Mizushima N. Lysosome biology in autophagy. Cell Discov. 2020;6:6.

26.

Yu L. A special review collection on autophagy. Cell Res. 2020;30:553.

27.

Singh R, Kaushik S, Wang Y, Xiang Y, Novak I, Komatsu M, et al. Autophagy regulates lipid metabolism. Nature. 2009;458:1131–5.

28.

Zachari M, Ganley IG. The mammalian ULK1 complex and autophagy initiation. Essays Biochem. 2017;61:585–96.

29.

Zeng XY, Wang H, Bai F, Zhou X, Li SP, Ren LP, et al. Identification of matrine as a promising novel drug for hepatic steatosis and glucose intolerance with HSP72 as an upstream target. Br J Pharmacol. 2015;172:4303–18.

30.

Jung CH, Ro SH, Cao J, Otto NM, Kim DH. mTOR regulation of autophagy. FEBS Lett. 2010;584:1287–95.

31.

Ren LP, Chan SM, Zeng XY, Laybutt DR, Iseli TJ, Sun RQ, et al. Differing endoplasmic reticulum stress response to excess lipogenesis versus lipid oversupply in relation to hepatic steatosis and insulin resistance. PLoS One. 2012;7:e30816.

32.

Musso G, Cassader M, Paschetta E, Gambino R. Bioactive lipid species and metabolic pathways in progression and resolution of nonalcoholic steatohepatitis. Gastroenterology. 2018;155:282–302 e8.

33.

Zhou X, Fouda S, Li D, Zhang K, Ye JM. Involvement of the autophagy-ER stress axis in high fat/carbohydrate diet-induced nonalcoholic fatty liver disease. Nutrients. 2020;12:2626.

34.

Musso G, Cassader M, Gambino R. Non-alcoholic steatohepatitis: emerging molecular targets and therapeutic strategies. Nat Rev Drug Discov. 2016;15:249–74.

35.

Sun RQ, Wang H, Zeng XY, Chan SM, Li SP, Jo E, et al. IRE1 impairs insulin signaling transduction of fructose-fed mice via JNK independent of excess lipid. Biochim Biophys Acta. 2015;1852:156–65.

36.

Hotamisligil GS. Endoplasmic reticulum stress and the inflammatory basis of metabolic disease. Cell. 2010;140:900–17.

37.

Hernandez-Gea V, Ghiassi-Nejad Z, Rozenfeld R, Gordon R, Fiel MI, Yue Z, et al. Autophagy releases lipid that promotes fibrogenesis by activated hepatic stellate cells in mice and in human tissues. Gastroenterology. 2012;142:938–46.

38.

Li S, Zhou Y, Fan J, Cao S, Cao T, Huang F, et al. Heat shock protein 72 enhances autophagy as a protective mechanism in lipopolysaccharide-induced peritonitis in rats. Am J Pathol. 2011;179:2822–34.

39.

Rinella ME. Nonalcoholic fatty liver disease: a systematic review. JAMA. 2015;313:2263–73.

40.

Arab JP, Arrese M, Trauner M. Recent insights into the pathogenesis of nonalcoholic fatty liver disease. Annu Rev Pathol. 2018;13:321–50.

41.

Gupta S, Deepti A, Deegan S, Lisbona F, Hetz C, Samali A. HSP72 protects cells from ER stress-induced apoptosis via enhancement of IRE1alpha-XBP1 signaling through a physical interaction. PLoS Biol. 2010;8:e1000410.

42.

Zhang K. Endoplasmic reticulum stress response and transcriptional reprogramming. Front Genet. 2014;5:460.

43.

Kim JY, Garcia-Carbonell R, Yamachika S, Zhao P, Dhar D, Loomba R, et al. ER stress drives lipogenesis and steatohepatitis via caspase-2 activation of S1P. Cell. 2018;175:133–45 e15.

44.

Rao Y, Lu YT, Li C, Song QQ, Xu YH, Xu Z, et al. Bouchardatine analogue alleviates non-alcoholic hepatic fatty liver disease/non-alcoholic steatohepatitis in high-fat fed mice by inhibiting ATP synthase activity. Br J Pharmacol. 2019;176:2877–93.

45.

Kim I, Xu W, Reed JC. Cell death and endoplasmic reticulum stress: disease relevance and therapeutic opportunities. Nat Rev Drug Discov. 2008;7:1013–30.

46.

Ran G, Ying L, Li L, Yan Q, Yi W, Ying C, et al. Resveratrol ameliorates diet-induced dysregulation of lipid metabolism in zebrafish (Danio rerio). PLoS One. 2017;12:e0180865.

47.

Anckar J, Sistonen L. Regulation of HSF1 function in the heat stress response: implications in aging and disease. Annu Rev Biochem. 2011;80:1089–115.

48.

Mahzari A, Li S, Zhou X, Li D, Fouda S, Alhomrani M, et al. Matrine protects against MCD-induced development of NASH via upregulating HSP72 and downregulating mTOR in a manner distinctive from metformin. Front Pharmacol. 2019;10:405.

49.

Verfaillie T, Salazar M, Velasco G, Agostinis P. Linking ER stress to autophagy: potential implications for cancer therapy. Int J Cell Biol. 2010;2010:930509.

50.

Wang H, Sun RQ, Camera D, Zeng XY, Jo E, Chan SM, et al. Endoplasmic reticulum stress up-regulates Nedd4-2 to induce autophagy. FASEB J. 2016;30:2549–56.

51.

Holtta-Vuori M, Salo VT, Nyberg L, Brackmann C, Enejder A, Panula P, et al. Zebrafish: gaining popularity in lipid research. Biochem J. 2010;429:235–42.

52.

Sinha RA, Farah BL, Singh BK, Siddique MM, Li Y, Wu Y, et al. Caffeine stimulates hepatic lipid metabolism by the autophagy-lysosomal pathway in mice. Hepatology. 2014;59:1366–80.

53.

Lee KJ, Terada K, Oyadomari S, Inomata Y, Mori M, Gotoh T. Induction of molecular chaperones in carbon tetrachloride-treated rat liver: implications in protection against liver damage. Cell Stress Chaperones. 2004;9:58–68.

54.

Rai RC, Bagul PK, Banerjee SK. NLRP3 inflammasome drives inflammation in high fructose fed diabetic rat liver: effect of resveratrol and metformin. Life Sci. 2020;253:117727.

55.

Li S, Zeng XY, Zhou X, Wang H, Jo E, Robinson SR, et al. Dietary cholesterol induces hepatic inflammation and blunts mitochondrial function in the liver of high-fat-fed mice. J Nutr Biochem. 2016;27:96–103.

56.

Dai W, Wang K, Zheng X, Chen X, Zhang W, Zhang Y, et al. High fat plus high cholesterol diet lead to hepatic steatosis in zebrafish larvae: a novel model for screening anti-hepatic steatosis drugs. Nutr Metab. 2015;12:42.

57.

Oka T, Nishimura Y, Zang L, Hirano M, Shimada Y, Wang Z, et al. Diet-induced obesity in zebrafish shares common pathophysiological pathways with mammalian obesity. BMC Physiol. 2010;10:21.

58.

Chou SD, Prince T, Gong J, Calderwood SK. mTOR is essential for the proteotoxic stress response, HSF1 activation and heat shock protein synthesis. PLoS One. 2012;7:e39679.

59.

Dokladny K, Lobb R, Wharton W, Ma TY, Moseley PL. LPS-induced cytokine levels are repressed by elevated expression of HSP70 in rats: possible role of NF-kappaB. Cell Stress Chaperones. 2010;15:153–63.

60.

Ha BG, Park JE, Shin EJ, Shon YH. Modulation of glucose metabolism by balanced deep-sea water ameliorates hyperglycemia and pancreatic function in streptozotocin-induced diabetic mice. PLoS One. 2014;9:e102095.
Acknowledgements
The authors would like to acknowledge Prof Li-hong Hu and Prof Hua-liang Jiang (Shanghai Institute of Materia Medica, China) for collaborative research on matrine. We would also like to thank Dr. Hao Wang (RMIT University, Australia), who significantly contributed to our initial study on the relationship among mTOR, autophagy and ER stress in high fructose-induced hepatosteatosis. This review was supported in part by the National Natural Science Foundation of China (81870608) and Jiangmen Innovation Research Team Project Fund (2018630100180019806).
Ethics declarations
Competing interests
The authors declare no competing interests.
About this article
Cite this article
Wang, Yl., Zhou, X., Li, Dl. et al. Role of the mTOR-autophagy-ER stress pathway in high fructose-induced metabolic-associated fatty liver disease. Acta Pharmacol Sin (2021). https://doi.org/10.1038/s41401-021-00629-0
Received:

Accepted:

Published:
Keywords
mTOR

autophagy

ER stress

MAFLD

metabolic syndrome

high-fructose diet