Abstract
Caffeine induces multiple vascular effects. In this study we investigated the angiogenic effect of physiological concentrations of caffeine with focus on endothelial cell behaviors (migration and proliferation) during angiogenesis and its mitochondrial and bioenergetic mechanisms. We showed that caffeine (10–50 μM) significantly enhanced angiogenesis in vitro, evidenced by concentration-dependent increases in tube formation, and migration of human umbilical vein endothelial cells (HUVECs) without affecting cell proliferation. Caffeine (50 μM) enhanced endothelial migration via activation of cAMP/PKA/AMPK signaling pathway, which was mimicked by cAMP analog 8-Br-cAMP, and blocked by PKA inhibitor H89, adenylate cyclase inhibitor SQ22536 or AMPK inhibitor compound C. Furthermore, caffeine (50 μM) induced significant mitochondrial shortening through the increased phosphorylation of mitochondrial fission protein dynamin-related protein 1 (Drp1) in HUVECs, which increased its activity to regulate mitochondrial fission. Pharmacological blockade of Drp1 by Mdivi-1 (10 μM) or disturbance of mitochondrial fission by Drp1 silencing markedly suppressed caffeine-induced lamellipodia formation and endothelial cell migration. Moreover, we showed that caffeine-induced mitochondrial fission led to accumulation of more mitochondria in lamellipodia regions and augmentation of mitochondrial energetics, both of which were necessary for cell migration. In a mouse model of hindlimb ischemia, administration of caffeine (0.05% in 200 mL drinking water daily, for 14 days) significantly promoted angiogenesis and perfusion as well as activation of endothelial AMPK signaling in the ischemic hindlimb. Taken together, caffeine induces mitochondrial fission through cAMP/PKA/AMPK signaling pathway. Mitochondrial fission is an integral process in caffeine-induced endothelial cell migration by altering mitochondrial distribution and energetics.
Access options
Subscribe to Journal
Get full journal access for 1 year
$399.00
only $33.25 per issue
All prices are NET prices.
VAT will be added later in the checkout.
Tax calculation will be finalised during checkout.
Rent or Buy article
Get time limited or full article access on ReadCube.
from$8.99
All prices are NET prices.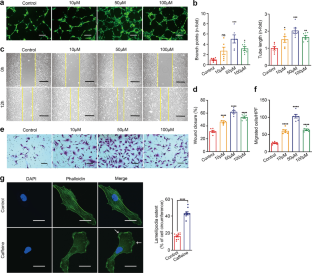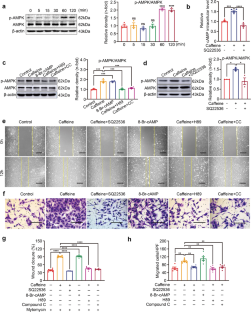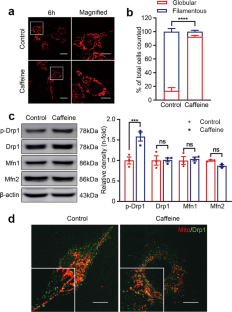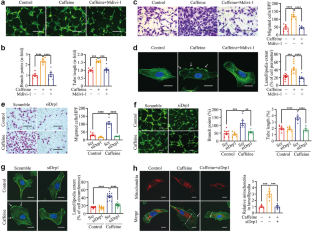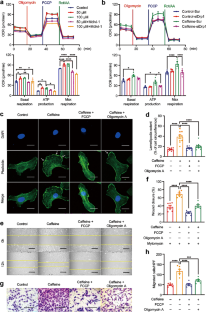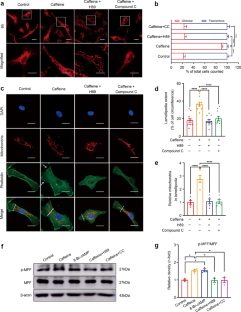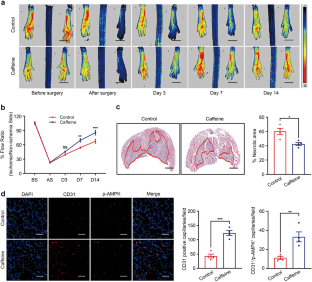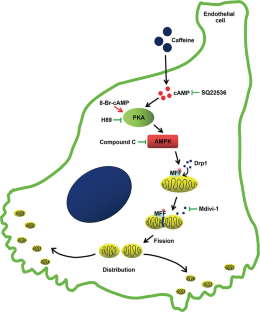 References
1.

Bian X, Ma K, Zhang C, Fu X. Therapeutic angiogenesis using stem cell-derived extracellular vesicles: an emerging approach for treatment of ischemic diseases. Stem Cell Res Ther. 2019;10:158.

2.

Conway EM, Collen D, Carmeliet P. Molecular mechanisms of blood vessel growth. Cardiovasc Res. 2001;49:507–21.

3.

Losordo DW, Dimmeler S. Therapeutic angiogenesis and vasculogenesis for ischemic disease: part II: cell-based therapies. Circulation. 2004;109:2692–7.

4.

Losordo DW, Dimmeler S. Therapeutic angiogenesis and vasculogenesis for ischemic disease. Part I: angiogenic cytokines. Circulation. 2004;109:2487–91.

5.

Herbert SP, Stainier DY. Molecular control of endothelial cell behaviour during blood vessel morphogenesis. Nat Rev Mol Cell Biol. 2011;12:551–64.

6.

Eilken HM, Adams RH. Dynamics of endothelial cell behavior in sprouting angiogenesis. Curr Opin Cell Biol. 2010;22:617–25.

7.

Takahashi T, Kalka C, Masuda H, Chen D, Silver M, Kearney M, et al. Ischemia- and cytokine-induced mobilization of bone marrow-derived endothelial progenitor cells for neovascularization. Nat Med. 1999;5:434–8.

8.

Gale NW, Yancopoulos GD. Growth factors acting via endothelial cell-specific receptor tyrosine kinases: VEGFs, angiopoietins, and ephrins in vascular development. Genes Dev. 1999;13:1055–66.

9.

Westermann B. Mitochondrial fusion and fission in cell life and death. Nat Rev Mol Cell Biol. 2010;11:872–84.

10.

Zhao J, Zhang J, Yu M, Xie Y, Huang Y, Wolff DW, et al. Mitochondrial dynamics regulates migration and invasion of breast cancer cells. Oncogene. 2013;32:4814–24.

11.

Wang L, Yu T, Lee H, O'Brien DK, Sesaki H, Yoon Y. Decreasing mitochondrial fission diminishes vascular smooth muscle cell migration and ameliorates intimal hyperplasia. Cardiovasc Res. 2015;106:272–83.

12.

Toyama EQ, Herzig S, Courchet J, Lewis TL Jr., Loson OC, Hellberg K, et al. Metabolism. AMP-activated protein kinase mediates mitochondrial fission response energy stress. Science. 2016;351:275–81.

13.

Poleszak E, Szopa A, Wyska E, Kukula-Koch W, Serefko A, Wosko S, et al. Caffeine augments the antidepressant-like activity of mianserin and agomelatine in forced swim and tail suspension tests in mice. Pharmacol Rep. 2016;68:56–61.

14.

Mitchell DC, Knight CA, Hockenberry J, Teplansky R, Hartman TJ. Beverage caffeine intakes in the U.S. Food Chem Toxicol. 2014;63:136–42.

15.

Dragicevic N, Delic V, Cao C, Copes N, Lin X, Mamcarz M, et al. Caffeine increases mitochondrial function and blocks melatonin signaling to mitochondria in Alzheimer's mice and cells. Neuropharmacology. 2012;63:1368–79.

16.

Ale-Agha N, Goy C, Jakobs P, Spyridopoulos I, Gonnissen S, Dyballa-Rukes N, et al. CDKN1B/p27 is localized in mitochondria and improves respiration-dependent processes in the cardiovascular system-new mode of action for caffeine. PLoS Biol. 2018;16:e2004408.

17.

Xu Y, Wang Y, Yan S, Zhou Y, Yang Q, Pan Y, et al. Intracellular adenosine regulates epigenetic programming in endothelial cells to promote angiogenesis. EMBO Mol Med. 2017;9:1263–78.

18.

Levine YC, Li GK, Michel T. Agonist-modulated regulation of AMP-activated protein kinase (AMPK) in endothelial cells. Evidence for an AMPK -> Rac1 -> Akt -> endothelial nitric-oxide synthase pathway. J Biol Chem. 2007;282:20351–64.

19.

Peyton KJ, Liu XM, Yu Y, Yates B, Durante W. Activation of AMP-activated protein kinase inhibits the proliferation of human endothelial cells. J Pharmacol Exp Ther. 2012;342:827–34.

20.

da Silva AF, Mariotti FR, Maximo V, Campello S. Mitochondria dynamism: of shape, transport and cell migration. Cell Mol Life Sci. 2014;71:2313–24.

21.

Taguchi N, Ishihara N, Jofuku A, Oka T, Mihara K. Mitotic phosphorylation of dynamin-related GTPase Drp1 participates in mitochondrial fission. J Biol Chem. 2007;282:11521–9.

22.

Goveia J, Stapor P, Carmeliet P. Principles of targeting endothelial cell metabolism to treat angiogenesis and endothelial cell dysfunction in disease. EMBO Mol Med. 2014;6:1105–20.

23.

Lamalice L, Le Boeuf F, Huot J. Endothelial cell migration during angiogenesis. Circ Res. 2007;100:782–94.

24.

Rousset S, Alves-Guerra MC, Mozo J, Miroux B, Cassard-Doulcier AM, Bouillaud F, et al. The biology of mitochondrial uncoupling proteins. Diabetes. 2004;53 Suppl 1:S130–5.

25.

Sawada N, Jiang A, Takizawa F, Safdar A, Manika A, Tesmenitsky Y, et al. Endothelial PGC-1alpha mediates vascular dysfunction in diabetes. Cell Metab. 2014;19:246–58.

26.

Echeverri D, Montes FR, Cabrera M, Galan A, Prieto A. Caffeine's vascular mechanisms of action. Int J Vasc Med. 2010;2010:834060.

27.

Li H, Jin SY, Son HJ, Seo JH, Jeong GB. Caffeine-induced endothelial cell death and the inhibition of angiogenesis. Anat Cell Biol. 2013;46:57–67.

28.

Yeh CH, Liao YF, Chang CY, Tsai JN, Wang YH, Cheng CC, et al. Caffeine treatment disturbs the angiogenesis of zebrafish embryos. Drug Chem Toxicol. 2012;35:361–5.

29.

Chen YH, Huang YH, Wen CC, Wang YH, Chen WL, Chen LC, et al. Movement disorder and neuromuscular change in zebrafish embryos after exposure to caffeine. Neurotoxicol Teratol. 2008;30:440–7.

30.

Christian MS, Brent RL. Teratogen update: evaluation of the reproductive and developmental risks of caffeine. Teratology. 2001;64:51–78.

31.

Merighi S, Benini A, Mirandola P, Gessi S, Varani K, Simioni C, et al. Caffeine inhibits adenosine-induced accumulation of hypoxia-inducible factor-1alpha, vascular endothelial growth factor, and interleukin-8 expression in hypoxic human colon cancer cells. Mol Pharmacol. 2007;72:395–406.

32.

Xu Y, An X, Guo X, Habtetsion TG, Wang Y, Xu X, et al. Endothelial PFKFB3 plays a critical role in angiogenesis. Arterioscler Thromb Vasc Biol. 2014;34:1231–9.

33.

De Bock K, Georgiadou M, Schoors S, Kuchnio A, Wong BW, Cantelmo AR, et al. Role of PFKFB3-driven glycolysis in vessel sprouting. Cell. 2013;154:651–63.

34.

Eelen G, Cruys B, Welti J, De Bock K, Carmeliet P. Control of vessel sprouting by genetic and metabolic determinants. Trends Endocrinol Metab. 2013;24:589–96.

35.

Diebold LP, Gil HJ, Gao P, Martinez CA, Weinberg SE, Chandel NS. Mitochondrial complex III is necessary for endothelial cell proliferation during angiogenesis. Nat Metab. 2019;1:158–71.

36.

Xue F, Janzen DM, Knecht DA. Contribution of filopodia to cell migration: a mechanical link between protrusion and contraction. Int J Cell Biol. 2010;2010:507821.

37.

Campello S, Lacalle RA, Bettella M, Manes S, Scorrano L, Viola A. Orchestration of lymphocyte chemotaxis by mitochondrial dynamics. J Exp Med. 2006;203:2879–86.

38.

Grosso G, Godos J, Galvano F, Giovannucci EL. Coffee, caffeine, and health outcomes: an umbrella review. Annu Rev Nutr. 2017;37:131–56.

39.

Xu Y, Wang Y, Yan S, Yang Q, Zhou Y, Zeng X, et al. Regulation of endothelial intracellular adenosine via adenosine kinase epigenetically modulates vascular inflammation. Nat Commun. 2017;8:943.

40.

Headrick JP, Ashton KJ, Rose'meyer RB, Peart JN. Cardiovascular adenosine receptors: expression, actions and interactions. Pharmacol Ther. 2013;140:92–111.

41.

Zhang J, Wang Y, Liu X, Dagda RK, Zhang Y. How AMPK and PKA interplay to regulate mitochondrial function and survival in models of ischemia and diabetes. Oxid Med Cell Longev. 2017;2017:4353510.

42.

Wikstrom JD, Israeli T, Bachar-Wikstrom E, Swisa A, Ariav Y, Waiss M, et al. AMPK regulates ER morphology and function in stressed pancreatic beta-cells via phosphorylation of DRP1. Mol Endocrinol. 2013;27:1706–23.

43.

Zhang CS, Lin SC. AMPK promotes autophagy by facilitating mitochondrial fission. Cell Metab. 2016;23:399–401.

44.

Hom J, Yu T, Yoon Y, Porter G, Sheu SS. Regulation of mitochondrial fission by intracellular Ca2+ in rat ventricular myocytes. Biochim Biophys Acta. 2010;1797:913–21.

45.

Denton RM, Richards DA, Chin JG. Calcium ions and the regulation of NAD+-linked isocitrate dehydrogenase from the mitochondria of rat heart and other tissues. Biochem J. 1978;176:899–906.

46.

Denton RM, McCormack JG, Edgell NJ. Role of calcium ions in the regulation of intramitochondrial metabolism. Effects of Na+, Mg2+ and ruthenium red on the Ca2+-stimulated oxidation of oxoglutarate and on pyruvate dehydrogenase activity in intact rat heart mitochondria. Biochem J. 1980;190:107–17.

47.

McCormack JG, Denton RM. The role of Ca2+ ions in the regulation of intramitochondrial metabolism and energy production in rat heart. Mol Cell Biochem. 1989;89:121–5.

48.

Das AM. Regulation of the mitochondrial ATP-synthase in health and disease. Mol Genet Metab. 2003;79:71–82.

49.

De Marchi U, Thevenet J, Hermant A, Dioum E, Wiederkehr A. Calcium co-regulates oxidative metabolism and ATP synthase-dependent respiration in pancreatic beta cells. J Biol Chem. 2014;289:9182–94.

50.

Herzig S, Shaw RJ. AMPK: guardian of metabolism and mitochondrial homeostasis. Nat Rev Mol Cell Biol. 2018;19:121–35.

51.

Baljinnyam E, Umemura M, Chuang C, De Lorenzo MS, Iwatsubo M, Chen S, et al. Epac1 increases migration of endothelial cells and melanoma cells via FGF2-mediated paracrine signaling. Pigment Cell Melanoma Res. 2014;27:611–20.
Acknowledgements
This work was supported by National Natural Science Foundation of China (Grant numbers: 81700395 and 81870217); the Key Project of Department of Education of Guangdong Province (Grant number: 2018KZDXM053); the Science and Technology Planning Project of Guangzhou (Grant numbers: 201903010005 and 202002030190) and "Yangcheng Scholars" Research Project by Guangzhou Education Bureau (Grant number: 201831843).
Ethics declarations
Competing interests
The authors declare no competing interests.
Supplementary information
About this article
Cite this article
Wang, Lt., He, Pc., Li, Aq. et al. Caffeine promotes angiogenesis through modulating endothelial mitochondrial dynamics. Acta Pharmacol Sin (2021). https://doi.org/10.1038/s41401-021-00623-6
Received:

Accepted:

Published:
Keywords
caffeine

angiogenesis

endothelial cells

migration

mitochondrial dynamics

cAMP/PKA/AMPK signaling

mouse model of hindlimb ischemia