Abstract
RAS-driven colorectal cancer relies on glucose metabolism to support uncontrolled growth. However, monotherapy with glycolysis inhibitors like 2-deoxy-D-glucose causes limited effectiveness. Recent studies suggest that anti-tumor effects of glycolysis inhibition could be improved by combination treatment with inhibitors of oxidative phosphorylation. In this study we investigated the effect of a combination of 2-deoxy-D-glucose with lovastatin (a known inhibitor of mevalonate pathway and oxidative phosphorylation) on growth of KRAS-mutant human colorectal cancer cell lines HCT116 and LoVo. A combination of lovastatin (>3.75 μM) and 2-deoxy-D-glucose (>1.25 mM) synergistically reduced cell viability, arrested cells in the G2/M phase, and induced apoptosis. The combined treatment also reduced cellular oxygen consumption and extracellular acidification rate, resulting in decreased production of ATP and lower steady-state ATP levels. Energy depletion markedly activated AMPK, inhibited mTOR and RAS signaling pathways, eventually inducing autophagy, the cellular pro-survival process under metabolic stress, whereas inhibition of autophagy by chloroquine (6.25 μM) enhanced the cytotoxic effect of the combination of lovastatin and 2-deoxy-D-glucose. These in vitro experiment results were reproduced in a nude mouse xenograft model of HCT116 cells. Our findings suggest that concurrently targeting glycolysis, oxidative phosphorylation, and autophagy may be a promising regimen for the management of RAS-driven colorectal cancers.
Access options
Subscribe to Journal
Get full journal access for 1 year
$499.00
only $41.58 per issue
All prices are NET prices.
VAT will be added later in the checkout.
Rent or Buy article
Get time limited or full article access on ReadCube.
from$8.99
All prices are NET prices.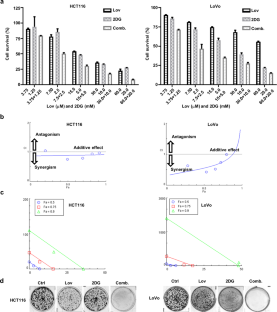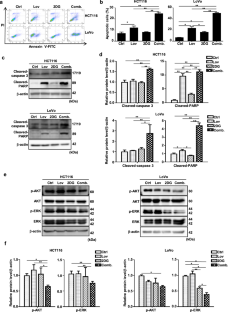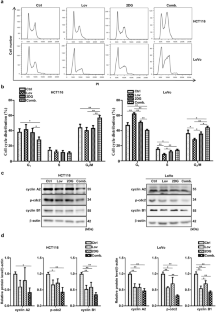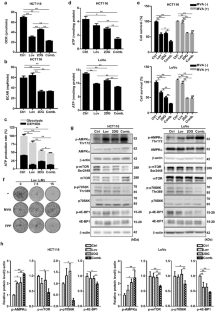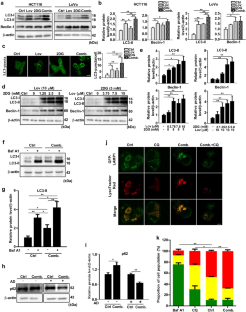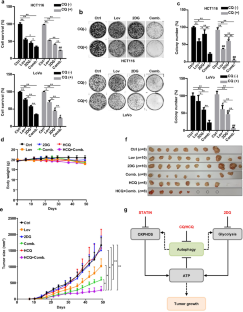 References
1.

Bray F, Ferlay J, Soerjomataram I, Siegel RL, Torre LA, Jemal A. Global cancer statistics 2018: GLOBOCAN estimates of incidence and mortality worldwide for 36 cancers in 185 countries. CA Cancer J Clin. 2018;68:394–424.

2.

Serebriiskii IG, Connelly C, Frampton G, Newberg J, Cooke M, Miller V, et al. Comprehensive characterization of RAS mutations in colon and rectal cancers in old and young patients. Nat Commun. 2019;10:1–12.

3.

Mármol I, Sánchez-de-Diego C, Pradilla Dieste A, Cerrada E, Rodriguez Yoldi MJ. Colorectal carcinoma: a general overview and future perspectives in colorectal cancer. Int J Mol Sci. 2017;18:197.

4.

Kimmelman AC. Metabolic dependencies in RAS-driven cancers. Clin Cancer Res. 2015;2:1828–34.

5.

Stein M, Lin H, Jeyamohan C, Dvorzhinski D, Gounder M, Bray K, et al. Targeting tumor metabolism with 2‐deoxyglucose in patients with castrate‐resistant prostate cancer and advanced malignancies. Prostate. 2010;70:1388–94.

6.

Raez LE, Papadopoulos K, Ricart AD, Chiorean EG, DiPaola RS, Stein MN, et al. A phase I dose-escalation trial of 2-deoxy-D-glucose alone or combined with docetaxel in patients with advanced solid tumors. Cancer Chemother Pharmacol. 2013;71:523–30.

7.

Sanderson SM, Locasale JW. Revisiting the Warburg effect: some tumors hold their breath. Cell Metab. 2018;28:669–70.

8.

Villanueva MT. Metabolic synthetic lethality. Nat Rev Drug Discov. 2018;17:543.

9.

Jia D, Lu M, Jung KH, Park JH, Yu L, Onuchic JN, et al. Elucidating cancer metabolic plasticity by coupling gene regulation with metabolic pathways. Proc Natl Acad Sci USA. 2019;116:3909–18.

10.

Cheong JH, Park ES, Liang J, Dennison JB, Tsavachidou D, Nguyen-Charles C, et al. Dual inhibition of tumor energy pathway by 2-deoxyglucose and metformin is effective against a broad spectrum of preclinical cancer models. Mol Cancer Ther. 2011;10:2350–62.

11.

Bizjak M, Malavašič P, Dolinar K, Pohar J, Pirkmajer S, Pavlin M. Combined treatment with Metformin and 2-deoxy glucose induces detachment of viable MDA-MB-231 breast cancer cells in vitro. Sci Rep. 2017;7:1–14.

12.

Mert I, Chhina J, Allo G, Dai J, Seward S, Carey MS, et al. Synergistic effect of MEK inhibitor and metformin combination in low grade serous ovarian cancer. Gynecol Oncol. 2017;146:319–26.

13.

Mamtani R, Lewis JD, Scott FI, Ahmad T, Goldberg DS, Datta J, et al. Disentangling the association between statins, cholesterol, and colorectal cancer: a nested case-control study. PLoS Med. 2016;13:e1002007.

14.

Ungefroren H, Witte D, Lehnert H. The role of small GTPases of the Rho/Rac family in TGF‐β‐induced EMT and cell motility in cancer. Dev Dyn. 2018;247:451–61.

15.

Kuzu OF, Noory MA, Robertson GP. The role of cholesterol in cancer. Cancer Res. 2016;76:2063–70.

16.

Urbano F, Bugliani M, Filippello A, Scamporrino A, Di Mauro S, Di, et al. Atorvastatin but not pravastatin impairs mitochondrial function in human pancreatic islets and rat β-cells. Direct effect of oxidative stress. Sci Rep. 2017;7:11863.

17.

Singh F, Zoll J, Duthaler U, Charles AL, Panajatovic MV, Laverny G, et al. PGC-1β modulates statin-associated myotoxicity in mice. Arch Toxicol. 2019;93:487–504.

18.

Levy JMM, Towers CG, Thorburn A. Targeting autophagy in cancer. Nat Rev Cancer. 2017;17:528–42.

19.

Levy JMM, Thorburn A. Autophagy in cancer: moving from understanding mechanism to improving therapy responses in patients. Cell Death Differ. 2020;27:843–57.

20.

Xu R, Ji Z, Xu C, Zhu J. The clinical value of using chloroquine or hydroxychloroquine as autophagy inhibitors in the treatment of cancers: a systematic review and meta-analysis. Medicine (Baltimore). 2018;97:e12912.

21.

Shen Y, Wang C, Ren Y, Ye J. A comprehensive look at the role of hyperlipidemia in promoting colorectal cancer liver metastasis. J Cancer. 2018;9:2981–6.

22.

Lin W, Huang J, Yuan Z, Feng S, Xie Y, Ma W. Protein kinase C inhibitor chelerythrine selectively inhibits proliferation of triple-negative breast cancer cells. Sci Rep. 2017;7:2022.

23.

Lin W, Huang J, Liao X, Yuan Z, Feng S, Xie Y, et al. Neo-tanshinlactone selectively inhibits the proliferation of estrogen receptor positive breast cancer cells through transcriptional down-regulation of estrogen receptor alpha. Pharmacol Res. 2016;111:849–58.

24.

Chou TC. Theoretical basis, experimental design, and computerized simulation of synergism and antagonism in drug combination studies. Pharmacol Rev. 2006;58:621–81.

25.

Motawe ZY, Farsaei F, Abdelmaboud SS, Cuevas J, Breslin JW. Sigma-1 receptor activation-induced glycolytic ATP production and endothelial barrier enhancement. Microcirculation. 2020;27:e12620.

26.

Spiegel J, Cromm PM, Zimmermann G, Grossmann TN, Waldmann H. Small-molecule modulation of Ras signaling. Nat Chem Biol. 2014;10:613–22.

27.

Evan GI, Vousden KH. Proliferation, cell cycle and apoptosis in cancer. Nature. 2001;411:342–8.

28.

Lew DJ, Kornbluth S. Regulatory roles of cyclin dependent kinase phosphorylation in cell cycle control. Curr Opin Cell Biol. 1996;8:795–804.

29.

Icard P, Fournel L, Wu Z, Alifano M, Lincet H. Interconnection between metabolism and cell cycle in cancer. Trends Biochem Sci. 2019;44:490–501.

30.

Huang J, Du J, Lin W, Long Z, Zhang N, Huang X, et al. Regulation of lactate production through p53/β-enolase axis contributes to statin-associated muscle symptoms. EBioMed. 2019;45:251–60.

31.

Robinson G, Dinsdale D, Macfarlane M, Cain K. Switching from aerobic glycolysis to oxidative phosphorylation modulates the sensitivity of mantle cell lymphoma cells to TRAIL. Oncogene. 2012;31:4996–5006.

32.

Hardie DG, Ross FA, Hawley SA. AMPK: a nutrient and energy sensor that maintains energy homeostasis. Nat Rev Mol Cell Biol. 2012;13:251–62.

33.

Lin SC, Hardie DG. AMPK: sensing glucose as well as cellular energy status. Cell Metab. 2018;27:299–313.

34.

Saxton RA, Sabatini DM. mTOR signaling in growth, metabolism, and disease. Cell. 2017;168:960–76.

35.

Giammarioli AM, Gambardella L, Barbati C, Pietraforte D, Tinari A, Alberton M, et al. Differential effects of the glycolysis inhibitor 2‐deoxy‐D‐glucose on the activity of pro‐apoptotic agents in metastatic melanoma cells, and induction of a cytoprotective autophagic response. Int J Cancer. 2012;131:E337–47.

36.

Klionsky DJ, Abdelmohsen K, Abe A, Abedin MJ, Abeliovich H, Acevedo Arozena A, et al. Guidelines for the use and interpretation of assays for monitoring autophagy. Autophagy. 2016;12:1–222.

37.

Zheng Q, Su H, Ranek MJ, Wang X. Autophagy and p62 in cardiac proteinopathy. Circ Res. 2011;109:296–308.

38.

Tanida I, Ueno T, Uchiyama Y. A super-ecliptic, pHluorin-mKate2, tandem fluorescent protein-tagged human LC3 for the monitoring of mammalian autophagy. PLoS One. 2014;9:e110600.

39.

Wolpin BM, Rubinson DA, Wang X, Chan JA, Cleary JM, Enzinger PC, et al. Phase II and pharmacodynamic study of autophagy inhibition using hydroxychloroquine in patients with metastatic pancreatic adenocarcinoma. Oncologist. 2014;19:637–8.

40.

Chen J, Bi H, Hou J, Zhang X, Zhang C, Yue L, et al. Atorvastatin overcomes gefitinib resistance in KRAS mutant human non-small cell lung carcinoma cells. Cell Death Dis. 2013;4:e814.

41.

Park IH, Kim JY, Jung JI, Han JY. Lovastatin overcomes gefitinib resistance in human non-small cell lung cancer cells with K-Ras mutations. Invest N Drugs. 2010;28:791–9.

42.

Kovács K, Decatur C, Toro M, Pham DG, Liu H, Jing Y, et al. 2-deoxy-glucose downregulates endothelial AKT and ERK via interference with N-Linked glycosylation, induction of endoplasmic reticulum stress, and GSK3β activation. Mol Cancer Ther. 2016;15:264–75.

43.

Shen S, Codogno P. The role of autophagy in cell death. In: Hayat MA, editor. Autophagy: cancer, other pathologies, inflammation, immunity, infection, and aging. San Diego: Academic Press; 2016. p139–54.

44.

Bryant KL, Stalnecker CA, Zeitouni D, Klomp JE, Peng S, Tikunov AP, et al. Combination of ERK and autophagy inhibition as a treatment approach for pancreatic cancer. Nat Med. 2019;25:628–40.

45.

Kinsey CG, Camolotto SA, Boespflug AM, Guillen KP, Foth M, Truong A, et al. Protective autophagy elicited by RAF→ MEK→ ERK inhibition suggests a treatment strategy for RAS-driven cancers. Nat Med. 2019;25:620–7.

46.

Ryan MB, Corcoran RB. Therapeutic strategies to target RAS-mutant cancers. Nat Rev Clin Oncol. 2018;15:709–20.

47.

Stamm JA, Ornstein DL. The role of statins in cancer prevention and treatment. Oncology (Williston Park). 2005;19:739–50.

48.

Mohanti BK, Rath GK, Anantha N, Kannan V, Das BS, Chandramouli BA, et al. Improving cancer radiotherapy with 2-deoxy-D-glucose: phase I/II clinical trials on human cerebral gliomas. Int J Radiat Oncol Biol Phys. 1996;35:103–11.

49.

Goldberg L, Israeli R, Kloog Y. FTS and 2-DG induce pancreatic cancer cell death and tumor shrinkage in mice. Cell Death Dis. 2012;3:e284.

50.

Ni T, He Z, Dai Y, Yao J, Guo Q, Wei L. Oroxylin A suppresses the development and growth of colorectal cancer through reprogram of HIF1α-modulated fatty acid metabolism. Cell Death Dis. 2017;8:e2865.

51.

Shibata MA, Ito Y, Morimoto J, Otsuki Y. Lovastatin inhibits tumor growth and lung metastasis in mouse mammary carcinoma model: a p53-independent mitochondrial-mediated apoptotic mechanism. Carcinogenesis. 2004;25:1887–98.

52.

Pecoraro V, Moja L, Dall'Olmo L, Cappellini G, Garattini S. Most appropriate animal models to study the efficacy of statins: a systematic review. Eur J Clin Invest. 2014;44:848–71.

53.

Björkhem-Bergman L, Lindh JD, Bergman P. What is a relevant statin concentration in cell experiments claiming pleiotropic effects? Br J Clin Pharmcol. 2011;72:164–5.

54.

Chen K, Zeng J, Xiao H, Huang C, Hu J, Yao W, et al. Regulation of glucose metabolism by p62/SQSTM1 through HIF1α. J Cell Sci. 2016;129:817–30.

55.

Müller TD, Lee SJ, Jastroch M, Kabra D, Stemmer K, Aichler M, et al. p62 Links β-adrenergic input to mitochondrial function and thermogenesis. J Clin Invest. 2013;123:469–78.

56.

Malenda A, Skrobanska A, Issat T, Winiarska M, Bil J, Oleszczak B, et al. Statins impair glucose uptake in tumor cells. Neoplasia. 2012;14:311–23.

57.

Christie CF, Fang D, Hunt EG, Morris ME, Rovini A, Heslop KA, et al. Statin-dependent modulation of mitochondrial metabolism in cancer cells is independent of cholesterol content. FASEB J. 2019;33:8186–201.

58.

Kuzyk CL, Anderson CC, Roede JR. Simvastatin induces delayed apoptosis through disruption of glycolysis and mitochondrial impairment in neuroblastoma cells. Clin Trans Sci. 2020;13:563–72.

59.

Ashton TM, McKenna WG, Kunz-Schughart LA, Higgins GS. Oxidative phosphorylation as an emerging target in cancer therapy. Clin Cancer Res. 2018;24:2482–90.

60.

Bridges HR, Jones AJ, Pollak MN, Hirst J. Effects of metformin and other biguanides on oxidative phosphorylation in mitochondria. Biochem J. 2014;462:475–87.

61.

Ben Sahra I, Tanti JF, Bost F. The combination of metformin and 2 deoxyglucose inhibits autophagy and induces AMPK-dependent apoptosis in prostate cancer cells. Autophagy. 2010;6:670–1.
Acknowledgements
This work was funded by the Science and Technology Development Fund, Macau SAR, China (File no. 0036/2020/A1, 0013/2019/A1 and 0039/2020/A).
Ethics declarations
Competing interests
The authors declare no competing interests.
Supplementary information
About this article
Cite this article
Huang, Xm., Huang, Jj., Du, Jj. et al. Autophagy inhibitors increase the susceptibility of KRAS-mutant human colorectal cancer cells to a combined treatment of 2-deoxy-D-glucose and lovastatin. Acta Pharmacol Sin (2021). https://doi.org/10.1038/s41401-021-00612-9
Received:

Accepted:

Published:
Keywords
human colorectal cancers

lovastatin

2DG

glycolysis

OXPHOS

autophagy

chloroquine

hydroxychloroquine