Abstract
L-Carnosine (β-alanyl-L-histidine) is a naturally occurring dipeptide, which has shown broad-spectrum anticancer activity. But the anticancer mechanisms and regulators remain unknown. In this study, we investigated the effects of carnosine on human glioma U87 and U251 cell lines under normoxia (21% O2) and hypoxia (1% O2). We showed that carnosine (25−75 mM) dose-dependently inhibited the proliferation of the glioma cells; carnosine (50 mM) inhibited their colony formation, migration, and invasion capacity. But there was no significant difference in the inhibitory effects of carnosine under normoxia and hypoxia. Treatment with carnosine (50 mM) significantly decreased the expression of glutamine synthetase (GS) at the translation level rather than the transcription level in U87 and U251 cells, both under normoxia and hypoxia. Furthermore, the silencing of GS gene with shRNA and glutamine (Gln) deprivation significantly suppressed the growth, migratory, and invasive potential of the glioma cells. The inhibitory effect of carnosine on U87 and U251 cells was partly achieved by inhibiting the Gln metabolism pathway. Carnosine reduced the expression of GS in U87 and U251 cells by promoting the degradation of GS through the proteasome pathway, shortening the protein half-life, and reducing its stability. Given that targeting tumor metabolism is a proven efficient therapeutic tactic, our results may present new treatment strategies and drugs for improving the prognosis of gliomas.
Access options
Subscribe to Journal
Get full journal access for 1 year
$499.00
only $41.58 per issue
All prices are NET prices.
VAT will be added later in the checkout.
Rent or Buy article
Get time limited or full article access on ReadCube.
from$8.99
All prices are NET prices.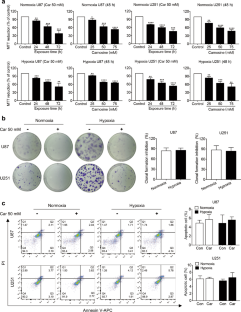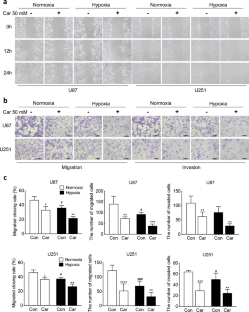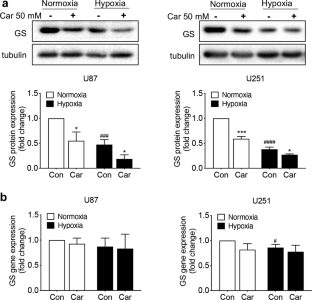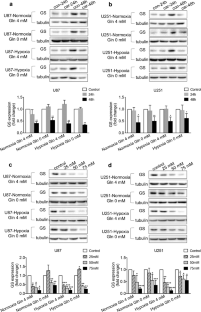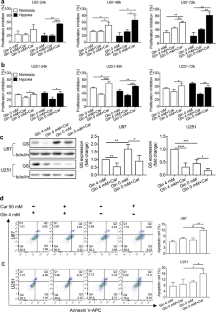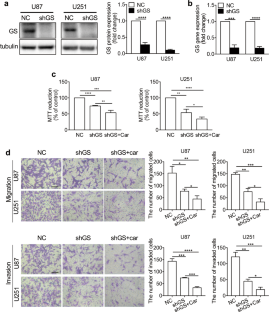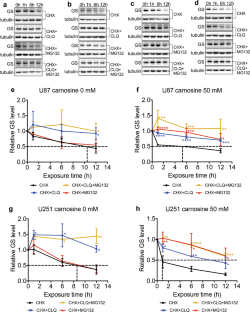 References
1.

Lapointe S, Perry A, Butowski NA. Primary brain tumours in adults. Lancet. 2018;392:432–46.

2.

Ostrom QT, Gittleman H, Truitt G, Boscia A, Kruchko C, Barnholtz-Sloan JS. CBTRUS statistical report: primary brain and other central nervous system tumors diagnosed in the United States in 2011-2015. Neuro Oncol. 2018;20:iv1–iv86.

3.

Cheng F, Guo D. MET in glioma: signaling pathways and targeted therapies. J Exp Clin Cancer Res. 2019;38:270.

4.

Tomiyama A, Ichimura K. Signal transduction pathways and resistance to targeted therapies in glioma. Semin Cancer Biol. 2019;58:118–29.

5.

Bao S, Wu Q, McLendon RE, Hao Y, Shi Q, Hjelmeland AB, et al. Glioma stem cells promote radioresistance by preferential activation of the DNA damage response. Nature. 2006;444:756–60.

6.

Cheng L, Huang Z, Zhou W, Wu Q, Donnola S, Liu JK, et al. Glioblastoma stem cells generate vascular pericytes to support vessel function and tumor growth. Cell. 2013;153:139–52.

7.

Xue H, Yuan G, Guo X, Liu Q, Zhang J, Gao X, et al. A novel tumor-promoting mechanism of IL6 and the therapeutic efficacy of tocilizumab: Hypoxia-induced IL6 is a potent autophagy initiator in glioblastoma via the p-STAT3-MIR155-3p-CREBRF pathway. Autophagy. 2016;12:1129–52.

8.

Brat DJ, Castellano-Sanchez AA, Hunter SB, Pecot M, Cohen C, Hammond EH, et al. Pseudopalisades in glioblastoma are hypoxic, express extracellular matrix proteases, and are formed by an actively migrating cell population. Cancer Res. 2004;64:920–7.

9.

Zong WX, Rabinowitz JD, White E. Mitochondria and cancer. Mol Cell. 2016;61:667–76.

10.

Shen Y, Yang J, Li J, Shi X, Ouyang L, Tian Y, et al. Carnosine inhibits the proliferation of human gastric cancer SGC-7901 cells through both of the mitochondrial respiration and glycolysis pathways. PLoS ONE. 2014;9:e104632.

11.

Diers AR, Broniowska KA, Chang CF, Hogg N. Pyruvate fuels mitochondrial respiration and proliferation of breast cancer cells: effect of monocarboxylate transporter inhibition. Biochem J. 2012;444:561–71.

12.

Eagle H, Oyama VI, Levy M, Horton CL, Fleischman R. The growth response of mammalian cells in tissue culture to L-glutamine and L-glutamic acid. J Biol Chem. 1956;218:607–16.

13.

Marin-Valencia I, Yang C, Mashimo T, Cho S, Baek H, Yang XL, et al. Analysis of tumor metabolism reveals mitochondrial glucose oxidation in genetically diverse human glioblastomas in the mouse brain in vivo. Cell Metab. 2012;15:827–37.

14.

Tardito S, Oudin A, Ahmed SU, Fack F, Keunen O, Zheng L, et al. Glutamine synthetase activity fuels nucleotide biosynthesis and supports growth of glutamine-restricted glioblastoma. Nat Cell Biol. 2015;17:1556–68.

15.

Caruso G, Caraci F, Jolivet RB. Pivotal role of carnosine in the modulation of brain cells activity: multimodal mechanism of action and therapeutic potential in neurodegenerative disorders. Prog Neurobiol. 2019;175:35–53.

16.

Sarrami F, Yu LJ, Karton A. Computational design of bio-inspired carnosine-based HOBr antioxidants. J Comput Aided Mol Des. 2017;31:905–13.

17.

Miceli V, Pampalone M, Frazziano G, Grasso G, Rizzarelli E, Ricordi C, et al. Carnosine protects pancreatic beta cells and islets against oxidative stress damage. Mol Cell Endocrinol. 2018;474:105–18.

18.

Seidler NW, Yeargans GS, Morgan TG. Carnosine disaggregates glycated alpha-crystallin: an in vitro study. Arch Biochem Biophys. 2004;427:110–5.

19.

Artioli GG, Sale C, Jones RL. Carnosine in health and disease. Eur J Sport Sci. 2019;19:30–9.

20.

Ditte Z, Ditte P, Labudova M, Simko V, Iuliano F, Zatovicova M, et al. Carnosine inhibits carbonic anhydrase IX-mediated extracellular acidosis and suppresses growth of HeLa tumor xenografts. BMC Cancer. 2014;14:358.

21.

Oppermann H, Faust H, Yamanishi U, Meixensberger J, Gaunitz F. Carnosine inhibits glioblastoma growth independent from PI3K/Akt/mTOR signaling. PLoS One. 2019;14:e0218972.

22.

Cheng JY, Yang JB, Liu Y, Xu M, Huang YY, Zhang JJ, et al. Profiling and targeting of cellular mitochondrial bioenergetics: inhibition of human gastric cancer cell growth by carnosine. Acta Pharmacol Sin. 2019;40:938–48.

23.

Cao P, Zhang J, Huang Y, Fang Y, Lyu J, Shen Y. The age-related changes and differences in energy metabolism and glutamate-glutamine recycling in the d-gal-induced and naturally occurring senescent astrocytes in vitro. Exp Gerontol. 2019;118:9–18.

24.

Holliday R, McFarland GA. A role for carnosine in cellular maintenance. Biochem (Mosc). 2000;65:843–8.

25.

Rosati A, Poliani PL, Todeschini A, Cominelli M, Medicina D, Cenzato M, et al. Glutamine synthetase expression as a valuable marker of epilepsy and longer survival in newly diagnosed glioblastoma multiforme. Neuro Oncol. 2013;15:618–25.

26.

Hipkiss AR, Gaunitz F. Inhibition of tumour cell growth by carnosine: some possible mechanisms. Amino Acids. 2014;46:327–37.

27.

Pisano JJ, Wilson JD, Cohen L, Abraham D, Udenfriend S. Isolation of gamma-aminobutyrylhistidine (homocarnosine) from brain. J Biol Chem. 1961;236:499–502.

28.

Renner C, Asperger A, Seyffarth A, Meixensberger J, Gebhardt R, Gaunitz F. Carnosine inhibits ATP production in cells from malignant glioma. Neurol Res. 2010;32:101–5.

29.

Qiu J, Hauske SJ, Zhang S, Rodriguez-Nino A, Albrecht T, Pastene DO, et al. Identification and characterisation of carnostatine (SAN9812), a potent and selective carnosinase (CN1) inhibitor with in vivo activity. Amino Acids. 2019;51:7–16.

30.

Cavazos DA, Brenner AJ. Hypoxia in astrocytic tumors and implications for therapy. Neurobiol Dis. 2016;85:227–33.

31.

Hauselmann I, Borsig L. Altered tumor-cell glycosylation promotes metastasis. Front Oncol. 2014;4:28. https://doi.org/10.3389/fonc.2014.00028.

32.

DeBerardinis RJ, Mancuso A, Daikhin E, Nissim I, Yudkoff M, Wehrli S, et al. Beyond aerobic glycolysis: transformed cells can engage in glutamine metabolism that exceeds the requirement for protein and nucleotide synthesis. Proc Natl Acad Sci USA. 2007;104:19345–50.

33.

Yang L, Venneti S, Nagrath D. Glutaminolysis: A Hallmark of Cancer Metabolism. Annu Rev Biomed Eng. 2017;19:163–94.

34.

Altman BJ, Stine ZE, Dang CV. From Krebs to clinic: glutamine metabolism to cancer therapy. Nat Rev Cancer. 2016;16:619–34.

35.

Yoo HC, Park SJ, Nam M, Kang J, Kim K, Yeo JH, et al. A Variant of SLC1A5 Is a mitochondrial glutamine transporter for metabolic reprogramming in cancer cells. Cell Metab. 2020;31:267–83. e12

36.

Issaq SH, Mendoza A, Fox SD, Helman LJ. Glutamine synthetase is necessary for sarcoma adaptation to glutamine deprivation and tumor growth. Oncogenesis. 2019;8:20. https://doi.org/10.1038/s41389-019-0129-z.

37.

Kitajima S, Lee KL, Hikasa H, Sun W, Huang RY, Yang H, et al. Hypoxia-inducible factor-1alpha promotes cell survival during ammonia stress response in ovarian cancer stem-like cells. Oncotarget. 2017;8:114481–94.

38.

Vanhove K, Derveaux E, Graulus GJ, Mesotten L, Thomeer M, Noben JP, et al. Glutamine addiction and therapeutic strategies in lung cancer. Int J Mol Sci. 2019;20:252.

39.

Marquez J, Alonso FJ, Mates JM, Segura JA, Martin-Rufian M, Campos-Sandoval JA. Glutamine addiction in gliomas. Neurochem Res. 2017;42:1735–46.

40.

Fulda S. Cell death-based treatment of glioblastoma. Cell Death Dis. 2018;9:121. https://doi.org/10.1038/s41419-017-0021-8.

41.

Ciechanover A. Intracellular protein degradation: from a vague idea thru the lysosome and the ubiquitin-proteasome system and onto human diseases and drug targeting. Best Pr Res Clin Haematol. 2017;30:341–55.

42.

Zaky W, Manton C, Miller CP, Khatua S, Gopalakrishnan V, Chandra J. The ubiquitin-proteasome pathway in adult and pediatric brain tumors: biological insights and therapeutic opportunities. Cancer Metastasis Rev. 2017;36:617–33.
Acknowledgements
This work was supported by Zhejiang Provincial Scientific Research Foundations (LY19H090010), Wenzhou City Science and Technology Project (Y20170014), and Key Discipline of Zhejiang Province in Medical Technology (First Class, Category A).
Ethics declarations
Competing interests
The authors declare no competing interests.
Supplementary information
About this article
Cite this article
Fang, Yj., Wu, M., Chen, Hn. et al. Carnosine suppresses human glioma cells under normoxic and hypoxic conditions partly via inhibiting glutamine metabolism. Acta Pharmacol Sin (2020). https://doi.org/10.1038/s41401-020-0488-1
Received:

Accepted:

Published:
Keywords
glioma

hypoxia

carnosine

glutamine synthetase

proteasome

tumor metabolism
Further reading
Yanqing Song

,

Tingting Hu

,

Huan Gao

,

Jinghui Zhai

,

Jiawei Gong

,

Yueming Zhang

,

Lina Tao

,

Jingmeng Sun

,

Zhiyuan Li

&

Xiaoyu Qu

Biochemical Pharmacology (2021)