Abstract
In general, anti-inflammatory treatment is considered for multiple liver diseases despite the etiology. But current drugs for alleviating liver inflammation have defects, making it necessary to develop more potent and safer drugs for liver injury. In this study, we screened a series of (dihydro-)stilbene or (dihydro-)phenanthrene derivatives extracted from Pholidota chinensis for their potential biological activities. Among 31 compounds, the dihydro-stilbene gigantol exerted most potent protective effects on human hepatocytes against lithocholic acid toxicity, and exhibited solid antioxidative and anti-inflammatory effect in vitro. In mice with CCl4-induced acute liver injury, pre-administration of gigantol (10, 20, 40 mg· kg−1· d−1, po, for 7 days) dose-dependently decreased serum transaminase levels and improved pathological changes in liver tissues. The elevated lipid peroxidation and inflammatory responses in the livers were also significantly alleviated by gigantol. The pharmacokinetic studies showed that gigantol was highly concentrated in the mouse livers, which consisted with its efficacy in preventing liver injury. Using a label-free quantitative proteomic analysis we revealed that gigantol mainly regulated the immune system process in liver tissues of CCl4-treated mice, and the complement and coagulation cascades was the predominant pathway; gigantol markedly inhibited the expression of complement component C9, which was a key component for the formation of terminal complement complex (TCC) C5b-9. These results were validated by immunohistochemistry (IHC) or real time-PCR. Confocal microscopy analysis showed that gigantol significantly inhibited the vascular deposition of TCC in the liver. In conclusion, we demonstrate for the first time that oral administration of gigantol potently relieves liver oxidative stress and inflammation, possibly via a novel mechanism of inhibiting the C5b-9 formation in the liver.
Access options
Subscribe to Journal
Get full journal access for 1 year
$684.00
only $57.00 per issue
All prices are NET prices.
VAT will be added later in the checkout.
Rent or Buy article
Get time limited or full article access on ReadCube.
from$8.99
All prices are NET prices.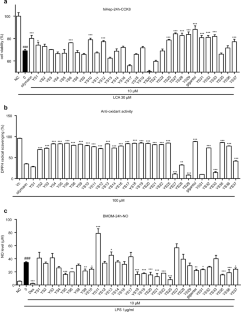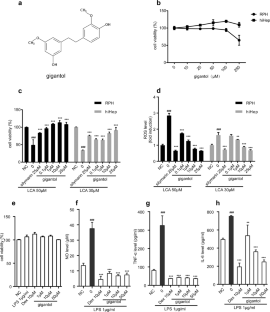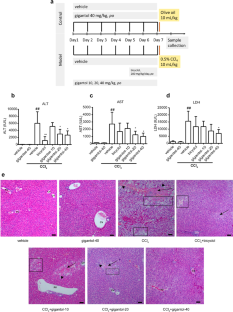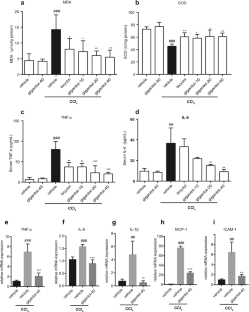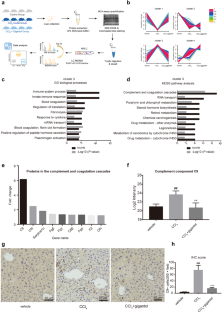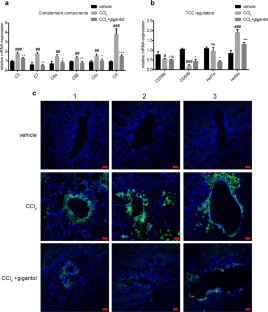 References
1.

de Andrade KQ, Moura FA, dos Santos JM, de Araujo OR, de Farias Santos JC, Goulart MO. Oxidative stress and inflammation in hepatic diseases: therapeutic possibilities of N-acetylcysteine. Int J Mol Sci. 2015;16:30269–308.

2.

Diesen DL, Kuo PC. Nitric oxide and redox regulation in the liver: part I. General considerations and redox biology in hepatitis. J Surg Res. 2010;162:95–109.

3.

Diesen DL, Kuo PC. Nitric oxide and redox regulation in the liver: part II. Redox biology in pathologic hepatocytes and implications for intervention. J Surg Res. 2011;167:96–112.

4.

Asrani SK, Devarbhavi H, Eaton J, Kamath PS. Burden of liver diseases in the world. J Hepatol. 2019;70:151–71.

5.

Wendel A, Feuerstein S. Drug-induced lipid peroxidation in mice-I. Modulation by monooxygenase activity, glutathione and selenium status. Biochem Pharmacol. 1981;30:2513–20.

6.

Singh R, Czaja MJ. Regulation of hepatocyte apoptosis by oxidative stress. J Gastroenterol Hepatol. 2007;22(Suppl 1):S45–8.

7.

Hong JY, Lebofsky M, Farhood A, Jaeschke H. Oxidant stress-induced liver injury in vivo: role of apoptosis, oncotic necrosis, and c-Jun NH2-terminal kinase activation. Am J Physiol Gastrointest Liver Physiol. 2009;296:G572–81.

8.

Jaeschke H. Reactive oxygen and mechanisms of inflammatory liver injury. J Gastroenterol Hepatol. 2000;15:718–24.

9.

Santos JC, Valentim IB, de Araujo OR, Ataide Tda R, Goulart MO. Development of nonalcoholic hepatopathy: contributions of oxidative stress and advanced glycation end products. Int J Mol Sci. 2013;14:19846–66.

10.

Rumack BH, Peterson RC, Koch GG, Amara IA. Acetaminophen overdose. 662 cases with evaluation of oral acetylcysteine treatment. Arch Intern Med. 1981;141:380–5.

11.

Wang AL, Wang JP, Wang H, Chen YH, Zhao L, Wang LS, et al. A dual effect of N-acetylcysteine on acute ethanol-induced liver damage in mice. Hepatol Res. 2006;34:199–206.

12.

Atkinson MC. The use of N-acetylcysteine in intensive care. Crit Care Resusc. 2002;4:21–7.

13.

Zhao J, Agarwal R. Tissue distribution of silibinin, the major active constituent of silymarin, in mice and its association with enhancement of phase II enzymes: implications in cancer chemoprevention. Carcinogenesis. 1999;20:2101–8.

14.

Wu JW, Lin LC, Tsai TH. Drug-drug interactions of silymarin on the perspective of pharmacokinetics. J Ethnopharmacol. 2009;121:185–93.

15.

Wu JW, Lin LC, Hung SC, Chi CW, Tsai TH. Analysis of silibinin in rat plasma and bile for hepatobiliary excretion and oral bioavailability application. J Pharm Biomed Anal. 2007;45:635–41.

16.

Farrell GC, Haczeyni F, Chitturi S. Pathogenesis of NASH: how metabolic complications of overnutrition favour lipotoxicity and pro-inflammatory fatty liver disease. Adv Exp Med Biol. 2018;1061:19–44.

17.

Domitrovic R, Potocnjak I. A comprehensive overview of hepatoprotective natural compounds: mechanism of action and clinical perspectives. Arch Toxicol. 2016;90:39–79.

18.

Lam Y, Ng TB, Yao RM, Shi J, Xu K, Sze SC, et al. Evaluation of chemical constituents and important mechanism of pharmacological biology in dendrobium plants. Evid Based Complement Altern Med. 2015;2015:841752.

19.

Wang J, Wang L, Kitanaka S. Stilbene and dihydrophenanthrene derivatives from Pholidota chinensis and their nitric oxide inhibitory and radical-scavenging activities. J Nat Med. 2007;61:381–6.

20.

Yao S, Tang C-P, Li XQ, Ye Y. Phochinenins A-F, dimeric 9,10-dihydrophenanthrene derivatives, from Pholidota chinensis. Helv Chim Acta. 2008;91:2122–9.

21.

Yao S, Tang C-P, Ye Y, Kurtan T, Kiss-Szikszai A, Antus S, et al. Stereochemistry of atropisomeric 9,10-dihydrophenanthrene dimers from Pholidota chinensis. Tetrahedron: Asymmetry. 2008;19:2007–14.

22.

Morgan BP. The membrane attack complex as an inflammatory trigger. Immunobiology. 2016;221:747–51.

23.

Reyes-Ramirez A, Leyte-Lugo M, Figueroa M, Serrano-Alba T, Gonzalez-Andrade M, Mata R. Synthesis, biological evaluation, and docking studies of gigantol analogs as calmodulin inhibitors. Eur J Med Chem. 2011;46:2699–708.

24.

Ni X, Gao Y, Wu Z, Ma L, Chen C, Wang L, et al. Functional human induced hepatocytes (hiHeps) with bile acid synthesis and transport capacities: a novel in vitro cholestatic model. Sci Rep. 2016;6:38694.

25.

Wu ZT, Qi XM, Sheng JJ, Ma LL, Ni X, Ren J, et al. Timosaponin A3 induces hepatotoxicity in rats through inducing oxidative stress and down-regulating bile acid transporters. Acta Pharmacol Sin. 2014;35:1188–98.

26.

Gabrielsson J, Weiner D. Non-compartmental analysis. Methods Mol Biol. 2012;929:377–89.

27.

Futschik ME, Carlisle B. Noise-robust soft clustering of gene expression time-course data. J Bioinform Comput Biol. 2005;3:965–88.

28.

Yu G, Wang LG, Han Y, He QY. ClusterProfiler: an R package for comparing biological themes among gene clusters. Omics. 2012;16:284–7.

29.

Liu D, Zhao X. Method and application for dynamic comprehensive evaluation with subjective and objective information. PLoS One. 2013;8:e83323.

30.

Podack ER, Tschopp J. Membrane attack by complement. Mol Immunol. 1984;21:589–603.

31.

Qian YM, Qin X, Miwa T, Sun X, Halperin JA, Song WC. Identification and functional characterization of a new gene encoding the mouse terminal complement inhibitor CD59. J Immunol. 2000;165:2528–34.

32.

Pontoglio M, Pausa M, Doyen A, Viollet B, Yaniv M, Tedesco F. Hepatocyte nuclear factor 1alpha controls the expression of terminal complement genes. J Exp Med. 2001;194:1683–9.

33.

Shavva VS, Mogilenko DA, Dizhe EB, Oleinikova GN, Perevozchikov AP, Orlov SV. Hepatic nuclear factor 4alpha positively regulates complement C3 expression and does not interfere with TNFalpha-mediated stimulation of C3 expression in HepG2 cells. Gene. 2013;524:187–92.

34.

Perez MJ, Briz O. Bile-acid-induced cell injury and protection. World J Gastroenterol. 2009;15:1677–89.

35.

Tang D, Kang R, Coyne CB, Zeh HJ, Lotze MT. PAMPs and DAMPs: signal 0s that spur autophagy and immunity. Immunol Rev. 2012;249:158–75.

36.

Jaeschke H. Reactive oxygen and mechanisms of inflammatory liver injury: present concepts. J Gastroenterol Hepatol. 2011;26(Suppl 1):173–9.

37.

Weber LW, Boll M, Stampfl A. Hepatotoxicity and mechanism of action of haloalkanes: carbon tetrachloride as a toxicological model. Crit Rev Toxicol. 2003;33:105–36.

38.

Liu X, Zhang H, Jiang Y. Clinical effect of bicyclol tablet in decreasing plasma ALT/AST levels. Weichangbingxue He Ganbingxue Zazhi. 2011;20:751–3.

39.

Qin X, Gao B. The complement system in liver diseases. Cell Mol Immunol. 2006;3:333–40.

40.

Melgaco JG, Veloso CE, Pacheco-Moreira LF, Vitral CL, Pinto MA. Complement system as a target for therapies to control liver regeneration/damage in acute liver failure induced by viral hepatitis. J Immunol Res. 2018;2018:3917032.

41.

Wang F, Zha WS, Zhang JX, Li SL, Wang H, Ye LP, et al. Complement C3a binding to its receptor as a negative modulator of Th2 response in liver injury in trichloroethylene-sensitized mice. Toxicol Lett. 2014;229:229–39.

42.

Debray FG, de Halleux V, Guidi O, Detrembleur N, Gaillez S, Rausin L, et al. Neonatal liver cirrhosis without iron overload caused by gestational alloimmune liver disease. Pediatrics. 2012;129:e1076–9.

43.

Sun S, Guo Y, Zhao G, Zhou X, Li J, Hu J, et al. Complement and the alternative pathway play an important role in LPS/D-GalN-induced fulminant hepatic failure. PLoS One. 2011;6:e26838.

44.

Marshall KM, He S, Zhong Z, Atkinson C, Tomlinson S. Dissecting the complement pathway in hepatic injury and regeneration with a novel protective strategy. J Exp Med. 2014;211:1793–805.

45.

Bykov I, Junnikkala S, Pekna M, Lindros KO, Meri S. Complement C3 contributes to ethanol-induced liver steatosis in mice. Ann Med. 2006;38:280–6.

46.

Pritchard MT, McMullen MR, Stavitsky AB, Cohen JI, Lin F, Edward Medof M, et al. Differential contributions of C3, C5, and decay-accelerating factor to ethanol-induced fatty liver in mice. Gastroenterology. 2007;132:1117–26.

47.

Rensen SS, Slaats Y, Driessen A, Peutz-Kootstra CJ, Nijhuis J, Steffensen R, et al. Activation of the complement system in human nonalcoholic fatty liver disease. Hepatology. 2009;50:1809–17.

48.

Amara U, Flierl MA, Rittirsch D, Klos A, Chen H, Acker B, et al. Molecular intercommunication between the complement and coagulation systems. J Immunol. 2010;185:5628–36.

49.

Davies A, Lachmann PJ. Membrane defence against complement lysis: the structure and biological properties of CD59. Immunol Res. 1993;12:258–75.

50.

Garnier G, Circolo A, Colten HR. Constitutive expression of murine complement factor B gene is regulated by the interaction of its upstream promoter with hepatocyte nuclear factor 4. J Biol Chem. 1996;271:30205–11.

51.

Zhang J, Hu W, Xing W, You T, Xu J, Qin X, et al. The protective role of CD59 and pathogenic role of complement in hepatic ischemia and reperfusion injury. Am J Pathol. 2011;179:2876–84.

52.

Fondevila C, Shen XD, Tsuchihashi S, Uchida Y, Freitas MC, Ke B, et al. The membrane attack complex (C5b-9) in liver cold ischemia and reperfusion injury. Liver Transpl. 2008;14:1133–41.

53.

Thorgersen EB, Barratt-Due A, Haugaa H, Harboe M, Pischke SE, Nilsson PH, et al. The role of complement in liver injury, regeneration, and transplantation. Hepatology. 2019;70:725–36.

54.

Lee M, Narayanan S, McGeer EG, McGeer PL. Aurin tricarboxylic acid protects against red blood cell hemolysis in patients with paroxysmal nocturnal hemoglobinemia. PLoS One. 2014;9:e87316.
Acknowledgements
This study was supported by the 'Organ Reconstruction and Manufacturing' Strategic Priority Research Program of the Chinese Academy of Sciences [grant number XDA16020205], the National Science Foundation of China [grant number 81872927], the International Partnership Program of Chinese Academy of Sciences [grant number 153631KYSB20160004], the Independent Deployment Program of the Institute of Pharmaceutical Innovation of the Chinese Academy of Sciences [grant number CASIMM0120184005], and the China Postdoctoral Science Foundation [grant number 2019M651623].
Ethics declarations
Competing interests
The authors declare no competing interests.
Supplementary information
About this article
Cite this article
Xue, Y., Yao, S., Liu, Q. et al. Dihydro-stilbene gigantol relieves CCl4-induced hepatic oxidative stress and inflammation in mice via inhibiting C5b-9 formation in the liver. Acta Pharmacol Sin (2020). https://doi.org/10.1038/s41401-020-0406-6
Received:

Accepted:

Published:
Keywords
gigantol

Chinese traditional medicine

liver injury

oxidative stress

inflammation

label-free proteomic

complement and coagulation cascades

terminal complement complex