Abstract
Tumor-targeted drug delivery systems (Tt-DDSs) are proposed as a promising strategy for cancer care. However, the dense collagen network in tumors stroma significantly reduces the penetration and efficacy of Tt-DDS. In order to investigate the effect of asiatic acid (AA) on antitumor effect of pegylated liposomal doxorubicin (PLD) by attenuating stroma-collagen, colon cancer xenograft mice (SW620 cell line) were treated by PLD, AA, or combined regimes, respectively; the collagen levels were estimated by Sirius red/fast green dual staining and immunohistochemistry (IHC) staining; the intratumor exposure of doxorubicin was visualized by ex vivo fluorescence imaging and quantified by HPLC/MS analysis. In addition, the impact of AA on collagen synthesis of fibroblast cell (HFL-1) and cytotoxic effect of PLD and doxorubicin to cancer cell (SW620) were studied in vitro. In the presence of AA (4 mg/kg), the intratumor collagen level was restricted in vivo (reduced by 22%, from 4.14% ± 0.30% to 3.24% ± 0.25%, P = 0.051) and in vitro. Subsequently, doxorubicin level was increased by ~30%. The antitumor activity of PLD was significantly improved (57.3% inhibition of tumor growth and 44% reduction in tumor weight) by AA combination. Additionally, no significant improvement in cytotoxic effect of PLD or doxorubicin induced by AA was observed. In conclusion, AA is a promising sensitizer for tumor treatment by enhancing intratumor drug exposure via stromal remodeling.
Access options
Subscribe to Journal
Get full journal access for 1 year
$684.00
only $57.00 per issue
All prices are NET prices.
VAT will be added later in the checkout.
Rent or Buy article
Get time limited or full article access on ReadCube.
from$8.99
All prices are NET prices.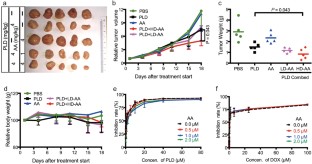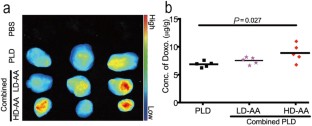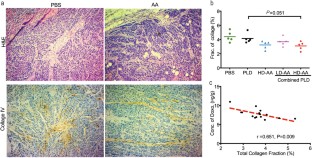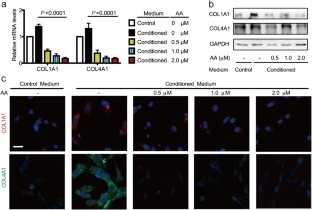 References
1.

van Elk M, Murphy BP, Eufrasio-da-Silva T, O'Reilly DP, Vermonden T, Hennink WE, et al. Nanomedicines for advanced cancer treatments: transitioning towards responsive systems. Int J Pharm. 2016;515:132–64.

2.

Petersen GH, Alzghari SK, Chee W, Sankari SS, La-Beck NM. Meta-analysis of clinical and preclinical studies comparing the anticancer efficacy of liposomal versus conventional non-liposomal doxorubicin. J Control Release. 2016;232:255–64.

3.

Gabizon AA, Patil Y, La-Beck NM. New insights and evolving role of pegylated liposomal doxorubicin in cancer therapy. Drug Resist Updat. 2016;29:90–106.

4.

Gabizon A, Shmeeda H, Grenader T. Pharmacological basis of pegylated liposomal doxorubicin: impact on cancer therapy. Eur J Pharm Sci. 2012;45:388–98.

5.

Ramanujan S, Pluen A, McKee TD, Brown EB, Boucher Y, Jain RK. Diffusion and convection in collagen gels: implications for transport in the tumor interstitium. Biophys J. 2002;83:1650–60.

6.

Netti PA, Berk DA, Swartz MA, Grodzinsky AJ, Jain RK. Role of extracellular matrix assembly in interstitial transport in solid tumors. Cancer Res. 2000;60:2497–503.

7.

Dellian M, Yuan F, Trubetskoy VS, Torchilin VP, Jain RK. Vascular permeability in a human tumour xenograft: molecular charge dependence. Br J Cancer. 2000;82:1513–8.

8.

Sato H, Takino T, Okada Y, Cao J, Shinagawa A, Yamamoto E, et al. A matrix metalloproteinase expressed on the surface of invasive tumour cells. Nature. 1994;370:61–65.

9.

Jain RK, Stylianopoulos T. Delivering nanomedicine to solid tumors. Nat Rev Clin Oncol. 2010;7:653–64.

10.

Miao L, Huang L. Exploring the tumor microenvironment with nanoparticles. Cancer Treat Res. 2015;166:193–226.

11.

Kim JH, Lee YS, Kim H, Huang JH, Yoon AR, Yun CO. Relaxin expression from tumor-targeting adenoviruses and its intratumoral spread, apoptosis induction, and efficacy. J Natl Cancer Inst. 2006;98:1482–93.

12.

Ganesh S, Gonzalez Edick M, Idamakanti N, Abramova M, Vanroey M, Robinson M, et al. Relaxin-expressing, fiber chimeric oncolytic adenovirus prolongs survival of tumor-bearing mice. Cancer Res. 2007;67:4399–407.

13.

Mok W, Boucher Y, Jain RK. Matrix metalloproteinases-1 and -8 improve the distribution and efficacy of an oncolytic virus. Cancer Res. 2007;67:10664–8.

14.

Eikenes L, Tari M, Tufto I, Bruland OS, de Lange Davies C. Hyaluronidase induces a transcapillary pressure gradient and improves the distribution and uptake of liposomal doxorubicin (Caelyx) in human osteosarcoma xenografts. Br J Cancer. 2005;93:81–88.

15.

McKee TD, Grandi P, Mok W, Alexandrakis G, Insin N, Zimmer JP, et al. Degradation of fibrillar collagen in a human melanoma xenograft improves the efficacy of an oncolytic herpes simplex virus vector. Cancer Res. 2006;66:2509–13.

16.

Diop-Frimpong B, Chauhan VP, Krane S, Boucher Y, Jain RK. Losartan inhibits collagen I synthesis and improves the distribution and efficacy of nanotherapeutics in tumors. Proc Natl Acad Sci USA. 2011;108:2909–14.

17.

Olive KP, Jacobetz MA, Davidson CJ, Gopinathan A, McIntyre D, Honess D, et al. Inhibition of Hedgehog signaling enhances delivery of chemotherapy in a mouse model of pancreatic cancer. Science. 2009;324:1457–61.

18.

Adtani PN, Narasimhan M, Punnoose AM, Kambalachenu HR. Antifibrotic effect of Centella asiatica Linn and asiatic acid on arecoline-induced fibrosis in human buccal fibroblasts. J Investig Clin Dent. 2017;8. https://doi.org/10.1111/jicd.12208. Epub 2016 Feb.

19.

Tang LX, He RH, Yang G, Tan JJ, Zhou L, Meng XM, et al. Asiatic acid inhibits liver fibrosis by blocking TGF-beta/Smad signaling in vivo and in vitro. PLoS ONE. 2012;7:e31350.

20.

Bian D, Zhang J, Wu X, Dou Y, Yang Y, Tan Q, et al. Asiatic acid isolated from Centella asiatica inhibits TGF-beta1-induced collagen expression in human keloid fibroblasts via PPAR-gamma activation. Int J Biol Sci. 2013;9:1032–42.

21.

Huo L, Shi W, Chong L, Wang J, Zhang K, Li Y. Asiatic acid inhibits left ventricular remodeling and improves cardiac function in a rat model of myocardial infarction. Exp Ther Med. 2016;11:57–64.

22.

Ramachandran V, Saravanan R, Senthilraja P. Antidiabetic and antihyperlipidemic activity of asiatic acid in diabetic rats, role of HMG CoA: in vivo and in silico approaches. Phytomedicine. 2014;21:225–32.

23.

Wang J, Lu L, Wang Y, Wu Y, Han J, Wang W, et al. Qishenyiqi Dropping Pill attenuates myocardial fibrosis in rats by inhibiting RAAS-mediated arachidonic acid inflammation. J Ethnopharmacol. 2015;176:375–84.

24.

Baumgarten S, Gaba RC, van Breemen RB. Confirmation of drug delivery after liver chemoembolization: direct tissue doxorubicin measurement by UHPLC-MS-MS. Biomed Chromatogr. 2012;26:1529–33.

25.

Miao L, Lin CM, Huang L. Stromal barriers and strategies for the delivery of nanomedicine to desmoplastic tumors. J Control Release. 2015;219:192–204.

26.

Dhanikula RS, Argaw A, Bouchard JF, Hildgen P. Methotrexate loaded polyether-copolyester dendrimers for the treatment of gliomas: enhanced efficacy and intratumoral transport capability. Mol Pharm. 2008;5:105–16.

27.

Xu C, Wang W, Xu M, Zhang J. Asiatic acid ameliorates tubulointerstitial fibrosis in mice with ureteral obstruction. Exp Ther Med. 2013;6:731–6.

28.

Wu F, Bian D, Xia Y, Gong Z, Tan Q, Chen J, et al. Identification of major active ingredients responsible for burn wound healing of Centella asiatica herbs. Evid Based Complement Altern Med. 2012;2012:848093.

29.

Kavitha CV, Jain AK, Agarwal C, Pierce A, Keating A, Huber KM, et al. Asiatic acid induces endoplasmic reticulum stress and apoptotic death in glioblastoma multiforme cells both in vitro and in vivo. Mol Carcinog. 2015;54:1417–29.

30.

Wu T, Geng J, Guo W, Gao J, Zhu X. Asiatic acid inhibits lung cancer cell growth in vitro and in vivo by destroying mitochondria. Acta Pharm Sin B. 2017;7:65–72.

31.

Symon Z, Peyser A, Tzemach D, Lyass O, Sucher E, Shezen E, et al. Selective delivery of doxorubicin to patients with breast carcinoma metastases by stealth liposomes. Cancer. 1999;86:72–8.
Acknowledgements
The authors thank Dr. Qin-jie Weng and Dr. Xiao-yang Dai at the Zhejiang Province Key Laboratory of Anti-Cancer Drug Research, College of Pharmaceutical Sciences, Zhejiang University, China, for xenograft-model building; Dr. Xiao-dan Wu and Dr. Zhi-wei Ge at the Center of Analysis and Measurement, Zhejiang University, China, for HPLC-MS/MS analysis of doxorubicin; and Dr. Tian-yuan Zhang at the Institute of Pharmaceutics, Zhejiang University, China, for ex vivo fluorescence imaging of doxorubicin. This work was supported by the National Natural Science Foundation of China (81301873 and 81773819), the Natural Science Foundation of Zhejiang Province (LY16H160038 and LQ17H300001), the Science and Technology in Zhejiang Province Chinese Medicine Program (2015ZA036), the Scientific Research Key Program of the Health Bureau of Zhejiang Province (WKJ-ZJ-1504), the Medical Science Research Foundation of Zhejiang Province (2015ZDA006), the Zhejiang Provincial Program for the Cultivation of 151 Talents (PH and LF), the Zhejiang Provincial Program for the Cultivation of High-level Innovative Heath Talents (Ping Huang), and the Zhejiang Cancer Hospital Program for the Cultivation of 1022 Talents (LF).
Author contributions
F-zL, PH, and LF designed the research. LF, S-sK, L-kZ, Y-jL, C-mW, and JS performed the research. LF, S-sK, and H-yD analyzed the data. LF, Y-jL, and Y-wZ wrote the paper. All authors approved the final manuscript.
Ethics declarations
Competing interests
The authors declare no competing interests.
About this article
Cite this article
Fang, L., Kong, S., Zhong, L. et al. Asiatic acid enhances intratumor delivery and the antitumor effect of pegylated liposomal doxorubicin by reducing tumor-stroma collagen. Acta Pharmacol Sin 40, 539–545 (2019). https://doi.org/10.1038/s41401-018-0038-2
Received:

Accepted:

Published:

Issue Date:
Keywords
colon cancer

asiatic acid

pegylated liposomal doxorubicin

stromal collagen

intratumor drug delivery