Abstract
Interethnic variability in the drug-metabolizing capacity of CYP450 enzymes may lead to discrepancies in the relationship between genotypes and phenotypes worldwide. The present study was aimed to analyze for the first time whether there is a relationship between clinically relevant CYP450 genetic polymorphisms and their drug oxidation capacity (metabolic phenotype) in a population of healthy Nicaraguan volunteers. Two hundred and twelve participants were genotyped for CYP1A2, CYP2C9, CYP2C19, CYP2D6, and CYP3A4, and their actual metabolic phenotype (evaluated by the Metabolic Ratio, MR) was analyzed by using the CEIBA cocktail approach. The results showed the wide interindividual variability in all the studied enzymes and a significant difference (p < 0.004) in the activity of CYP1A2 between male and female subjects. The number of CYP2C19 (p < 0.0001) and CYP2D6 (p < 0.0001) active alleles were shown inversely correlated with their corresponding MR, although there were marked genotype-phenotype discrepancies. There was an actual enzyme capacity overlapping (MR) between genotypically Poor (gPMs) and Extensive Metabolizers (gEMs) of 3.14% subjects for CYP2D6 and 0.94% for CYP2C9. Similarly, there was an overlapping for metabolic phenotypes of 11.48% of genotypically ultrarapid metabolizers (gUMs) for CYP2C19 and 2.09% for CYP2D6 and gEMs. Therefore, the current approach for metabolic phenotype prediction based just on genotype does not predict properly for all individuals within this Nicaraguan Mestizo population, thus representing a potential barrier for the clinical implementation of personalized medicine in this region. However, it is necessary to improve the prediction of phenotype from genotype in order to improve the pharmacogenetic implementation in populations with specific ethnic backgrounds.
Your institute does not have access to this article
Access options
Subscribe to Journal
Get full journal access for 1 year
$119.00
only $19.83 per issue
All prices are NET prices.
VAT will be added later in the checkout.
Tax calculation will be finalised during checkout.
Buy article
Get time limited or full article access on ReadCube.
$32.00
All prices are NET prices.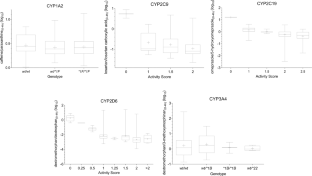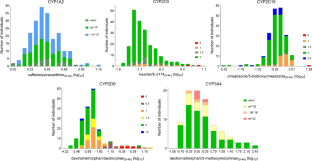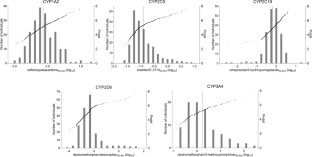 References
Lauschke VM, Milani L, Ingelman-Sundberg M. Pharmacogenomic biomarkers for improved drug therapy—recent progress and future developments. AAPS J. 2018;20. https://doi.org/10.1208/s12248-017-0161-x.

Ingelman-Sundberg M, Sim SC, Gomez A, Rodriguez-Antona C. Influence of cytochrome P450 polymorphisms on drug therapies: pharmacogenetic, pharmacoepigenetic and clinical aspects. Pharm Ther. 2007;116:496–526.

LLerena A, Naranjo MEG, Rodrigues-Soares F, Penas-LLedó EM, Fariñas H, Tarazona-Santos E. Interethnic variability of CYP2D6 alleles and of predicted and measured metabolic phenotypes across world populations. Expert Opin Drug Metab Toxicol. 2014;10:1569–83.

Céspedes-Garro C, Fricke-Galindo I, Naranjo MEG, Rodrigues-Soares F, Fariñas H, de Andrés F, et al. Worldwide interethnic variability and geographical distribution of CYP2C9 genotypes and phenotypes. Expert Opin Drug Metab Toxicol. 2015;11:1893–905.

Fricke-Galindo I, Céspedes-Garro C, Rodrigues-Soares F, Naranjo MEG, Delgado Á, de Andrés F, et al. Interethnic variation of CYP2C19 alleles, 'predicted' phenotypes and 'measured' metabolic phenotypes across world populations. Pharmacogenomics J. 2016;16:113–23.

Filipski KK, Pacanowski MA, Ramamoorthy A, Feero WG, Freedman AN. Dosing recommendations for pharmacogenetic interactions related to drug metabolism. Pharmacogenet Genom. 2016;26:334–9.

Voora D. Pharmacogenetics and pharmacogenomics. 3rd edn. Elsevier Inc., 2017 https://doi.org/10.1016/B978-0-12-800681-8.00016-5.

LLerena A, Dorado P, Peñas-Lledó EM. Pharmacogenetics of debrisoquine and its use as a marker for CYP2D6 hydroxylation capacity. Pharmacogenomics. 2009;10:17–28.

De Andrés F, LLerena A. Simultaneous determination of cytochrome P450 oxidation capacity in humans: a review on the phenotyping cocktail approach. Curr Pharm Biotechnol. 2016;17:1–22.

Bedada W, de Andrés F, Engidawork E, Hussein J, LLerena A, Aklillu E. Effects of Khat (Catha edulis) use on catalytic activities of major drug-metabolizing cytochrome P450 enzymes and implication of pharmacogenetic variations. Sci Rep. 2018;8:12726.

Gaedigk A, Simon S, Pearce R, Bradford L, Kennedy M, Leeder J. The CYP2D6 activity score: translating genotype information into a qualitative measure of phenotype. Clin Pharm Ther. 2008;83:234–42.

LLerena A, Dorado P, Ramírez R, González I, Álvarez M, Peñas-LLedó EM, et al. CYP2D6 genotype and debrisoquine hydroxylation phenotype in Cubans and Nicaraguans. Pharmacogenomics J. 2012;12:176–83.

Villagra D, Goethe J, Schwartz HI, Szarek B, Kocherla M, Gorowski K, et al. Novel drug metabolism indices for pharmacogenetic functional status based on combinatory genotyping of CYP2C9, CYP2C19 and CYP2D6 genes. Biomark Med. 2011;5:427–38.

Montané Jaime LK, Lalla A, Steimer W, Gaedigk A. Characterization of the CYP2D6 gene locus and metabolic activity in Indo- and Afro-Trinidadians: discovery of novel allelic variants. Pharmacogenomics. 2013;14:261–76.

Dorado P, González I, Naranjo MEG, de Andrés F, Peñas-Lledó EM, Calzadilla LR, et al. Lessons from Cuba for global precision medicine: CYP2D6 genotype is not a robust predictor of CYP2D6 ultrarapid. Metab Omi A J Integr Biol. 2017;21:17–26.

de Andrés F, Sosa-Macías M, Ramos BPL, Naranjo M-EG, LLerena A. CYP450 genotype/phenotype concordance in Mexican Amerindian indigenous populations–where to from here for global precision Med? Omi A J Integr Biol. 2017;21:509–19.

De Andrés F, Terán S, Hernández F, Terán E, LLerena A. To genotype or phenotype for personalized medicine? CYP450 drug metabolizing enzyme genotype–phenotype concordance and discordance in the ecuadorian population. Omi A J Integr Biol. 2016;20:699–710.

Løvlie R, Daly AK, Matre GE, Molven A, Steen VM. Polymorphisms in CYP2D6 duplication-negative individuals with the ultrarapid metabolizer phenotype: a role for the CYP2D6*35 allele in ultrarapid metabolism? Pharmacogenetics. 2001. https://doi.org/10.1097/00008571-200102000-00006.

McGraw J, Waller D. Cytochrome P450 variations in different ethnic populations. Expert Opin Drug Metab Toxicol. 2012;8:371–82.

Céspedes-Garro C, Naranjo M-EEG, Ramírez R, Serrano V, Fariñas H, Barrantes R, et al. Pharmacogenetics in Central American healthy volunteers: interethnic variability. Drug Metab Pers Ther. 2015;30:19–31.

Céspedes-Garro C, Rodrigues-Soares F, LLerena A, Duconge J, Montané-Jaime LK, Roblejo H, et al. Pharmacogenetic research activity in Central America and the Caribbean: a systematic review. Pharmacogenomics. 2016;17:1707–24.

Céspedes-Garro C, Jiménez-Arce G, Naranjo MG, Barrantes R, Llerena A. Ethnic background and CYP2D6 genetic polymorphisms in Costa Ricans. Rev Biol Trop. 2014;62:1659–71.

LLerena A, Dorado P, Naranjo MEG, Peñas-Lledó E. CYP2D6: Genetics, Pharmacology and Clinical Relevance. In: CYP2D6 ethnic variability in Hispanics (Future Medicine, London UK). 2014. p 54–66. https://www.futuremedicine.com/doi/abs/10.2217/fmeb2013.13.139.

de Andrés F, Sosa-Macías M, LLerena A. A rapid and simple LC–MS/MS method for the simultaneous evaluation of CYP1A2, CYP2C9, CYP2C19, CYP2D6 and CYP3A4 hydroxylation capacity. Bioanalysis. 2014;6:683–96.

de Andrés F, Terán S, Bovera M, Fariñas H, Terán E, LLerena A. Multiplex phenotyping for systems medicine: a one-point optimized practical sampling strategy for simultaneous estimation of CYP1A2, CYP2C9, CYP2C19, and CYP2D6 activities using a cocktail approach. Omi A J Integr Biol. 2016;20:88–96.

Naranjo M-EG, Rodrigues-Soares F, Peñas-Lledó EM, Tarazona-Santos E, Fariñas H, Rodeiro I, et al. Interethnic variability in CYP2D6, CYP2C9, and CYP2C19 genes and predicted drug metabolism phenotypes among 6060 Ibero- and Native Americans: RIBEF-CEIBA Consortium Report on Population. Pharmacogenomics Omi A J Integr Biol. 2018;22:575–88.

Rodrigues‐Soares F, Peñas‐Lledó EM, Tarazona‐Santos E, Sosa‐Macías M, Terán E, López‐López M, et al. Genomic ancestry, CYP2D6, CYP2C9, and CYP2C19 among Latin Americans. Clin Pharm Ther. 2019;0:cpt.1598.

Lazalde-Ramos BP, Martínez-Fierro M, de la L, Galaviz-Hernández C, Garza-Veloz I, Naranjo MEG, et al. CYP2D6 gene polymorphisms and predicted phenotypes in eight indigenous groups from northwestern Mexico. Pharmacogenomics. 2014;15:339–48.

LLerena A, Alvarez M, Dorado P, Gonzalez I, Peñas-Lledó E, Perez B, et al. Interethnic differences in the relevance of CYP2C9 genotype and environmental factors for diclofenac metabolism in Hispanics from Cuba and Spain. Pharmacogenomics J. 2014;14:229–34.

Dorado P, Cáceres M, Pozo-Guisado E, Wong M-L, Licinio J, Llerena A. Development of a PCR-based strategy for CYP2D6 genotyping including gene multiplication of worldwide potential use. Biotechniques. 2005;39:S571–4.

Endrenyi L, Patel M. A new, sensitive graphical method for detecting deviations from the normal distribution of drug responses: the NTV plot. Br J Clin Pharm. 1991;32:159–66.

Zhou S-F, Yang L-P, Zhou Z-W, Liu Y-H, Chan E. Insights into the substrate specificity, inhibitors, regulation, and polymorphisms and the clinical impact of human cytochrome P450 1A2. AAPS J. 2009;11:481–94.

Thorn CF, Aklillu E, Klein TE, Altman RB. PharmGKB summary: very important pharmacogene information for CYP1A2. Pharmacogenet Genomics. 2012;22:73–7.

Ramsjö M, Aklillu E, Bohman L, Ingelman-Sundberg M, Roh HK, Bertilsson L. CYP2C19 activity comparison between Swedes and Koreans: effect of genotype, sex, oral contraceptive use, and smoking. Eur J Clin Pharm. 2010;66:871–7.

Pedersen RS, Noehr-Jensen L, Brosen K. The inhibitory effect of oral contraceptives on CYP2C19 activity is not significant in carriers of the CYP2C19*17 allele. Clin Exp Pharm Physiol. 2013;40:683–8.

Shah RR, Smith RL. Addressing phenoconversion: the Achilles' heel of personalized medicine. Br J Clin Pharm. 2015;79:222–40.

Mendoza-Cantú A, Castorena-Torres F, Bermudez M, Martínez-Hernández R, Ortega A, Salinas JE, et al. Genotype and allele frequencies of polymorphic cytochromes P450 CYP1A2 and CYP2E1 in Mexicans. Cell Biochem Funct. 2004;22:29–34.

Roco Á, Quiñones L, Agúndez JaG, García-Martín E, Squicciarini V, Miranda C, et al. Frequencies of 23 functionally significant variant alleles related with metabolism of antineoplastic drugs in the chilean population: Comparison with caucasian and asian populations. Front Genet. 2012;3:1–9.

Zhou S-F, Wang B, Yang L-P, Liu J-P. Structure, function, regulation and polymorphism and the clinical significance of human cytochrome P450 1A2. Drug Metab Rev. 2010;42:268–354.

Gunes A, Ozbey G, Vural EH, Uluoglu C, Scordo MG, Zengil H, et al. Variation in CYP1A2 activity and its clinical implications: influence of environmental factors and genetic polymorphisms. Pharmacogenomics. 2008;9:769–78.

Barbosa E, Calzada F, Campos R. In vivo antigiardial activity of three flavonoids isolated of some medicinal plants used in Mexican traditional medicine for the treatment of diarrhea. J Ethnopharmacol. 2007;109:552–4.

Dorado P, Gallego A, Peñas-Lledó E, Terán E, Llerena A. Relationship between the CYP2C9 IVS8-109A>T polymorphism and high losartan hydroxylation in healthy Ecuadorian volunteers. Pharmacogenomics. 2014;15:1417–21.

Ortega-Vázquez A, Dorado P, Fricke-Galindo I, Jung-Cook H, Monroy-Jaramillo N, Martínez-Juárez IE, et al. CYP2C9, CYP2C19, ABCB1 genetic polymorphisms and phenytoin plasma concentrations in Mexican-Mestizo patients with epilepsy. Pharmacogenomics J. 2015;16:286–92.

Englert NA, Luo G, Goldstein JA, Surapureddi S. Epigenetic modification of histone 3 lysine 27: mediator subunit MED25 is required for the dissociation of polycomb repressive complex 2 from the promoter of cytochrome P450 2C9. J Biol Chem. 2015;290:2264–78.

Kiss ÁF, Tóth K, Juhász C, Temesvári M, Paulik J, Hirka G, et al. Is CYP2D6 phenotype predictable from CYP2D6 genotype? Microchem J. 2018;136:209–14.

Haslemo T, Eliasson E, Jukić MM, Ingelman-Sundberg M, Molden E. Significantly lower CYP2D6 metabolism measured as the O/N -desmethylvenlafaxine metabolic ratio in carriers of CYP2D6*41 versus CYP2D6*9 or CYP2D6*10 - a study on therapeutic drug monitoring data from 1,003 genotyped Scandinavian patients. Br J Clin Pharmacol. 2018. https://doi.org/10.1111/bcp.13788.

Contreras AV, Monge-Cazares T, Alfaro-Ruiz L, Hernandez-Morales S, Miranda-Ortiz H, Carrillo-Sanchez K, et al. Resequencing, haplotype construction and identification of novel variants of CYP2D6 in Mexican Mestizos. Pharmacogenomics. 2011;12:745–56.

Dorado P, Peñas-Lledó EM, Llerena A. CYP2D6 polymorphism: implications for antipsychotic drug response, schizophrenia and personality traits. Pharmacogenomics. 2007;8:1597–608.

Kim I-W, Han N, Burckart GJ, Oh JM. Epigenetic changes in gene expression for drug-metabolizing enzymes and transporters. Pharmacother J Hum Pharm Drug Ther. 2014;34:140–50.

Oneda B, Crettol S, Sirot EJ, Bochud M, Ansermot N, Eap CB. The P450 oxidoreductase genotype is associated with CYP3A activity in vivo as measured by the midazolam phenotyping test. Pharmacogenet Genom. 2009. https://doi.org/10.1097/FPC.0b013e32833225e7.

Yang G, Fu Z, Chen X, Yuan H, Yang H, Huang Y et al. Effects of the CYP oxidoreductase Ala503Val polymorphism on CYP3A activity in vivo: a randomized, open-label, crossover study in healthy Chinese men. Clin Ther. 2011. https://doi.org/10.1016/j.clinthera.2011.11.004.

Werk AN, Cascorbi I. Functional gene variants of CYP3A4. Clin Pharm Ther. 2014;4:1–9.

Shah RR, Smith RL. Inflammation-induced phenoconversion of polymorphic drug metabolizing enzymes: hypothesis with implications for personalized medicine. Drug Metab Dispos. 2015;43:400–10.
Acknowledgements
Supported by Junta Extremadura-AEXCID (18IA003) to SIFF and RIBEF (Iberoamerican Network of Pharmacogenetics and Pharmacogenomics) (www.redribef.com).
Ethics declarations
Conflict of interest
The authors declare that they have no conflict of interest.
Additional information
Publisher's note Springer Nature remains neutral with regard to jurisdictional claims in published maps and institutional affiliations.
Supplementary information
About this article
Cite this article
de Andrés, F., Altamirano-Tinoco, C., Ramírez-Roa, R. et al. Relationships between CYP1A2, CYP2C9, CYP2C19, CYP2D6 and CYP3A4 metabolic phenotypes and genotypes in a Nicaraguan Mestizo population. Pharmacogenomics J 21, 140–151 (2021). https://doi.org/10.1038/s41397-020-00190-9
Received:

Revised:

Accepted:

Published:

Issue Date:

DOI: https://doi.org/10.1038/s41397-020-00190-9