Abstract
Satellites are mobile genetic elements that are dependent upon the replication machinery of their helper viruses. Bacteriophages have provided many examples of satellite nucleic acids that utilize their helper morphogenic genes for propagation. Here we describe two novel satellite-helper phage systems, Mulch and Flayer, that infect Streptomyces species. The satellites in these systems encode for encapsidation machinery but have an absence of key replication genes, thus providing the first example of bacteriophage satellite viruses. We also show that codon usage of the satellites matches the tRNA gene content of the helpers. The satellite in one of these systems, Flayer, does not appear to integrate into the host genome, which represents the first example of a virulent satellite phage. The Flayer satellite has a unique tail adaptation that allows it to attach to its helper for simultaneous co-infection. These findings demonstrate an ever-increasing array of satellite strategies for genetic dependence on their helpers in the evolutionary arms race between satellite and helper phages.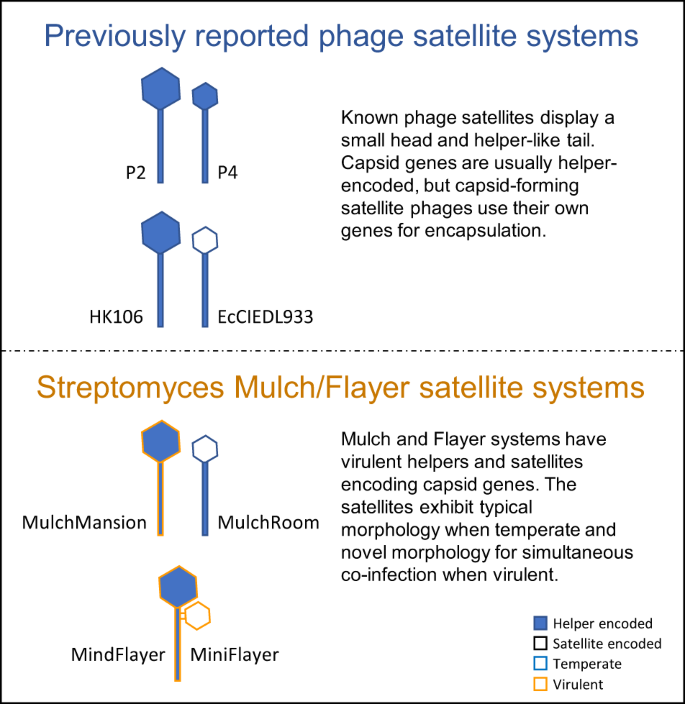 Data availability
The data used for this study is publicly available and accession numbers for all data items are provided in the text and the Supplementary Material.
References
Walker PJ, Siddell SG, Lefkowitz EJ, Mushegian AR, Adriaenssens EM, Alfenas-Zerbini P, et al. Changes to virus taxonomy and to the International Code of Virus Classification and Nomenclature ratified by the International Committee on Taxonomy of Viruses (2021). Arch Virol. 2021;166:2633–48.

Koonin EV, Dolja VV, Krupovic M, Kuhn JH. Viruses defined by the position of the virosphere within the replicator space. Microbiol Mol Biol Rev MMBR. 2021;85:e0019320.

Christie GE, Dokland T. Pirates of the Caudovirales. Virology. 2012;434:210–21.

Goldstein R, Sedivy J, Ljungquist E. Propagation of satellite phage P4 as a plasmid. Proc Natl Acad Sci USA. 1982;79:515–9.

Lindqvist BH, Dehò G, Calendar R. Mechanisms of genome propagation and helper exploitation by satellite phage P4. Microbiol Rev. 1993;57:683–702.

Fillol-Salom A, Martínez-Rubio R, Abdulrahman RF, Chen J, Davies R, Penadés JR. Phage-inducible chromosomal islands are ubiquitous within the bacterial universe. ISME J. 2018;12:2114–28.

Barth ZK, Silvas TV, Angermeyer A, Seed KD. Genome replication dynamics of a bacteriophage and its satellite reveal strategies for parasitism and viral restriction. Nucleic Acids Res. 2020;48:249–63.

de Sousa JAM, Fillol-Salom A, Penadés JR, Rocha EPC. Identification and characterization of thousands of bacteriophage satellites across bacteria. Nucleic Acids Res. 2023;51:2759–77.

O'Hara BJ, Barth ZK, McKitterick AC, Seed KD. A highly specific phage defense system is a conserved feature of the Vibrio cholerae mobilome. PLoS Genet. 2017;13:e1006838.

Agarwal M, Arthur M, Arbeit RD, Goldstein R. Regulation of icosahedral virion capsid size by the in vivo activity of a cloned gene product. Proc Natl Acad Sci USA. 1990;87:2428–32.

Hawkins NC, Kizziah JL, Penadés JR, Dokland T. Shape shifter: redirection of prolate phage capsid assembly by staphylococcal pathogenicity islands. Nat Commun. 2021;12:6408.

Fillol-Salom A, Bacarizo J, Alqasmi M, Ciges-Tomas JR, Martínez-Rubio R, Roszak AW, et al. Hijacking the hijackers: Escherichia coli pathogenicity islands redirect helper phage packaging for their own benefit. Mol Cell. 2019;75:1020–.e4.

Alqurainy N, Miguel-Romero L, Moura de Sousa J, Chen J, Rocha EPC, Fillol-Salom A, et al. A widespread family of phage-inducible chromosomal islands only steals bacteriophage tails to spread in nature. Cell Host Microbe. 2023;31:69–82.e5.

Sarkis GJ, Hatfull GF. Mycobacteriophages. Methods Mol Biol Clifton NJ. 1998;101:145–73.

Caruso SM, deCarvalho TN, Huynh A, Morcos G, Kuo N, Parsa S, et al. A novel genus of actinobacterial Tectiviridae. Viruses. 2019;11:1134–52.

Gordon D, Abajian C, Green P. Consed: a graphical tool for sequence finishing. Genome Res. 1998;8:195–202.

Miller JR, Koren S, Sutton G. Assembly algorithms for next-generation sequencing data. Genomics. 2010;95:315–27.

Jacobs-Sera D. Annotation of bacteriophage genome sequences using DNA Master: an overview. Methods Mol Biol Clifton NJ. 2018;1681:217–29.

Delcher AL, Bratke KA, Powers EC, Salzberg SL. Identifying bacterial genes and endosymbiont DNA with Glimmer. Bioinforma Oxf Engl. 2007;23:673–9.

Besemer J, Lomsadze A, Borodovsky M. GeneMarkS: a self-training method for prediction of gene starts in microbial genomes. Implications for finding sequence motifs in regulatory regions. Nucleic Acids Res. 2001;29:2607–18.

Laslett D, Canback B. ARAGORN, a program to detect tRNA genes and tmRNA genes in nucleotide sequences. Nucleic Acids Res. 2004;32:11–16.

Altschul SF, Madden TL, Schaffer AA, Zhang J, Zhang Z, Miller W, et al. Gapped BLAST and PSI-BLAST: a new generation of protein database search programs. Nucleic Acids Res. 1997;25:3389–402.

Zimmermann L, Stephens A, Nam S-Z, Rau D, Kübler J, Lozajic M, et al. A completely reimplemented MPI bioinformatics toolkit with a new HHpred server at its core. J Mol Biol. 2018;430:2237–43.

Schindelin J, Arganda-Carreras I, Frise E, Kaynig V, Longair M, Pietzsch T, et al. Fiji: an open-source platform for biological-image analysis. Nat Methods. 2012;9:676–82.

Russell DA, Hatfull GF. PhagesDB: the actinobacteriophage database. Bioinforma Oxf Engl. 2017;33:784–6.

Sullivan MJ, Petty NK, Beatson SA. Easyfig: a genome comparison visualizer. Bioinforma Oxf Engl. 2011;27:1009–10.

Mascolo E, Adhikari S, Caruso SM, deCarvalho T, Folch Salvador A, Serra-Sagristà J, et al. The transcriptional regulator CtrA controls gene expression in Alphaproteobacteria phages: evidence for a lytic deferment pathway. Front Microbiol. 2022;13:918015.

Meier-Kolthoff JP, Göker M. VICTOR: genome-based phylogeny and classification of prokaryotic viruses. Bioinforma Oxf Engl. 2017;33:3396–404.

Meier-Kolthoff JP, Auch AF, Klenk H-P, Göker M. Genome sequence-based species delimitation with confidence intervals and improved distance functions. BMC Bioinforma. 2013;14:60.

Lefort V, Desper R, Gascuel O. FastME 2.0: a comprehensive, accurate, and fast distance-based phylogeny inference program. Mol Biol Evol. 2015;32:2798–2800.

Letunic I, Bork P. Interactive Tree Of Life (iTOL) v4: recent updates and new developments. Nucleic Acids Res. 2019;47:W256–9.

Hockenberry AJ, Wilke CO. BACPHLIP: predicting bacteriophage lifestyle from conserved protein domains. PeerJ. 2021;9:e11396.

Cock PJA, Antao T, Chang JT, Chapman BA, Cox CJ, Dalke A, et al. Biopython: freely available Python tools for computational molecular biology and bioinformatics. Bioinforma Oxf Engl. 2009;25:1422–3.

dos Reis M, Savva R, Wernisch L. Solving the riddle of codon usage preferences: a test for translational selection. Nucleic Acids Res. 2004;32:5036–44.

Chan PP, Lowe TM. tRNAscan-SE: searching for tRNA genes in genomic sequences. Methods Mol Biol Clifton NJ. 2019;1962:1–14.

Pope WH, Jacobs-Sera D, Russell DA, Cresawn SG, Hatfull GF. SEA-PHAGES phage discovery guide. Chevy Chase, MD: Howard Hughes Medical Institute; 2017.

Hughes LE, Shaffer CD, Ware VC, Aguayo I, Aziz RM, Bhuiyan S, et al. Eight genome sequences of cluster BE1 phages that infect Streptomycesspecies. Genome Announc. 2018;6:e01146–17.

deCarvalho T, Mascolo E, Caruso S, López-Pérez J, Weston-Hafer K, Shaffer C, et al. TEM dataset for 'Simultaneous entry as an adaptation to virulence in a novel satellite-helper system infecting Streptomyces species'. https://doi.org/10.5281/zenodo.8377643. Accessed 27 Sep 2023.

Carbone A. Codon bias is a major factor explaining phage evolution in translationally biased hosts. J Mol Evol. 2008;66:210–23.

Delesalle VA, Tanke NT, Vill AC, Krukonis GP. Testing hypotheses for the presence of tRNA genes in mycobacteriophage genomes. Bacteriophage. 2016;6:e1219441.

Morgado S, Vicente AC. Global in-silico scenario of tRNA genes and their organization in virus genomes. Viruses. 2019;11:180.

Fillol-Salom A, Miguel-Romero L, Marina A, Chen J, Penadés JR. Beyond the CRISPR-Cas safeguard: PICI-encoded innate immune systems protect bacteria from bacteriophage predation. Curr Opin Microbiol. 2020;56:52–8.

Barth ZK, Netter Z, Angermeyer A, Bhardwaj P, Seed KD. A family of viral satellites manipulates invading virus gene expression and can affect cholera toxin mobilization. mSystems. 2020;5:e00358–20.

Eppley JM, Biller SJ, Luo E, Burger A, DeLong EF. Marine viral particles reveal an expansive repertoire of phage-parasitizing mobile elements. Proc Natl Acad Sci USA. 2022;119:e2212722119.

Arnold HP, She Q, Phan H, Stedman K, Prangishvili D, Holz I, et al. The genetic element pSSVx of the extremely thermophilic crenarchaeon Sulfolobus is a hybrid between a plasmid and a virus. Mol Microbiol. 1999;34:217–26.

Inman RB, Schnös M, Simon LD, Six EW, Walker DH. Some morphological properties of P4 bacteriophage and P4 DNA. Virology. 1971;44:67–72.

Duponchel S, Fischer MG. Viva lavidaviruses! Five features of virophages that parasitize giant DNA viruses. PLoS Pathog. 2019;15:e1007592.

Bailly-Bechet M, Vergassola M, Rocha E. Causes for the intriguing presence of tRNAs in phages. Genome Res. 2007;17:1486–95.

Yang JY, Fang W, Miranda-Sanchez F, Brown JM, Kauffman KM, Acevero CM, et al. Degradation of host translational machinery drives tRNA acquisition in viruses. Cell Syst. 2021;12:771–.e5.

Enav H, Béjà O, Mandel-Gutfreund Y. Cyanophage tRNAs may have a role in cross-infectivity of oceanic Prochlorococcus and Synechococcus hosts. ISME J. 2012;6:619–28.

Sánchez-Osuna M, Cortés P, Barbé J, Erill I. Origin of the Mobile Di-Hydro-Pteroate synthase gene determining sulfonamide resistance in clinical isolates. Front Microbiol. 2018;9:3332.

Ibarra-Chávez R, Hansen MF, Pinilla-Redondo R, Seed KD, Trivedi U. Phage satellites and their emerging applications in biotechnology. FEMS Microbiol Rev. 2021;45:fuab031.
Acknowledgements
The authors wish to thank Ralph Murphy for his excellent technical support, and Jenell Lewis and Hira Ahmed for initial work on the isolation and characterization of MindFlayer. The authors also wish to thank Graham F. Hatfull, Deborah Jacobs-Sera, Welkin H. Pope, Daniel R. Russell, Steven G. Cresawn and the Howard Hughes Medical Institute SEA-PHAGES program for their support. The ViPhy phylogenetic inference pipeline was run using the taki cluster of the UMBC High Performance Computing Facility (HPCF). The facility is supported by the U.S. National Science Foundation through the MRI program (CNS-0821258, CNS-1228778, OAC-1726023, and CNS-1920079) and the SCREMS program (DMS-0821311), with additional support from the University of Maryland, Baltimore County (UMBC).
Funding
Elia Mascolo was funded through a Research Assistant Fellowship from the Merck Data Science for Observational Research Program. This work was supported by the UMBC Department of Biological Sciences, the UMBC College of Natural and Mathematical Sciences, the Department of Biology at Washington University in St. Louis and the Howard Hughes Medical Institute SEA-PHAGES program.
Ethics declarations
Competing interests
The authors declare no competing interests.
Additional information
Publisher's note Springer Nature remains neutral with regard to jurisdictional claims in published maps and institutional affiliations.
Supplementary information
Rights and permissions
Open Access This article is licensed under a Creative Commons Attribution 4.0 International License, which permits use, sharing, adaptation, distribution and reproduction in any medium or format, as long as you give appropriate credit to the original author(s) and the source, provide a link to the Creative Commons licence, and indicate if changes were made. The images or other third party material in this article are included in the article's Creative Commons licence, unless indicated otherwise in a credit line to the material. If material is not included in the article's Creative Commons licence and your intended use is not permitted by statutory regulation or exceeds the permitted use, you will need to obtain permission directly from the copyright holder. To view a copy of this licence, visit http://creativecommons.org/licenses/by/4.0/.
About this article
Cite this article
deCarvalho, T., Mascolo, E., Caruso, S.M. et al. Simultaneous entry as an adaptation to virulence in a novel satellite-helper system infecting Streptomyces species. ISME J (2023). https://doi.org/10.1038/s41396-023-01548-0
Received:

Revised:

Accepted:

Published:

DOI: https://doi.org/10.1038/s41396-023-01548-0