Abstract
Widespread polybrominated diphenyl ethers (PBDEs) contamination poses risks to human health and ecosystems. Bioremediation is widely considered to be a less ecologically disruptive strategy for remediation of organohalide contamination, but bioremediation of PBDE-contaminated sites is limited by a lack of knowledge about PBDE-dehalogenating microbial populations. Here we report anaerobic PBDE debromination in microcosms established from geographically distinct e-waste recycling sites. Complete debromination of a penta-BDE mixture to diphenyl ether was detected in 16 of 24 investigated microcosms; further enrichment of these 16 microcosms implicated microbial populations belonging to the bacterial genera Dehalococcoides, Dehalogenimonas, and Dehalobacter in PBDE debromination. Debrominating microcosms tended to contain either both Dehalogenimonas and Dehalobacter or Dehalococcoides alone. Separately, complete debromination of a penta-BDE mixture was also observed by axenic cultures of Dehalococcoides mccartyi strains CG1, CG4, and 11a5, suggesting that this phenotype may be fairly common amongst Dehalococcoides. PBDE debromination in these isolates was mediated by four reductive dehalogenases not previously known to debrominate PBDEs. Debromination of an octa-BDE mixture was less prevalent and less complete in microcosms. The PBDE reductive dehalogenase homologous genes in Dehalococcoides genomes represent plausible molecular markers to predict PBDE debromination in microbial communities via their prevalence and transcriptions analysis.
Your institute does not have access to this article
Access options
Subscribe to Journal
Get full journal access for 1 year
$119.00
only $9.92 per issue
All prices are NET prices.
VAT will be added later in the checkout.
Tax calculation will be finalised during checkout.
Buy article
Get time limited or full article access on ReadCube.
$32.00
All prices are NET prices.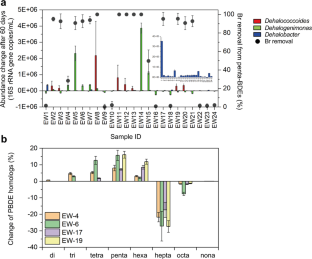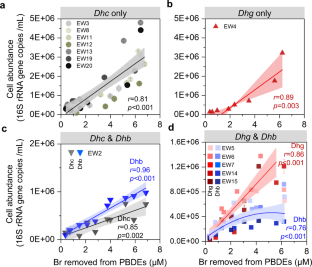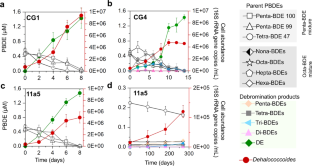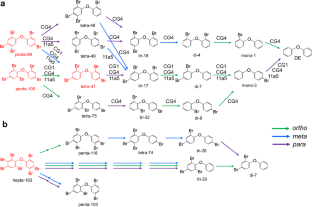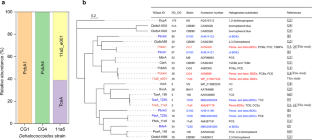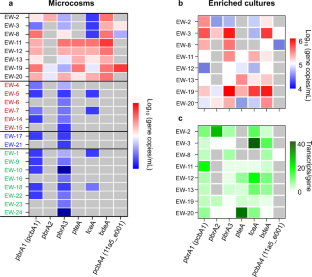 Data availability
All data generated or analysed during this study are included in this published article and its supplementary information files.
References
Statista (2020). 'Consumer Electronics': Statista, Hamburg, Germany.

Bacher J, Dams Y, Duhoux T, Deng Y, Teittinen T, Mortensen LF. Electronic products and obsolescence in a circular economy. European Topic Centre Waste and Materials in a Green Economy: Belgiu; 2020.

Forti V, Bald CP, Kuehr R, Bel G. The Global E-waste Monitor 2020: Quantities, flows and the circular economy potential. Bonn, Geneva and Rotterdam: United Nations University/United Nations Institute for Training and Research, International Telecommunication Union, and International Solid Waste Association; 2020.

McGrath TJ, Ball AS, Clarke BO. Critical review of soil contamination by polybrominated diphenyl ethers (PBDEs) and novel brominated flame retardants (NBFRs); concentrations, sources and congener profiles. Environ Pollut. 2017;230:741–57.

Lu Q, Liang Y, Fang W, Guan KL, Huang C, Qi X, et al. Spatial distribution, bioconversion and ecological risk of PCBs and PBDEs in the surface sediment of contaminated urban rivers: a nationwide study in China. Environ Sci Technol. 2021;55:9579–90.

Li WL, Ma WL, Jia HL, Hong WJ, Moon HB, Nakata H, et al. Polybrominated diphenyl ethers (PBDEs) in surface soils across five Asian countries: levels, spatial distribution, and source contribution. Environ Sci Technol. 2016;50:12779–88.

Zhao S, Rogers MJ, Ding C, He J. Reductive debromination of polybrominated diphenyl ethers - microbes, processes and dehalogenases. Front Microbiol. 2018;9:1292.

Ding C, Rogers MJ, Yang KL, He J. Loss of the ssrA genome island led to partial debromination in the PBDE respiring Dehalococcoides mccartyi strain GY50. Environ Microbiol. 2017;19:2906–15.

Zhao S, Rogers MJ, Cao L, Ding C, He J. Identification of reductive dehalogenases that mediate complete debromination of penta- and tetrabrominated diphenyl ethers in Dehalococcoides spp. Appl Environ Microbiol. 2021;87:e0060221.

Ding C, He J. Molecular techniques in the biotechnological fight against halogenated compounds in anoxic environments. Micro Biotechnol. 2012;5:347–67.

Lee PK, Johnson DR, Holmes VF, He J, Alvarez-Cohen L. Reductive dehalogenase gene expression as a biomarker for physiological activity of Dehalococcoides spp. Appl Environ Microbiol. 2006;72:6161–8.

Shrivastava A, Gupta V. Methods for the determination of limit of detection and limit of quantitation of the analytical methods. Chron Young- Scientists. 2011;2:21.

Wang S, Chng KR, Wilm A, Zhao S, Yang K-L, Nagarajan N, et al. Genomic characterization of three unique Dehalococcoides that respire on persistent polychlorinated biphenyls. Proc Natl Acad Sci USA. 2014;111:12103–8.

He J, Holmes VF, Lee PK, Alvarez-Cohen L. Influence of vitamin B12 and cocultures on the growth of Dehalococcoides isolates in defined medium. Appl Environ Microbiol. 2007;73:2847–53.

Ding C, Rogers MJ, He J. Dehalococcoides mccartyi strain GEO12 has a natural tolerance to chloroform inhibition. Environ Sci Technol. 2020;54:8750–9.

Lee PK, Cheng D, West KA, Alvarez-Cohen L, He J. Isolation of two new Dehalococcoides mccartyi strains with dissimilar dechlorination functions and their characterization by comparative genomics via microarray analysis. Environ Microbiol. 2013;15:2293–305.

Ding C, Chow WL, He J. Isolation of Acetobacterium sp. strain AG, which reductively debrominates octa- and pentabrominated diphenyl ether technical mixtures. Appl Environ Microbiol. 2013;79:1110–7.

Schiffmann CL, Jehmlich N, Otto W, Hansen R, Nielsen PH, Adrian L, et al. Proteome profile and proteogenomics of the organohalide-respiring bacterium Dehalococcoides mccartyi strain CBDB1 grown on hexachlorobenzene as electron acceptor. J Proteom. 2014;98:59–64.

Zhao S, Ding C, He J. Genomic characterization of Dehalococcoides mccartyi strain 11a5 reveals a circular extrachromosomal genetic element and a new tetrachloroethene reductive dehalogenase gene. FEMS Microbiol Ecol. 2017;93:fiw235.

Perez-Riverol Y, Csordas A, Bai J, Bernal-Llinares M, Hewapathirana S, Kundu DJ, et al. The PRIDE database and related tools and resources in 2019: improving support for quantification data. Nucleic Acids Res. 2019;47:D442–D450.

He J, Robrock KR, Alvarez-Cohen L. Microbial reductive debromination of polybrominated diphenyl ethers (PBDEs). Environ Sci Technol. 2006;40:4429–34.

Robrock KR, Korytar P, Alvarez-Cohen L. Pathways for the anaerobic microbial debromination of polybrominated diphenyl ethers. Environ Sci Technol. 2008;42:2845–52.

Yang Y, Higgins SA, Yan J, Simsir B, Chourey K, Iyer R, et al. Grape pomace compost harbors organohalide-respiring Dehalogenimonas species with novel reductive dehalogenase genes. ISME J. 2017;11:2767–80.

Qiao W, Luo F, Lomheim L, Mack EE, Ye S, Wu J, et al. A Dehalogenimonas population respires 1,2,4-trichlorobenzene and dichlorobenzenes. Environ Sci Technol. 2018;52:13391–8.

Moe WM, Yan J, Nobre MF, da Costa MS, Rainey FA. Dehalogenimonas lykanthroporepellens gen. nov., sp. nov., a reductively dehalogenating bacterium isolated from chlorinated solvent-contaminated groundwater. Int J Syst Evol Microbiol. 2009;59:2692–7.

Key TA, Bowman KS, Lee I, Chun J, Albuquerque L, da Costa MS, et al. Dehalogenimonas formicexedens sp. nov., a chlorinated alkane-respiring bacterium isolated from contaminated groundwater. Int J Syst Evol Microbiol. 2017;67:1366–73.

Darnerud PO, Eriksen GS, Johannesson T, Larsen PB, Viluksela M. Polybrominated diphenyl ethers: occurrence, dietary exposure, and toxicology. Environ Health Perspect. 2001;109:49–68.

Xu G, Zhao X, Zhao S, Chen C, Rogers MJ, Ramaswamy R, et al. Insights into the occurrence, fate, and impacts of halogenated flame retardants in municipal wastewater treatment plants. Environ Sci Technol. 2021;55:4205–26.

Molenda O, Puentes Jacome LA, Cao X, Nesbo CL, Tang S, Morson N, et al. Insights into origins and function of the unexplored majority of the reductive dehalogenase gene family as a result of genome assembly and ortholog group classification. Environ Sci Process Impacts. 2020;22:663–78.

Qiu L, Fang W, He H, Liang Z, Zhan Y, Lu Q, et al. Organohalide-respiring bacteria in polluted urban rivers employ novel bifunctional reductive dehalogenases to dechlorinate polychlorinated biphenyls and tetrachloroethene. Environ Sci Technol. 2020;54:8791–800.

Adrian L, Rahnenfuhrer J, Gobom J, Holscher T. Identification of a chlorobenzene reductive dehalogenase in Dehalococcoides sp. strain CBDB1. Appl Environ Microbiol. 2007;73:7717–24.

Heavner GLW, Mansfeldt CB, Wilkins MJ, Nicora CD, Debs GE, Edwards EA, et al. Detection of organohalide-respiring enzyme biomarkers at a bioaugmented TCE-contaminated field site. Front Microbiol. 2019;10:1433.

Padilla-Crespo E, Yan J, Swift C, Wagner DD, Chourey K, Hettich RL, et al. Identification and environmental distribution of dcpA, which encodes the reductive dehalogenase catalyzing the dichloroelimination of 1,2-dichloropropane to propene in organohalide-respiring chloroflexi. Appl Environ Microbiol. 2014;80:808–18.

Yang C, Kublik A, Weidauer C, Seiwert B, Adrian L. Reductive dehalogenation of oligocyclic phenolic bromoaromatics by Dehalococcoides mccartyi strain CBDB1. Environ Sci Technol. 2015;49:8497–505.

Morris RM, Fung JM, Rahm BG, Zhang S, Freedman DL, Zinder SH, et al. Comparative proteomics of Dehalococcoides spp. reveals strain-specific peptides associated with activity. Appl Environ Microbiol. 2007;73:320–6.

Ramaswamy R, Zhao S, Bae S, He J. Debromination of TetraBromoBisphenol-A (TBBPA) depicting the metabolic versatility of Dehalococcoides. J Hazard Mater. 2021;419:126408.

Chow WL, Cheng D, Wang S, He J. Identification and transcriptional analysis of trans-DCE-producing reductive dehalogenases in Dehalococcoides species. ISME J. 2010;4:1020–30.

Muller JA, Rosner BM, Von Abendroth G, Meshulam-Simon G, McCarty PL, Spormann AM. Molecular identification of the catabolic vinyl chloride reductase from Dehalococcoides sp. strain VS and its environmental distribution. Appl Environ Microbiol. 2004;70:4880–8.

Krajmalnik-Brown R, Holscher T, Thomson IN, Saunders FM, Ritalahti KM, Löffler FE. Genetic identification of a putative vinyl chloride reductase in Dehalococcoides sp. strain BAV1. Appl Environ Microbiol. 2004;70:6347–51.

Fung JM, Morris RM, Adrian L, Zinder SH. Expression of reductive dehalogenase genes in Dehalococcoides ethenogenes strain 195 growing on tetrachloroethene, trichloroethene, or 2,3-dichlorophenol. Appl Environ Microbiol. 2007;73:4439–45.

Magnuson JK, Stern RV, Gossett JM, Zinder SH, Burris DR. Reductive dechlorination of tetrachloroethene to ethene by a two-component enzyme pathway. Appl Environ Microbiol. 1998;64:1270–5.
Acknowledgements
This study was supported by the Ng Teng Fong Charitable Foundation (NTFCF) fund (No.: R-302-000-198-720) and the Ministry of Education, Singapore under Academic Research Fund Tier 2 project MOE-000033-01 and Tier 1 project R302000239114.We would also like to acknowledge the help kindly provided by Prof. Lorenz Adrian from Helmholtz-Centre for Environmental Research for proteomics analysis.
Ethics declarations
Competing interests
The authors declare no competing interests.
Additional information
Publisher's note Springer Nature remains neutral with regard to jurisdictional claims in published maps and institutional affiliations.
Supplementary information
About this article
Cite this article
Zhao, S., Ding, C., Xu, G. et al. Diversity of organohalide respiring bacteria and reductive dehalogenases that detoxify polybrominated diphenyl ethers in E-waste recycling sites. ISME J 16, 2123–2131 (2022). https://doi.org/10.1038/s41396-022-01257-0
Received:

Revised:

Accepted:

Published:

Issue Date:

DOI: https://doi.org/10.1038/s41396-022-01257-0