Abstract
Modern linkages among magmatic, geochemical, and geobiological processes provide clues about the importance of thermophiles in the origin of biogeochemical cycles. The aim of this study was to identify the primary chemoautotrophs and host–virus interactions involved in microbial colonization and biogeochemical cycling at sublacustrine, vapor-dominated vents that represent the hottest measured ecosystems in Yellowstone National Park (~140 °C). Filamentous microbial communities exposed to extreme thermal and geochemical gradients were sampled using a remotely operated vehicle and subjected to random metagenome sequencing and microscopic analyses. Sulfurihydrogenibium (phylum Aquificae) was the predominant lineage (up to 84% relative abundance) detected at vents that discharged high levels of dissolved H2, H2S, and CO2. Metabolic analyses indicated carbon fixation by Sulfurihydrogenibium spp. was powered by the oxidation of reduced sulfur and H2, which provides organic carbon for heterotrophic community members. Highly variable Sulfurihydrogenibium genomes suggested the importance of intra-population diversity under extreme environmental and viral pressures. Numerous lytic viruses (primarily unclassified taxa) were associated with diverse archaea and bacteria in the vent community. Five circular dsDNA uncultivated virus genomes (UViGs) of ~40 kbp length were linked to the Sulfurihydrogenibium metagenome-assembled genome (MAG) by CRISPR spacer matches. Four UViGs contained consistent genome architecture and formed a monophyletic cluster with the recently proposed Pyrovirus genus within the Caudovirales. Sulfurihydrogenibium spp. also contained CRISPR arrays linked to plasmid DNA with genes for a novel type IV filament system and a highly expressed β-barrel porin. A diverse suite of transcribed secretion systems was consistent with direct microscopic analyses, which revealed an extensive extracellular matrix likely critical to community structure and function. We hypothesize these attributes are fundamental to the establishment and survival of microbial communities in highly turbulent, extreme-gradient environments.
This is a preview of subscription content
Access options
Subscribe to Journal
Get full journal access for 1 year
$119.00
only $9.92 per issue
All prices are NET prices.
VAT will be added later in the checkout.
Tax calculation will be finalised during checkout.
Rent or Buy article
Get time limited or full article access on ReadCube.
from$8.99
All prices are NET prices.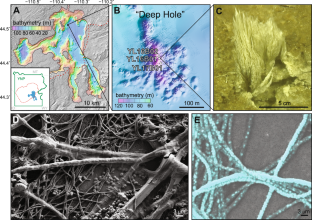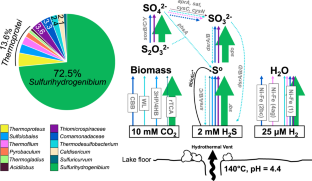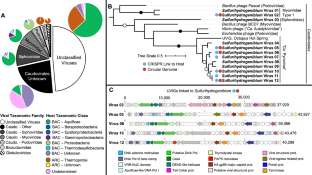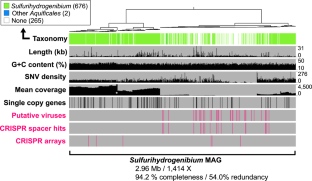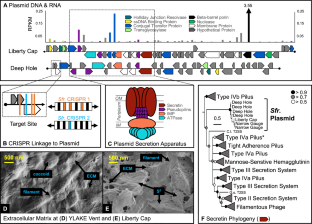 Data availability
Genomic sequence information for this investigation can be found in the NCBI database under BioProject PRJNA669531 and BioSamples SAMN16454225, SAMN16454373, SAMN16454375, SAMN16454377, and SAMN16454376. Quality-filtered short reads used for single metagenomic assemblies are available in the NCBI Sequence Read Archive as SRR12852619 (2016_B01), SRR12852620 (2016_B02_str), and SRR12852618 (2016_B02_sed). Quality-filtered short reads used for coassembled metagenomes are available in the NCBI Sequence Read Archive as SRR12852621 (2017_B01_S1) and SRR12852622 (2017_B01_S2).
References
1.

Corliss JB, Dymond J, Gordon LI, Edmond JM, von Herzen RP, Ballard RD, et al. Submarine thermal springs on the galápagos rift. Science. 1979;203:1073–83.

2.

Jannasch HW, Mottl MJ. Geomicrobiology of deep-sea hydrothermal vents. Science. 1985;229:717–25.

3.

Dick GJ. The microbiomes of deep-sea hydrothermal vents: distributed globally, shaped locally. Nat Rev Microbiol. 2019;17:271–83.

4.

Anantharaman K, Duhaime MB, Breier JA, Wendt KA, Toner BM, Dick GJ. Sulfur oxidation genes in diverse deep-sea viruses. Science. 2014;344:757–60.

5.

Teske A, Reysenbach A-L. Editorial: Hydrothermal microbial ecosystems. Front Microbiol. 2015;6:884.

6.

He T, Li H, Zhang X. Deep-sea hydrothermal vent viruses compensate for microbial metabolism in virus-host interactions. mBio. 2017;8:e00893-17.

7.

Williamson SJ, Cary SC, Williamson KE, Helton RR, Bench SR, Winget D, et al. Lysogenic virus–host interactions predominate at deep-sea diffuse-flow hydrothermal vents. ISME J. 2008;2:1112–21.

8.

Dombrowski N, Teske AP, Baker BJ. Expansive microbial metabolic versatility and biodiversity in dynamic Guaymas Basin hydrothermal sediments. Nat Commun. 2018;9:4999.

9.

Dhillon A, Goswami S, Riley M, Teske A, Sogin M. Domain evolution and functional diversification of sulfite reductases. Astrobiology. 2005;5:18–29.

10.

Heinen W, Lauwers AM. Organic sulfur compounds resulting from the interaction of iron sulfide, hydrogen sulfide and carbon dioxide in an anaerobic aqueous environment. Orig Life Evol Biosph. 1996;26:131–50.

11.

Nisbet EG, Sleep NH. The habitat and nature of early life. Nature. 2001;409:1083–91.

12.

Shen Y, Buick R, Canfield DE. Isotopic evidence for microbial sulphate reduction in the early Archaean era. Nature. 2001;410:77–81.

13.

Anantharaman K, Hausmann B, Jungbluth SP, Kantor RS, Lavy A, Warren LA, et al. Expanded diversity of microbial groups that shape the dissimilatory sulfur cycle. ISME J. 2018;12:1715–28.

14.

Li Z, Pan D, Wei G, Pi W, Zhang C, Wang J-H, et al. Deep sea sediments associated with cold seeps are a subsurface reservoir of viral diversity. ISME J. 2021;15:2366–78.

15.

Mara P, Vik D, Pachiadaki MG, Suter EA, Poulos B, Taylor GT, et al. Viral elements and their potential influence on microbial processes along the permanently stratified Cariaco Basin redoxcline. ISME J. 2020;14:3079–92.

16.

Okazaki Y, Nishimura Y, Yoshida T, Ogata H, Nakano S-I. Genome-resolved viral and cellular metagenomes revealed potential key virus-host interactions in a deep freshwater lake. Environ Microbiol. 2019;21:4740–54.

17.

Gao S-M, Schippers A, Chen N, Yuan Y, Zhang M-M, Li Q, et al. Depth-related variability in viral communities in highly stratified sulfidic mine tailings. Microbiome. 2020;8:89.

18.

Lindell D, Jaffe JD, Coleman ML, Futschik ME, Axmann IM, Rector T, et al. Genome-wide expression dynamics of a marine virus and host reveal features of co-evolution. Nature. 2007;449:83–86.

19.

Zimmerman AE, Howard-Varona C, Needham DM, John SG, Worden AZ, Sullivan MB, et al. Metabolic and biogeochemical consequences of viral infection in aquatic ecosystems. Nat Rev Microbiol. 2020;18:21–34.

20.

Fierer N. Embracing the unknown: disentangling the complexities of the soil microbiome. Nat Rev Microbiol. 2017;15:579–90.

21.

Weitz JS, Stock CA, Wilhelm SW, Bourouiba L, Coleman ML, Buchan A, et al. A multitrophic model to quantify the effects of marine viruses on microbial food webs and ecosystem processes. ISME J. 2015;9:1352–64.

22.

Weitz JS, Wilhelm SW. Ocean viruses and their effects on microbial communities and biogeochemical cycles. F1000 Biol Rep. 2012;4:17.

23.

McKay LJ, Dlakić M, Fields MW, Delmont TO, Eren AM, Jay ZJ, et al. Co-occurring genomic capacity for anaerobic methane and dissimilatory sulfur metabolisms discovered in the Korarchaeota. Nat Microbiol. 2019;4:614–22.

24.

Huang H-H, Lin F-C, Schmandt B, Farrell J, Smith RB, Tsai VC. Volcanology. The Yellowstone magmatic system from the mantle plume to the upper crust. Science. 2015;348:773–6.

25.

Farrell J, Smith RB, Husen S, Diehl T. Tomography from 26 years of seismicity revealing that the spatial extent of the Yellowstone crustal magma reservoir extends well beyond the Yellowstone caldera. Geophys Res Lett. 2014;41:3068–73.

26.

Mason BG, Pyle DM, Oppenheimer C. The size and frequency of the largest explosive eruptions on Earth. Bull Volcano. 2004;66:735–48.

27.

Christiansen RL. The quaternary and pliocene Yellowstone Plateau volcanic field of Wyoming, Idaho, and Montana. U.S. Department of the Interior, U.S. Geological Survey. 2001.

28.

Foulger GR, Natland JH. Is "hotspot" volcanism a consequence of plate tectonics? Science. 2003;300:921–2.

29.

Christiansen RL, Foulger GR, Evans JR. Upper-mantle origin of the Yellowstone hotspot. GSA Bull. 2002;114:1245–56.

30.

Morgan P, Blackwell DD, Spafford RE, Smith RB. Heat flow measurements in Yellowstone Lake and the thermal structure of the Yellowstone Caldera. J Geophys Res. 1977;82:3719–32.

31.

Morgan LA, Shanks WC, Lovalvo DA, Johnson SY, Stephenson WJ, Pierce KL, et al. Exploration and discovery in Yellowstone Lake: results from high-resolution sonar imaging, seismic reflection profiling, and submersible studies. J Volcano Geotherm Res. 2003;122:221–42.

32.

Sohn RA, Luttrell K, Shroyer E, Stranne C, Harris RN, Favorito JE. Observations and modeling of a hydrothermal plume in Yellowstone lake. Geophys Res Lett. 2019;46:6435–42.

33.

Fowler APG, Tan C, Cino C, Scheuermann P, Volk MWR, Pat Shanks WC, et al. Vapor-driven sublacustrine vents in Yellowstone Lake, Wyoming, USA. Geology. 2019;47:223–6.

34.

Inskeep WP, Jay ZJ, Macur RE, Clingenpeel S, Tenney A, Lovalvo D, et al. Geomicrobiology of sublacustrine thermal vents in Yellowstone Lake: geochemical controls on microbial community structure and function. Front Microbiol. 2015;6:1044.

35.

Tan C, Cino CD, Ding K, Seyfried WE. High temperature hydrothermal vent fluids in Yellowstone Lake: observations and insights from in-situ pH and redox measurements. J Volcano Geotherm Res. 2017;343:263–70.

36.

Clingenpeel S, Macur RE, Kan J, Inskeep WP, Lovalvo D, Varley J, et al. Yellowstone Lake: high-energy geochemistry and rich bacterial diversity. Environ Microbiol. 2011;13:2172–85.

37.

Yang T, Lyons S, Aguilar C, Cuhel R, Teske A. Microbial communities and chemosynthesis in Yellowstone lake sublacustrine hydrothermal vent waters. Front Microbiol. 2011;2:130.

38.

Sohn R, Harris R, Linder C, Luttrell K, Lovalvo D, Morgan L, et al. Exploring the restless floor of Yellowstone lake. Eos 2017;98. https://doi.org/10.1029/2017EO087035.

39.

Cino C. An analysis of the hydrothermal fluid chemistry and isotopic data of Yellowstone Lake vents. Retrieved from the University of Minnesota Digital Conservancy. 2018. https://hdl.handle.net/11299/198977.

40.

Fowler APG, Tan C, Luttrell K, Tudor A, Scheuermann P, Pat Shanks WC, et al. Geochemical heterogeneity of sublacustrine hydrothermal vents in Yellowstone Lake, Wyoming. J Volcano Geotherm Res. 2019;386:106677.

41.

Li G, Rabe KS, Nielsen J, Engqvist MK. Machine learning applied to predicting microorganism growth temperatures and enzyme catalytic optima. ACS Synth Biol. 2019;8:1411–20.

42.

Ahlgren NA, Ren J, Lu YY, Fuhrman JA, Sun F. Alignment-free oligonucleotide frequency dissimilarity measure improves prediction of hosts from metagenomically-derived viral sequences. Nucleic Acids Res. 2017;45:39–53.

43.

Edwards RA, McNair K, Faust K, Raes J, Dutilh BE. Computational approaches to predict bacteriophage–host relationships. FEMS Microbiol Rev. 2015;40:258–72.

44.

Al-Shayeb B, Sachdeva R, Chen L-X, Ward F, Munk P, Devoto A, et al. Clades of huge phages from across Earth's ecosystems. Nature. 2020;578:425–31.

45.

Krupovic M, Quemin ERJ, Bamford DH, Forterre P, Prangishvili D. Unification of the globally distributed spindle-shaped viruses of the Archaea. J Virol. 2014;88:2354–8.

46.

Prangishvili D, Krupovic M. ICTV Report Consortium. ICTV virus taxonomy profile: globuloviridae. J Gen Virol. 2018;99:1357–8.

47.

Aguiar P, Beveridge TJ, Reysenbach A-L. Sulfurihydrogenibium azorense, sp. nov., a thermophilic hydrogen-oxidizing microaerophile from terrestrial hot springs in the Azores. Int J Syst Evol Microbiol. 2004;54:33–39.

48.

Dong Y, Sanford RA, Inskeep WP, Srivastava V, Bulone V, Fields CJ, et al. Physiology, metabolism, and fossilization of hot-spring filamentous microbial mats. Astrobiology. 2019;19:1442–58.

49.

Nakagawa S, Shtaih Z, Banta A, Beveridge TJ, Sako Y, Reysenbach A-L. Sulfurihydrogenibium yellowstonense sp. nov., an extremely thermophilic, facultatively heterotrophic, sulfur-oxidizing bacterium from Yellowstone National Park, and emended descriptions of the genus Sulfurihydrogenibium, Sulfurihydrogenibium subterraneum and Sulfurihydrogenibium azorense. Int J Syst Evol Microbiol. 2005;55:2263–8.

50.

Takai K, Kobayashi H, Nealson KH, Horikoshi K. Sulfurihydrogenibium subterraneum gen. nov., sp. nov., from a subsurface hot aquifer. Int J Syst Evol Microbiol. 2003;53:823–7.

51.

Takacs-Vesbach C, Inskeep WP, Jay ZJ, Herrgard MJ, Rusch DB, Tringe SG, et al. Metagenome sequence analysis of filamentous microbial communities obtained from geochemically distinct geothermal channels reveals specialization of three Aquificales lineages. Front Microbiol. 2013;4:84.

52.

Inskeep WP, Rusch DB, Jay ZJ, Herrgard MJ, Kozubal MA, Richardson TH, et al. Metagenomes from high-temperature chemotrophic systems reveal geochemical controls on microbial community structure and function. PLoS ONE. 2010;5:e9773.

53.

Xu Y, Schoonen MAA, Nordstrom DK, Cunningham KM, Ball JW. Sulfur geochemistry of hydrothermal waters in Yellowstone National Park: I. the origin of thiosulfate in hot spring waters. Geochim Cosmochim Acta. 1998;62:3729–43.

54.

Grabarczyk DB, Berks BC. Intermediates in the Sox sulfur oxidation pathway are bound to a sulfane conjugate of the carrier protein SoxYZ. PLoS ONE. 2017;12:e0173395.

55.

Reysenbach A-L, Hamamura N, Podar M, Griffiths E, Ferreira S, Hochstein R, et al. Complete and draft genome sequences of six members of the Aquificales. J Bacteriol. 2009;191:1992–3.

56.

Flores GE, Liu Y, Ferrera I, Beveridge TJ, Reysenbach A-L. Sulfurihydrogenibium kristjanssonii sp. nov., a hydrogen- and sulfur-oxidizing thermophile isolated from a terrestrial Icelandic hot spring. Int J Syst Evol Microbiol. 2008;58:1153–8.

57.

Anderson CL, Sullivan MB, Fernando SC. Dietary energy drives the dynamic response of bovine rumen viral communities. Microbiome. 2017;5:155.

58.

Shmakov SA, Makarova KS, Wolf YI, Severinov KV, Koonin EV. Systematic prediction of genes functionally linked to CRISPR-Cas systems by gene neighborhood analysis. Proc Natl Acad Sci USA. 2018;115:E5307–16.

59.

Javor BJ, Wilmot DB, Vetter RD. pH-Dependent metabolism of thiosulfate and sulfur globules in the chemolithotrophic marine bacterium Thiomicrospira crunogena. Arch Microbiol. 1990;154:231–8.

60.

Campbell JH, O'Donoghue P, Campbell AG, Schwientek P, Sczyrba A, Woyke T, et al. UGA is an additional glycine codon in uncultured SR1 bacteria from the human microbiota. Proc Natl Acad Sci USA. 2013;110:5540–5.

61.

Medini D, Donati C, Tettelin H, Masignani V, Rappuoli R. The microbial pan-genome. Curr Opin Genet Dev. 2005;15:589–94.

62.

Delmont TO, Eren AM. Linking pangenomes and metagenomes: the Prochlorococcus metapangenome. PeerJ. 2018;6:e4320.

63.

Roux S, Enault F, Hurwitz BL, Sullivan MB. VirSorter: mining viral signal from microbial genomic data. PeerJ. 2015;3:e985.

64.

Correa AMS, Howard-Varona C, Coy SR, Buchan A, Sullivan MB, Weitz JS. Revisiting the rules of life for viruses of microorganisms. Nat Rev Microbiol. 2021;19:501–13.

65.

Anderson RE, Brazelton WJ, Baross JA. Using CRISPRs as a metagenomic tool to identify microbial hosts of a diffuse flow hydrothermal vent viral assemblage. FEMS Microbiol Ecol. 2011;77:120–33.

66.

Palmer M, Hedlund BP, Roux S, Tsourkas PK, Doss RK, Stamereilers C, et al. Diversity and distribution of a novel genus of hyperthermophilic aquificae viruses encoding a proof-reading family—a DNA polymerase. Front Microbiol. 2020;11:583361.

67.

Shipman SL, Nivala J, Macklis JD, Church GM. Molecular recordings by directed CRISPR spacer acquisition. Science. 2016;353:aaf1175.

68.

Lawrence JG, Hatfull GF, Hendrix RW. Imbroglios of viral taxonomy: genetic exchange and failings of phenetic approaches. J Bacteriol. 2002;184:4891–905.

69.

Lopes A, Tavares P, Petit M-A, Guérois R, Zinn-Justin S. Automated classification of tailed bacteriophages according to their neck organization. BMC Genomics. 2014;15:1027.

70.

Altschul SF, Gish W, Miller W, Myers EW, Lipman DJ. Basic local alignment search tool. J Mol Biol. 1990;215:403–10.

71.

Thingstad TF. Elements of a theory for the mechanisms controlling abundance, diversity, and biogeochemical role of lytic bacterial viruses in aquatic systems. Limnol Oceanogr. 2000;45:1320–8.

72.

Hudaiberdiev S, Shmakov S, Wolf YI, Terns MP, Makarova KS, Koonin EV. Phylogenomics of Cas4 family nucleases. BMC Evol Biol. 2017;17:232.

73.

Labonté JM, Pachiadaki M, Fergusson E, McNichol J, Grosche A, Gulmann LK, et al. Single cell genomics-based analysis of gene content and expression of prophages in a diffuse-flow deep-sea hydrothermal system. Front Microbiol. 2019;10:1262.

74.

Silveira CB, Rohwer FL. Piggyback-the-Winner in host-associated microbial communities. NPJ Biofilms Microbiomes. 2016;2:16010.

75.

Barr JJ, Auro R, Furlan M, Whiteson KL, Erb ML, Pogliano J, et al. Bacteriophage adhering to mucus provide a non–host-derived immunity. Proc Natl Acad Sci USA. 2013;110:10771–6.

76.

Denise R, Abby SS, Rocha EPC. Diversification of the type IV filament superfamily into machines for adhesion, protein secretion, DNA uptake, and motility. PLoS Biol. 2019;17:e3000390.

77.

Garneau JE, Dupuis M-È, Villion M, Romero DA, Barrangou R, Boyaval P, et al. The CRISPR/Cas bacterial immune system cleaves bacteriophage and plasmid DNA. Nature. 2010;468:67–71.

78.

Jiang W, Maniv I, Arain F, Wang Y, Levin BR, Marraffini LA. Dealing with the evolutionary downside of CRISPR immunity: bacteria and beneficial plasmids. PLoS Genet. 2013;9:e1003844.

79.

Marraffini LA, Sontheimer EJ. CRISPR interference limits horizontal gene transfer in staphylococci by targeting DNA. Science. 2008;322:1843–5.

80.

Denise R, Abby SS, Rocha EPC. The evolution of protein secretion systems by co-option and tinkering of cellular machineries. Trends Microbiol. 2020;28:372–86.

81.

Koebnik R, Locher KP, Van, Gelder P. Structure and function of bacterial outer membrane proteins: barrels in a nutshell. Mol Microbiol. 2000;37:239–53.

82.

Abby SS, Cury J, Guglielmini J, Néron B, Touchon M, Rocha EPC. Identification of protein secretion systems in bacterial genomes. Sci Rep. 2016;6:23080.

83.

Skerker JM, Berg HC. Direct observation of extension and retraction of type IV pili. Proc Natl Acad Sci USA. 2001;98:6901–4.

84.

Thomas S, Holland IB, Schmitt L. The type 1 secretion pathway—the hemolysin system and beyond. Biochimica et Biophysica Acta (BBA)-Mol Cell Res. 2014;1843:1629–41.

85.

Tomich M, Planet PJ, Figurski DH. The tad locus: postcards from the widespread colonization island. Nat Rev Microbiol. 2007;5:363–75.

86.

Korotkov KV, Sandkvist M, Hol WGJ. The type II secretion system: biogenesis, molecular architecture and mechanism. Nat Rev Microbiol. 2012;10:336–51.

87.

Abby SS, Rocha EPC. The non-flagellar type III secretion system evolved from the bacterial flagellum and diversified into host-cell adapted systems. PLoS Genet. 2012;8:e1002983.

88.

Russell AB, Wexler AG, Harding BN, Whitney JC, Bohn AJ, Goo YA, et al. A type VI secretion-related pathway in Bacteroidetes mediates interbacterial antagonism. Cell Host Microbe. 2014;16:227–36.

89.

Wallden K, Rivera-Calzada A, Waksman G. Microreview: type IV secretion systems: versatility and diversity in function. Cell Microbiol. 2010;12:1203–12.

90.

Peabody CR, Chung YJ, Yen M-R, Vidal-Ingigliardi D, Pugsley AP, Saier MH. Type II protein secretion and its relationship to bacterial type IV pili and archaeal flagella. Microbiology. 2003;149:3051–72.

91.

Planet PJ, Kachlany SC, DeSalle R, Figurski DH. Phylogeny of genes for secretion NTPases: identification of the widespread tadA subfamily and development of a diagnostic key for gene classification. Proc Natl Acad Sci USA. 2001;98:2503–8.

92.

Eren AM, Vineis JH, Morrison HG, Sogin ML. A filtering method to generate high quality short reads using Illumina paired-end technology. PLoS One. 2013;8:e66643.

93.

Bankevich A, Nurk S, Antipov D, Gurevich AA, Dvorkin M, Kulikov AS, et al. SPAdes: a new genome assembly algorithm and its applications to single-cell sequencing. J Comput Biol. 2012;19:455–77.

94.

Li D, Liu C-M, Luo R, Sadakane K, Lam T-W. MEGAHIT: an ultra-fast single-node solution for large and complex metagenomics assembly via succinct de Bruijn graph. Bioinformatics. 2015;31:1674–6.

95.

Langmead B, Trapnell C, Pop M, Salzberg SL. Ultrafast and memory-efficient alignment of short DNA sequences to the human genome. Genome Biol. 2009;10:R25.

96.

van der Maaten L, Hinton G. Visualizing data using t-SNE. J Mach Learn Res. 2008;9:2579–605.

97.

Eren AM, Esen ÖC, Quince C, Vineis JH, Morrison HG, Sogin ML, et al. Anvi'o: an advanced analysis and visualization platform for'omics data. PeerJ. 2015;3:e1319.

98.

Rinke C, Schwientek P, Sczyrba A, Ivanova NN, Anderson IJ, Cheng J-F, et al. Insights into the phylogeny and coding potential of microbial dark matter. Nature. 2013;499:431–7.

99.

Kim D, Song L, Breitwieser FP, Salzberg SL. Centrifuge: rapid and sensitive classification of metagenomic sequences. Genome Res. 2016;26:1721–9.

100.

Hug LA. Subsampled assemblies and hybrid nucleotide composition/differential coverage binning for genome-resolved metagenomics. Methods Mol Biol. 2018;1849:215–25.

101.

Bushnell B. BBMap: a fast, accurate, splice-aware aligner. Lawrence Berkeley National Lab; 2014.

102.

Pritchard L, Glover RH, Humphris S, Elphinstone JG, Toth IK. Genomics and taxonomy in diagnostics for food security: soft-rotting enterobacterial plant pathogens. Anal Methods. 2016;8:12–24.

103.

Thompson CC, Chimetto L, Edwards RA, Swings J, Stackebrandt E, Thompson FL. Microbial genomic taxonomy. BMC Genomics. 2013;14:913.

104.

Chaumeil P-A, Mussig AJ, Hugenholtz P, Parks DH. GTDB-Tk: a toolkit to classify genomes with the Genome Taxonomy Database. Bioinformatics 2019;36:1925–27.

105.

Zeldovich KB, Berezovsky IN, Shakhnovich EI. Protein and DNA sequence determinants of thermophilic adaptation. PLoS Comput Biol. 2007;3:e5.

106.

El-Gebali S, Mistry J, Bateman A, Eddy SR, Luciani A, Potter SC, et al. The Pfam protein families database in 2019. Nucleic Acids Res. 2019;47:D427–32.

107.

Ronquist F, Teslenko M, van der Mark P, Ayres DL, Darling A, Höhna S, et al. MrBayes 3.2: efficient Bayesian phylogenetic inference and model choice across a large model space. Syst Biol. 2012;61:539–42.

108.

Capella-Gutiérrez S, Silla-Martínez JM, Gabaldón T. trimAl: a tool for automated alignment trimming in large-scale phylogenetic analyses. Bioinformatics. 2009;25:1972–3.

109.

Letunic I, Bork P. Interactive Tree Of Life (iTOL) v4: recent updates and new developments. Nucleic Acids Res. 2019;47:W256–9.

110.

Wommack KE, Bhavsar J, Polson SW, Chen J, Dumas M, Srinivasiah S, et al. VIROME: a standard operating procedure for analysis of viral metagenome sequences. Stand Genom Sci. 2012;6:427–39.

111.

Bland C, Ramsey TL, Sabree F, Lowe M, Brown K, Kyrpides NC, et al. CRISPR recognition tool (CRT): a tool for automatic detection of clustered regularly interspaced palindromic repeats. BMC Bioinforma. 2007;8:209.

112.

Skennerton CT, Imelfort M, Tyson GW. Crass: identification and reconstruction of CRISPR from unassembled metagenomic data. Nucleic Acids Res. 2013;41:e105.

113.

Hyatt D, Chen G-L, Locascio PF, Land ML, Larimer FW, Hauser LJ. Prodigal: prokaryotic gene recognition and translation initiation site identification. BMC Bioinforma. 2010;11:119.

114.

Tatusov RL, Galperin MY, Natale DA, Koonin EV. The COG database: a tool for genome-scale analysis of protein functions and evolution. Nucleic Acids Res. 2000;28:33–36.

115.

Zhou Z, Tran P, Liu Y, Kieft K, Anantharaman K. METABOLIC: a scalable high-throughput metabolic and biogeochemical functional trait profiler based on microbial genomes. bioRxiv [preprint] 2020. Available from: https://doi.org/10.1101/761643.

116.

Katoh K, Misawa K, Kuma K-I, Miyata T. MAFFT: a novel method for rapid multiple sequence alignment based on fast Fourier transform. Nucleic Acids Res. 2002;30:3059–66.

117.

Noguchi H, Taniguchi T, Itoh T. MetaGeneAnnotator: detecting species-specific patterns of ribosomal binding site for precise gene prediction in anonymous prokaryotic and phage genomes. DNA Res. 2008;15:387–96.

118.

Haft DH, Selengut JD, White O. The TIGRFAMs database of protein families. Nucleic Acids Res. 2003;31:371–3.

119.

Bateman A, Birney E, Cerruti L, Durbin R, Etwiller L, Eddy SR, et al. The Pfam protein families database. Nucleic Acids Res. 2002;30:276–80.

120.

Letunic I, Bork P. 20 years of the SMART protein domain annotation resource. Nucleic Acids Res. 2018;46:D493–6.

121.

Klimke W, Agarwala R, Badretdin A, Chetvernin S, Ciufo S, Fedorov B, et al. The National Center for Biotechnology Information's Protein Clusters Database. Nucleic Acids Res. 2009;37:D216–23.

122.

Hunter S, Apweiler R, Attwood TK, Bairoch A, Bateman A, Binns D, et al. InterPro: the integrative protein signature database. Nucleic Acids Res. 2009;37:D211–5.

123.

Söding J, Biegert A, Lupas AN. The HHpred interactive server for protein homology detection and structure prediction. Nucleic Acids Res. 2005;33:W244–8.

124.

Stamatakis A. RAxML version 8: a tool for phylogenetic analysis and post-analysis of large phylogenies. Bioinformatics. 2014;30:1312–3.

125.

Pruitt KD, Tatusova T, Maglott DR. NCBI reference sequences (RefSeq): a curated non-redundant sequence database of genomes, transcripts and proteins. Nucleic Acids Res. 2007;35:D61–5.

126.

Cury J, Abby SS, Doppelt-Azeroual O, Néron B, Rocha EPC. Identifying conjugative plasmids and integrative conjugative elements with CONJscan. Methods Mol Biol. 2020;2075:265–83.

127.

Abby SS, Rocha EPC. Identification of protein secretion systems in bacterial genomes using MacSyFinder. Methods Mol Biol. 2017;1615:1–21.
Acknowledgements
The authors appreciate support from the National Science Foundation (Subaward A101357, WHOI Project 81636100 (LJM and WPI); DEB 1950770 (WPI and MD) and EPSCoR1736255 (LJM and MWF)), the Montana Agricultural Experiment Station (MAES 911300; WPI), the National Institutes of Health IDeA Program (COBRE grant GM110732; MD), and by the US Department of Energy—Ecosystems and Networks Integrated with Genes and Molecular Assemblies (DE-AC02–05CH11231; MWF). Metagenome sequencing was performed by the Census of Deep Life (Deep Carbon Observatory). Computations were performed on the Hyalite High-Performance Computing System (MSU Information Technology). Electron microscopy and elemental analyses were performed at the Montana Nanotechnology Facility, a member of the National Nanotechnology Coordinated Infrastructure (NNCI), which is supported by the NSF (ECCS-2025391). We also appreciate significant synergistic contributions from the HD-YLake project and support for KML (NSF EAR 1514865) in sampling and data sharing efforts. We thank the Global Foundation for Ocean Exploration and Capt. Dave Lovalvo for crucial shipboard support and ROV expertise, which made it possible to sample this extreme environment. Finally, we are grateful for helpful discussions with Drs. S. Abby, R. Denise, E. Rocha, Z. Jay, M. Myers, and A. Segall. Research in Yellowstone Lake (YNP, Wyoming, USA) was conducted under permit YELL-2016/17-SCI-7018. The sample from Liberty Cap (Mammoth Hot Springs, YNP) was collected in collaboration with Dr. B. Fouke under YNP research permit to WPI (YELL-2011-SCI-5686).
Ethics declarations
Competing interests
The authors declare no competing interests.
Additional information
Publisher's note Springer Nature remains neutral with regard to jurisdictional claims in published maps and institutional affiliations.
Supplementary information
About this article
Cite this article
McKay, L.J., Nigro, O.D., Dlakić, M. et al. Sulfur cycling and host-virus interactions in Aquificales-dominated biofilms from Yellowstone's hottest ecosystems. ISME J (2021). https://doi.org/10.1038/s41396-021-01132-4
Received:

Revised:

Accepted:

Published: