Abstract
The plant hormone cytokinin (CK) is an important developmental regulator, promoting morphogenesis and delaying differentiation and senescence. From developmental processes, to growth, to stress tolerance, CKs are central in plant life. CKs are also known to mediate plant immunity and disease resistance, and several classes of microbes can also produce CKs, affecting the interaction with their plant hosts. While host species and genotype can be a driving force in shaping the plant microbiome, how plant developmental hormones such as CK can shape the microbiome is largely uninvestigated. Here, we examined the relationship between CK and the phyllosphere microbiome, finding that CK acts as a selective force in microbiome assembly, increasing richness, and promoting the presence of Firmicutes. CK-mediated immunity was found to partially depend on the microbial community, and bacilli isolated from previously described CK-rich plant genotypes, which overexpress a CK biosynthesis gene or have increased CK sensitivity, induced plant immunity, and promoted disease resistance. Using a biomimetic system, we investigated the relationship between the leaf microstructure, which is differentially patterned upon changes in CK content or signaling, and the growth of different phyllosphere microbes. We found that leaf structures derived from CK-rich plant genotypes support bacilli in the biomimetic system. CK was able to promote the growth, swarming, and biofilm formation of immunity inducing bacillus isolates in vitro. Overall, our results indicate that host genotype and hormonal profiles can act as a strong selective force in microbiome assembly, underlying differential immunity profiles, and pathogen resistance as a result.
Your institute does not have access to this article
Relevant articles
Open Access articles citing this article.
Rupali Gupta

,

Dorin Elkabetz

…

Maya Bar

Environmental Microbiome Open Access 15 January 2022
Access options
Subscribe to Journal
Get full journal access for 1 year
$119.00
only $9.92 per issue
All prices are NET prices.
VAT will be added later in the checkout.
Tax calculation will be finalised during checkout.
Buy article
Get time limited or full article access on ReadCube.
$32.00
All prices are NET prices.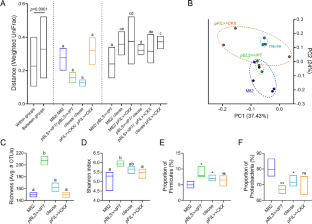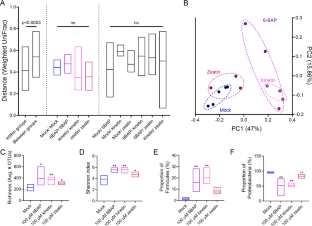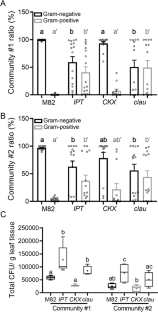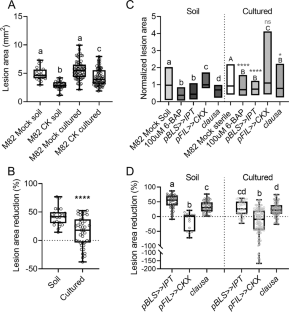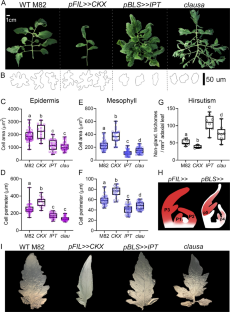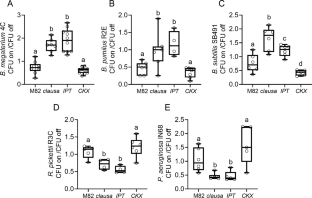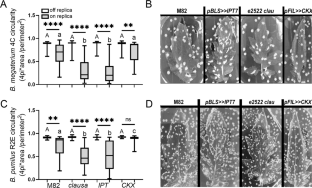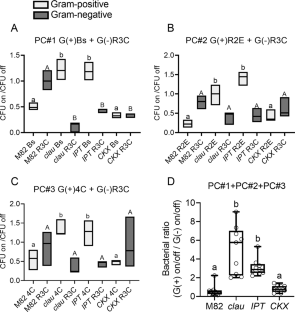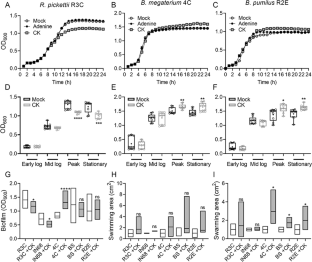 Data availability
The authors declare that the data supporting the findings of this study are available within the paper and its Supplementary Information files. Raw data is available through NCBI-SRA, Bioproject PRJNA729221.
References
Trivedi P, Trivedi C, Grinyer J, Anderson IC, Singh BK. Harnessing host-vector microbiome for sustainable plant disease management of phloem-limited bacteria. Front Plant Sci. 2016;7:1423.

Leveau JH. A brief from the leaf: latest research to inform our understanding of the phyllosphere microbiome. Curr Opin Microbiol. 2019;49:41–49.

Carlström CI, Field CM, Bortfeld-Miller M, Müller B, Sunagawa S, Vorholt JA. Synthetic microbiota reveal priority effects and keystone strains in the Arabidopsis phyllosphere. Nat Ecol Evol. 2019;3:1445–54.

Morella NM, Weng FCH, Joubert PM, Jessica C, Lindow S, Koskella B. Successive passaging of a plant-associated microbiome reveals robust habitat and host genotype-dependent selection. Proc Natl Acad Sci USA. 2020;117:1148–59.

Remus-Emsermann MNP, Lücker S, Müller DB, Potthoff E, Daims H, Vorholt JA. Spatial distribution analyses of natural phyllosphere-colonizing bacteria on Arabidopsis thaliana revealed by fluorescence in situ hybridization. Environ Microbiol. 2014;16:2329–40.

Schlechter RO, Miebach M, Remus-Emsermann MNP. Driving factors of epiphytic bacterial communities: a review. J Adv Res. 2019;19:57–65.

Bruisson S, Zufferey M, L'Haridon F, Trutmann E, Anand A, Dutartre A, et al. Endophytes and epiphytes from the grapevine leaf microbiome as potential biocontrol agents against phytopathogens. Front Microbiol. 2019;10:2726.

Wybouw B, De Rybel B. Cytokinin – a developing story. Trends Plant Sci. 2019;24:177–85.

Shwartz I, Levy M, Ori N, Bar M Hormones in tomato leaf development. Dev Biol. 2016;419:132-142.

Žižková E, Dobrev PI, Muhovski Y, Hošek P, Hoyerová K, Haisel D, et al. Tomato (Solanum lycopersicum L.) SlIPT3 and SlIPT4 isopentenyltransferases mediate salt stress response in tomato. BMC Plant Biol. 2015;15:1–20.

Shani E, Ben-Gera H, Shleizer-Burko S, Burko Y, Weiss D, Ori N. Cytokinin regulates compound leaf development in tomato. Plant Cell. 2010;22:3206–17.

Bar M, Israeli A, Levy M, Ben Gera H, Jiménez-Gómez JM, Kouril S, et al. CLAUSA is a MYB transcription factor that promotes leaf differentiation by attenuating cytokinin signaling. Plant Cell. 2016;28:1602–15.

Gupta R, Pizarro L, Leibman-Markus M, Marash I, Bar M. Cytokinin response induces immunity and fungal pathogen resistance, and modulates trafficking of the PRR LeEIX2 in tomato. Mol Plant Pathol. 2020; https://doi.org/10.1111/mpp.12978.

Nafisi M, Fimognari L, Sakuragi Y. Interplays between the cell wall and phytohormones in interaction between plants and necrotrophic pathogens. Phytochemistry. 2015;112:63–71.

Liu H, Brettell LE, Singh B. Linking the phyllosphere microbiome to plant health. Trends Plant Sci. 2020;25:841–4.

Dastogeer KMG, Tumpa FH, Sultana A, Akter MA, Chakraborty A. Plant microbiome–an account of the factors that shape community composition and diversity. Curr Plant Biol. 2020;23:100161.

Bodenhausen N, Bortfeld-Miller M, Ackermann M, Vorholt JA. A synthetic community approach reveals plant genotypes affecting the phyllosphere microbiota. PLoS Genet. 2014;10:e1004283.

Purahong W, Orrù L, Donati I, Perpetuini G, Cellini A, Lamontanara A, et al. Plant microbiome and its link to plant health: host species, organs and pseudomonas syringae pv. Actinidiae infection shaping bacterial phyllosphere communities of kiwifruit plants. Front Plant Sci. 2018;9:1563.

Chen T, Nomura K, Wang X, Sohrabi R, Xu J, Yao L, et al. A plant genetic network for preventing dysbiosis in the phyllosphere. Nature. 2020;580:653–7.

Kniskern JM, Traw MB, Bergelson J. Salicylic acid and jasmonic acid signaling defense pathways reduce natural bacterial diversity on Arabidopsis thaliana. Mol Plant-Microbe Interact. 2007;20:1512–22.

Lifschitz E, Eviatar T, Rozman A, Shalit A, Goldshmidt A, Amsellem Z, et al. The tomato FT ortholog triggers systemic signals that regulate growth and flowering and substitute for diverse environmental stimuli. Proc Natl Acad Sci USA. 2006;103:6398–403.

Smigocki AC, Owens LD. Cytokinin gene fused with a strong promoter enhances shoot organogenesis and zeatin levels in transformed plant cells. Proc Natl Acad Sci. 1988;85:5131–5.

Redig P, Schmülling T, Van Onckelen H. Analysis of cytokinin metabolism in ipt transgenic tobacco by liquid chromatography-tandem mass spectrometry. Plant Physiol. 1996;112:141–8.

Márquez-López RE, Quintana-Escobar AO, Loyola-Vargas VM. Cytokinins, the Cinderella of plant growth regulators. Phytochem Rev. 2019;18:1387–408.

Smigocki A, Neal JW, McCanna I, Douglass L. Cytokinin-mediated insect resistance in Nicotiana plants transformed with the ipt gene. Plant Mol Biol. 1993;23:325–35.

Bartrina I, Otto E, Strnad M, Werner T, Schmülling T. Cytokinin regulates the activity of reproductive meristems, flower organ size, ovule formation, and thus seed yield in Arabidopsis thaliana. Plant Cell. 2011;23:69–80.

Reid DE, Heckmann AB, Novák O, Kelly S, Stougaard J. CYTOKININ OXIDASE/DEHYDROGENASE3 maintains cytokinin homeostasis during root and nodule development in Lotus Japonicus. Plant Physiol. 2016;170:1060–74.

Nishiyama R, Watanabe Y, Fujita Y, Le DT, Kojima M, Werner T, et al. Analysis of cytokinin mutants and regulation of cytokinin metabolic genes reveals important regulatory roles of cytokinins in drought, salt and abscisic acid responses, and abscisic acid biosynthesis. Plant Cell. 2011;23:2169–83.

Vercruyssen L, Gonzalez N, Werner T, Schmülling T, Inzé D. Combining enhanced root and shoot growth reveals cross talk between pathways that control plant organ size in arabidopsis. Plant Physiol. 2011;155:1339–52.

Farber M, Attia Z, Weiss D. Cytokinin activity increases stomatal density and transpiration rate in tomato. J Exp Bot. 2016;67:6351–62.

Yang CH, Crowley DE, Borneman J, Keen NT. Microbial phyllosphere populations are more complex than previously realized. Proc Natl Acad Sci USA. 2001;98:3889–94.

Tian X, Shi Y, Geng L, Chu H, Zhang J, Song F, et al. Template preparation affects 16S rRNA high-throughput sequencing analysis of phyllosphere microbial communities. Front Plant Sci. 2017;8:1623.

Caporaso JG, Kuczynski J, Stombaugh J, Bittinger K, Bushman FD, Costello EK. et al. QIIME allows analysis of high-throughput community sequencing data. Nat Methods. 2010;7:335–6.

Glöckner FO, Yilmaz P, Quast C, Gerken J, Beccati A, Ciuprina A. et al. 25 years of serving the community with ribosomal RNA gene reference databases and tools. J Biotechnol. 2017;261:169–76.

Kuklinsky-Sobral J, Araújo WL, Mendes R, Geraldi IO, Pizzirani-Kleiner AA, Azevedo JL. Isolation and characterization of soybean-associated bacteria and their potential for plant growth promotion. Environ Microbiol. 2004;6:1244–51.

Zhang W, Chen Y, Shi Q, Hou B, Yang Q. Identification of bacteria associated with periapical abscesses of primary teeth by sequence analysis of 16S rDNA clone libraries. Microb Pathog. 2020;141:103954.

Chun J, Lee JH, Jung Y, Kim M, Kim S, Kim BK, et al. EzTaxon: a web-based tool for the identification of prokaryotes based on 16S ribosomal RNA gene sequences. Int J Syst Evol Microbiol. 2007;57:2259–61.

Zhang B, Luo Y, Pearlstein AJ, Aplin J, Liu Y, Bauchan GR, et al. Fabrication of biomimetically patterned surfaces and their application to probing plant–bacteria interactions. ACS Appl Mater Interfaces. 2014;6:12467–78.

Kumari P, Ginzburg N, Sayas T, Saphier S, Bucki P, Miyara SB, et al. A biomimetic platform for studying root-environment interaction. Plant Soil. 2020;447:157–68.

Yamada H, Suzuki T, Terada K, Takei K, Ishikawa K, Miwa K, et al. The Arabidopsis AHK4 histidine kinase is a cytokinin-binding receptor that transduces cytokinin signals across the membrane. Plant Cell Physiol. 2001;42:1017–23.

Singh A, Gupta R, Pandey R. Rice seed priming with picomolar rutin enhances rhizospheric bacillus subtilis CIM colonization and plant growth. PLoS ONE. 2016;11:e0146013.

Gupta R, Leibman-Markus M, Pizarro L, Bar M. Cytokinin induces bacterial pathogen resistance in tomato. Plant Pathol. 2020 (in press).

Argueso CT, Ferreira FJ, Epple P, To JPC, Hutchison CE, Schaller GE, et al. Two-component elements mediate interactions between cytokinin and salicylic acid in plant immunity. PLoS Genet. 2012;8:e1002448.

Teixeira PJP, Colaianni NR, Fitzpatrick CR, Dangl JL. Beyond pathogens: microbiota interactions with the plant immune system. Curr Opin Microbiol. 2019;49:7–17.

Pieterse CMJ, Zamioudis C, Berendsen RL, Weller DM, Van Wees SCM, Bakker PAHM. Induced systemic resistance by beneficial microbes. Annu Rev Phytopathol. 2014;52:347–75.

Mehari ZH, Elad Y, Rav-David D, Graber ER, Meller, Harel Y. Induced systemic resistance in tomato (Solanum lycopersicum) against Botrytis cinerea by biochar amendment involves jasmonic acid signaling. Plant Soil. 2015;395:31–44.

Jayaraj J, Punja ZK. Combined expression of chitinase and lipid transfer protein genes in transgenic carrot plants enhances resistance to foliar fungal pathogens. Plant Cell Rep. 2007;26:1539–46.

Reisberg EE, Hildebrandt U, Riederer M, Hentschel U. Distinct phyllosphere bacterial communities on Arabidopsis wax mutant leaves. PLoS ONE. 2013;8:78613.

Werner T, Motyka V, Laucou V, Smets R, Van Onckelen H, Schmulling T. Cytokinin-deficient transgenic Arabidopsis plants show multiple developmental alterations indicating opposite functions of cytokinins in the regulation of shoot and root meristem activity. Plant Cell. 2003;15:2532–50.

Bar M, Ben-Herzel O, Kohay H, Shtein I, Ori N. CLAUSA restricts tomato leaf morphogenesis and GOBLET expression. Plant J. 2015;83:888–902.

Schulte AJ, Koch K, Spaeth M, Barthlott W. Biomimetic replicas: transfer of complex architectures with different optical properties from plant surfaces onto technical materials. Acta Biomater. 2009;5:1848–54.

Bhushan B. Biomimetics: lessons from nature-an overview. Philos Trans R Soc A Math Phys Eng Sci. 2009;367:1445–86.

Naseem M, Philippi N, Hussain A, Wangorsch G, Ahmed N, Dandekar T, et al. Integrated systems view on Networking by hormones in Arabidopsis immunity reveals multiple crosstalk for cytokinin. Plant Cell. 2012;24:1793–814.

Eichmann R, Richards L, Schäfer P. Hormones as go‐betweens in plant microbiome assembly. Plant J. 2020;105:518-541.

Liu F, Rice JH, Lopes V, Grewal P, Lebeis SL, Hewezi T, et al. Overexpression of strigolactone-associated genes exerts fine-tuning selection on soybean rhizosphere bacterial and fungal microbiome. Phytobiomes J. 2020;4:239–51.

Lebeis SL, Paredes SH, Lundberg DS, Breakfield N, Gehring J, McDonald M, et al. Salicylic acid modulates colonization of the root microbiome by specific bacterial taxa. Science (80-). 2015;349:860–4.

Chen Y, Bonkowski M, Shen Y, Griffiths BS, Jiang Y, Wang X, et al. Root ethylene mediates rhizosphere microbial community reconstruction when chemically detecting cyanide produced by neighbouring plants. Microbiome. 2020;8:4.

Xiong C, Zhu YG, Wang JT, Singh B, Han LL, Shen JP, et al. Host selection shapes crop microbiome assembly and network complexity. N. Phytol. 2021;229:1091–104.

Müller DB, Vogel C, Bai Y, Vorholt JA. The plant microbiota: systems-level insights and perspectives. Annu Rev Genet. 2016;50:211–34.

Durán P, Thiergart T, Garrido-Oter R, Agler M, Kemen E, Schulze-Lefert P, et al. Microbial interkingdom interactions in roots promote arabidopsis survival. Cell. 2018;175:973–983.e14.

Berg M, Koskella B. Nutrient- and dose-dependent microbiome-mediated protection against a plant pathogen. Curr Biol. 2018;28:2487–2492.e3.

Choi K, Choi J, Lee PA, Roy N, Khan R, Lee HJ, et al. Alteration of bacterial wilt resistance in tomato plant by microbiota transplant. Front Plant Sci. 2020;11:1–12.

Okon Levy N, Meller Harel Y, Haile ZM, Elad Y, Rav-David E, Jurkevitch E, et al. Induced resistance to foliar diseases by soil solarization and Trichoderma harzianum. Plant Pathol. 2015;64:365–74.

Levy NO, Elad Y, Katan J, Baker SC, Faull JL. Trichoderma and soil solarization induced microbial changes on plant surfaces. Bull OILB/SROP. 2006;29:21–6.

Innerebner G, Knief C, Vorholt JA. Protection of Arabidopsis thaliana against leaf-pathogenic Pseudomonas syringae by Sphingomonas strains in a controlled model system. Appl Environ Microbiol. 2011;77:3202–10.

Vogel C, Bodenhausen N, Gruissem W, Vorholt JA. The Arabidopsis leaf transcriptome reveals distinct but also overlapping responses to colonization by phyllosphere commensals and pathogen infection with impact on plant health. N. Phytol. 2016;212:192–207.

Morella NM, Zhang X, Koskella B. Tomato seed-associated bacteria confer protection of seedlings against foliar disease caused by pseudomonas syringae. Phytobiomes J. 2019;3:177–90.

Berendsen RL, Vismans G, Yu K, Song Y, De Jonge R, Burgman WP, et al. Disease-induced assemblage of a plant-beneficial bacterial consortium. ISME J. 2018;12:1496–507.

Dudenhöffer J, Scheu S, Jousset A. Systemic enrichment of antifungal traits in the rhizosphere microbiome after pathogen attack. J Ecol. 2016;104:1566–75.

Snelders NC, Rovenich H, Petti GC, Rocafort M, van den Berg GCM, Vorholt JA, et al. Microbiome manipulation by a soil-borne fungal plant pathogen using effector proteins. Nat Plants. 2020;6:1365–74.

Saleem M, Meckes N, Pervaiz ZH, Traw MB. Microbial interactions in the phyllosphere increase plant performance under herbivore biotic stress. Front Microbiol. 2017;8:41.

Song C, Zhu F, Carrión VJ, Cordovez V. Beyond plant microbiome composition: exploiting microbial functions and plant traits via integrated approaches. Front Bioeng Biotechnol. 2020;8:896.

Miljaković D, Marinković J, Balešević-Tubić S. The significance of bacillus spp. In disease suppression and growth promotion of field and vegetable crops. Microorganisms. 2020;8:1–19.

Albayrak ÇB. Bacillus species as biocontrol agents for fungal plant pathogens. Cham: Springer; 2019. p. 239–65.

Khan MS, Gao J, Chen X, Zhang M, Yang F, Du Y, et al. The endophytic bacteria bacillus velezensis Lle-9, isolated from lilium leucanthum, harbors antifungal activity and plant growth-promoting effects. J Microbiol Biotechnol. 2020;30:668–80.

Monteiro L, De Lima Ramos Mariano R, Souto-Maior AM. Antagonism of Bacillus spp. against Xanthomonas campestris pv. campestris. Braz Arch Biol Technol. 2005;48:23–9.

Radhakrishnan R, Hashem A, Abd Allah EF. Bacillus: a biological tool for crop improvement through bio-molecular changes in adverse environments. Front Physiol. 2017;8:667.

Legein M, Smets W, Vandenheuvel D, Eilers T, Muyshondt B, Prinsen E. et al. Modes of action of microbial biocontrol in the phyllosphere. Front Microbiol. 2020;11:1619.

Spallek T, Gan P, Kadota Y, Shirasu K. Same tune, different song—cytokinins as virulence factors in plant–pathogen interactions? Curr Opin Plant Biol. 2018;44:82–7.

Choi J, Huh SU, Kojima M, Sakakibara H, Paek K-HH, Hwang I. The cytokinin-activated transcription factor ARR2 promotes plant immunity via TGA3/NPR1-dependent salicylic acid signaling in arabidopsis. Dev Cell. 2010;19:284–95.

Cortleven A, Leuendorf JE, Frank M, Pezzetta D, Bolt S, Schmülling T. Cytokinin action in response to abiotic and biotic stresses in plants. Plant Cell Environ. 2019;42:998–1018.

Kearns DB. A field guide to bacterial swarming motility. Nat Rev Microbiol. 2010;8:634–44.

Secchi E, Vitale A, Miño GL, Kantsler V, Eberl L, Rusconi R, et al. The effect of flow on swimming bacteria controls the initial colonization of curved surfaces. Nat Commun. 2020;11:1–12.

Reisberg EE, Hildebrandt U, Riederer M, Hentschel U. Phyllosphere bacterial communities of trichome-bearing and trichomeless Arabidopsis thaliana leaves. Antonie van Leeuwenhoek, Int J Gen Mol Microbiol. 2012;101:551–60.

Kusstatscher P, Wicaksono WA, Bergna A, Cernava T, Bergau N, Tissier A, et al. Trichomes form genotype-specific microbial hotspots in the phyllosphere of tomato. Environ Microbiomes. 2020;15:1–10.

Brenner WG, Ramireddy E, Heyl A, Schmülling T. Gene regulation by cytokinin in Arabidopsis. Front Plant Sci. 2012;3:8

Kudoyarova GR, Melentiev AI, Martynenko EV, Timergalina LN, Arkhipova TN, Shendel GV, et al. Cytokinin producing bacteria stimulate amino acid deposition by wheat roots. Plant Physiol Biochem. 2014;83:285–91.

Hussain A, Hasnain S. Cytokinin production by some bacteria: its impact on cell division in cucumber cotyledons. Afr J Microbiol Res. 2009;3:704–12.

Arkhipova TN, Veselov SU, Melentiev AI, Martynenko EV, Kudoyarova GR. Ability of bacterium Bacillus subtilis to produce cytokinins and to influence the growth and endogenous hormone content of lettuce plants. Plant Soil. 2005;272:201–9.

Pallai R, Hynes RK, Verma B, Nelson LM. Phytohormone production and colonization of canola (brassica napus l.) roots by pseudomonas fluorescens 6-8 under gnotobiotic conditions. Can J Microbiol. 2012;58:170–8.

Großkinsky DK, Tafner R, Moreno MV, Stenglein SA, De Salamone IEG, Nelson LM, et al. Cytokinin production by Pseudomonas fluorescens G20-18 determines biocontrol activity against Pseudomonas syringae in Arabidopsis. Sci Rep. 2016;6:24.

Karadeniz A, Topcuoǧlu ŞF, Inan S. Auxin, gibberellin, cytokinin and abscisic acid production in some bacteria. World J Microbiol Biotechnol. 2006;22:1061–4.

García de Salamone IE, Hynes RK, Nelson LM. Cytokinin production by plant growth promoting rhizobacteria and selected mutants. Can J Microbiol. 2001;47:404–11.

Tahir HAS, Gu Q, Wu H, Raza W, Hanif A, Wu L, et al. Plant growth promotion by volatile organic compounds produced by Bacillus subtilis SYST2. Front Microbiol. 2017;8:171.

Akhtar SS, Mekureyaw MF, Pandey C, Roitsch T. Role of cytokinins for interactions of plants with microbial pathogens and pest insects. Front Plant Sci. 2020;10:1777.

Naseem M, Sarukhanyan E, Dandekar T. LONELY-GUY knocks every door: crosskingdom microbial pathogenesis. Trends Plant Sci. 2015;20:781–3.

Wang FF, Cheng ST, Wu Y, Ren BZ, Qian W. A bacterial receptor PcrK senses the plant hormone cytokinin to promote adaptation to oxidative stress. Cell Rep. 2017;21:2940–51.

Roitsch T, Ehneß R. Regulation of source/sink relations by cytokinins. Plant Growth Regul. 2000;32:359–67.

Lara MEB, Garcia MCG, Fatima T, Ehneß R, Lee TK, Proels R, et al. Extracellular invertase is an essential component of cytokinin-mediated delay of senescence. Plant Cell. 2004;16:1276–87.

Tosi M, Mitter EK, Gaiero J, Dunfield K. It takes three to tango: the importance of microbes, host plant, and soil management to elucidate manipulation strategies for the plant microbiome. Can J Microbiol. 2020;66:413–33.

Carlton BC. Transformation mapping of the genes controlling tryptophan biosynthesis in Bacillus subtilis. J Bacteriol. 1967;94:660–5.

Zeigler DR, Prágai Z, Rodriguez S, Chevreux B, Muffler A, Albert T, et al. The origins of 168, W23, and other Bacillus subtilis legacy strains. J Bacteriol. 2008;190:6983–95.

Friedman J, Higgins LM, Gore J. Community structure follows simple assembly rules in microbial microcosms. Nat Ecol Evol. 2017;1:109.

Shani E, Burko Y, Ben-Yaakov L, Berger Y, Amsellem Z, Goldshmidt A, et al. Stage-specific regulation of Solanum lycopersicum leaf maturation by class 1 KNOTTED1-LIKE HOMEOBOX proteins. Plant Cell. 2009;21:3078–92.
Acknowledgements
The authors wish to thank Dror Minz, Stefan J Green and Jonathan Friedman for providing bacterial strains and for helpful discussions, and the Bar, Jami and Kleiman group members for continuous discussion and support.
Ethics declarations
Competing interests
The authors declare no competing interests.
Additional information
Publisher's note Springer Nature remains neutral with regard to jurisdictional claims in published maps and institutional affiliations.
Supplementary information
About this article
Cite this article
Gupta, R., Elkabetz, D., Leibman-Markus, M. et al. Cytokinin drives assembly of the phyllosphere microbiome and promotes disease resistance through structural and chemical cues. ISME J 16, 122–137 (2022). https://doi.org/10.1038/s41396-021-01060-3
Received:

Revised:

Accepted:

Published:

Issue Date:

DOI: https://doi.org/10.1038/s41396-021-01060-3
Further reading
Rupali Gupta
Dorin Elkabetz
Maya Bar

Environmental Microbiome (2022)